Chris Drury
General Manager
Trumbull, CT native Chris Drury was named General Manager of the Wolf Pack May 16, 2017. He also serves as Assistant General Manager of the parent New York Rangers, having been promoted to that post on September 2, 2016.
Drury assists Rangers general manager Jeff Gorton on all player transactions and contract negotiations. Drury helps Gorton in overseeing and evaluating all players at the collegiate level, and he also assists in the development of Rangers prospects, both on and off the ice, by serving as a liaison between the hockey operations department and prospects in the organization. Prior to his promotion, Drury served as Director of Player Development for one season after rejoining the Rangers organization on September 4, 2015.
During his 12-year NHL career, Drury skated in 892 games with the Colorado Avalanche, Calgary Flames, Buffalo Sabres, and the Rangers, registering 255 goals and 360 assists for 615 points. Drury captured the Stanley Cup as a member of the Avalanche in 2000-01, ranking second in the NHL with 11 goals in 23 games during the team's playoff run. In 1998-99, Drury received the Calder Trophy as the NHL's Rookie of the Year after registering 20 goals and 24 assists for 44 points with Colorado. Drury recorded at least 20 goals in nine different seasons in his career, and he registered at least 50 points in eight different seasons.
In addition, Drury's team reached the playoffs in nine of his 12 seasons in the NHL, and his team advanced to the Conference Finals on six occasions. In 135 career NHL playoff games, Drury registered 47 goals and 42 assists for 89 points, along with a plus-24 rating and 46 penalty minutes. Over the 12 seasons in which he played in the NHL (1998-99 - 2010-11), Drury led the league in playoff game-winning goals (17), ranked second in playoff overtime goals (four), ranked fourth in playoff goals, and ranked ninth in playoff games played. Drury played four seasons with the Rangers (2007-08 - 2010-11) after signing with the team as a free agent on July 1, 2007.
In addition, Drury served as the Rangers captain for three seasons (2008-09 - 2010-11) after being named the 25th captain in franchise history - as well as the second American-born captain in franchise history - on October 3, 2008. In 264 regular season games with the Blueshirts, Drury recorded 62 goals and 89 assists for 151 points, along with 116 penalty minutes. Over his first three seasons with the Rangers, Drury led the team in goals (61) and points (146), ranked second in assists (85), and tied for second in game-winning goals (10). In addition, the Rangers made the playoffs three times during Drury's four seasons with the team.
Prior to joining the NHL, Drury completed one of the most impressive collegiate hockey careers in NCAA history. Over four seasons at Boston University (1994-95 - 1997-98), Drury tallied 113 goals and 101 assists for 214 points in 155 games. During his collegiate career, the Terriers captured the National Championship in 1994-95, appeared in the National Championship Game twice (1994- 95, 1996-97), and appeared in the Frozen Four three times (1994-95, 1995-96, 1996-97). Drury was selected as a First Team All-American on two occasions (1996-97, 1997-98), a Hobey Baker Finalist as the Top Player in College Hockey on three occasions (1995-96, 1996-97, 1997-98), and he became the first Terrier to receive the Hobey Baker Award in 1997-98. Drury is Boston University's all-time leader in goals and ranks third on the school's all-time points list.
Internationally, Drury represented the United States in numerous tournaments and earned several medals. He participated in three consecutive Winter Olympics (2002, 2006, 2010), capturing a silver medal at the 2002 Winter Olympics in Salt Lake City, Utah and the 2010 Winter Olympics in Vancouver, British Columbia. Drury was inducted into the U.S. Hockey Hall of Fame in 2015.
Drury and his wife, Rory, have a son, Luke, and two daughters, Dylan and Kelly.
---
Pat Boller
Assistant General Manager
Pat Boller is in his 11th season of service on the Wolf Pack staff. The parent New York Rangers added an Assistant General Manager designation to Boller's title prior to the 2012-13 season, after he had spent six years as an assistant coach.
The 44-year-old Boller joined the Wolf Pack after serving nine years in the Rangers organization as a Coaches Assistant and Director of Operations, Madison Square Garden Training Center. In this capacity, he worked closely with Video Analyst Jerry Dineen to prepare video, as well as assisting with pre-scouting and tracking statistics. Additionally, Boller helped coordinate team travel and scheduling.
Boller was also instrumental in organizing and assisting with summer prospect and development camps, working closely with Rangers' prospects on and off the ice. The summer months also involved setting up player rehab and off-season programs in preparation for the coming season.
A former college hockey player and assistant captain at SUNY Potsdam, Boller was a member of the coaching staff at Manhattanville College in Purchase, New York. During his tenure, Manhattanville won the ECAC Championship three straight seasons (2005, 2006 and 2007). He also helped lead Manhattanville to an appearance in the Division III Final Eight in 2005 and 2006, and a Final Four appearance in 2007. The Queens, New York native made it to the international stage in 2006 as video coach for USA Hockey at the World Junior Championships in Vancouver, British Columbia, serving under Head Coach Walt Kyle. Also, Boller has coached USA Select Festival teams at either the 15-year-old, 16-year-old or 17-year-old level in every offseason since the summer of 2006.
In August of 2013, Boller assisted Pat Mikesch in coaching the U.S. Under-17 Select Team to the championship of the Under-17 Five Nations Tournament in Slovakia, and he went to the 2014 Ivan Hlinka Memorial Cup as an assistant coach with the U.S. Under-18 Select Team. In the August of 2015, Boller served as head coach of the U.S. Under-17 Selects, guiding that squad to a championship at the Under-17 Five NationsTournament in Arosa, Switzerland. The summer of 2016 saw Boller back at the Hlinka Memorial Tournament, where he helped the U.S. Under-18s to a Silver Medal as an assistant coach.
Boller and his wife, Claudia, reside in Danbury, Connecticut with their sons, Kyle and Jack.
---
Keith McCambridge
Head Coach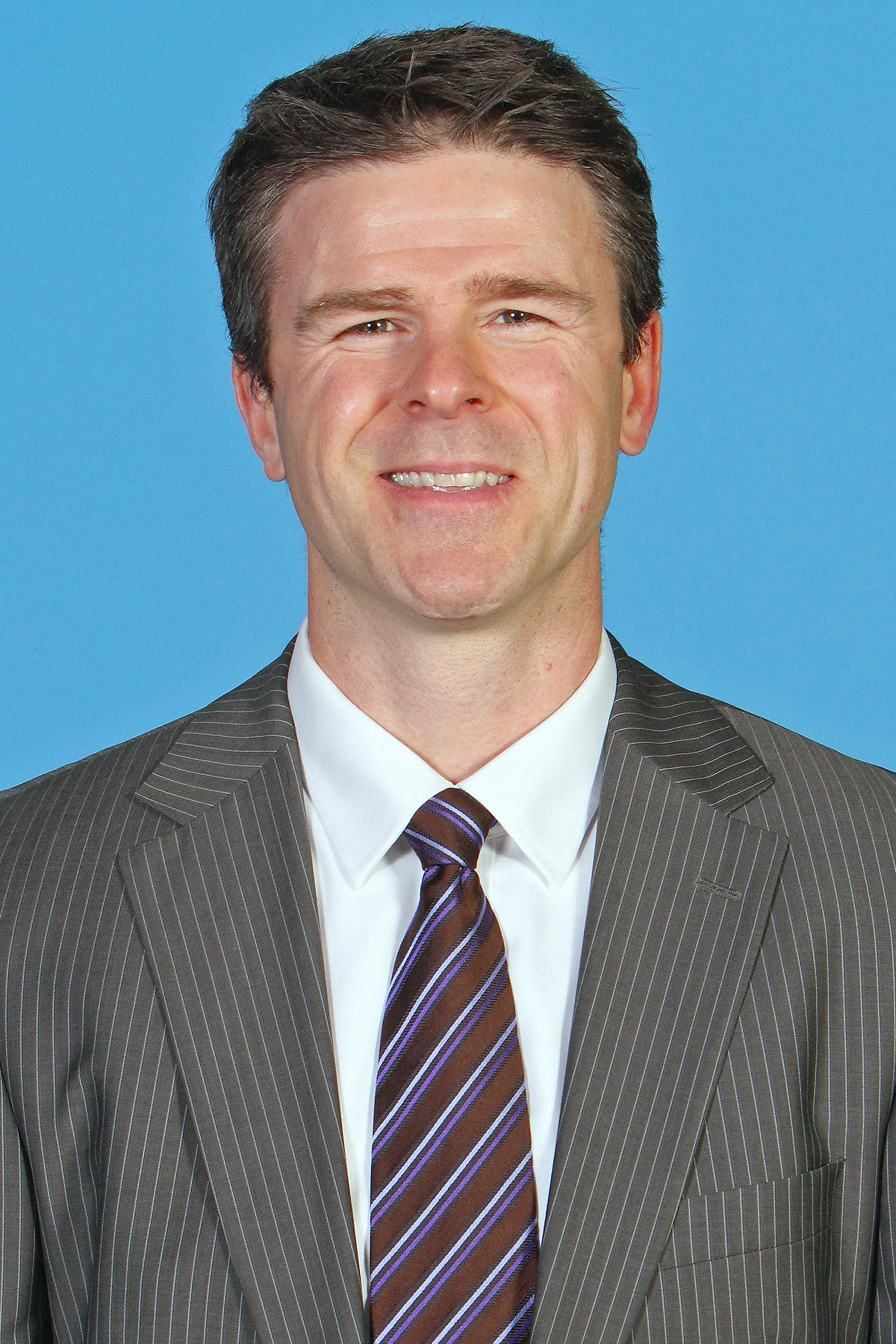 Keith McCambridge was named the sixth head coach in Wolf Pack history June 12, 2017, after one season as a Wolf Pack assistant coach.
Prior to coming to the Wolf Pack, McCambridge had spent the previous five seasons as head coach of the Winnipeg Jets' AHL affiliate. The Thompson, Manitoba native was head man of the St. John's IceCaps for the first four years of that franchise's existence, 2011-12 through 2014-15, and then spent the 2015-16 campaign as bench boss of the Manitoba Moose. During those five head-coaching years, McCambridge amassed a record of 179-158-23-20, for a winning percentage of .528.
McCambridge guided the 2013-14 IceCaps all the way to the Calder Cup Finals, where they lost a hard-fought five-game series to the Texas Stars, with each of the last three games going to overtime. In his first season as an AHL head coach, 2011-12, McCambridge won an Atlantic Division regular-season title with the IceCaps, going 43-25-5-3, and advanced as far as the Eastern Conference Finals. That year he also earned the honor of serving as head coach of the Eastern Conference All-Star squad at the 2012 AHL All-Star Classic.
McCambridge also spent two seasons (2009-10 and 2010-11) as an assistant coach for the Moose, prior to the franchise moving to St. John's, and in the first of those two years, Manitoba's head coach was current New York Rangers associate coach Scott Arniel.
The 42-year-old McCambridge began his coaching career in the ECHL, with the Alaska Aces. He was the Aces' head coach for two seasons, 2007-08 and 2008-09, leading the team to the Kelly Cup Finals in '08-'09 and to the third round of the postseason in his first year. His total ECHL head-coaching record was 86-50-5-3 (.625), and he also worked with the Aces for three seasons (2003-04 through 2005-06) as a player/assistant coach and in 2006-07 as an assistant coach.
McCambridge played 11 seasons as a pro defenseman, from 1995-96 through 2005-06. That tenure included 378 career AHL games in seven seasons with the Saint John Flames, Providence Bruins, Houston Aeros and Cleveland Barons, during which the 1994 Calgary Flames eighth-round pick (201st overall) totaled nine goals and 21 assists for 30 points, along with 1,057 penalty minutes. He also logged 83 career IHL games with the Las Vegas Thunder, Long Beach IceDogs and the Moose, amassing totals of 3-9-12 with 276 PIM, and suited up for 166 ECHL contests in three years with the Aces, chalking up 5-16-21 with 375 PIM. McCambridge capped off his playing career by winning a Kelly Cup title with the Aces in 2005-06.
Prior to turning pro, McCambridge played four seasons of WHL action with the Swift Current Broncos and Kamloops Blazers, winning a Memorial Cup with the Blazers in 1994-95. He was an eighth-round selection by the Calgary Flames in the 1994 NHL Draft.
McCambridge and his wife Susan live in Farmington with their daughter Lauren and son Aidan.
---
Joe Mormina
Assistant Coach
Joe Mormina was named a Wolf Pack assistant coach by the parent New York Rangers August 1, 2017.
Mormina, 35, joined the Rangers organization after serving one season as the assistant coach at Mercyhurst University. Under Mormina's guidance, three Mercyhurst defensemen averaged at least 0.50 points per game during the 2016-17 season. In addition to helping players on the ice, Mormina worked in a player development role during his one season at Mercyhurst.
Prior to beginning his coaching career, the Montreal, Quebec, native played 11 seasons of professional hockey (2005-06 – 2015-16). Mormina skated in 670 career AHL games with the Manchester Monarchs, Albany River Rats, Wilkes-Barre/Scranton Penguins, Adirondack Phantoms, Syracuse Crunch, and Rochester Americans, registering 31 goals and 120 assists for 151 points, along with a plus-36 rating and 837 penalty minutes. He also helped his team advance to the playoffs in eight of his 11 seasons in the AHL, and he skated in 69 AHL playoff games in his career. Mormina established a career-high with a plus-37 rating in 2008-09, and he ranked second in the AHL in plus/minus rating during the season. Mormina also skated in one NHL game during his career, as he helped Carolina earn a win on February 14, 2008. He was originally selected by Philadelphia in the sixth round, 193rd overall, of the 2002 NHL Entry Draft.
Mormina played four seasons of collegiate hockey at Colgate University (2001-02 – 2004-05). He skated in 141 career collegiate games, registering 16 goals and 40 assists for 56 points, along with 156 penalty minutes. In his final collegiate season in 2004-05, Mormina helped Colgate finish in third place at the ECAC Hockey Tournament, and he was selected to the ECAC All-Tournament Team.
---
Mark Cesari
Strength & Conditioning Coach
Strength and Conditioning Coach Mark Cesari is in his seventh season with the Hartford Wolf Pack.
Cesari came to the Wolf Pack after spending two years as the Rehabilitation Coordinator at a Physio Therapy clinic in Montreal, Quebec. Prior to that, Cesari spent three seasons as the strength and conditioning coach and athletic trainer with the Rochester Institute of Technology Division I hockey program.
Cesari earned his Masters of Science in Human Movement (2015) and in Sports Health Care (2006) both from the Arizona School of Health Sciences. In 2004, he completed his Bachelors degree in Exercise Science with a specialization in Athletic Therapy at Concordia University in Montreal. A native of Montreal, he currently resides in Glastonbury, CT with his wife Jennifer and their son Jackson.
---
Corey Smith
Video Coach
Corey Smith is the Wolf Pack's video coach, responsible for filming and analyzing footage of each of the Wolf Pack's games, and for pre-scouting Wolf Pack opponents. He also assists his fellow coaches with extensive data collection and assessment, as well as with a number of administrative functions.
A 34-year-old native of Buffalo, NY, Smith joined the Wolf Pack after 11 seasons as a member of the Buffalo Sabres' NHL staff, serving as the Sabres' video coach.
Smith, whose father, Derek Smith, was a long-time NHL player with the Sabres and Detroit Red Wings, is a graduate of SUNY-Cortland, where he played college hockey. Smith's brother, Kyle Smith, is the video coach of the AHL's Rochester Americans.
Smith has made his home in Downtown Hartford.
---
Kevin Gately
Assistant Strength & Conditioning Coach
Assistant Strength and Conditioning Coach Kevin Gately joined the Wolf Pack staff for the 2016-17 season.
Raised in Glastonbury, CT and a 2009 graduate of Glastonbury High School, Gately has previous Wolf Pack experience, having interned with the Wolf Pack during the 2013-14 season, assisting with player fitness monitoring and technology implementation.
Since his Wolf Pack internship year, Gately has completed an MBA at the University of North Carolina at Charlotte, receiving his Masters in the spring of 2016. While doing his MBA studies, he spent the 2015-16 hockey season as the strength coach for the AHL's Charlotte Checkers, supporting injury rehab, nutrition and prospect development and contributing to the design of the weight room in the Checkers' new arena. Gately also coached high school lacrosse while at UNC-Charlotte.
Gately is a 2013 graduate of the University of Connecticut, with a Bachelors degree in Exercise Science. He worked with the football team at UConn, as well as helping a local high school lacrosse team, and played lacrosse during his freshman and sophomore years. In 2013, Gately did an internship at EXOS in Los Angeles, CA, an offseason training facility for NHL, NBA, NFL, MLS, professional rugby and youth athletes.
Gately has been an active member of the National Strength and Conditioning Association since 2011.
---
Brian Fairbrother
Athletic Trainer
Wolf Pack athletic trainer Brian Fairbrother joined the Wolf Pack staff prior to the 2014-15 season, after eight years working in Sports Medicine at Quinnipiac University in Hamden, CT. Fairbrother was an assistant athletic trainer for the Bobcats, providing medical services for the men's ice hockey program, and served as an approved clinical instructor and lecturer for Quinnipiac's athletic training program.
Before beginning his tenure at Quinnipiac in 2006, Fairbrother earned a Master's degree in Recreation and Sports Science from Ohio University, where he worked for a year as a graduate assistant athletic trainer, focusing his efforts on the football, women's lacrosse and track and field teams. Fairbrother also has experience working with the football program at Harvard University.
Fairbrother did his undergraduate work at Northeastern University, completing his Bachelor's degree in Athletic Training in 2005. In addition to his athletic training credentials, Fairbrother, a native of Littleton, NH, is a certified strength and conditioning specialist and a Basic Life Support Instructor for the American Heart Association. He holds membership in both the National Athletic Trainers Association and the National Strength and Conditioning Association.
Fairbrother and his wife Katyann make their home in Wallingford, CT.
---
Kevin Gazzale
Assistant Athletic Trainer
Assistant athletic trainer Kevin Gazzale joined the Wolf Pack staff prior to the 2016-17 season.
Gazzale completed a Masters degree in Athletic Training in May of 2016 from Seton Hall University. There he worked with the Seton Hall Men's Basketball Team, as well as with the Somerset Patriots of the Atlantic Professional Baseball League. The Metuchen, NJ native also interned with the NHL's Philadelphia Flyers during the 2015-16 season.
Prior to his graduate work at Seton Hall, Gazzale earned a Bachelors degree in Kinesiology from Louisiana State University, graduating in 2014. He is an active member of the National Athletic Trainers Association and the National Strength and Conditioning Association.
Gazzale resides in Glastonbury, CT with his fiancé Virginia.
---
Russell Holdredge
Head Equipment Manager
The 2017-18 campaign marks the ninth season as Head Equipment Manager of the Wolf Pack for Russell Holdredge, and his 15th overall as a member of the equipment staff of the New York Rangers' AHL affiliate. Holdredge started in his current role with the Hartford Wolf Pack in 2009-2010, after spending the previous six seasons as the assistant equipment manager.
Prior to working in pro hockey, Russell worked as an assistant manager for five years at Gerry Cosby's Sporting Goods in Sheffield, MA, which produces equipment bags and football/hockey protective pads for many professional teams and players. There he received extensive training in skate sharpening and other hockey equipment repairs.
Born in South Kingston, RI, Holdredge grew up in Sheffield, MA. He graduated from Mt. Everett High School in 2001 and then attended Berkshire Community College. He and his wife Ashley reside in Manchester, CT.
---
Craig Lewis
Assistant Equipment Manager
Craig Lewis is in his ninth season as the Wolf Pack's assistant equipment manager in 2017-18, and his 10h overall as a member of the equipment staff with the New York Rangers' AHL affiliate. Lewis took over the assistant equipment manager's duties in 2009-10, after serving the Wolf Pack as the visiting team locker room assistant during the 2008-2009 campaign.
Prior to joining the Wolf Pack, Lewis worked as an ice hockey official, doing several levels of hockey, including high school and college level games, throughout the state of Connecticut and New England. Lewis was also a fan of the Hartford Wolf Pack growing up, coming to countless games.
Born in Hartford, CT, Lewis was raised in Newington. He graduated from Newington High School in 2004 and then studied at both Central Connecticut State University and Manchester Community College. He now resides in Enfield, CT with his wife Kaitlin and their two children, Ryan and Connor.
---
Team Doctors
Dr. Brett Wasserlauf - Orthopedic Surgeon
Dr. Scott Bissell - Orthopedic Surgeon
Dr. David Grise - Internal Pulmonary Medicine
Dr. Stephen Hall - Dentist
Dr. William Maron - Opthamologist
Dr. Jesse Sorrentino - Dentist
Dr. Eric Damato - Damato Chiropractic Center