Chris Drury
General Manager
Trumbull, CT native Chris Drury was named General Manager of the Wolf Pack May 16, 2017. He also serves as Assistant General Manager of the parent New York Rangers, having been promoted to that post on September 2, 2016. Click here for Chris Drury's full bio.
---
Pat Boller
Assistant General Manager
Pat Boller is in his 12th season of service on the Wolf Pack staff. The parent New York Rangers added an Assistant General Manager designation to Boller's title prior to the 2012-13 season, after he had spent six years as an assistant coach. Click here for Pat Boller's full bio.
---
Kris Knoblauch
Head Coach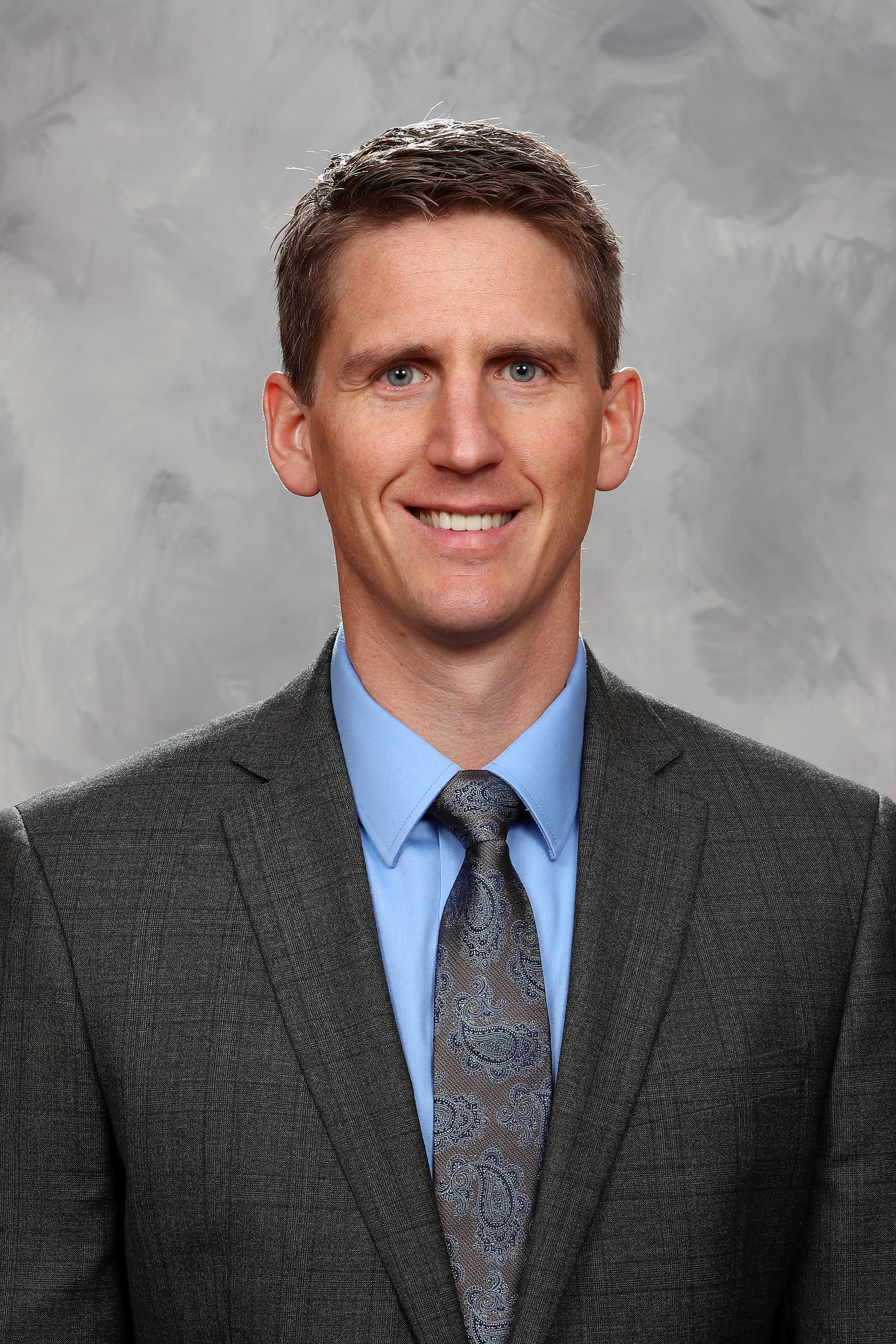 Kris Knoblauch was named the seventh head coach in Wolf Pack history July 29, 2019.
Knoblauch came to the Wolf Pack after two seasons as an assistant coach with the NHL's Philadelphia Flyers. Before that stint, he spent seven seasons as a head coach at the Major Junior level, two (2010-11 and 2011-12) with the Kootenay Ice of the Western Hockey League (WHL) and five with the Ontario Hockey League's (OHL) Erie Otters. All told, Knoblauch amassed a Major Junior career coaching record of 298-130-16-13, for a points percentage of .684, in 457 games.
In his first season as a head coach, 2010-11 with Kootenay, Knoblauch piloted the Ice to a 46-21-1-4 record for 97 points in the regular season, and a 16-3 playoff run that saw Kootenay capture the WHL championship and earn a berth in the Memorial Cup.
After finishing his Kootenay tenure with a total record of 82-47-7-8, Knoblauch moved behind the Erie bench November 29, 2012. Subsequent to that season, he led the Otters to four consecutive 50-win campaigns, making the Otters the first team in the history of the Canadian Hockey League (comprised of the OHL, WHL and Quebec Major Junior Hockey League) to accomplish that feat.
Knoblauch's 2016-17 Erie club won the OHL championship and advanced all the way to the final of the Memorial Cup, and both that team and the previous year's Otter squad won the Hamilton Spectator Trophy for compiling the best regular-season record in the OHL. Knoblauch was named OHL Coach of the Year in 2015-16, and also guided Erie to the OHL final in 2014-15.
During his time coaching the Otters and Ice, Knoblauch played a key role in the development of numerous players who went on to successful NHL careers, including Connor McDavid, Alex DeBrincat, Sam Reinhart, Dylan Strome, Andre Burakovsky, Anthony Cirelli, Erik Cernak, Connor Brown and Travis Dermott.
Prior to becoming a head coach, Knoblauch served as an assistant coach with Kootenay for three seasons (2007-08 through 2009-10). The first coaching experience for the Imperial, Saskatchewan native was one year (2006-07) as an assistant with the WHL's Prince Albert Raiders.
Knoblauch has also coached in several international tournaments, including helping Canada to a silver medal in the 2017 IIHF World Junior Championship as an assistant coach. He also served as head coach for Canada-Red at the 2015 World U17 Hockey Challenge.
Knoblauch played two seasons of pro hockey, logging 60 games with the CHL's Austin IceBats in 2004-05 (18-22-40, 76 PIM) and 28 games in 2005-06 with Neuilly sur-Marne of FFHG Division 1 in France (29-17-46, 24 PIM).
A seventh-round pick (166th overall) by the New York Islanders in the 1997 NHL Draft, Knoblauch, who was born September 24, 1978, enjoyed a three-year playing career in the WHL, from 1996-97 through 1998-99, with the Red Deer Rebels, Edmonton/Kootenay Ice and Lethbridge Hurricanes. He also played five seasons (1999-00 through 2003-04) of Canadian University hockey at the University of Alberta, winning a CIAU University Cup championship his first year.
---
Gord Murphy
Associate Head Coach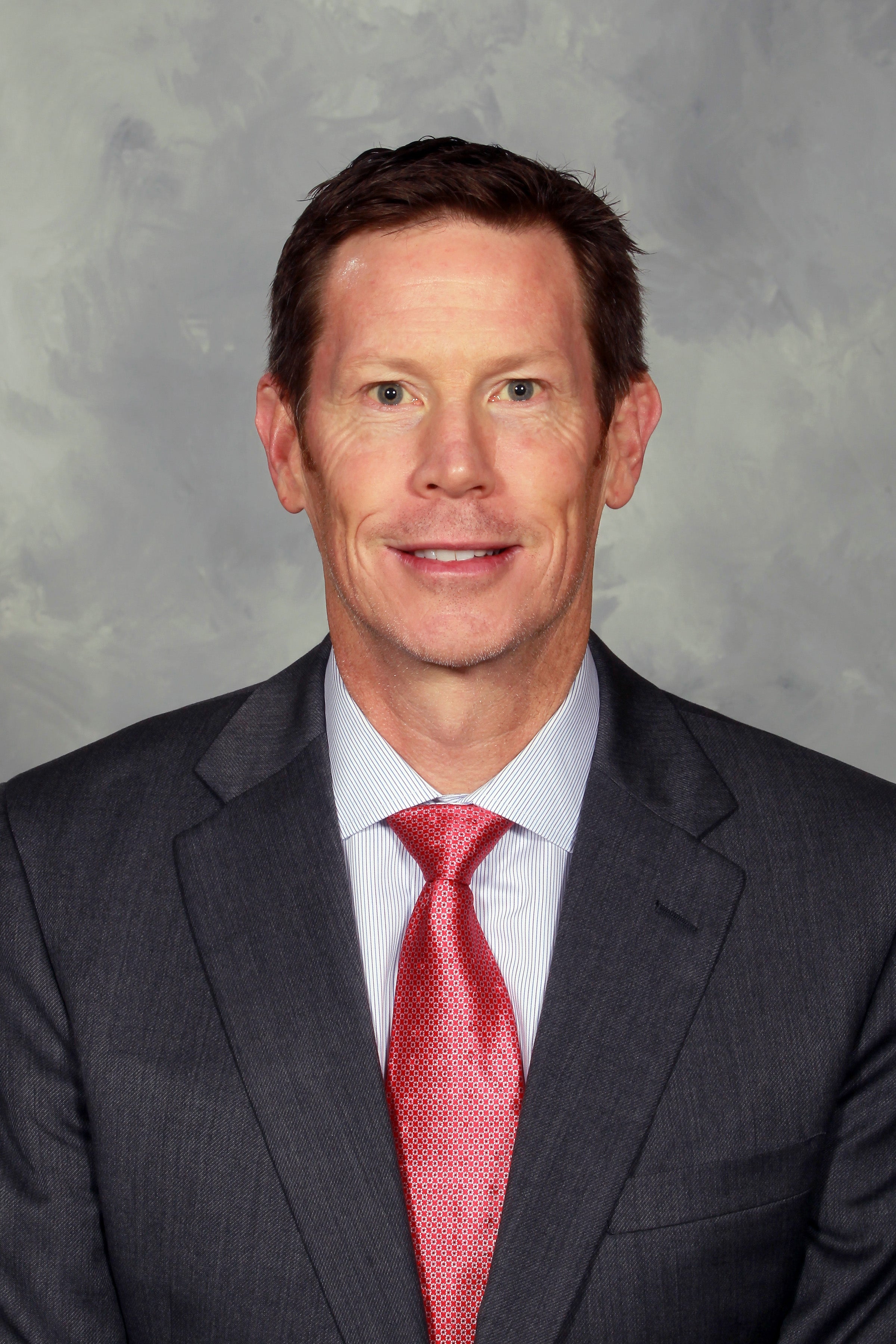 Gord Murphy joined the Wolf Pack as associate head coach August 2, 2019.
Prior to becoming a member of the Wolf Pack staff, the former long-time NHL defenseman had been an NHL assistant coach since the 2002-03 season. Murphy, a 52-year-old native of Willowdale, Ontario, spent most of the past five years as an assistant with the Philadelphia Flyers, the last two working as a fellow assistant with current Wolf Pack head coach Kris Knoblauch. Before that, Murphy was with the Florida Panthers for four seasons, and his first seven years (2002-03 through 2009-10) of coaching experience was on the Columbus Blue Jackets' staff. He also has international coaching experience, having helped to guide Canada's team, as an assistant coach, to a bronze medal in the 2014 IIHF U18 World Championship.
As a player, Murphy enjoyed an 862-game NHL career with the Flyers, Panthers, Boston Bruins and Atlanta Thrashers, from 1988-89 through 2001-02. He was twice a member of first-year expansion teams, in 1993-94 with the Panthers and in 1999-00 with the Thrashers, and helped the 1995-96 Florida squad to the Stanley Cup Final.
Originally a ninth-round draft pick (189th overall) by the Flyers in 1985 out of the Ontario Hockey League, Murphy totaled 85 goals and 238 assists for 323 points, along with 668 penalty minutes, in NHL action and also played 72 career AHL games (9-26-35, 52 PIM), with the Hershey Bears and Providence Bruins. As a rookie in 1987-88, Murphy won a Calder Cup with the Bears, who went a perfect 12-0 in that year's postseason under head coach John Paddock, who piloted the Wolf Pack to the 2000 Calder Cup championship.
---
Eric Raymond
Goaltending Coach
Wolf Pack goaltending coach Eric Raymond is in his fourth season with the New York Rangers organization in 2019-20.
Raymond works in partnership with New York Rangers assistant coach and goaltending coach Benoit Allaire, assisting him with goaltender development, a working relationship that spans over 30 years.
In addition to his experience with the Ranger organization, Raymond spent eight seasons (2010-11 through 2017-18) as goaltending coach of the Halifax Mooseheads of the Quebec Major Junior Hockey League (QMJHL). Raymond helped guide the Mooseheads to a Memorial Cup championship in 2012-13, a campaign in which Halifax went 58-6-3-1 and also captured the QMJHL regular-season and playoff (President's Cup) titles. That team's number-one netminder, Zach Fucale, then went on to become the first goaltender selected in the 2013 NHL Entry Draft, picked 36th overall by the Montreal Canadiens.
Raymond, a 47-year-old Montreal native, also has had significant international coaching success, having been on the staff of the Gold Medal-winning Canadian team at the 2018 World Junior Hockey Championship. With that squad, Raymond mentored backstops Carter Hart and Colton Point.
In 11 total years coaching in the QMJHL, Raymond developed several goalies for the Canadian National Under-18 and Under-20 teams. He also won the President's Cup as a goaltender himself twice, with the Laval Titan in 1989-90 and Verdun College-Francais in 1991-92, both times with Allaire as his goaltending coach.
Raymond enjoyed a 16-year pro playing career, which included 33 AHL games with the Fredericton Canadiens and Rochester Americans. He also saw action in the International Hockey League, ECHL, Colonial Hockey League and Central Hockey League, before spending time with the Canadian National Team and then heading overseas for the last 11 seasons of his career. Those included one year in England, one in Germany and nine seasons in France. He won back-to-back French championships in 2003-04 and 2004-05, with Rouen.
---
Mark Cesari
Strength & Conditioning Coach
Strength and Conditioning Coach Mark Cesari is in his eighth season with the Hartford Wolf Pack. Click here for Mark Cesari's full bio.​
---
Brian Fairbrother
Athletic Trainer
Wolf Pack athletic trainer Brian Fairbrother joined the Wolf Pack staff prior to the 2014-15 season, after eight years working in Sports Medicine at Quinnipiac University in Hamden, CT. Fairbrother was an assistant athletic trainer for the Bobcats, providing medical services for the men's ice hockey program, and served as an approved clinical instructor and lecturer for Quinnipiac's athletic training program. Click here for Brian Fairbrother's full bio.
---
Matthew Aiello
Assistant Athletic Trainer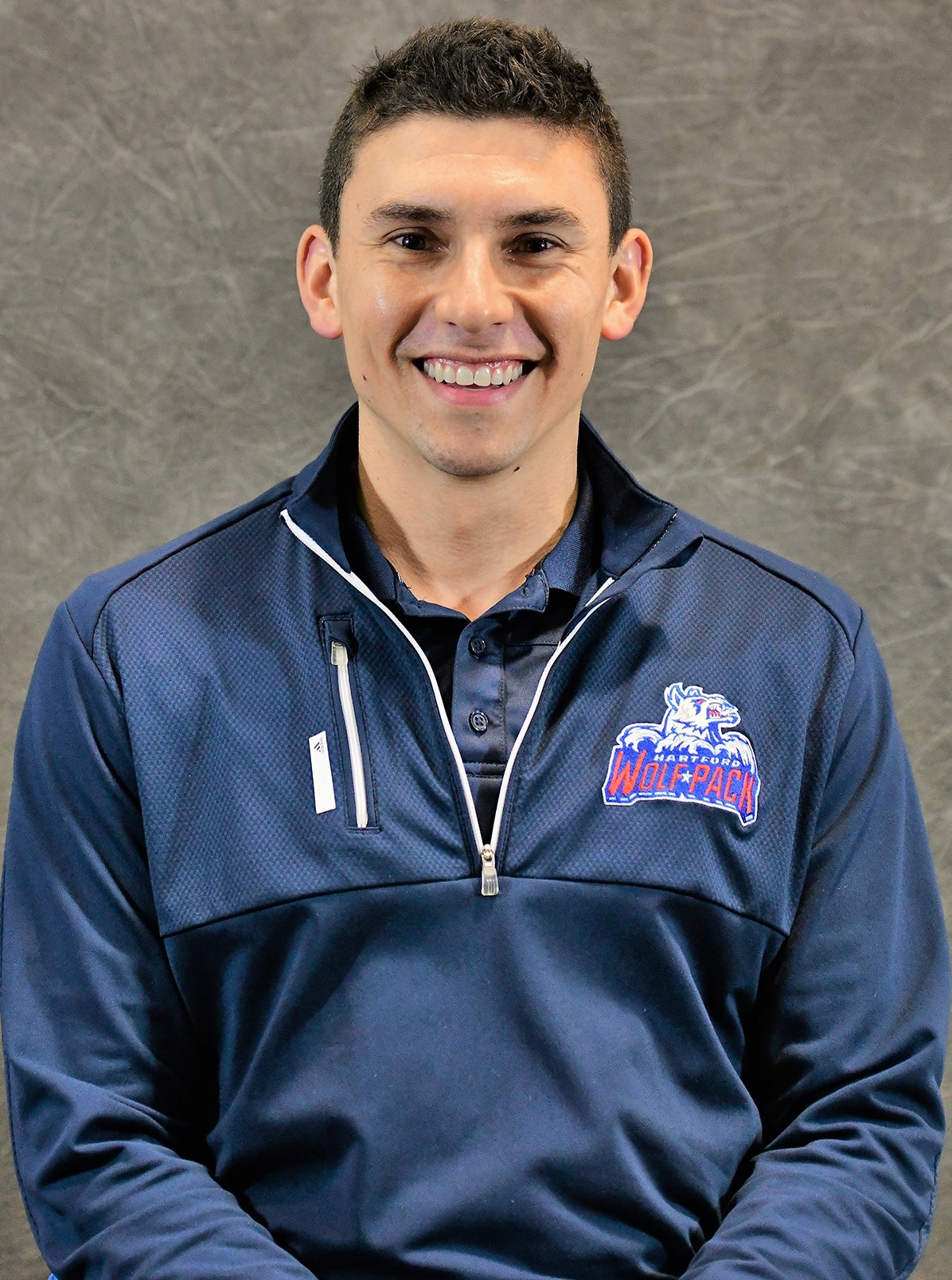 Assistant Athletic Trainer Matthew Aiello is a new addition to the Wolf Pack staff for the 2018-19 season.
Aiello, 29, came to the Wolf Pack after two seasons as athletic trainer for the Greenville Swamp Rabbits of the ECHL. The Cary, Illinois native was recognized as the 2018 ECHL Athletic Trainer of the Year, the first Swamp Rabbit trainer to be so honored, and also has earned an ECHL All-Star Classic selection.
Since earning a Bachelor of Science degree in Athletic Training from Illinois State University, Aiello has seven years of professional experience in the field. He began his career with the Bloomington Prairie Thunder of the Central Hockey League, and also has worked for CHL's Bloomington Blaze, as well as for the Bloomington Thunder in both the Southern Professional Hockey League (SPHL) and the United States Hockey League (USHL).
---
Craig Lewis
Equipment Manager
Craig Lewis is in his 12th season on the Wolf Pack equipment staff in 2018-19. Click here for Craig Lewis' full bio.
---
Team Doctors
Dr. Brett Wasserlauf - Orthopedic Surgeon
Dr. Scott Bissell - Orthopedic Surgeon
Dr. David Grise - Internal Pulmonary Medicine
Dr. Stephen Hall - Dentist
Dr. William Maron - Opthamologist
Dr. Jesse Sorrentino - Dentist
Dr. Eric Damato - Damato Chiropractic Center