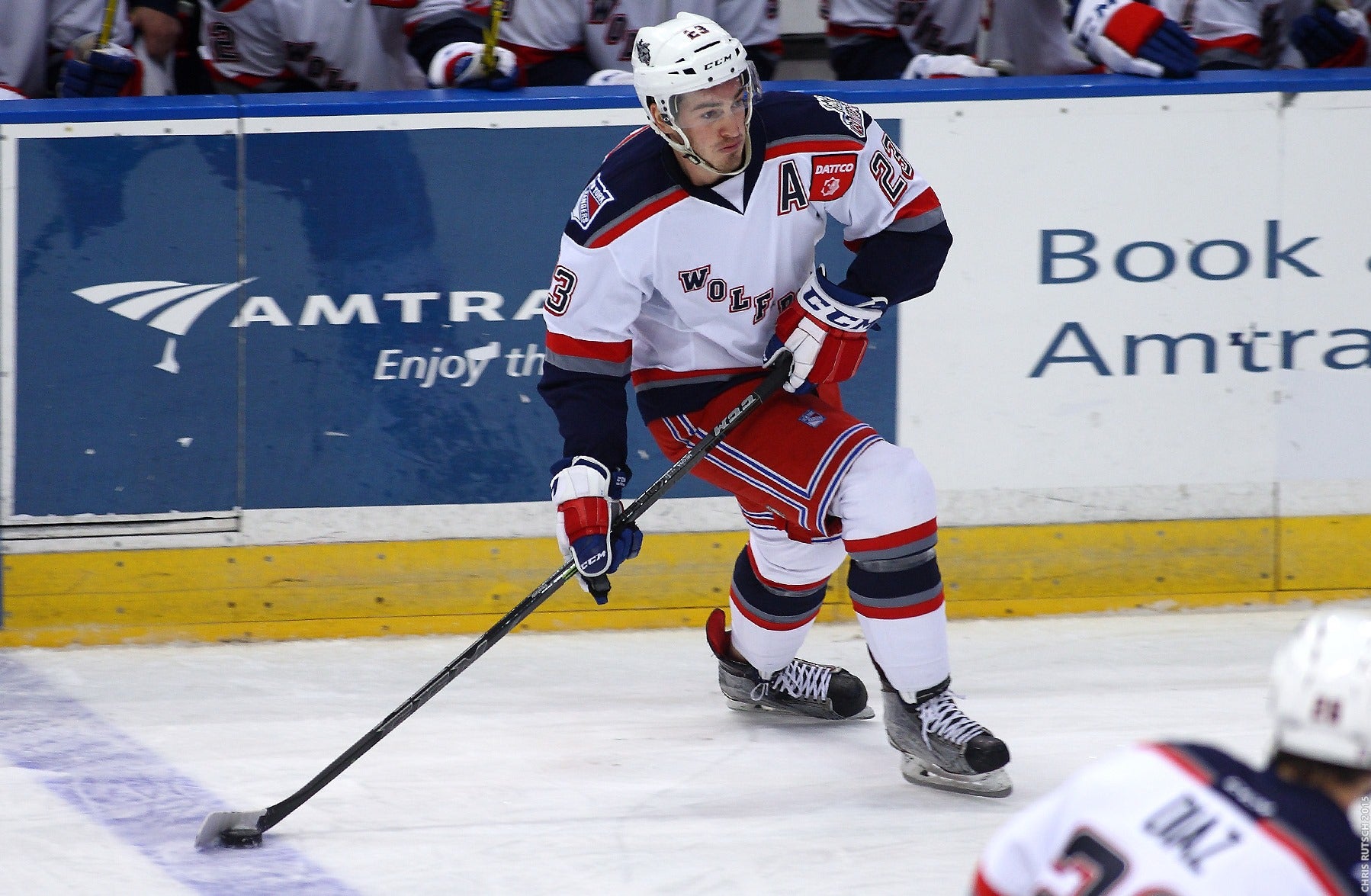 Pack's Megna: Raising the Ceiling
Feb 11, 2016
By Bob Crawford
Seeing the Wolf Pack's Jayson Megna play now, at age 26, it's hard to believe that back when he was NHL draft-age, no team saw fit to spend a pick on him.
Megna, who was born in Fort Lauderdale, Florida but grew up in the Chicago area, is 6-1 and 195 pounds, is an explosive skater, and is possessed of enough hand skills to have scored 26 goals for a 97-point Wilkes-Barre/Scranton Penguin club last season, his third year as a pro. Yet, he was almost completely overlooked by the hockey world as a teenager.
"I couldn't even get a college scholarship until I was 21 years old," Megna said after a recent Wolf Pack practice. "I was a late bloomer, I suppose. I didn't really know about the benefits of weight training, I didn't really experience that. I was always a smaller guy, on my driver's license I was, like, 5-8, 135 pounds when I was 16. So during the time when guys were starting to get ranked in the (NHL) Central Scouting and stuff like that, I was playing Illinois high school hockey. Wasn't the biggest prospect out there, for sure. "
Things started to change for Megna when he headed out East to prep school as a 17-year-old in 2007, spending two seasons at Tabor Academy in Massachusetts.
"I had a couple of good coaches, at Tabor Academy and then Cedar Rapids in the USHL, and I think my career just made leaps and bounds, in the USHL especially," Megna said. "I was able to get exposure in front of college scouts and NHL scouts alike, and ended up going to [University of Nebraska-Omaha]. It's funny how things work, there's no conventional path, really, there's so many guys that have similar stories as I do. I just wasn't on the draft radar at the time, and that's OK, I wouldn't change a thing."
Indeed, matters have worked out just fine for Megna's hockey career, and things happened fast for him once he got that opportunity to play in the WCHA for Nebraska-Omaha. After one season with the Mavericks, Megna was inked to a free-agent contract by the Pittsburgh Penguins and by the following year, was spending over half the season in the NHL.
"It's crazy," Megna laughed about the trajectory his fortunes took, which very nearly brought him to Hartford six years prior to his joining the Wolf Pack. "It's obviously a dream come true to be able to play in the NHL. And you look back on it, I was actually supposed to go to Trinity College, which is funny enough, that we've been practicing there a couple of times. At the last second I pulled out of Trinity and went to the USHL. So thinking back on it now, it's crazy to think about where I could have been and where I'm at now, and I'm very thankful and fortunate to be able to do what I do."
What Megna is doing now is riding a bit of a shuttle between the Wolf Pack and the parent New York Rangers, who signed Megna on the first day of NHL free agency this past July 1. He has received three separate recalls to the big club, including two since the First of the Year, and had a huge game in his Ranger debut, contributing a goal and an assist to a 6-2 New York home win over the Dallas Stars January 5.
"I feel like the fit's been good," Megna said of his first pro experience with changing organizations. "Obviously it's a very good team up top, and it's tough to crack that roster any given night. At this point it hasn't been any different than the rest of my career, just trying to get better every day and just keep working on things. And hopefully my time will come soon."
When questioned on what he is most focused on improving in order to make a permanent jump to the NHL, Megna responded, "I think just working on consistency, more than anything. I think that's the biggest thing, trying to continue to play at your highest level and then bust through and make another ceiling for yourself, another point in your game that you can reach, and just kind of building on your game, obviously working on little things, whether it be faceoffs or wall plays. Whatever position you get put into, I think it's important to look at the minor details of the game and control what you can control."
Wolf Pack head coach Ken Gernander said of Megna's game, "Obviously he's been one of our key players and he's playing well, that's why he gets his recall. I think with his speed, if he wants to get in on the forecheck and kind of agitate and track pucks down, he can be very effective."
Gernander used Megna almost exclusively at center prior to his longest Ranger stint, which spanned from January 4-21. Since then, though, the Wolf Pack head man has used the right-handed-shooting Megna on both the right and left wings, which suits him just fine.
"I'm most comfortable at center, but I definitely like to be able to be a versatile player, because you don't know what position you can be placed in up top (the NHL)," Megna said. "And I think it raises your value if you can play all three (forward) positions, so I pride myself on that. I've worked at all three positions in the past. Predominantly at center this year, but have played right wing and left wing now here, and I've played right wing and left wing up top too. You've just got to keep working on things. It's a little bit different on each side of the wing, so working on rims or breakouts, you've got to make sure that you're sharp on those."
Megna was razor-sharp in his first Madison Square Garden outing as a Ranger. He was given the opportunity to play on a line with offensive stalwarts Rick Nash and Derek Stepan, and Megna made the most of it.
"That was a really neat experience to be able to do, that was a fun night," Megna said of his second career NHL multiple-point outing. "I had a lot of fun playing with those guys, obviously a couple of really good players. And it was special to be able to play a regular-season game in there. I played two preseason games in there, but it was a whole different animal being able to play in there in the regular season against a good Dallas team, and it was great to be able to help the team get two points."
In addition to that chance to skate alongside Nash and Stepan, Megna's confidence also received a boost from some quality Ranger power-play time. That was particularly prominent in the one game he played during his last callup, a 4-2 home win over Minnesota February 4.
"I think I played three minutes on the power play (in that game) and six minutes were even strength," Megna said. "So a good chunk of the time I was on the power play, which is different than I'm used to. But absolutely it gives you confidence, when you get to touch the puck and feel the puck, and you've got a little bit of extra space and time. It definitely helps your confidence level."
For whatever time he is back with the Wolf Pack, Megna hungers to help inject some oomph into a Wolf Pack offense that has generally had a hard time finishing chances. Despite having missed eight Pack games during his various recalls, Megna has the second-most shots on goal on the team, and the most among players who started the year with the club. He is hoping that if he continues to get plenty of pucks at the net, more of his 26-goal finishing touch from last year will resurface. For Megna, that goes back again to the consistency factor.
"I think it's just a matter of time for me, I'm hoping so, anyways," is how he characterized it. "I think that if you shoot the puck on net, good things are going to happen. And goals come in bunches, too, there's peaks and valleys of the year. I've shown that I can be scoring a lot of goals on a weekend, or it can go a couple of weekends. I just hope to continue to get a lot of pucks on net, and good things will start happening."
Gernander agreed, saying, "It's been a little bit different in that he's been up and down (from the NHL) lately, but early on in the season he was a guy that was getting a lot of shots and a lot of good looks at the net, and things just weren't going his way offensively. I'm guessing that he's a guy that if he gets on a bit of a roll and starts to feel things, he could start to put up some numbers."
The 2014-15 campaign was a big breakout year for Megna in terms of production, as his previous pro career high in goals, between the NHL and AHL, had been 14. He finds it hard to pinpoint exactly what made the difference for him in Year Three with the Penguins, but makes it sound as though he had achieved a desirable comfort level in both Wilkes-Barre and Pittsburgh.
"I think I just was very confident in that organization, having played three years under the same head coach (former Wilkes-Barre/Scranton head man, and now New Jersey Devils bench boss, John Hynes), and just being around pretty much the same guys through all three years, too," Megna said. "We had a good group of guys, good core, and we knew where each other were going to be. We played together consistently throughout the year, and we finished when we had our chances, I suppose. It's not like I'm not getting the chances here, it's just that I was good last year in taking advantage of the opportunities."
Another thing that his tenure in the Pittsburgh organization afforded Megna was the chance to gain a solid measure of AHL playoff experience. He saw action in 33 Calder Cup playoff contests during his three postseasons with Wilkes-Barre/Scranton, and his knowledge thus gained of what makes teams successful in the spring has him optimistic about this year's Wolf Pack club.
"We've proven, especially over the last ten, 11 games, that we're a good team," Megna said. "I think we're heating up at the right time. Obviously we went through a little stretch where we weren't very good, and we were down at the bottom of the standings, so I think we need to continue to push. You can't let off the pedal at all right now, especially coming down the stretch, teams are going to be fighting for their lives. And we're one of those teams, we've got to play like that, with desperation, every night, and I think we have a good shot."
Back to All