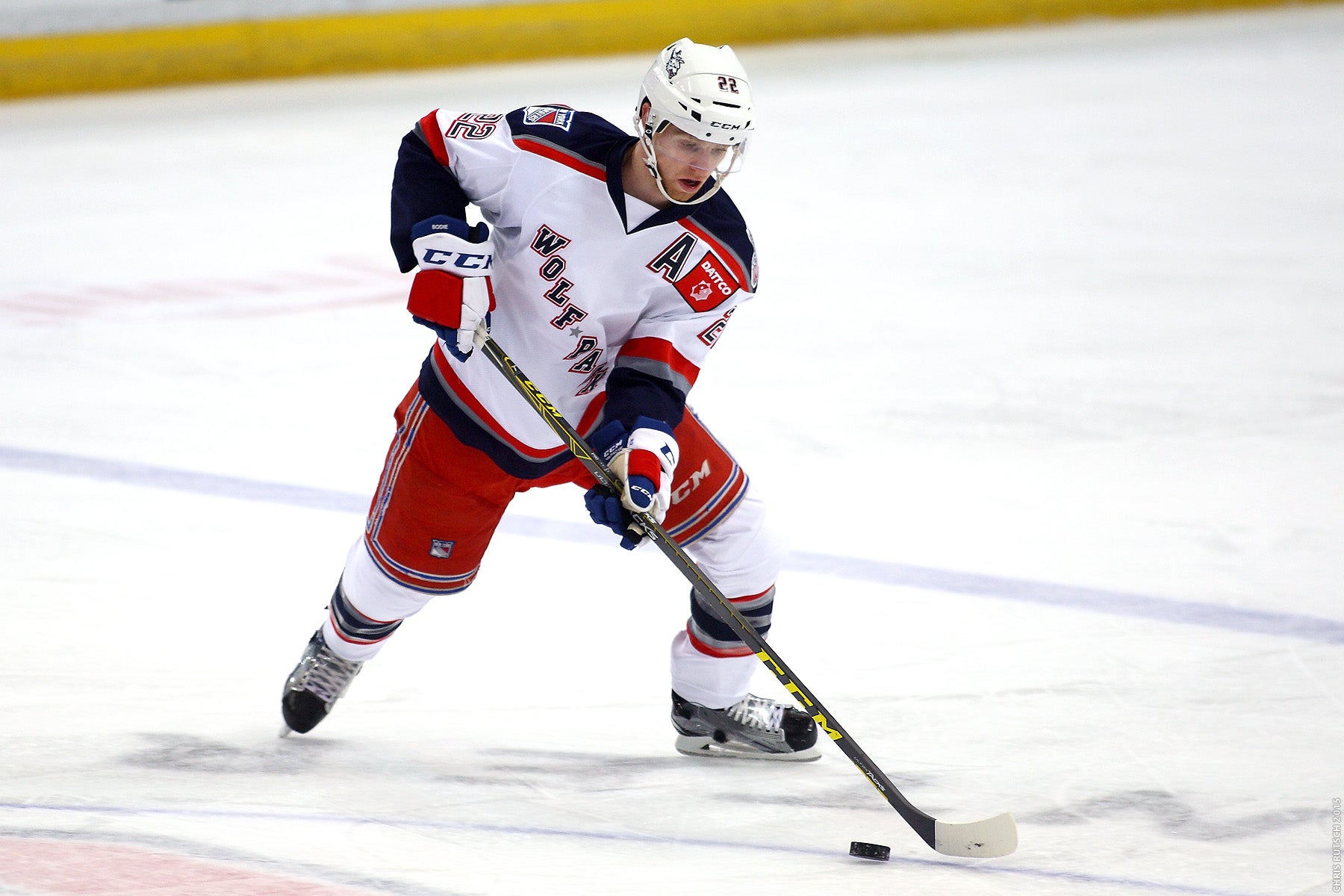 Consistency Earns Bodie Pack Leadership Position
Dec 10, 2015
Wolf Pack defenseman Mat Bodie has always been a leader throughout his hockey career, including two seasons as the captain of a Union College squad that developed into an NCAA championship team.
Still, it's unusual that a player who is only in his second year of pro hockey would be tabbed to wear one of the assistant captains' "A"s on his jersey, and that is the designation the Wolf Pack coaches have bestowed upon Bodie. He is among a group of four players, joined by Chris Summers, Marek Hrivik and Jayson Megna, who have rotated wearing the A's this season, and Bodie is grateful for the nod.
"It's an honor to be recognized by the coaching staff," he said recently. "We've got a pretty good leadership group here and there's a few more guys who could be wearing letters. So you don't go about changing your game, just go out and play hard."
That steadiness factor extends to Bodie's interaction with his fellow Wolf Pack players. Being only a second-year pro and a titled leader of more experienced teammates might seem to be somewhat of an uncomfortable position, but for Bodie, it's just a matter of being the same guy he always has been.
"I don't think you change much," he said. "We've got a good group of guys, so it's not like you have to keep guys in check. It's just a matter of carrying yourself the right way and hoping guys will follow.
"Regardless of where you are, you shouldn't be changing the way you play, or the way you act, just because you have a letter, or not, on your jersey. And I don't think any of the guys here that are wearing letters have changed at all."
A 25-year-old native of East St. Paul, Manitoba, Bodie is an intelligent, articulate individual, as one might expect of a guy with a degree from a school like Union. He is not a loud, aggressive personality, and it's hard to picture him giving many rah-rah speeches in the locker room, but that hardly hampers him from being a factor in the team's leadership group.
"There's times for that (raising one's voice), but if you're doing it all the time, guys are going to start to tune you out," Bodie said. "So you've just got to pick your spots, and if something needs to be said, you step up and say it, but other than that you just go about your business."
That businesslike approach allowed Bodie to make a smooth transition from the ECAC to the AHL last season, as he tied for the Wolf Pack team plus/minus lead, with a +11, and chalked up five goals and 32 points in 75 games. That was after a Senior season at Union that saw him lead all NCAA blueliners in points, with 8-31-39 in 40 games. The offensive numbers have not flowed as freely for Bodie so far this year, but that is not a big concern to him.
"You need to take care of your own end first, play a 200-foot game," Bodie said. "A lot of times when you're playing smart defensively, the offensive side just kind of falls into place. And it's not something that I'm too worried about, offensively, but just making sure you're keeping pucks out of your own end, because that's your job first."
The task of defending down low in the zone is not made any easier by Bodie's relatively small and slight stature, which sees him check in at six feet and 170 pounds. That means that his effort level and smarts become his most important assets.
"You've got to kind of pick your battles," Bodie said, "and just make sure you have good body position, not trying to necessarily out-muscle guys, but just keeping them to the outside, getting good stick on puck as well, and win the battles any way you can."
Bodie's game also has a distinct edge to it, as many opposing forwards who have wrestled him for position in the hard areas of the Wolf Pack zone can attest.
"A guy challenges you and you've got to step up to the plate, whether that be fighting or just kind of stepping up for teammates, or whatever it may be," Bodie said. "But you definitely don't let anyone push you around, and just play hard."
The second-year pro Bodie has actually been the veteran on his defensive pairing for most of the season, as he has most often skated with one of two rookies, either Brady Skjei or Ryan Graves. Bodie has played his off-hand side, the right side, in both of those tandems, but has felt comfortable alongside both first-year pros.
"I think it's gone pretty good," he said. "We feed off each other pretty well, and the communication is starting to really help us, I think. But as far as being a leader on the back end, just go out and do your job, and some of the younger guys are going to look up to that and just follow suit."
Playing with the former first-round pick Skjei, in particular, was quite a bit different than Bodie's experience last year, when he spent much of the season paired with another ex-first rounder, Dylan McIlrath, whose calling cards are rugged physical play and intimidation.
"More puck-possession (with Skjei), there seem to be a little more D-to-D passes, and trying to play in the offensive zone as much as possible," Bodie said. "But any time we are in the D-zone, he does a good job hitting stick, and hopefully get that puck out of our end as soon as possible.
"He's a great-skating defenseman, that's the thing you're going to notice first if you come watch him. Big guy, uses his body well, and I think the offensive side for him is starting to come as well."
In addition to his regular duties, one of Bodie's major roles is helping to quarterback the Wolf Pack power play. That has been the source of some frustration, as the man-advantage unit has struggled for much of the season, and Bodie feels that the key to improving its success is not all that complex.
"First and foremost, just outworking the opponent," is how he put it. "Especially on special teams, that's going to be the first cause for success. Secondly, we need to start sending more pucks towards the net and more traffic in front of the net.
"Don't try and complicate things when it's not going your way, just simplify as much as you can, and outwork the other team."
Words to live by, to be sure, in all aspects of the game, and those of a leader.
Back to All