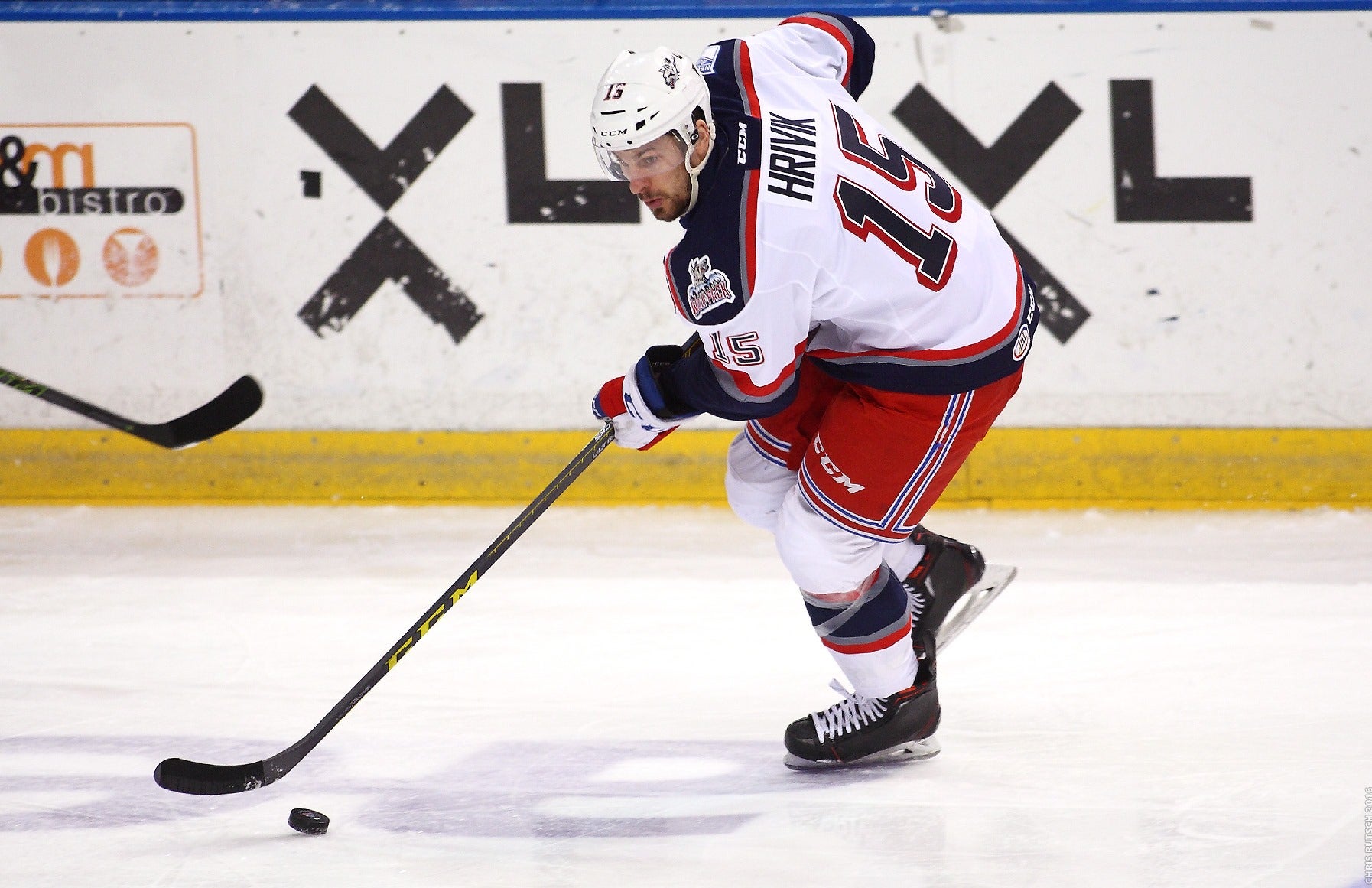 Callup Gives Hrivik Extra Spark
Mar 10, 2016
By Bob Crawford
The Wolf Pack's Marek Hrivik had spent more than three-and-a-half seasons, and 246 games, in the AHL before receiving his first career NHL callup from the parent New York Rangers February 21.
Hrivik had done much quality work for the Wolf Pack/Connecticut Whale since coming out of the Quebec Major Junior Hockey League at the end of March, 2012, notching 40 goals and 115 points in those 246 games and handling all three forward positions, but had never been in a position to have his name called for Ranger duty.
When the call finally came, and Hrivik stepped out on to the Madison Square Garden ice against the Detroit Red Wings that night, it made all of the waiting worth it.
"It felt really good, it couldn't get any better, first NHL game for the Rangers, in the Garden and against Detroit," Hrivik said recently. "It was just an unbelievable feeling."
There was no bitterness on Hrivik's part, either, that it took so relatively long for his NHL chance to come.
"I just knew there was a really good team up there and that a lot of guys weren't going to get injured," the 24-year-old Zilina, Slovakia native said. "No injuries and a great team up there, that's a tough way to get a callup, but I just try to play well here and obviously I got rewarded."
Hrivik did well with the reward, too, registering one assist and a +2 while averaging 8:49 of ice time in four games. He played mostly on a line with NHL veterans Dominic Moore and Tanner Glass.
In the view of Wolf Pack head coach Ken Gernander, even though Hrivik is now back at the AHL level, getting that first callup is great for his development as a player.
"It gives him a chance to experience the NHL pace, and to see how he fares against NHL competition in real regular season games," the Wolf Pack's bench boss elaborated. "I think he played well and acquitted himself well, so that should be a source of confidence coming back to us now, and I think it was a well-deserved callup on his part."
"I felt good out there," Hrivik added. "I think I was making some plays, our line played really well. We scored two goals in those four games I'd been up there, I think we played well. Obviously I'm here (with the Wolf Pack) now, but I've just got to keep working hard and hope that I'll get the chance again."
Now that he has finally gotten an opportunity to experience the Big Show first-hand, Hrivik is convinced that the biggest challenge to playing at that level as opposed to the AHL is less about the skill level as about reading and reacting to the play.
"It was just the thinking and making the right plays at the right time, that's the biggest difference, I find," he said. "The guys are not skating faster, they're not bigger, they're not stronger, it's just the decision-making and the skilled plays that you have to make, especially on the blue lines. I think that was the biggest difference, and just to execute."
Hrivik's contributions to the Rangers generated positive buzz in the New York market, and he feels as though the Ranger group appreciated how he was able to fit in.
"I was getting a lot of information from the guys during the games, in the meetings and the video," Hrivik said. "They were telling me what to do, they helped me a lot. And they gave me feedback, the day I got sent down I got a call from the coaches, and they said they were happy with me and just be ready for the next opportunity."
The way Gernander sees it, the timing was perfect for the big club to make good use of Hrivik's best attributes.
"They were looking for someone that can kill penalties and be good, sound defensively on a fourth-line role, but also I think they were looking to spice it up offensively on that fourth line," Gernander said. "He seemed to fit the bill in all three categories, and as advertised, I think he did a good job."
Hrivik can also take some solace in the fact that the main reason why he was returned to the Wolf Pack was a factor beyond his control, and had nothing to do with his play. When the Rangers acquired Eric Staal from the Carolina Hurricanes February 28, just ahead of the NHL trade deadline, and did not lose a roster player in the deal, they needed to clear a roster spot.
Hrivik was philosophical about being back with the Wolf Pack, and is determined not to over-think.
"I don't really know what was the situation behind that, but it's just the way it goes," he said. "It's a hard business, and sometimes you've got to just swallow it and just go with it. It's just the way it is, and they do the best they can up there to help that team to win."
Having had that first NHL "cup of coffee" has made Hrivik extra hungry for more, and determined to keep up the AHL level of play that put him in line for the first callup.
"That gives you kind of that extra push, when you know you're playing for something and you want to get up there and you have the chance to do it," he said. "It gave me a taste, and I'm going to be buzzing and just trying to earn it again."
If Hrivik needs to enhance the "carrot on the end of the stick", so to speak, he can remind himself of the relative luxury of the NHL lifestyle. Traveling on chartered planes, staying in four-star hotels and enjoying the best dining that the best cities have to offer makes for a pretty nice deal.
"It's something that you can get used to easy," Hrivik chuckled of the perks of NHL life. It's just something that those guys get rewarded for how good they play up there."
Meanwhile, back in the AHL, Hrivik wasn't away from the Wolf Pack that long, only a week, but came back to a locker room that had just undergone a major change. That was with captain Ryan Bourque, who was basically a contemporary of Hrivik's in terms of Wolf Pack experience, having just been traded to Washington for fellow veteran winger Chris Brown.
"I was a little surprised, but on the other hand I want to see Bourquie do well," Hrivik said of his reaction to the change. "We've been together here since my first year, four or five years. We're going to miss him, for sure, he was a great leader in the room and a great player."
Still on hand with the Wolf Pack, though, is Hrivik's linemate Nicklas Jensen, with whom Hrivik had enjoyed excellent chemistry since Jensen's acquisition from Vancouver January 8. Hrivik was happy to reunite with his Danish wingman, and hopefully pick right up where the two left off when Hrivik was called up.
"He's a really skilled guy," said Hrivik of Jensen. "He shoots the puck, he scores goals, so I'm just trying to create some space out there for him. And now we've got [Daniel Paille] on the line too, he's got a lot of experience from the NHL. So I hope we'll do well."
Back to All