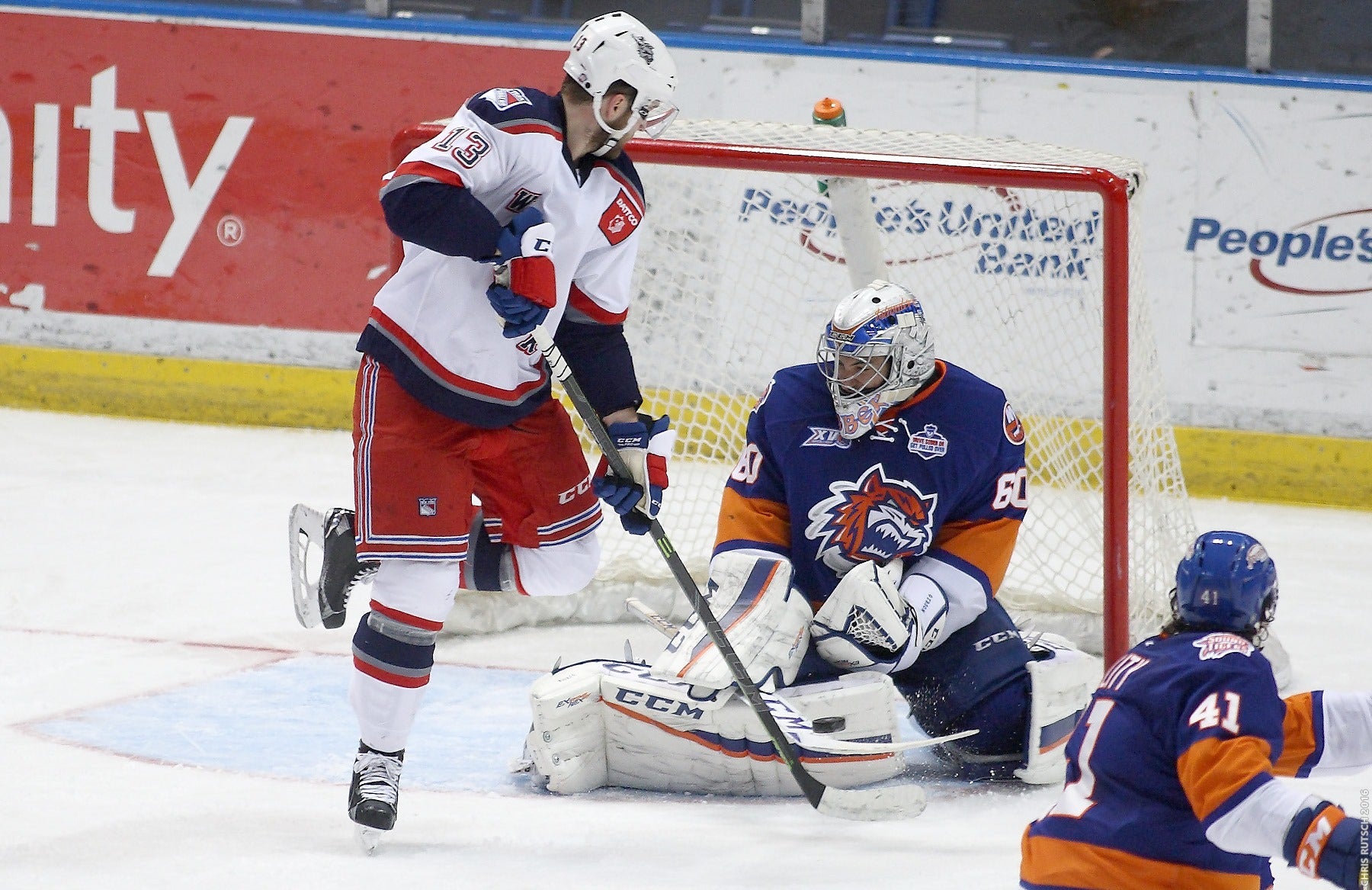 Pack can't Make up Ground on Sound Tigers
Mar 6, 2016
By Chuck Packard
The Wolf Pack looked to close the gap in the playoff points race against the Bridgeport Sound Tigers Sunday at the XL Center, but were thwarted in a 3-2 loss.
Matt Finn put up two goals and an assist in the Bridgeport victory, and Alan Quine had a goal and an assist. Christopher Gibson made 26 saves in the victory.
Mat Bodie and Raphael Diaz scored a goal apiece in the Wolf Pack loss, and goalie Jeff Malcolm made 25 saves.
The Wolf Pack struck early with a goal from Bodie, who buried a backhander from between the hash marks for his fifth of the season. He was assisted by Daniel Paille and Nicklas Jensen just 3:25 into the period.
Bodie, the new Wolf Pack captain, spoke about the defensemen's mentality, "We're trying to generate as much offense as we can, especially on the back end, trying to help the forwards out a bit. For our team to be successful, we're going to need our D-men to be chipping in too."
Bridgeport struck back in the second period with a goal from Quine, to tie the game at one. Assisted by James Wright and Finn, it was Quine's 13th goal of the season.
Just after the Bridgeport goal, Jesse Graham was assessed a double minor for high sticking. However, the Wolf Pack could not take advantage of the four-minute power play.
"Any time you have a power play, you're going to draw some momentum from that," said Bodie. "We had some good looks, good chances, and just weren't able to bury it."
Late in the second, Diaz was called for interference. The Wolf Pack's penalty kill was unable to hold this time, and Finn scored his second goal of the season, assisted by Bracken Kearns and Quine.
Three tripping penalties were called in quick succession starting at the 11:16 mark of the third period, on Bridgeport's Justin Vaive and Finn and Hartford's Bodie, resulting in a 4-on-3 for the Wolf Pack. The Wolf Pack were able to capitalize with a goal from Diaz, assisted by Skjei and Marek Hrivik.
Finn netted the game-winner just 1:47 later, though, at 14:45, coming out of the penalty box and attacking on a partial breakaway. The Wolf Pack's Ryan Graves nearly caught Finn, but he was able to keep his stick free and put the puck past Malcolm. Ben Holmstrom got the lone assist on Finn's second of the game.
"It's definitely not the outcome we wanted, but we got three big games next weekend, we'll get back at it and I look forward to Friday night," said Bodie.
The Wolf Pack start a three-game weekend with a visit to Providence Friday night, taking on the Bruins at 7:05 PM. All of the action can be heard live on News Radio 1410 WPOP, and on-line at www.newsradio1410.com and iHeartRadio. Video streaming is available at www.ahllive.com.
The Wolf Pack's next home game is this Saturday, March 12 vs. the Lehigh Valley Phantoms. That is "Military Appreciation Day", with a special faceoff time of 3:00 PM. The Wolf Pack will wear special military-themed jerseys in that game, and the jerseys will be auctioned off to benefit military-related charities. Also, the first 2,000 fans get a Mackenzie Skapski bobblehead, presented by Xfinity.
Tickets for all remaining 2015-16 Wolf Pack home games are on sale at the Agera Energy Ticket Office at the XL Center, on-line at www.hartfordwolfpack.com and by phone at (877) 522-8499.
To speak with a Wolf Pack representative about season or group tickets, or any of the Wolf Pack's many ticketing options, call (855) 762-6451, or click here to request more info.
Bridgeport Sound Tigers 3 at Hartford Wolf Pack 2
Sunday, March 6, 2016 - XL Center

Bridgeport 0 2 1 - 3
Hartford 1 0 1 - 2

1st Period-1, Hartford, Bodie 5 (Jensen, Paille), 3:25. Penalties-Skjei Hfd (interference), 15:09; Finn Bri (tripping), 15:39.

2nd Period-2, Bridgeport, Quine 13 (Wright, Finn), 3:52. 3, Bridgeport, Finn 2 (Kearns, Quine), 16:39 (PP). Penalties-Halmo Bri (tripping), 1:09; Graham Bri (double minor - high-sticking), 4:17; Diaz Hfd (interference), 15:25.

3rd Period-4, Hartford, Diaz 5 (Skjei, Hrivik), 12:38 (PP). 5, Bridgeport, Finn 3 (B. Holmstrom), 14:25. Penalties-Vaive Bri (tripping), 11:16; Bodie Hfd (tripping), 11:53; Finn Bri (tripping), 12:18.

Shots on Goal-Bridgeport 10-9-9-28. Hartford 13-9-6-28.
Power Play Opportunities-Bridgeport 1 / 2; Hartford 1 / 6.
Goalies-Bridgeport, Gibson 17-10-3 (28 shots-26 saves). Hartford, Malcolm 5-5-0 (28 shots-25 saves).
A-5,611
Referees-Evgeny Romasko (39), Stephen Reneau (34).
Linesmen-Luke Galvin (2), Paul Simeon (66).
Back to All