With 38 home games each season, you have plenty of opportunities to give your group a night they'll remember! Gather your team at the XL Center to support the Pack all season long through our exclusive Group Packages!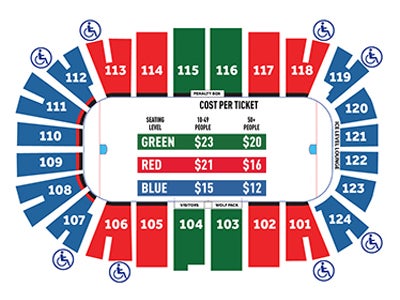 All groups receive the following:
Great discounts on tickets for groups of 10 or more
A group shout out on the scoreboard
Your own personal account representative to walk you through the process from start to finish
Promotional flyers (upon request)
The opportunity to enhance your night with special Group Experience Packages (see below).
To book your group, call 855-762-6451 or click here.
Pepsi Dynamites Intermission Skate

An amazing opportunity for learn to skate programs, mini-mites and mite age hockey players to play during intermission breaks at Wolf Pack games. Each player will receive a complimentary Wolf Pack Pepsi Dynamites jersey.

Rink of Dreams Pre-Game Skate

Want to know what it's like to skate on the same ice as the Hartford Wolf Pack? Well now you can! Play a game and/or host a team building event on the XL Center Ice! Click here for more information.

Intermission Performance

The opportunity of a lifetime for your performance group to entertain thousands of fans on the ice during a Wolf Pack intermission.

Pre-Game Performance

Every performance needs a great opening act, and each wolf pack home game is an opportunity for your group to kick off the show in the XL Center Atrium as fans enter the building. Don't miss this opportunity to showcase your talents in downtown Hartford!

Choir & Band Performances

Be an important part of the pre-game ceremony and have your choir, chorus or band perform the National Anthem or God Bless America. Has your group been working on a special song all year? Perform a Song of Choice during one of the Wolf Pack intermissions and show off your hard work.

Color Guard & Big Flag

Your group/organization can present their colors on the ice or wave the Big Flag from the stands during the National Anthem & God Bless America performances.

Benchwarmers

This interactive experience gives your group the best seat in the house during pre-game warmups as you watch both teams warm-up from the Wolf Pack players bench.
** Hockey helmets required

High Five Tunnel

Give your favorite Wolf Pack players a high five, cheer them on and provide the team with a boost of energy as they take the ice for the start of the game!

Blue Line Buddies

Ever wanted to know what it feels like to take the ice with the Wolf Pack? Kids of all ages can stand on the blue line next to some of the future stars of the NHL during the National Anthem, and get a taste of what it's like to be one of the pros!