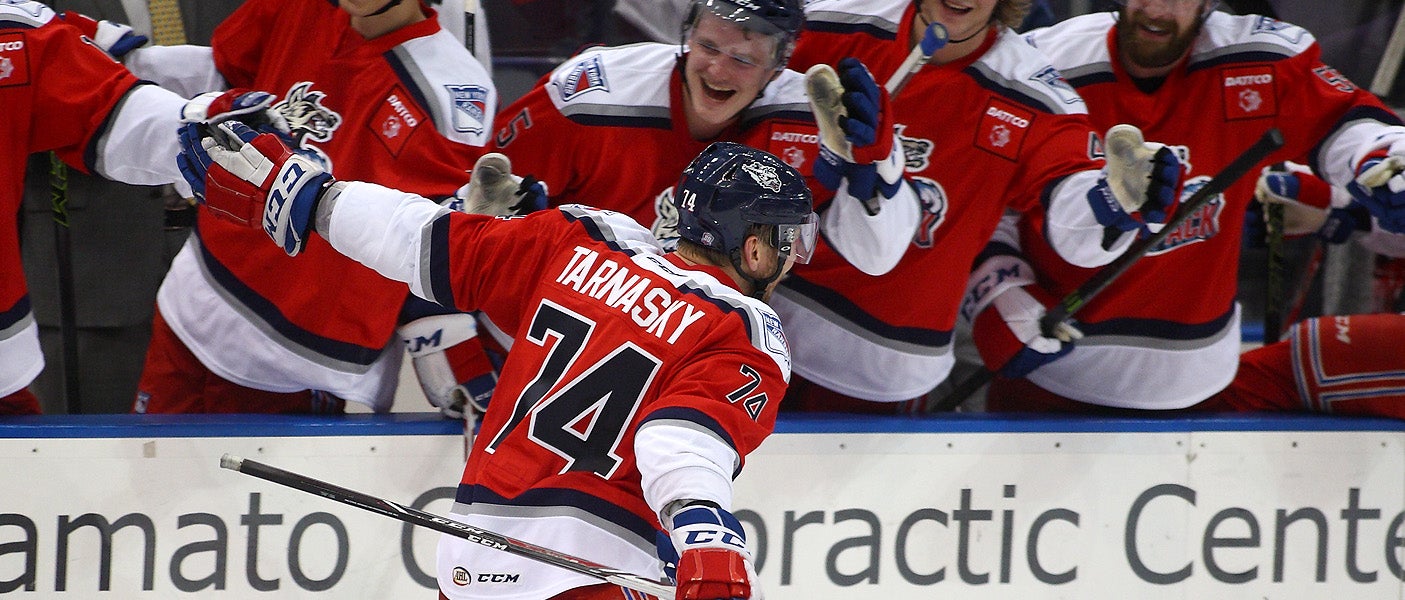 Wolf Pack Score Shootout Win vs. Bears, 4-3
Dec 4, 2015
Mackenzie Skapski made 33 saves, and Chad Nehring had a goal and an assist, Friday night at the XL Center, as the Wolf Pack posted a 4-3 shootout win over the Hershey Bears.
The victory snapped a three-game losing streak for the Wolf Pack, who got shootout goals from Brian Gibbons and Adam Tambellini. Connor Carrick had a goal and two assists for Hershey.
Both teams showed aggression right out of the gate, and two of the game's first three shots found the back of the net.
Hershey drew first blood on a Nathan Walker goal on 1:24 in, with Walker firing the puck past Skapski after a Carrick shot was blocked.
Hartford bounced back only 1:46 later, though, with Brady Skjei finding an open net behind Bear goaltender Justin Peters (22 saves), following a deflected shot by Nehring.
"That's a practiced play," said Wolf Pack head coach Ken Gernander of Skjei's second goal of the season. "If you don't have a good shot, try to put it in his pads, see what can happen. And it worked out. He kicked it right to the back door, and good jump from Brady Skjei."
At 7:10, Hartford's Nehring found a scrambling puck in front of Hershey's net and managed to slip it past keeper Peters, giving the Wolf Pack the lead for the first time in the game. The goal was Nehring's sixth of season.
"We had a good shift with (Ryan) Bourque and (Tyler) Brown," Nehring said. "They just got it to the net and I was in the right place at the right time."
With 25 seconds left to go in the period, Brown thought he had scored the team's third goal of the night, but it was ultimately disallowed for guiding the puck into the net with a skate. The period thus ended with Hartford leading 2-1.
Hershey's offense dominated the early part of the second period, and Carrick evened up the score on a long shot at 7:30. Gernander said, "We've got to take things to the next level and get that full sixty (minutes). The second period has been kind of getting away on us."
Hershey continued to keep the pressure on, holding the Wolf without a shot on goal for the first 17 minutes of the session. With 2:42 left in the second period, thought, Hartford's Nick Tarnasky flicked a rebound of a Chris McCarthy backhander into the Bears' net, putting the Wolf Pack back in front.
The Wolf Pack nursed the 3-2 lead late into the third period, but with Peters on the bench for an extra attacker, the Bears forced Travis Oleksuk into a delay-of-game penalty for clearing the puck out of play at the 19-minute mark.
With a 6-on-4 skater advantage with the goalie pulled, Chandler Stephenson tied the game at 19:17, firing in a rebound after Skapski had stopped a shot by Carrick.
Overtime was scoreless, despite the Wolf Pack's Jayson Megna being awarded a penalty shot at 2:48, after he was hooked by Aaron Ness.
In the shootout, Hershey's Dustin Gazley was up first, and he managed to sneak the puck past Skapski. This was answered by a goal by Brian Gibbons, tying up the score. Next up was Bears leading scorer Chris Bourque, last season's Wolf Pack scoring leader. Skapski managed to keep him at bay, and later said with a smile, "I had Chris come against me last year, he probably did that (move) a million times. It's kinda cool to face an old teammate."
Adam Tambellini followed up with a second successful attempt, giving Skapski a chance to finish a win. The Wolf Pack goaltender did just that, with a sprawling save to deny Carrick.
The Wolf Pack now travel to Wilkes-Barre, PA, where they will visit the AHL-leading Wilkes-Barre/Scranton Penguins Saturday night at 7:05 PM. All of the action of that battle can be heard live on News Radio 1410 WPOP, and on-line at www.newsradio1410.com and iHeartRadio. Video streaming is available at www.ahllive.com.
The Wolf Pack's next home action is Saturday, December 12, when the Bridgeport Sound Tigers make their first visit of the season to the XL Center. Faceoff is 7:00, and it's "Star Wars Night". Fans can hang out with their favorite Star Wars characters and win some exciting Star Wars prizes.
Tickets for all 2015-16 Wolf Pack home games are on sale at the Agera Energy Ticket Office at the XL Center, on-line at www.hartfordwolfpack.com and by phone at (877) 522-8499.
To speak with a Wolf Pack representative about season or group tickets, or any of the Wolf Pack's many ticketing options, call (855) 762-6451, or click here to request more info.
Hershey Bears 3 at Hartford Wolf Pack 4 (SO)
Friday, December 4, 2015 - XL Center

Hershey 1 1 1 0 - 3
Hartford 2 1 0 0 - 4

1st Period-1, Hershey, Walker 4 (Carrick, Sill), 1:24. 2, Hartford, Skjei 2 (Nehring, Bourque), 3:10. 3, Hartford, Nehring 6 (Brown, Summers), 7:10. Penalties-Carrick Her (interference), 8:49.

2nd Period-4, Hershey, Carrick 4 (Djoos, Stephenson), 7:30. 5, Hartford, Tarnasky 6 (McCarthy), 17:18. Penalties-Bowey Her (holding), 2:54; Gibbons Hfd (interference), 9:24; Summers Hfd (tripping), 13:04.

3rd Period-6, Hershey, Stephenson 1 (Carrick, Bourque), 19:17 (PP). Penalties-Bourque Her (closing hand on puck), 0:40; Brown Hfd (slashing), 3:28; Hughes Hfd (kneeing), 8:16; Oleksuk Hfd (delay of game), 19:00.

OT Period- No Scoring. Penalties-No Penalties

Shootout - Hershey 1 (Gazley G, Bourque NG, Carrick NG), Hartford 2 (Gibbons G, Tambellini G).
Shots on Goal-Hershey 10-9-14-3-0-36. Hartford 11-2-9-3-1-26.
Power Play Opportunities-Hershey 1 / 5; Hartford 0 / 3.
Goalies-Hershey, Peters 5-3-3 (25 shots-22 saves). Hartford, Skapski 2-4-0 (36 shots-33 saves).
A-3,923
Referees-Tom Chmielewski (43).
Linesmen-Luke Galvin (2), Derek Wahl (46).
Back to All