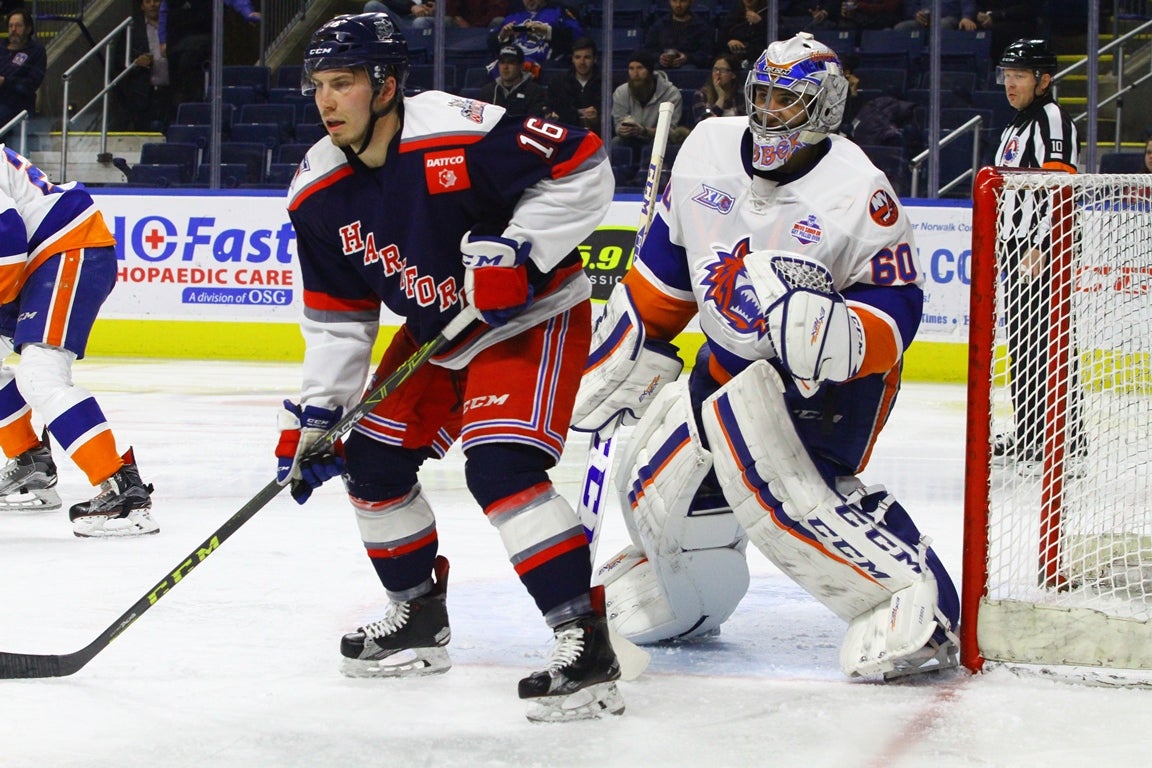 Wolf Pack Come from Behind for Shootout Win
Mar 2, 2016
(Photo courtesy of Bridgeport Sound Tigers)
The Wolf Pack came back from 2-0 and 3-1 deficits Wednesday night at Webster Bank Arena in Bridgeport, CT, in a 4-3 shootout win over the Bridgeport Sound Tigers.
The victory improved the Wolf Pack's record to 29-26-2-0 for 60 points, and brought Hartford to within four points of Bridgeport for the final playoff spot in the Atlantic Division.
Calle Andersson had a goal and an assist for the Wolf Pack, for his first multiple-point game in North American pro, and Chad Nehring and Luke Adam also scored. Jayson Megna had two assists, and Magnus Hellberg made a team season-high 42 saves and went 2-for-2 in the shootout.
Mike Halmo had a goal and an assist for Bridgeport, and Kyle Burroughs and Alan Quine also scored. Kane Lafranchise had two assists and Christopher Gibson made 35 stops.
Wolf Pack defenseman Mat Bodie, who wore the captain's "C" in place of the traded Ryan Bourque, said of the Wolf Pack's turnaround in the game, "Guys just started playing simple hockey, getting pucks deep and going to work. I thought we did a good job of sustaining some offensive-zone pressure, just getting to the net. That's where we've been scoring most of our goals throughout the year, and that's what we tried to do in the second and third."
The Sound Tigers controlled most of the first-period action, getting 12 of the first 13 shots of the game, and they jumped on top at 9:47, on a goal by Burroughs. After a cross-slot feed by Lafranchise went off the boards, the puck found Burroughs at the right point. His slap shot went off of Hellberg and into the net.
Bridgeport made it a 2-0 lead with 1:34 left in the first, on Halmo's 14th goal of the season. A pass out of the right-wing corner by Carter Verhaeghe found Halmo at the left side of the goal mouth for a tap-in.
The Wolf Pack picked up their play significantly in the second period, and got on the scoreboard on Nehring's 17th of the year at 12:22. Andersson moved down from the right point and took a pass from Megna, and slid the puck to Nehring in the slot. Nehring reached around Gibson's right side and poked the puck in.
Bridgeport answered that goal with a power-play score at 15:36, with Andersson in the penalty box for hooking. A pass out of the right-wing corner found Quine unguarded in front. Quine picked the corner over Hellberg's catching glove with a 15-footer, for a 3-1 Sound Tiger lead.
The Wolf Pack responded only 1:23 later, though, on a fine effort by Adam. Chris McCarthy played the puck to the front of the Bridgeport goal and after missing on a first attempt, Adam rapped the puck off of Gibson and into the net while down on one knee.
After that late second-period goal, the Wolf Pack tied the score only 2:41 into the third period, on a power play. With Ben Holmstrom off for high-sticking, Andersson was credited with his third goal of the season when his shot from the left point hit a Bridgeport defender in front and deflected past Gibson.
The tie held up through the rest of regulation and overtime, and the Wolf Pack kept their shootout record perfect, improving to 5-0. Hellberg stopped Jesse Graham and Quine, and after Brian Gibbons missed on the Wolf Pack's first attempt, both Nicklas Jensen and Adam Tambellini connected, securing the win for the Wolf Pack.
The Wolf Pack's next action is on home ice at the XL Center this Sunday, March 6, also against the Sound Tigers. That game features a special faceoff time of 1:00, and it's "Anti-Bullying Day". All fans who have taken the Wolf Pack's anti-bullying pledge will receive a free anti-bullying t-shirt at the game. The Wolf Pack-Sound Tigers tilt is also the last Sunday home game of the season, and thus the last chance to take advantage of the Wolf Pack's "Click It or Ticket Family Value Pack". The Family Value Pack includes two tickets, two sodas and two hot dogs, all for just $35.
Tickets for all remaining 2015-16 Wolf Pack home games are on sale at the Agera Energy Ticket Office at the XL Center, on-line at www.hartfordwolfpack.com and by phone at (877) 522-8499.
To speak with a Wolf Pack representative about season or group tickets, or any of the Wolf Pack's many ticketing options, call (855) 762-6451, or click here to request more info.
Hartford Wolf Pack 4 (SO) at Bridgeport Sound Tigers 3
Wednesday, March 2, 2016 - Webster Bank Arena

Hartford 0 2 1 0 - 4
Bridgeport 2 1 0 0 - 3

1st Period-1, Bridgeport, Burroughs 2 (Lafranchise, Wright), 9:47. 2, Bridgeport, Halmo 14 (Verhaeghe, Kearns), 18:26. Penalties-Diaz Hfd (slashing), 1:17.

2nd Period-3, Hartford, Nehring 17 (Andersson, Megna), 12:22. 4, Bridgeport, Quine 12 (Lafranchise, Halmo), 15:36 (PP). 5, Hartford, Adam 9 (Tarnasky, McCarthy), 16:59. Penalties-Burroughs Bri (cross-checking), 3:36; Andersson Hfd (hooking), 14:48; Johnston Bri (tripping), 18:11.

3rd Period-6, Hartford, Andersson 3 (Bodie, Megna), 2:44 (PP). Penalties-B. Holmstrom Bri (high-sticking), 1:40; Skjei Hfd (interference), 5:05; Vaive Bri (interference), 8:27; Hrivik Hfd (high-sticking), 8:44.

OT Period- No Scoring. Penalties-No Penalties

Shootout - Hartford 2 (Gibbons NG, Jensen G, Tambellini G), Bridgeport 0 (Graham NG, Quine NG).
Shots on Goal-Hartford 7-15-13-3-1-39. Bridgeport 16-11-13-5-0-45.
Power Play Opportunities-Hartford 1 / 4; Bridgeport 1 / 4.
Goalies-Hartford, Hellberg 22-16-0 (45 shots-42 saves). Bridgeport, Gibson 15-10-3 (38 shots-35 saves).
A-3,333
Referees-Terry Koharski (10).
Linesmen-Anthony Giorgio (73), Luke Galvin (2).
Back to All