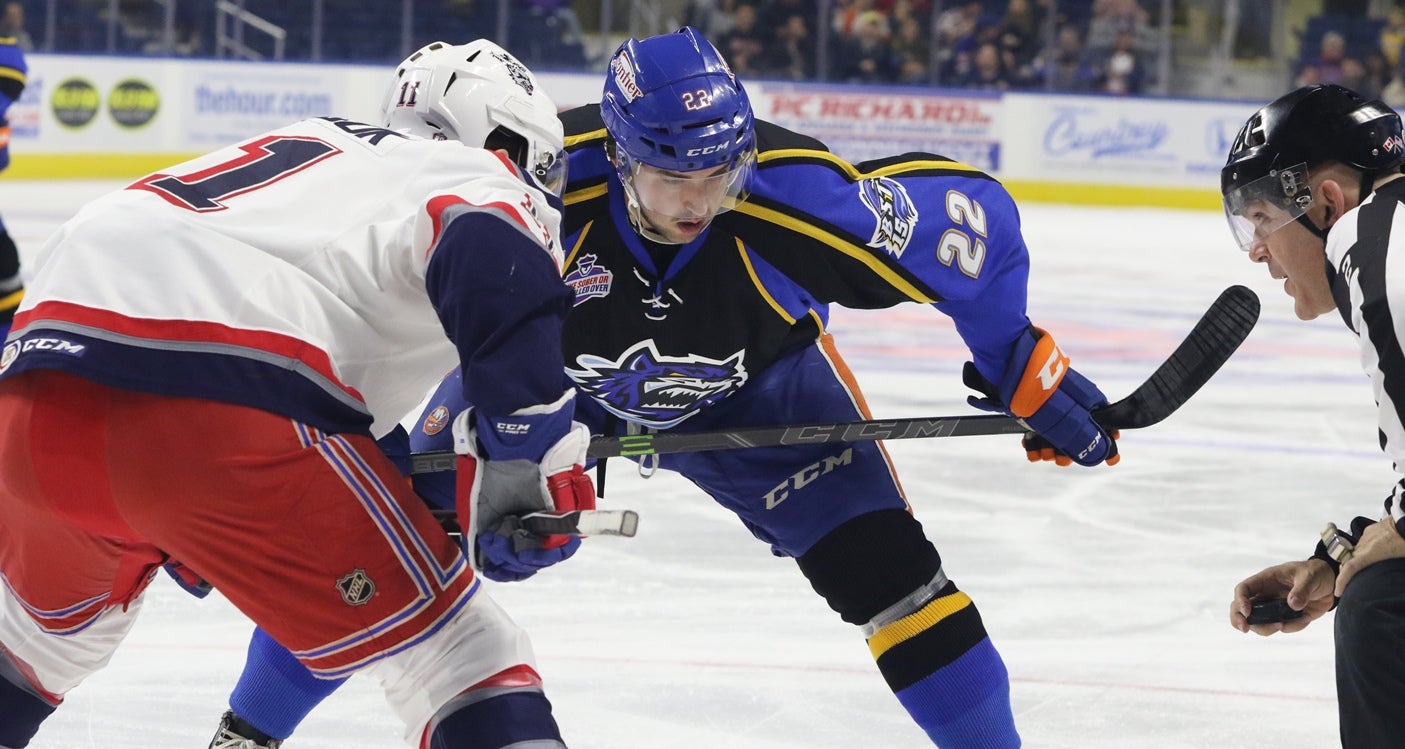 Whitney's Hat Trick Trips up Pack
Nov 28, 2015
(Photo courtesy of Puck Stopper Photography)
Joe Whitney scored a hat trick for the Bridgeport Sound Tigers, and former Wolf Pack forward Justin Vaive added a goal and an assist, Saturday night at Webster Bank Arena, leading Bridgeport to a 5-2 win over the Wolf Pack.
The loss was the third straight for the 8-11-2-0 Wolf Pack, who got goals from Luke Adam and Jayson Megna. Mackenzie Skapski made 34 saves in the Hartford net.
"We didn't get to our game fast enough," Megna said. "Credit to them, they played well. I thought we had some chances, it could have gone either way. So it's not all negative, I think we still got more to build on, which is positive."
The Wolf Pack were outshot 14-5 in the first period, but the period ended in a 1-1 tie.
The two goals came in a span of 15 seconds starting at the 3:30 mark, when Adam gave the Wolf Pack a short-lived lead. A Brady Skjei breakout pass sent Brian Gibbons away on a 2-on-1 with Adam, and Gibbons passed across the slot to Adam, breaking down the left side, and he jammed it past Sound Tiger goaltender Christopher Gibson (24 saves).
Bridgeport responded almost immediately, though, with James Wright tying the score at 3:45. Mike Halmo passed the puck from behind the net through Wolf Pack defenseman Chris Summers to Wright in front, and his high shot beat Skapski.
That would be the first of three straight goals in the game for the Sound Tigers, who grabbed their first lead on a power play at 2:38 of the second period, with Skjei in the penalty box for hooking. Whitney, Bridgeport's points leader, netted his sixth of the season only three seconds before Skjei was to step out of the box, firing a high shot from the top of the circles under the crossbar behind Skapski.
Vaive would make it a 3-1 Bridgeport advantage at 11:44, after some nifty stickhandling work by Taylor Beck. Beck deked away from a check and slid the puck through Skapski, and Vaive, who had moved into the goal crease behind Skapski, bumped it into the net.
Megna got that one back for the Wolf Pack just 1:07 later, though, scoring on a good individual effort at 12:51. Megna burst down the right side and got a step on Bridgeport defenseman Jesse Graham, before turning the net and snapping a wraparound shot past Gibson.
Whitney would break the game open with two more in the third, however, the first on a nice three-way passing play at 5:14. Bracken Kearns carried the puck into the Wolf Pack zone on right wing and stopped up, feeding across to Sebastian Collberg. He sent the puck back across the middle to Whitney, who was alone in front of the goal, and he was able to make a move to the forehand and slip the puck past Skapski's stick side.
Whitney completed the hat trick with 1:08 left, just one second after a roughing penalty to Tanner Glass expired. Whitney cut across the slot from right to left and shot back across the grain, threading a high snap shot through some traffic and past a screened Skapski.
The Wolf Pack are now off until this Friday night, December 4, when they will host the Hershey Bears at the XL Center in a 7:15 PM game. At all Friday-night Wolf Pack home games, fans can enjoy $1 hot dogs and $2 beers, through the start of the second period.
Tickets for all 2015-16 Wolf Pack home games are on sale at the Agera Energy Ticket Office at the XL Center, on-line at www.hartfordwolfpack.com and by phone at (877) 522-8499.
To speak with a Wolf Pack representative about season or group tickets, or any of the Wolf Pack's many ticketing options, call (855) 762-6451, or click here to request more info.
Hartford Wolf Pack 2 at Bridgeport Sound Tigers 5
Saturday, November 28, 2015 - Webster Bank Arena

Hartford 1 1 0 - 2
Bridgeport 1 2 2 - 5

1st Period-1, Hartford, Adam 3 (Gibbons, Skjei), 3:30. 2, Bridgeport, Wright 3 (Halmo, Holmstrom), 3:45. Penalties-Johnston Bri (tripping), 16:59; Hughes Hfd (charging, fighting), 19:36; Finn Bri (instigating, fighting, misconduct - instigating), 19:36.

2nd Period-3, Bridgeport, Whitney 6 (Graham, Vaive), 2:38 (PP). 4, Bridgeport, Vaive 6 (Quine, Beck), 11:44. 5, Hartford, Megna 5 12:51. Penalties-Skjei Hfd (hooking), 0:41; Holmstrom Bri (slashing), 8:47.

3rd Period-6, Bridgeport, Whitney 7 (Collberg, Kearns), 5:14. 7, Bridgeport, Whitney 8 (Vaive, Kearns), 18:52. Penalties-Halmo Bri (tripping), 0:38; Czuczman Bri (closing hand on puck), 7:40; Glass Hfd (roughing), 16:51.

Shots on Goal-Hartford 5-14-7-26. Bridgeport 14-14-11-39.
Power Play Opportunities-Hartford 0 / 4; Bridgeport 1 / 2.
Goalies-Hartford, Skapski 1-4-0 (39 shots-34 saves). Bridgeport, Gibson 8-3-0 (26 shots-24 saves).
A-4,208
Referees-Evgeny Romasko (39).
Linesmen-Luke Galvin (2), Kevin Redding (16).
Back to All