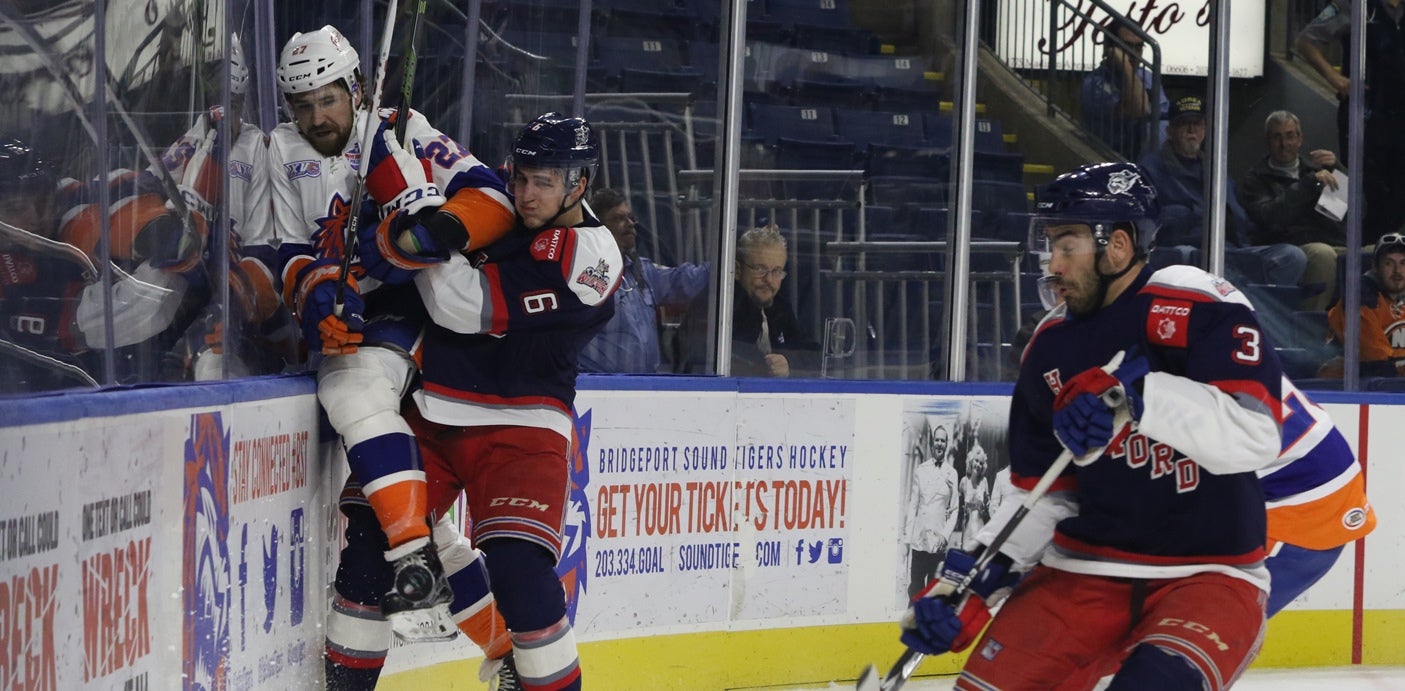 Whitney Victimizes Wolf Pack again
Dec 6, 2015
(Photo courtesy of Puck Stopper Photography)
Joe Whitney scored his second hat trick in as many meetings with the Wolf Pack Sunday at Webster Bank Arena in Bridgeport, in a 4-2 Bridgeport Sound Tiger victory.
The result denied the Wolf Pack a perfect weekend, after a 3-1 win at Wilkes-Barre/Scranton Saturday night and a 4-3 shootout decision at home Friday night vs. the Hershey Bears.
Whitney had also touched up the Wolf Pack for three goals the previous Saturday, in a 5-2 Sound Tiger defeat of the Wolf Pack in Bridgeport.
Brian Gibbons and rookie defenseman Ryan Graves scored goals Sunday for the Wolf Pack, who outshot the Sound Tigers 34-24. Chris McCarthy had his first AHL multiple-point game, with two assists, and Magnus Hellberg made 20 saves in his second straight start.
"It's been a good weekend for us." Graves said. "Not the result we wanted tonight, but Hellberg played extremely well in nets for us. We missed a few chances, but all in all it was a good effort."
After a scoreless first period, the two teams would combine for five goals in second, three of them by Whitney. He opened the scoring at 4:26, moving out of the left-wing corner to the faceoff dot and snapping a shot up under the crossbar behind Hellberg.
The Wolf Pack responded at 13:42, tying it at one with Gibbons' fourth goal of the season. Gibbons stickhandled the puck toward the front of the goal and linemate McCarthy jammed away at it, before Gibbons reappeared to the right of Bridgeport netminder Christopher Gibson (32 saves) and backhanded the puck in.
That goal started a run of four goals in a span of 4:56, and Whitney put the Sound Tigers back in front only 15 seconds later, at 13:57. Brady Skjei blocked the puck away from Whitney in the slot, but it came right back to the Sound Tiger veteran and he ripped it past Hellberg's stick side.
Graves knotted the score back up for the Wolf Pack at 15:40, with his second pro goal. After McCarthy worked the puck free, Mat Bodie fed the puck to Graves at the left point, and his heavy slap shot beat Gibson's catching glove.
"It was a sense of relief to get that," said Graves. "I felt like I've had some chances lately and couldn't bury the puck. I think my shot is an asset of mine and I haven't felt like I've been using it lately, so it was pretty relieving to get that."
Once again Whitney restored the lead, though, with a second straight unassisted goal at 18:38, on a very similar play to his previous score. Graves tried to handle the puck in front of his own net, but had it knocked away by Whitney, who turned and found the back of the net again on the stick side of Hellberg.
The Wolf Pack had almost all the pressure in the third period, outshooting the Sound Tigers 12-3, but couldn't get the equalizer past Gibson. Sebastian Collberg created the final margin with an empty-net goal with 13.9 seconds remaining, hitting the vacated net from his own blue line after blocking a Jayson Megna shot.
The Wolf Pack are now off until this Friday night, December 11, when they travel to Providence to visit the Bruins. Faceoff is 7:05 PM, and all of the action can be heard live on News Radio 1410 WPOP, and on-line at www.newsradio1410.com and iHeartRadio. Video streaming is available at www.ahllive.com.
The Wolf Pack's next home action is this Saturday, December 12, when Bridgeport makes its first visit of the season to the XL Center. Faceoff is 7:00, and it's "Star Wars Night". Fans can hang out with their favorite Star Wars characters and win some exciting Star Wars prizes.
Tickets for all 2015-16 Wolf Pack home games are on sale at the Agera Energy Ticket Office at the XL Center, on-line at www.hartfordwolfpack.com and by phone at (877) 522-8499.
To speak with a Wolf Pack representative about season or group tickets, or any of the Wolf Pack's many ticketing options, call (855) 762-6451, or click here to request more info.
Hartford Wolf Pack 2 at Bridgeport Sound Tigers 4
Sunday, December 6, 2015 - Webster Bank Arena

Hartford 0 2 0 - 2
Bridgeport 0 3 1 - 4

1st Period- No Scoring. Penalties-Kearns Bri (tripping), 0:47; Johnston Bri (high-sticking), 9:42; Adam Hfd (hooking), 19:51.

2nd Period-1, Bridgeport, Whitney 9 (Carkner, Graham), 4:26. 2, Hartford, Gibbons 4 (McCarthy, Oleksuk), 13:42. 3, Bridgeport, Whitney 10 13:57. 4, Hartford, Graves 2 (Bodie, McCarthy), 15:40. 5, Bridgeport, Whitney 11 18:38. Penalties-Tambellini Hfd (goaltender interference), 6:21; Beck Bri (tripping), 19:54.

3rd Period-6, Bridgeport, Collberg 3 19:46 (EN). Penalties-Johnston Bri (holding the stick), 15:13.

Shots on Goal-Hartford 10-12-12-34. Bridgeport 12-9-3-24.
Power Play Opportunities-Hartford 0 / 4; Bridgeport 0 / 2.
Goalies-Hartford, Hellberg 7-7-0 (23 shots-20 saves). Bridgeport, Gibson 9-4-0 (34 shots-32 saves).
A-2,922
Referees-Furman South (55), Fred Leblanc (30).
Linesmen-Kevin Briganti (39), Paul Simeon (66).
Back to All