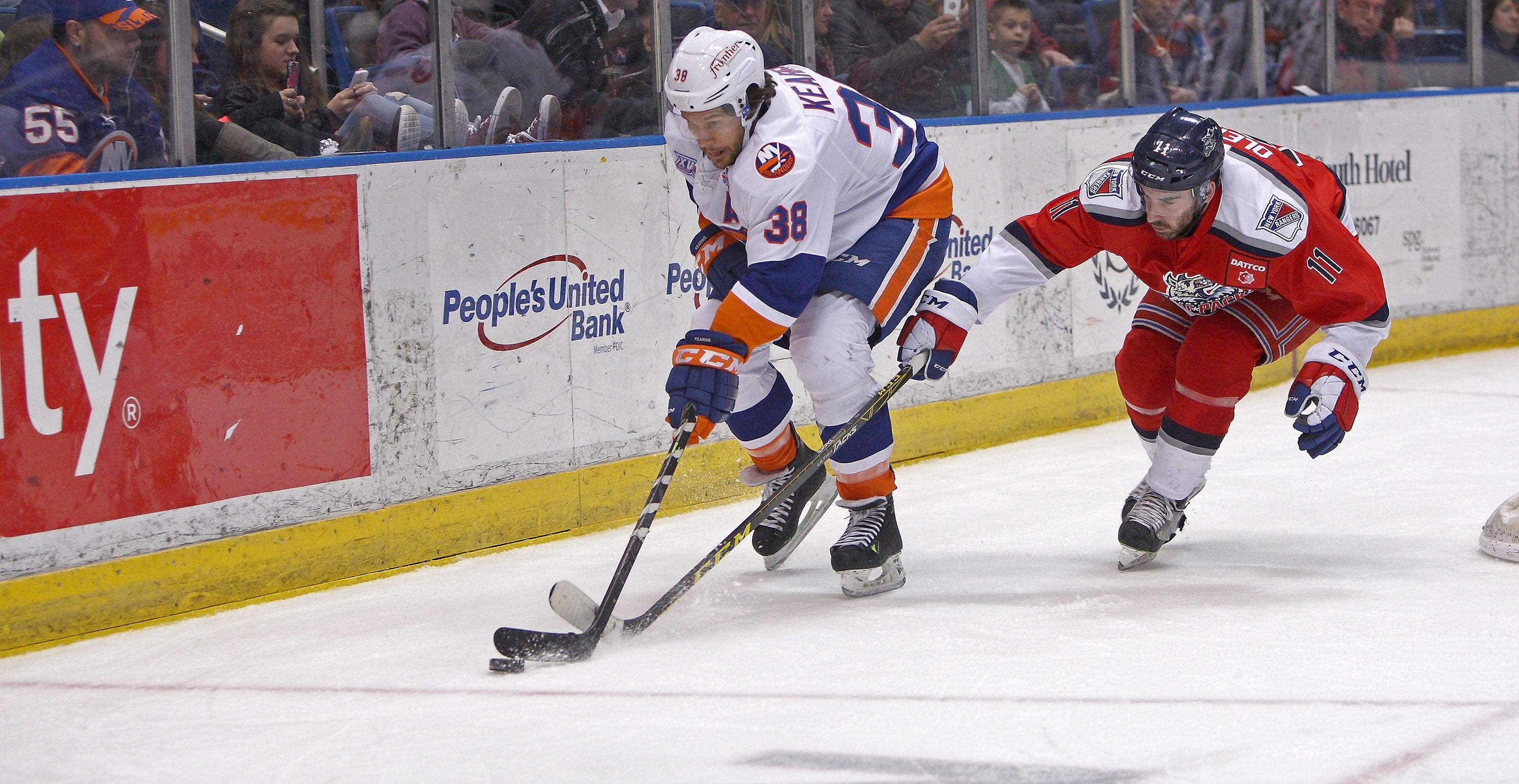 Sound Tigers Put an End to Pack Streak
Jan 29, 2016
By Phil Oxnard
The Wolf Pack's eight-game winning streak, the second-longest in team history, was snapped Friday night at the XL Center in a 4-1 loss to the Bridgeport Sound Tigers.
The streak ended one win short of the franchise record set by the 2004-05 Wolf Pack, who won their first nine games of that season.
Sound Tigers netminder Jean-Francois Berube saved 27 of 28 shots against him. Taylor Beck scored twice, increasing his season tally to 13. Chris McCarthy had the only Wolf Pack goal and Magnus Hellberg made 24 saves.
Coach Ken Gernander wasn't enthusiastic about the team's performance, saying, "I think there were times we didn't run the proper routes, I think there were times we needed to go in and cover pucks. We gave a first effort, not a second and third effort."
Bridgeport's Andrew Rowe was the first to score, netting his second goal of the season off a pass from Colin Markison at 5:14 of the first period. Teammate James Wright followed up with another goal just 2:56 later on a rebound, making the score 2–0.
Hartford's Jayson Megna nearly found the team's first goal of the night 11 minutes in, but the play was waved off before the puck slid into the net, leaving the Wolf Pack dry in the first period.
The second period started off with a bang, with Beck scoring his 12th of the season for Bridgeport at 2:55. McCarthy answered just 14 seconds thereafter with a slap-shot goal, after Travis Oleksuk won a faceoff from Ben Holmstrom.
The rest of the period remained scoreless, but with plenty of opportunities. The Wolf Pack had three power plays throughout the period, allowing them to outshoot the Sound Tigers 13-6.
Gernander saw missed opportunities in the multiple penalties, saying, "I don't want to let our power play off the hook. We had four or five power plays tonight and we didn't do enough there."
With 7:35 to go in the third, Beck scored his second goal of the night, beating Hellberg on a backhander and putting the game out of reach.
McCarthy reflected on what caused the loss, saying, "We had a couple of opportunities throughout the game that we just didn't bury, they capitalized on their chances. That's kind of the game right there. They capitalized, we didn't."
The Wolf Pack are right back at the XL Center Saturday night, hosting the St. John's IceCaps in a 7:00 PM game. "Hartford Hockey Heritage Weekend" continues, as the Wolf Pack salutes over four decades of hockey history in Hartford. The first 2,000 fans into the game will receive an OYO Ken Gernander sports figurine, sponsored by Aetna. Also, former Hartford Whaler star Geoff Sanderson will make a special appearance. He will be signing autographs pre-game in the XL Center atrium starting at 5:30 PM.
Tickets for all remaining 2015-16 Wolf Pack home games are on sale at the Agera Energy Ticket Office at the XL Center, on-line at www.hartfordwolfpack.com and by phone at (877) 522-8499.
To speak with a Wolf Pack representative about season or group tickets, or any of the Wolf Pack's many ticketing options, call (855) 762-6451, or click here to request more info.
Bridgeport Sound Tigers 4 at Hartford Wolf Pack 1
Friday, January 29, 2016 - XL Center

Bridgeport 2 1 1 - 4
Hartford 0 1 0 - 1

1st Period-1, Bridgeport, Rowe 2 (Markison, Gomes), 5:14. 2, Bridgeport, Wright 7 (Quine, Czuczman), 8:10. Penalties-Markison Bri (hooking), 14:35.

2nd Period-3, Bridgeport, Beck 12 2:55. 4, Hartford, McCarthy 4 (Oleksuk), 3:09. Penalties-Halmo Bri (tripping), 3:37; Gomes Bri (tripping), 10:19; Wright Bri (cross-checking), 17:24; Bodie Hfd (interference), 19:37.

3rd Period-5, Bridgeport, Beck 13 (Mayfield, Kearns), 12:25. Penalties-Gibbons Hfd (holding), 7:46; Czuczman Bri (tripping), 9:35; Adam Hfd (hooking), 12:51.

Shots on Goal-Bridgeport 12-6-10-28. Hartford 12-13-7-32.
Power Play Opportunities-Bridgeport 0 / 3; Hartford 0 / 5.
Goalies-Bridgeport, Berube 3-1-0 (32 shots-31 saves). Hartford, Hellberg 16-11-0 (28 shots-24 saves).
A-6,311
Referees-Jon McIsaac (45).
Linesmen-Kevin Briganti (39), Brent Colby (7).
Back to All