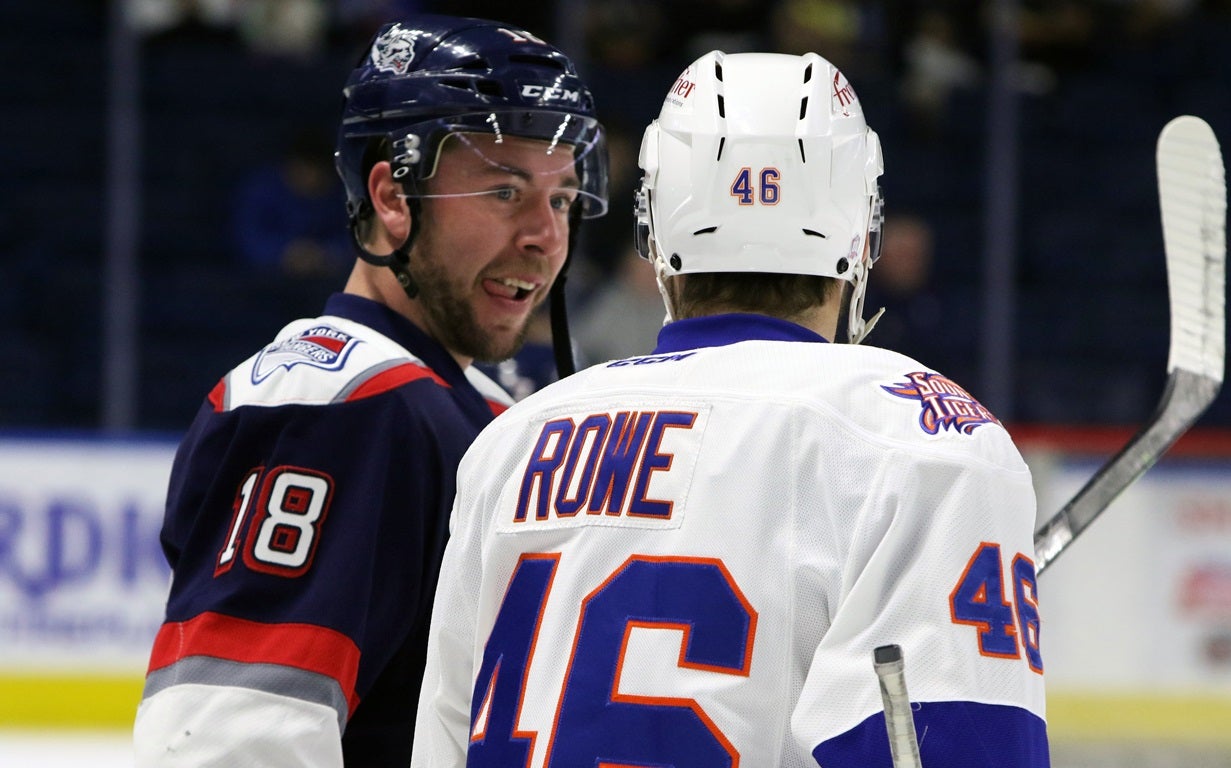 Sound Tiger Power Play Bites Pack
Feb 13, 2016
(Photo by Jon Tenca/Puck Stopper Photography)
Andrew Rowe had a hat trick and an assist, and Taylor Beck had a goal and three assists for the Bridgeport Sound Tigers Saturday night at Webster Bank Arena in Bridgeport, as the Sound Tigers defeated the Wolf Pack, 7-3.
The Bridgeport power play, last in the AHL going into the game at 9.8%, went 4-for-7 on the night.
The loss was the third straight for the Wolf Pack, after wins in ten of their previous 11 games. Nick Tarnasky, Raphael Diaz and Nicklas Jensen scored for Hartford, and Luke Adam had two assists.
The Wolf Pack outshot Bridgeport 15-8 in the first period, but all the offense went to the Sound Tigers, who scored three times.
Bridgeport's fourth line opened the scoring at 6:26, as Colin Markison poked in a rebound of a Loic Leduc shot. Both Markison and Ryan Gomes got whacks at the loose puck in front of Wolf Pack goaltender Jeff Malcolm (23 saves), and Markison was able to knock it in.
Then the Sound Tiger power play began its big night by scoring on both of its first two opportunities.
At 7:02, just 16 seconds after Tyler Brown was sent off for hooking, and just 36 seconds after Markison's goal, Beck would make it a 2-0 Bridgeport lead, firing a hard slap shot from the left circle past Malcolm's stick side.
Jensen was penalized for holding at 9:03 and again the Bridgeport man-advantage unit capitalized, this time on a goal by Alan Quine at the 11-minute mark. An attempted centering feed by Rowe was blocked up into the air at the side of the goal crease, and Quine was able to poke it into the net.
Hartford captain Ryan Bourque had a chance to get the Wolf Pack on the scoreboard at 13:42, when he was awarded a penalty shot after being hooked on a partial breakaway by Sound Tiger defenseman Scott Mayfield. Bridgeport goaltender Christopher Gibson denied Bourque, though, with a glove save, one of his 35 stops on the night.
The second period started much the same way the first had, with the Sound Tiger power play clicking again at 5:33, on Rowe's first of two goals in the period. Rowe backhanded the rebound of a Quine shot past Malcolm, with only five seconds left on a hooking penalty to Mat Bodie.
Tarnasky got the Wolf Pack on the scoreboard with his 11th goal of the season at 10:25. Gibson made a sprawling save on a close-in bid by Adam, but had no chance on the rebound, as Tarnasky backhanded the puck inside the post to Gibson's left.
Bridgeport replied at 14:55, with Kyle Burroughs netting his first career AHL goal. James Wright threaded a pass from the left-wing boards through the slot to Burroughs, who fired it past Malcolm, just six seconds after a Tommy Hughes high-sticking penalty expired.
The Wolf Pack power play responded at 17:14, with Burroughs in the box for interference. Diaz, the veteran defenseman, blasted a slap shot from the right point through a Tarnasky screen past Gibson.
Hartford would be burned again on the penalty kill, though, with just 2.2 seconds left in the period. With Jensen out for slashing, Rowe scored his second of the game, set up in front of the goal by a pass from the right-wing side by Bracken Kearns.
With Bridgeport up 6-2 after 40 minutes, the two teams traded goals late in the third period.
Jensen scored his third in the last four games at 15:36 to make it 6-3, ripping a shot into the net from outside the right faceoff dot, off of a feed from Brian Gibbons.
Rowe completed his hat trick just 37 seconds later, though, at 16:13, on the game's second penalty shot. After he was impeded on a partial breakaway, Rowe weaved in slowly and snapped a shot past Malcolm's stick side on the penalty-shot opportunity.
The Wolf Pack are right back in action on Sunday, hosting the Rochester Americans at the XL Center in a 3:00 PM game. It being a Sunday, fans can take advantage of the Wolf Pack's "Click It or Ticket Family Value Pack", which includes two tickets, two sodas and two hot dogs, all for just $35.
Tickets for all remaining 2015-16 Wolf Pack home games are on sale at the Agera Energy Ticket Office at the XL Center, on-line at www.hartfordwolfpack.com and by phone at (877) 522-8499.
To speak with a Wolf Pack representative about season or group tickets, or any of the Wolf Pack's many ticketing options, call (855) 762-6451, or click here to request more info.
Hartford Wolf Pack 3 at Bridgeport Sound Tigers 7
Saturday, February 13, 2016 - Webster Bank Arena

Hartford 0 2 1 - 3
Bridgeport 3 3 1 - 7

1st Period-1, Bridgeport, Markison 2 (Gomes, Collberg), 6:26. 2, Bridgeport, Beck 14 (Quine, Kearns), 7:02 (PP). 3, Bridgeport, Quine 10 (Rowe, Beck), 11:00 (PP). Penalties-Brown Hfd (hooking), 6:46; Jensen Hfd (holding), 9:03; served by Beck Bri (bench minor - too many men), 13:42; Skjei Hfd (delay of game), 18:48.

2nd Period-4, Bridgeport, Rowe 5 (Quine, Beck), 5:33 (PP). 5, Hartford, Tarnasky 11 (Adam, McCarthy), 10:22. 6, Bridgeport, Burroughs 1 (Wright, Vaive), 14:55. 7, Hartford, Diaz 2 (Skjei, Adam), 17:14 (PP). 8, Bridgeport, Rowe 6 (Kearns, Beck), 19:57 (PP). Penalties-Bodie Hfd (hooking), 3:38; Hughes Hfd (high-sticking), 12:49; Burroughs Bri (interference), 16:02; Jensen Hfd (slashing), 19:29.

3rd Period-9, Hartford, Jensen 10 (Gibbons), 15:36. 10, Bridgeport, Rowe 7 16:13 (PS). Penalties-Diaz Hfd (holding), 1:52; Beck Bri (high-sticking), 19:25.

Shots on Goal-Hartford 15-13-10-38. Bridgeport 8-12-10-30.
Power Play Opportunities-Hartford 1 / 3; Bridgeport 4 / 7.
Goalies-Hartford, Malcolm 5-4-0 (30 shots-23 saves). Bridgeport, Gibson 14-8-1 (38 shots-35 saves).
A-7,288
Referees-Mark Lemelin (41).
Linesmen-Brent Colby (7), Anthony Giorgio (73).
Back to All