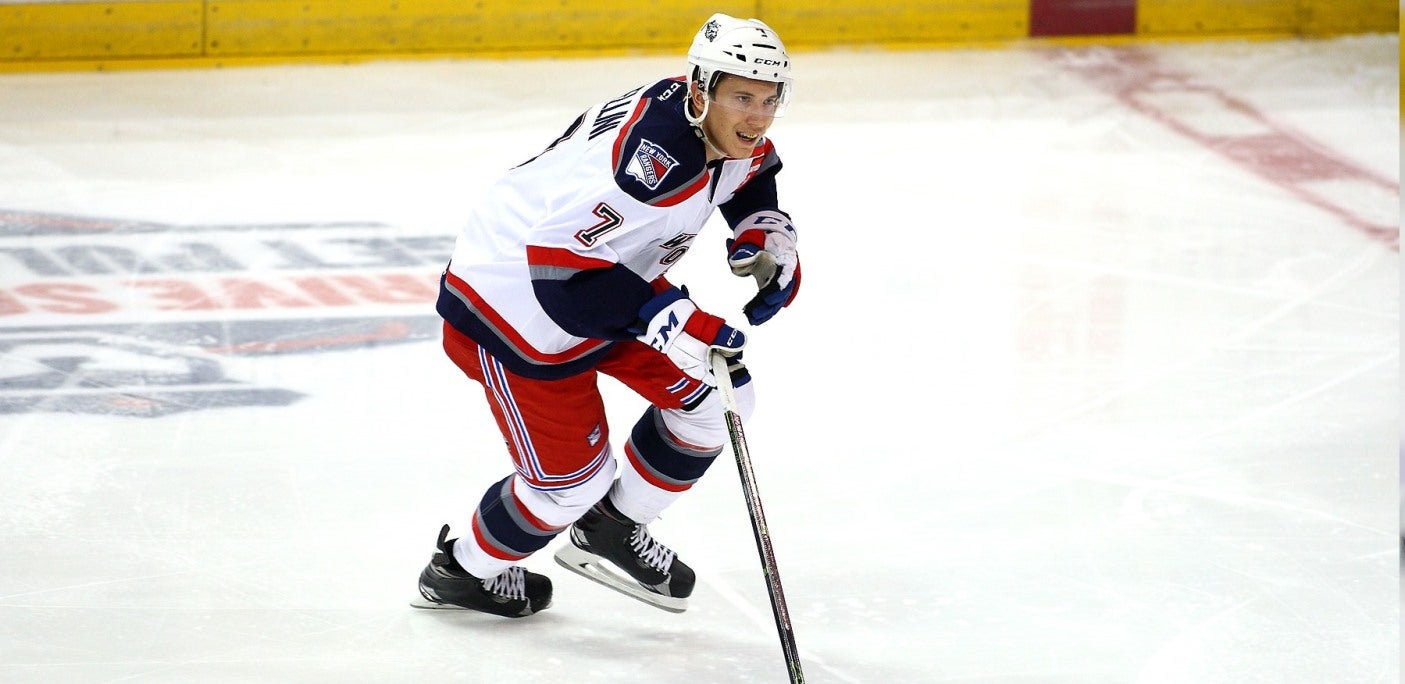 Penalty Kill Lets Pack down in Binghamton
Dec 26, 2015
Eric O'Dell scored two power-play goals, and Cole Schneider had a goal and two assists, Saturday night at the Floyd L. Maines Veterans Memorial Arena in Binghamton, NY, to lead the Binghamton Senators to a 4-2 win over the Wolf Pack.
The Senators scored three times on power plays, a season high for man-advantage goals-against for the Wolf Pack, who got goals from Adam Tambellini and Jayson Megna in the game. Guillaume Lepine also scored for Binghamton, and Matt Puempel added three assists.
"We put ourselves in trouble a little bit too often in this game," Megna said. "They've had a good power play the past couple of years, especially in this rink, where any shot's a good one. We've got to be a little bit more disciplined, I think, throughout the game."
Binghamton opened the scoring at 3:52 of the first period, on their first shot of the game. After Marek Hrivik was separated from the puck in the right-wing corner, Kyle Flanagan worked it back to Lepine on the left point, and Lepine's slap shot went through a screen and beat Wolf Pack goaltender Magnus Hellberg (20 saves) over the catching glove.
The Senators doubled their lead at 11:12, just ten seconds into the game's first power play. With Travis Oleksuk off for hooking, former Wolf Pack defenseman Michael Kostka snapped a shot from the right point that was deflected by Schneider. Hellberg stopped the puck with his right pad, but it rebounded right to O'Dell at the left side of the goal mouth, and it was an easy finish for O'Dell to bang it in.
The Wolf Pack would get on the board on a power play with only 4.8 seconds left in the period, though, on Tambellini's eighth of the year. Kodie Curran passed the puck from the left point to Tambellini on the right side of the slot, and Tambellini threaded a shot under the right arm of Binghamton netminder Matt O'Connor (24 saves).
The two teams traded goals 2:13 apart in the second period, starting with a Schneider power-play score at 5:04, just after an extended two-man advantage had expired. The scoring play again started with a Kostka shot from the point, as Hellberg was able to stop a long Kostka try off of a pass from Puempel, but the rebound came to Schneider at the right side of the goal mouth and he flicked it in.
The Wolf Pack cut it right back to a one-goal margin at 7:17, however, on Megna's seventh of the season. Mat Bodie shot the puck from the blue line and it hit Hrivik in front of the goal, before caroming to Megna, who got it past O'Connor from the Senator goaltender's right.
O'Dell's second of the game was the only scoring of the third period, and that came at 7:16, with Hrivik in the penalty box for unsportsmanlike conduct. Schneider spun along the goal line on the right-wing side and backhanded a pass across the front to O'Dell, and Hellberg had no chance on O'Dell's close-in shot.
The Wolf Pack finish a stretch of five straight and eight out of nine on the road Sunday, when they visit the Rochester Americans for a 5:05 PM game. All of the action of that battle can be heard live on News Radio 1410 WPOP, and on-line at www.newsradio1410.com and iHeartRadio. Video streaming is available at www.ahllive.com.
The Wolf Pack's next home game is Tuesday, December 29, when they host the Portland Pirates in a 7:00 game. That is Scout Night at the XL Center. Scout groups that reserve in advance receive discounted tickets and special Scout Night patches.
Tickets for all 2015-16 Wolf Pack home games are on sale at the Agera Energy Ticket Office at the XL Center, on-line at www.hartfordwolfpack.com and by phone at (877) 522-8499.
To speak with a Wolf Pack representative about season or group tickets, or any of the Wolf Pack's many ticketing options, call (855) 762-6451, or click here to request more info.
Hartford Wolf Pack 2 at Binghamton Senators 4
Saturday, December 26, 2015 - Floyd L. Maines Veterans Memorial Arena

Hartford 1 1 0 - 2
Binghamton 2 1 1 - 4

1st Period-1, Binghamton, Lepine 1 (Flanagan, Puempel), 3:52. 2, Binghamton, O'Dell 10 (Schneider, Kostka), 11:12 (PP). 3, Hartford, Tambellini 8 (Curran, Skjei), 19:55 (PP). Penalties-Stortini Bng (fighting), 1:58; O'Donnell Hfd (fighting), 2:33; Oleksuk Hfd (hooking), 11:02; Flanagan Bng (delay of game - faceoff violation), 12:20; O'Donnell Hfd (fighting, game misconduct - third major/second fight), 15:21; McCormick Bng (fighting), 15:21; served by Puempel Bng (bench minor - too many men), 19:06.

2nd Period-4, Binghamton, Schneider 11 (Kostka, Puempel), 5:04 (PP). 5, Hartford, Megna 7 (Hrivik, Bodie), 7:17. Penalties-Oleksuk Hfd (tripping), 3:02; Hughes Hfd (interference), 3:36; Claesson Bng (clipping), 8:20.

3rd Period-6, Binghamton, O'Dell 11 (Schneider, Puempel), 7:16 (PP). Penalties-Tarnasky Hfd (high-sticking), 2:00; Hrivik Hfd (unsportsmanlike conduct), 6:10.

Shots on Goal-Hartford 11-10-5-26. Binghamton 9-10-5-24.
Power Play Opportunities-Hartford 1 / 3; Binghamton 3 / 5.
Goalies-Hartford, Hellberg 8-9-0 (24 shots-20 saves). Binghamton, O'Connor 3-9-0 (26 shots-24 saves).
A-4,432
Referees-Terry Koharski (10).
Linesmen-Jason Brown (44), John Everett (82).
Back to All