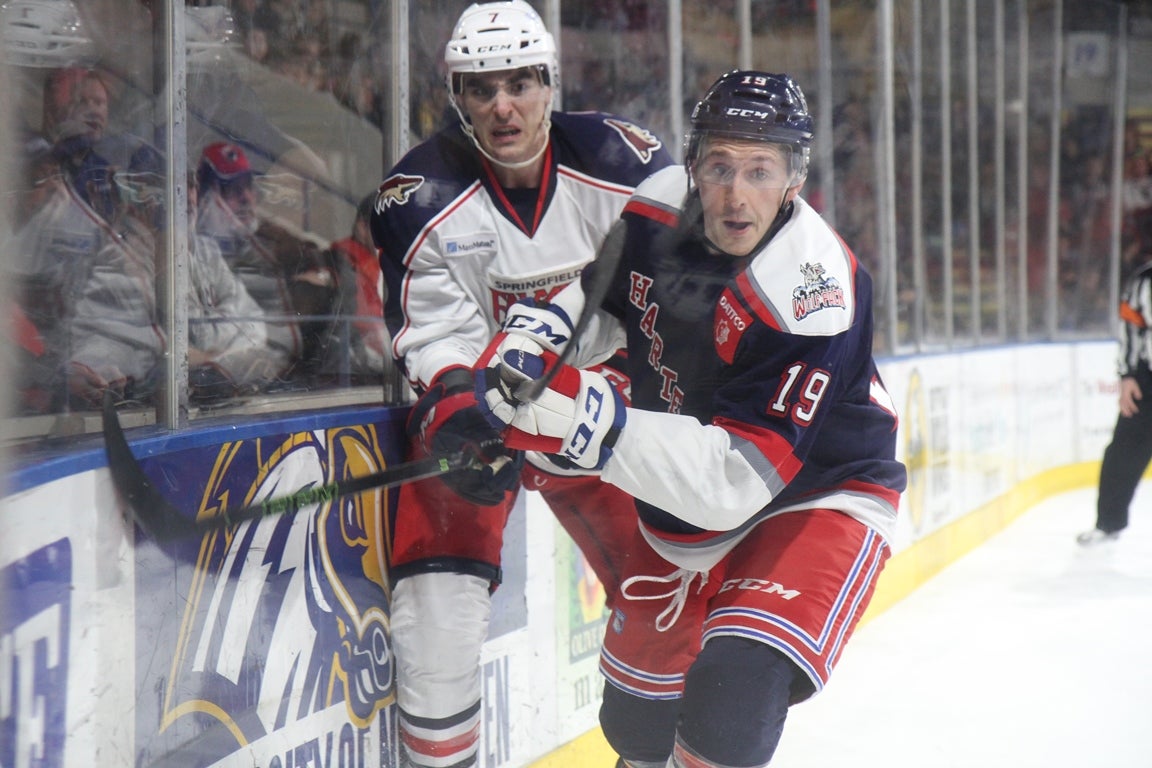 Paille's two Goals, two Assists Lead Pack to 7-3 Thumping of Falcons
Apr 8, 2016
(Photo courtesy of Springfield Falcons)
Daniel Paille had the Wolf Pack's first four-point game of the season Friday night at the MassMutual Center in Springfield, MA, with two goals and two assists in a 7-3 win over the Springfield Falcons.
The victory improved the Wolf Pack's record to 38-30-3-0 for 79 points and moved Hartford to within four points of a playoff spot.
Paille's linemate, Boo Nieves, added his first two pro goals and an assist, and Chris Brown, the other member of the line, had two assists. Tyler Brown, Jayson Megna and Calle Andersson also scored Wolf Pack goals, and Luke Adam had a pair of assists. Magnus Hellberg made 33 saves.
Michael Bunting and Henrik Samuelsson had a goal and an assist apiece for the Falcons, and Domenic Monardo also scored. Niklas Treutle stopped 25 shots.
"I feel like my game's been pretty strong since I've been here," Paille said. "Some of the nights it (the puck) just wasn't going in, and today's one of those nights when it just went in. When you get opportunities it's bound to happen once in a while, so I'm definitely happy to have it tonight."
The Wolf Pack grabbed the game's first lead at 4:57 of the first period, on Paille's fourth goal of the season and his third with the Wolf Pack. A Chris Brown lead pass sent Paille up the left side, and he was able to get a step on the Springfield defense and fire a shot over the catching glove of Niklas Treutle.
The Falcons answered that only 1:28 later, at 6:25, with Craig Cunningham feeding the puck from the right circle across the slot to Monardo, who knocked it underneath the pads of Hellberg and into the net.
That was how the score stood until the Wolf Pack struck for a pair of goals only 46 seconds apart, starting at the 18-minute mark.
Nieves scored his first pro goal to put Hartford up 2-1 at 18:00, working a give-and-go with Chris Brown. Nieves got behind Springfield defenseman Justin Hache and put a backhand shot off of Treutle and in.
Then, at 18:46, Tyler Brown got his fourth goal of the year unassisted, as he intercepted a Dakota Mermis pass just to Treutle's right and put a quick shot into the Falcon goal for a 3-1 Wolf Pack advantage.
Springfield cut the lead back to one with a power-play goal only 55 seconds into the second period, just eight seconds after Ryan Graves was sent off for tripping. Hellberg made the save on a one-timer by Bunting from the right-wing side, but the rebound went right out into the slot, where Samuelsson was camped out. Hellberg got a piece of Samuelsson's rebound bid but could not keep it out of the net.
The Wolf Pack responded to that, though, with their two fastest goals of the season, scored 12 seconds apart by Megna and Paille.
First, Megna connected on the Wolf Pack's first power-play of the night at 6:30. Adam set Megna up at the right side of the slot, and Megna beat Treutle with a low shot.
Then, at 6:42, Paille fired home his second of the game from below the left-wing faceoff dot, after Tommy Hughes unloaded a shot from the right boards that Treutle kicked out right to Paille.
Up 5-2 going into the third period, the Wolf Pack made it 6-2 at 5:20 with their second power-play goal of the night. With Hache in the box for holding, Mat Bodie set up Andersson for a one-timer from the top of the left circle, and he sent a bullet past Treutle.
The Falcons cut it to 6-3 at 7:16, with Bunting scoring his 11th of the season. A shot from the left-wing side by Tyler Gaudet got through Hellberg, and Bunting poked it inside the opposite post.
Nieves' second goal created the final margin at 9:32, as Paille disrupted a Falcon pass deep in the Springfield zone and set up Nieves high on the left side. Nieves' quick shot eluded Treutle and completed a big night for that line.
"Since we've been [put together], I've felt like we played strong every game," Paille said of himself and his linemates. "Even the games that we scored one (goal), I felt like we could have had two or three. Tonight was just one of those nights. We worked for them (the goals), but we scored on most of our opportunities tonight, if not all. It just shows the work ethic that all three of us have been doing."
The same two teams meet again at the XL Center on Saturday night, in the Wolf Pack's last regular-season home game. That is a 7:00 PM faceoff, and it's "Fan Appreciation Night". The Wolf Pack will salute all of the great fans who have supported the team throughout the season, with numerous exciting prizes throughout the night, including a big screen TV, a grill and hundreds of dollars in gift certificates to local restaurants.
Tickets for Fan Appreciation Night are on sale at the Agera Energy Ticket Office at the XL Center, on-line at www.hartfordwolfpack.com and by phone at (877) 522-8499.
To speak with a Wolf Pack representative about season or group tickets, or any of the Wolf Pack's many ticketing options, call (855) 762-6451, or click here to request more info.
Hartford Wolf Pack 7 at Springfield Falcons 3
Friday, April 8, 2016 - MassMutual Center

Hartford 3 2 2 - 7
Springfield 1 1 1 - 3

1st Period-1, Hartford, Paille 4 (C. Brown, Nieves), 4:57. 2, Springfield, Monardo 8 (Cunningham, Mermis), 6:25. 3, Hartford, Nieves 1 (C. Brown, Paille), 18:00. 4, Hartford, T. Brown 4 18:46. Penalties-Megna Hfd (cross-checking), 11:43.

2nd Period-5, Springfield, H. Samuelsson 3 (Bunting, Delisle), 0:55 (PP). 6, Hartford, Megna 13 (Adam, Graves), 6:30 (PP). 7, Hartford, Paille 5 (Hughes), 6:42. Penalties-Graves Hfd (tripping), 0:47; Fournier Spr (roughing), 5:59; Tarnasky Hfd (roughing), 8:59; Delisle Spr (roughing), 8:59; Gaudet Spr (roughing), 8:59; Shinnimin Spr (slashing), 10:08; Tambellini Hfd (hooking), 10:52; Delisle Spr (holding the stick), 13:32; Shinnimin Spr (high-sticking), 19:55.

3rd Period-8, Hartford, Andersson 5 (Bodie, Adam), 5:20 (PP). 9, Springfield, Bunting 11 (Gaudet, H. Samuelsson), 7:16. 10, Hartford, Nieves 2 (Paille), 9:32. Penalties-Hache Spr (holding), 4:19; Tarnasky Hfd (unsportsmanlike conduct, fighting, misconduct - continuing altercation), 9:32; Fournier Spr (fighting, misconduct - continuing altercation), 9:32; Summers Hfd (interference), 17:30.

Shots on Goal-Hartford 15-7-10-32. Springfield 14-6-16-36.
Power Play Opportunities-Hartford 2 / 6; Springfield 1 / 5.
Goalies-Hartford, Hellberg 29-19-0 (36 shots-33 saves). Springfield, Treutle 12-18-3 (32 shots-25 saves).
A-5,425
Referees-Garrett Rank (48), Pierre Lambert (39).
Linesmen-Luke Galvin (2), Frank Murphy (29).
Back to All