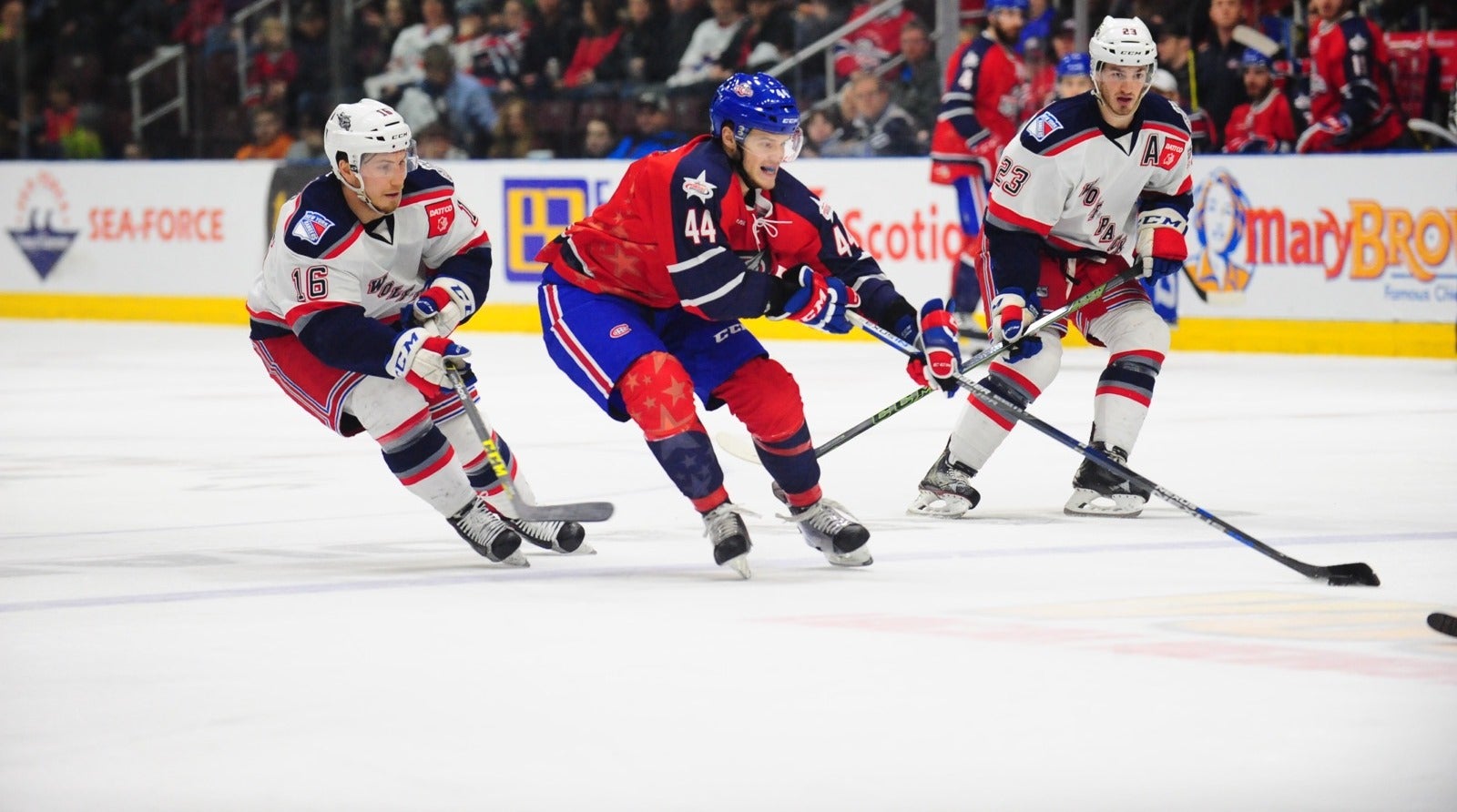 Pack Win, but Still Eliminated from Playoffs
Apr 15, 2016
(Photo by Colin Peddle/IceCapsAHL)
The Wolf Pack defeated the St. John's IceCaps 4-1 Friday night at Mile One Centre in St. John's, Newfoundland, but still saw their playoff hopes extinguished, as the Bridgeport Sound Tigers won in Portland, 3-2, clinching the final postseason spot in the Eastern Conference.
Jayson Megna had a goal and two assists, and Adam Tambellini had three assists to lead the Wolf Pack to the win over the IceCaps, in the first of back-to-back games between the two teams to close out the regular season.
The win was the Wolf Pack's second straight, after a 3-2 victory at league-leading Toronto Wednesday.
Chad Nehring added a goal and an assist for the Wolf Pack in Friday's win, and Chris Summers and Nicklas Jensen also scored. Mackenzie Skapski, pressed into service in the Wolf Pack net by the recall of Magnus Hellberg by the parent New York Rangers Thursday, stopped 23 out of 24 IceCap shots.
Michael McCarron had the only St. John's goal, and Zach Fucale made 25 saves.
"We obviously knew what was on the line," Megna said. "We know we've got to win out here and put our best foot forward for every game. And we weren't too happy with the way we started in Toronto, so that was one of the things we emphasized for tonight, was to get out to a good start, and I thought we did a good job doing that."
The Wolf Pack scored the only goal of the first period, with Megna connecting at the 9:30 mark. After Nehring cleared the puck away from the front of the Wolf Pack net, Megna carried up right wing and got around the IceCap defense, before putting a backhand shot underneath Fucale.
The Wolf Pack doubled their lead at 8:26 of the second period, with Summers notching his third goal of the season. Tambellini fed the puck across the slot from the right circle, and Summers banged it in from just inside the opposite faceoff dot.
Up 2-0 going into the third, the Wolf Pack made it a three-goal lead only 1:51 into the third session. Brian Gibbons worked the puck into the St. John's end and fed it down below the goal line, where Travis Oleksuk took control and passed into the slot. The feed came perfectly to the stick of Jensen headed toward the net, and he quickly banged it past a surprised Fucale.
McCarron ended Skapski's shutout bid at 8:18 of the third on a power play, after the Wolf Pack were called for too-many-men-on-the-ice at 7:44. Bud Holloway found Morgan Ellis at the left point, and McCarron deflected Ellis' drive past Skapski.
That was it for the St. John's offense, though, and Nehring made the final margin 4-1 with a goal at 16:40, upping his team-leading total on the year to 22. Megna sent the puck out of the right-wing corner to Nehring at the faceoff dot, and he blasted it past Fucale.
Tambellini also assisted on the goal, making it a combined eight points in the game for the line of Nehring between Tambellini and Megna.
"Especially in that Toronto game, we had so many Grade A chances, myself included, and we got one (goal), fortunately, but we felt like could have contributed more," said Megna of himself and his linemates. "Fortunately we won the game, but we knew we wanted to continue to play that way, and tonight they started going in for us."
The Wolf Pack and IceCaps bring down the curtain on the regular season Saturday night at Mile One Centre. Faceoff is 6:00 PM Eastern time, and all of the action can be heard live on-line at www.979espn.com and on iHeartRadio. Video streaming is available at www.ahllive.com.
To speak with a Wolf Pack representative about season or group tickets, or any of the Wolf Pack's many ticketing options, call (855) 762-6451, or click here to request more info.
Hartford Wolf Pack 4 at St. John's IceCaps 1
Friday, April 15, 2016 - Mile One Centre

Hartford 1 1 2 - 4
St. John's 0 0 1 - 1

1st Period-1, Hartford, Megna 15 (Nehring, Tambellini), 9:30. Penalties-No Penalties

2nd Period-2, Hartford, Summers 3 (Megna, Tambellini), 8:26. Penalties-No Penalties

3rd Period-3, Hartford, Jensen 19 (Gibbons, Oleksuk), 1:51. 4, St. John's, McCarron 17 (Ellis, Holloway), 8:18 (PP). 5, Hartford, Nehring 22 (Megna, Tambellini), 16:40. Penalties-Gregoire Stj (goaltender interference), 3:07; C. Brown Hfd (cross-checking), 4:02; served by Tambellini Hfd (bench minor - too many men), 7:44; C. Brown Hfd (roughing), 13:20; Dietz Stj (roughing), 13:20.

Shots on Goal-Hartford 7-10-12-29. St. John's 8-10-6-24.
Power Play Opportunities-Hartford 0 / 1; St. John's 1 / 2.
Goalies-Hartford, Skapski 4-6-0 (24 shots-23 saves). St. John's, Fucale 16-19-1 (29 shots-25 saves).
A-5,229
Referees-Brett Iverson (51).
Linesmen-Darryl Butt (70), Brian Lambert (47).
Back to All