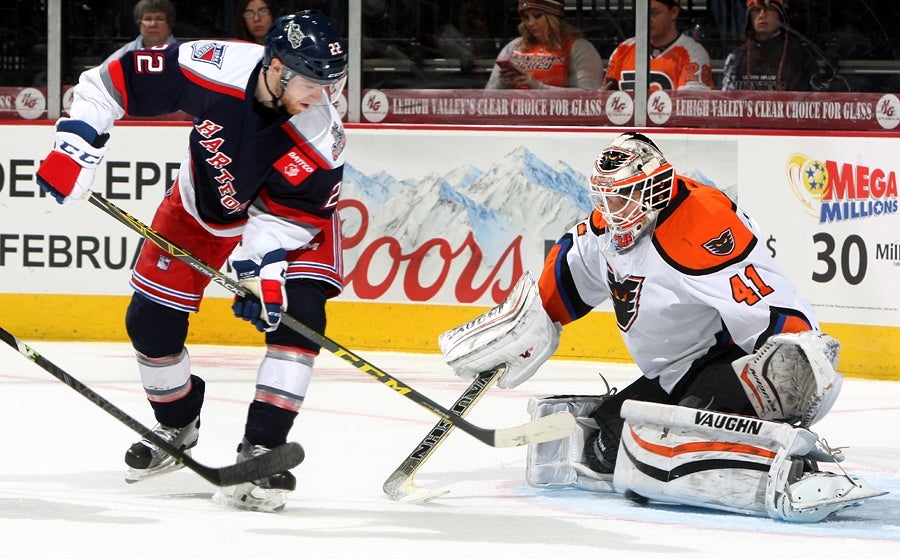 Pack Stretch Win Streak to four
Jan 16, 2016
(Photo by JustSports Photography)
The Wolf Pack won their fourth straight game, tying a team season high, Saturday night at the PPL Center in Allentown, PA, defeating the Lehigh Valley Phantoms by a score of 2-1.
The win was the Wolf Pack's 12th straight in head-to-head competition with the Phantoms, going back to December of 2013.
Adam Tambellini's early third-period power play goal was the game-winner, and Mat Bodie also scored for Hartford. Magnus Hellberg made 26 saves to get the victory in net. Chris Conner scored the only Phantom goal, and Anthony Stolarz made 26 stops.
"I think we played pretty hard," Tambellini said. "It was kind of a slow start for both teams, and it picked up by the end. Really strong [defense] throughout our whole game, and that helped get the win."
The Wolf Pack controlled much of the play in the first period, holding the Phantoms without a shot for the first half of the frame and outshooting them 11-6, but were unable to get anything behind Stolarz.
The scoreless tie lasted until nearly the halfway point of the second period, but Conner finally opened the scoring at 9:46. Sam Gagner carried down right wing and threaded a pass across to Conner on the other side, and Conner was able to rap the puck past Hellberg, who had shut out Springfield in a 1-0 Wolf Pack win the night before.
The Wolf Pack knotted the score less than five minutes later, on Bodie's fourth goal of the season. Chris McCarthy played the puck from the left-wing boards and it found Bodie in front of the goal. Bodie shoved a backhand shot underneath Stolarz' pads for a 1-1 tie.
The opportunity for what turned out to be the winning goal was created by a boarding penalty against the Phantoms' Samuel Morin at 1:05 of the third period, after a Morin hit on Luke Adam.
The Wolf Pack took advantage at the 1:51 mark, as Tambellini buried the rebound of a Ryan Graves shot. Graves fired from the left-wing circle, and Stolarz made the save but couldn't control the puck. Tambellini found it just below the right faceoff dot and snapped it in, for his 10th goal of his rookie season.
"[Graves] really stepped into one, and I think stunned the goalie a little bit," Tambellini said. "It came to me and I tried to get it off as quick as possible, and it went in."
The Wolf Pack continue a stretch of five straight road games this Monday, January 18, when they play a holiday matinee in Providence. The Wolf Pack and Bruins face off at 3:05 PM at the Dunkin' Donuts Center Providence, and all of the action can be heard live on News Radio 1410 WPOP, and on-line at www.newsradio1410.com and iHeartRadio. Video streaming is available at www.ahllive.com.
The next home game for the Wolf Pack is Sunday, January 24, with the Portland Pirates visiting the XL Center for a 3:00 game. It being a Sunday, fans can take advantage of the Wolf Pack's "Click It or Ticket Family Value Pack", which includes two tickets, two sodas and two hot dogs, all for just $35.
Tickets for all 2015-16 Wolf Pack home games are on sale at the Agera Energy Ticket Office at the XL Center, on-line at www.hartfordwolfpack.com and by phone at (877) 522-8499.
To speak with a Wolf Pack representative about season or group tickets, or any of the Wolf Pack's many ticketing options, call (855) 762-6451, or click here to request more info.
Hartford Wolf Pack 2 at Lehigh Valley Phantoms 1
Saturday, January 16, 2016 - PPL Center

Hartford 0 1 1 - 2
Lehigh Valley 0 1 0 - 1

1st Period- No Scoring. Penalties-Rehkamp Lv (boarding), 4:43; Graves Hfd (slashing), 5:10; Curran Hfd (unsportsmanlike conduct, fighting), 17:04; Morin Lv (fighting), 17:04; McDonald Lv (hooking), 17:21.

2nd Period-1, Lehigh Valley, Conner 7 (Gagner, MacDonald), 9:46. 2, Hartford, Bodie 4 (McCarthy, Oleksuk), 14:38. Penalties-Brown Hfd (hooking), 12:11.

3rd Period-3, Hartford, Tambellini 10 (Graves, Bourque), 1:51 (PP). Penalties-Morin Lv (boarding), 1:05; Oleksuk Hfd (holding), 11:19; Cousins Lv (cross-checking), 19:58.

Shots on Goal-Hartford 11-9-8-28. Lehigh Valley 6-12-9-27.
Power Play Opportunities-Hartford 1 / 4; Lehigh Valley 0 / 4.
Goalies-Hartford, Hellberg 12-10-0 (27 shots-26 saves). Lehigh Valley, Stolarz 12-10-1 (28 shots-26 saves).
A-9,046
Referees-Ryan Hersey (8).
Linesmen-Dave Brown (56), Scott Pomento (25).
Back to All