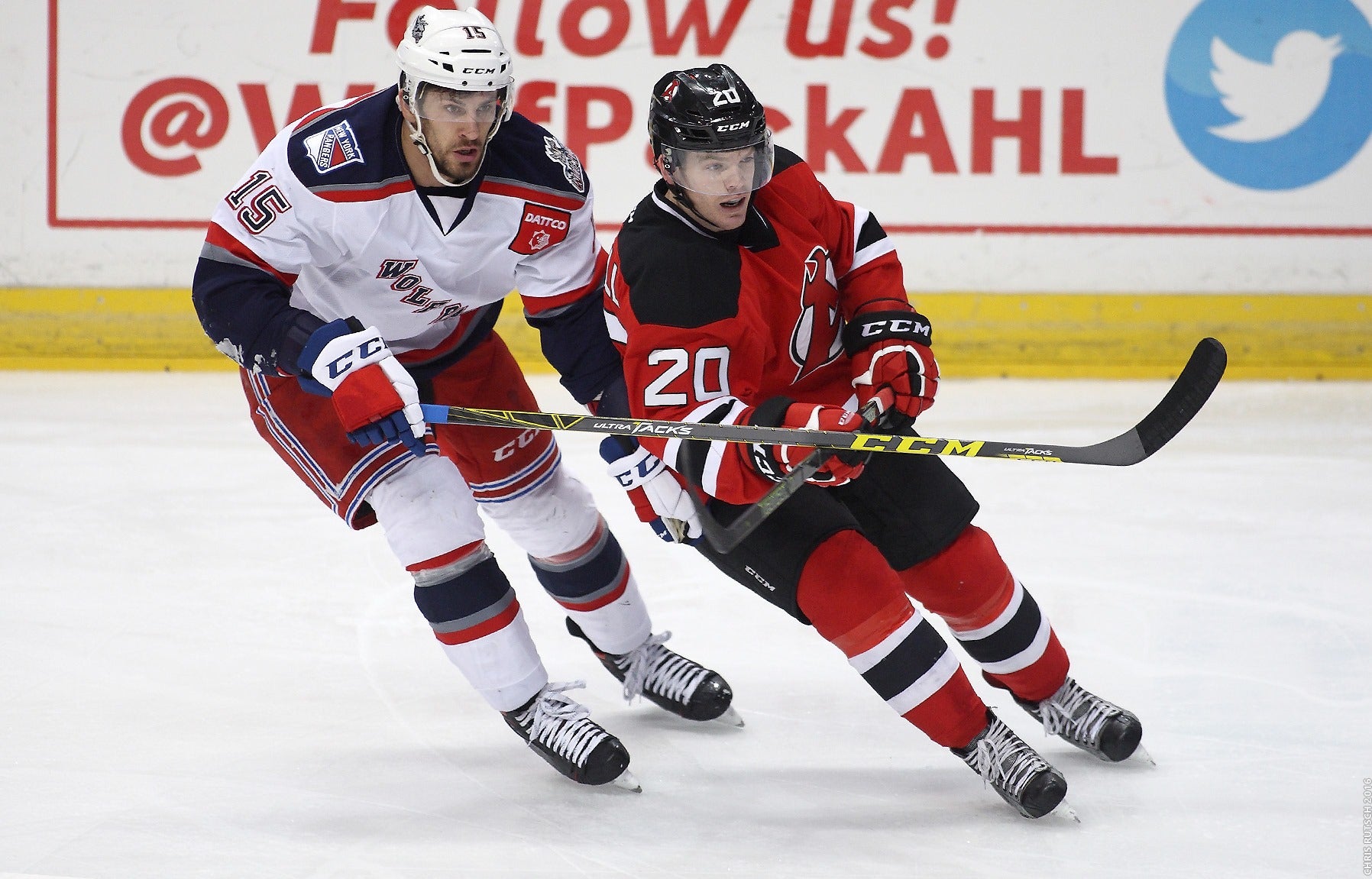 Pack Start well, but Fall to Devils
Jan 2, 2016
Matt Lorito scored two goals, including the game winner, and Scott Wedgewood made 30 saves Saturday night at the XL Center, as the Albany Devils defeated the Wolf Pack by a score of 4-3.
Reid Boucher chalked up a goal, his 12th of the season, for Albany, and Chad Nehring of the Wolf Pack put up both a goal and an assist in the loss. Jeff Malcolm made 28 saves in the Hartford net.
The game was ruled by the power play, with four of the seven goals being scored when one of the teams was a man up.
The first goal came halfway through the first during a four-minute high-sticking double minor on Albany's Pierre-Luc Letourneau-Leblond. Nehring found the back of the net at 11:21, assisted by Adam Tambellini and Ryan Graves.
The game's second goal followed close on the heels of the first, on the second half of the double minor. Ryan Bourque found a loose puck bouncing in front of the net and scored at 12:42. He was assisted by Nehring and Graves, his second assist of the night.
The power play was the key to the game. "We knew they had a good power play, one of the best in the league," said Nehring, "so we kind of stepped on our own feet by taking a few penalties and letting them back in the game."
After the back to back goals, Albany had their turn to go on the power play at 14:45, when a holding penalty on Nick Tarnasky put them a man up. At 15:42 there was an apparent goal by Lorito that was reviewed and upheld. He was assisted by Joseph Blandisi and Marc-Andre Gragnani.
Late in the second Albany tied the game 2-2 with a one-timer from Boucher. The goal was scored at 16:42, assisted by Dan Kelly and Jim O'Brien.
Coach Ken Gernander said of the Wolf Pack's second and third period efforts, "We had a strong first period, we had one penalty, and then we started to take penalties in the second and third. There were opportunities to get pucks deep and play to our strengths, but we got away from that for a bit."
Albany took their first lead of the game at 5:04 of the third, with a power play goal by Corey Tropp, assisted by Vojtech Mozik and Boucher.
The eventual game-winner was scored by Lorito, his second goal of the game, shortly thereafter. He was assisted by Blandisi and Brandon Burlon, and the time of the goal was 8:27.
"We gave them some power play opportunities, they have a good power play, and now you've got six to eight guys up front doing the lion's share of the work," Gernander said. "And you got a handful of defensemen that are spending too much time defending in their own zone."
With 7:17 left in the third, Marek Hrivik grabbed a puck out of the air in front of the net and scored to cut Albany's lead down to one. He was assisted by Jayson Megna and Mat Bodie.
The Wolf Pack are right back at the XL Center Sunday, hosting the Wilkes-Barre/Scranton Penguins in a 3:00 PM game. A Wolf Pack winter clothing drive continues at that game. Any fan who donates a winter hat, jacket or scarf will be presented with a buy-one-get-one-free ticket voucher redeemable for any 2015-16 Wolf Pack home game. Also, Wolf Pack Sunday home games feature the Wolf Pack's "Click It or Ticket Family Value Pack". The Family Value Pack includes two tickets, two sodas and two hot dogs, all for just $35.
Tickets for all 2015-16 Wolf Pack home games are on sale at the Agera Energy Ticket Office at the XL Center, on-line at www.hartfordwolfpack.com and by phone at (877) 522-8499.
To speak with a Wolf Pack representative about season or group tickets, or any of the Wolf Pack's many ticketing options, call (855) 762-6451, or click here to request more info.
Albany Devils 4 at Hartford Wolf Pack 3
Saturday, January 2, 2016 - XL Center

Albany 1 1 2 - 4
Hartford 2 0 1 - 3

1st Period-1, Hartford, Nehring 11 (Tambellini, Graves), 11:21 (PP). 2, Hartford, Bourque 7 (Nehring, Graves), 12:42 (PP). 3, Albany, Lorito 6 (Blandisi, Gragnani), 15:42 (PP). Penalties-Letourneau-Leblond Alb (double minor - high-sticking), 11:01; Tarnasky Hfd (holding), 14:45; McKelvie Alb (fighting), 19:35; Curran Hfd (fighting), 19:35.

2nd Period-4, Albany, Boucher 12 (O'Brien, Kelly), 16:42. Penalties-Hughes Hfd (interference), 1:22; Tarnasky Hfd (high-sticking), 11:10; Blandisi Alb (interference), 12:15.

3rd Period-5, Albany, Tropp 8 (Boucher, Scarlett), 5:04 (PP). 6, Albany, Lorito 7 (Blandisi, Burlon), 8:27. 7, Hartford, Hrivik 4 (Megna, Bodie), 12:43. Penalties-Skjei Hfd (interference), 3:13; Curran Hfd (hooking), 17:12.

Shots on Goal-Albany 6-17-9-32. Hartford 19-6-8-33.
Power Play Opportunities-Albany 2 / 5; Hartford 2 / 3.
Goalies-Albany, Wedgewood 4-1-0 (33 shots-30 saves). Hartford, Malcolm 4-2-0 (32 shots-28 saves).
A-5,129
Referees-Mark Lemelin (41), Tim Mayer (19).
Linesmen-Frank Murphy (29), Derek Wahl (46).
Back to All