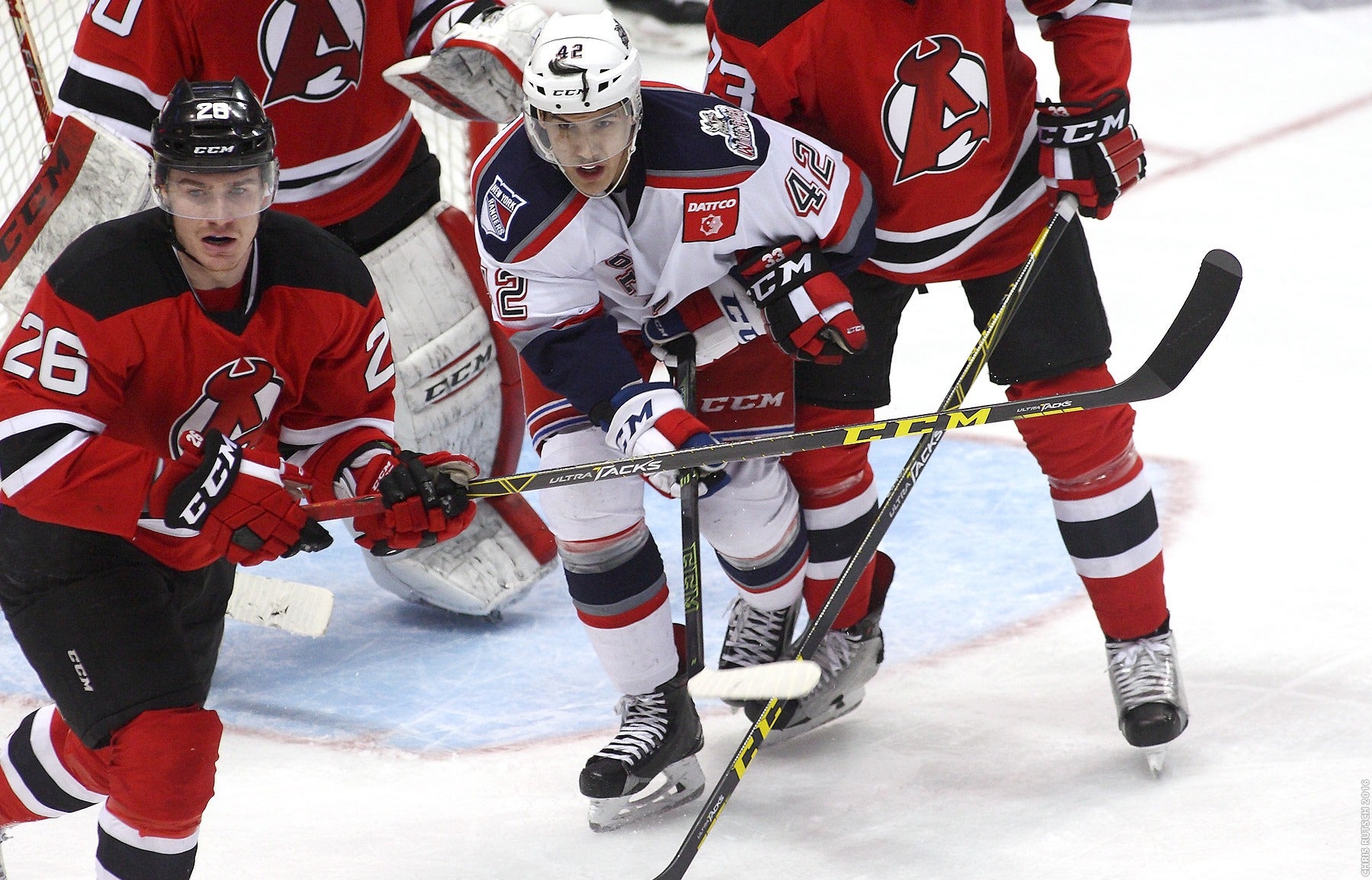 Pack Solve Devils in OT, 4-3
Jan 10, 2016
The Wolf Pack closed out a three-game weekend of home games, and a six-game homestand, with 4-3 overtime win against the Albany Devils on Sunday at the XL Center.
Netminder Magnus Hellberg saved 31 of the 34 shots against him. Mat Bodie scored just 19 seconds into the overtime period, securing the win.
On the first shift of overtime, a Ryan Bourque pass sent Bodie unchecked down the slot in the Albany zone. With time to wind up, Bodie hammered a slap shot past Albany goaltender, and former Wolf Pack, Yann Danis for the winner.
"That was just all him [Bourque]," Bodie said of the winning play. "I wasn't really calling for it, he had two guys who were pretty close to him, but he made a great play. I had tons of lane to the net, I just picked my shot and hit it."
It was Hartford that struck first after a long possession at 4:59 of the first period, when Marek Hrivik deflected a shot by teammate Brady Skjei, and then knocked the carom out of the air and into the net.
Albany struck back with 2:07 left in the period, when Corey Tropp wove through the Hartford defense to find the equalizer, beating Hellberg with a backhander to the stick side.
The second period started out roughly for the Pack after a long shot by Albany's Dan Kelly took an awkward bounce off Hartford's Ryan Graves and went into the net, at 3:48. The home team found their footing again at 10:21 when Chris McCarthy sped down right wing and slapped a sharp-angle shot through Danis.
At 17:11, Albany's Ryan Kujawinski took the puck down the center of the ice and snuck a shot past Hellberg, taking advantage of a power play after Wolf Pack captain Ryan Bourque was called for unsportsmanlike conduct at 16:31.
In the third period, the Wolf Pack was quick to even the score once again with Josh Nicholls scoring his first AHL goal at 3:03, assisted by Tommy Hughes and Brady Skjei. Neither team scored for the remainder of the period, bringing the game to overtime.
Excited to finally score with the Wolf Pack, Nicholls said, "All the chances I've had for the last couple weeks here myself, just waiting for that first one, to get those bounces, it's definitely a huge relief."
Coach Ken Gernander said of the Wolf Pack's finishing the homestand with consecutive wins, "Maybe it's a sign of growth over the course of the weekend, and hopefully it's a trend moving forward here."
The Wolf Pack's next action is this Friday night, January 15, when they make their first visit of the season to Springfield for a 7:00 PM game against the Falcons. All of the action of that battle can be heard live on News Radio 1410 WPOP, and on-line at www.newsradio1410.com and iHeartRadio. Video streaming is available at www.ahllive.com.
The next home game for the Wolf Pack is Sunday, January 24, with the Portland Pirates visiting the XL Center for a 3:00 game. It being a Sunday, fans can take advantage of the Wolf Pack's "Click It or Ticket Family Value Pack", which includes two tickets, two sodas and two hot dogs, all for just $35.
Tickets for all 2015-16 Wolf Pack home games are on sale at the Agera Energy Ticket Office at the XL Center, on-line at www.hartfordwolfpack.com and by phone at (877) 522-8499.
To speak with a Wolf Pack representative about season or group tickets, or any of the Wolf Pack's many ticketing options, call (855) 762-6451, or click here to request more info.
Albany Devils 3 at Hartford Wolf Pack 4 (OT)
Sunday, January 10, 2016 - XL Center

Albany 1 2 0 0 - 3
Hartford 1 1 1 1 - 4

1st Period-1, Hartford, Hrivik 5 (Skjei, Bourque), 4:59. 2, Albany, Tropp 10 (O'Neill), 17:53. Penalties-Hrivik Hfd (slashing), 12:30.

2nd Period-3, Albany, Kelly 2 (Thomson, Scarlett), 3:48. 4, Hartford, McCarthy 3 (Nicholls, Bodie), 10:21. 5, Albany, Kujawinski 3 (Scarlett, Pietila), 17:11 (PP). Penalties-Bourque Hfd (unsportsmanlike conduct), 16:31.

3rd Period-6, Hartford, Nicholls 1 (Hughes, Skjei), 3:05. Penalties-No Penalties

OT Period-7, Hartford, Bodie 3 (Bourque, Nehring), 0:19. Penalties-No Penalties

Shots on Goal-Albany 14-12-8-0-34. Hartford 8-8-2-1-19.
Power Play Opportunities-Albany 1 / 2; Hartford 0 / 0.
Goalies-Albany, Danis 16-5-0 (19 shots-15 saves). Hartford, Hellberg 10-10-0 (34 shots-31 saves).
A-3,257
Referees-Ryan Murphy (5).
Linesmen-Paul Simeon (66), Kevin Briganti (39).
Back to All