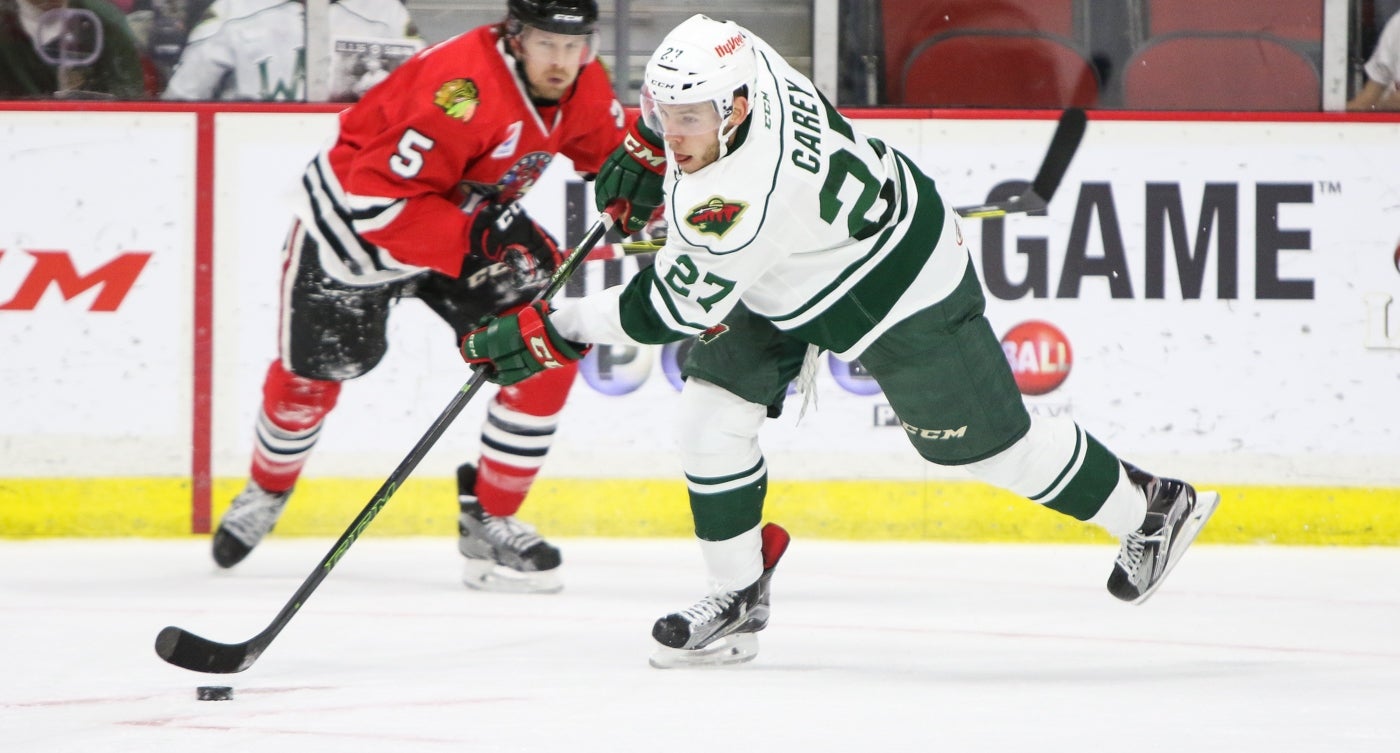 Pack Sign Forward Matt Carey
Sep 7, 2016
(Photo courtesy of Iowa Wild)
Wolf Pack general manager Jim Schoenfeld announced today that the Wolf Pack has signed forward Matt Carey to an AHL contract.
A third-year pro and 6-1, 195-pound native of Hamilton, Ontario, Carey split last season between the Iowa Wild of the AHL and the ECHL's Quad City Mallards. In 21 games with the Wild, he contributed two goals and two assists for four points and served 14 minutes in penalties, and in 49 Mallard appearances Carey had a team-leading 25 goals, along with 22 assists for 47 points. That was good for third among Quad City skaters in points, and Carey totaled 46 PIM and a +7 in ECHL action.
Carey, 24, spent the entire 2014-15 season in the AHL with the Rockford IceHogs, notching ten goals and 11 assists for 21 points, along with 43 PIM, in 67 games. He signed an NHL free-agent contract with the Chicago Blackhawks March 21, 2014, after one season at St. Lawrence University (ECAC), and suited up for two NHL contests with the Blackhawks in 2014-15 (one goal, two penalty minutes).
In his one year of ECAC action with the Skating Saints of St. Lawrence, 2013-14, Carey earned league All-Rookie honors, scoring 18 goals and adding 19 assists for 37 points in 38 games. Those totals ranked him tied for the team goals lead and second on the team in points, and Carey finished second among ECAC freshmen in both points and goals.
The Wolf Pack's twentieth-anniversary 2016-17 season begins Friday, October 14 at the XL Center with the Wolf Pack's home opener, a 7:15 PM contest vs. the St. John's IceCaps. Tickets for that game, and all Wolf Pack 2016-17 home games, will go on sale Tuesday, September 13 at 12:00 noon, at the Agera Energy Ticket Office at the XL Center, on-line at www.hartfordwolfpack.com and by phone at (877) 522-8499.
Season ticket information for the Wolf Pack's 2016-17 AHL season can be found on-line at www.hartfordwolfpack.com. To speak with a representative about all of the Wolf Pack's many attractive ticketing options, call (855) 762-6451.
Back to All