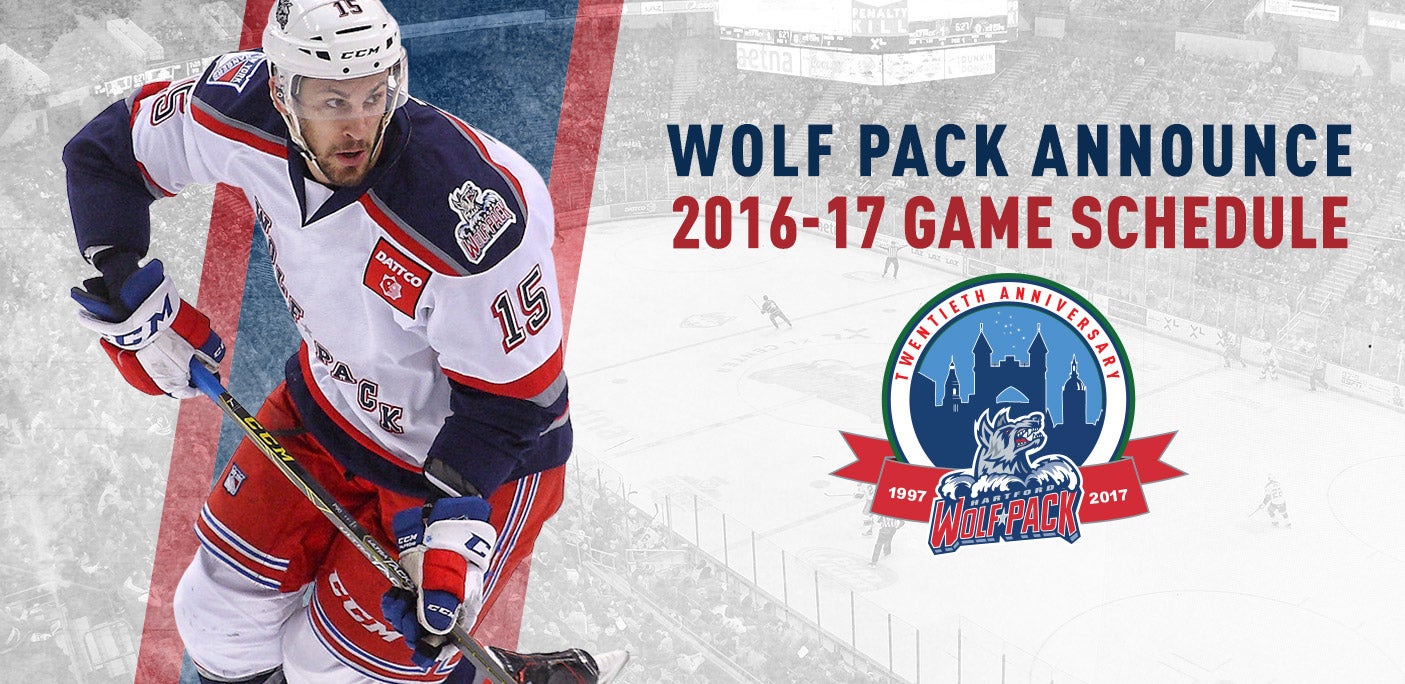 Wolf Pack Announce 2016-17 Game Schedule
Aug 22, 2016
Spectra, operators of the XL Center and Hartford Wolf Pack, today announced the Wolf Pack schedule for 2016-17, the team's twentieth anniversary season.
Click here to view the 2016-17 Full Season Schedule
Click here to view the 2016-17 Printable Schedule
The 76-game regular-season slate begins Friday, October 14 at the XL Center with the Wolf Pack's home opener, a 7:15 PM contest vs. the St. John's IceCaps.
A special discount package is available for the home opener, including one Red-level ticket to the October 14 game, as well as one complimentary Red-level ticket to an October, November or December Wolf Pack home game of the purchaser's choice. Plus, every package purchased will feature a $5 Dunkin' Donuts gift card. The Opening Night package is priced at $30, and will be available for purchase starting Wednesday, August 24, through September 7. The special package is available only through the Wolf Pack's official website, www.hartfordwolfpack.com.
The home opener will be the first of 12 Friday nights on the Wolf Pack's home docket, and the club will also have ten Saturday-night home games. Seven Sunday home dates will also be featured, along with one Tuesday night and eight Wednesdays.
Wednesday, November 2 is the date of the Wolf Pack's third annual "Sonar's Edu-skate" school-day home game, which will face off at 11:00 AM. All Friday-night home games will be 7:15 PM faceoffs, and the rest of the non-Sunday home outings will start at 7:00 PM, except for Saturday, January 7 and Saturday, February 4, which will face off at 7:30, Saturday, December 31 (New Year's Eve), which is a 5:00 faceoff, and Saturday, March 4, which is a 3:00 start. All Sunday home games will be 5:00 PM faceoffs, except for March 5, which will be a 3:00 start.
The Wolf Pack's most familiar adversaries will be Atlantic Division foes the Springfield Thunderbirds and Providence Bruins, both of which the Pack will battle ten times each (five home, five away). The Pack will see the rest of their divisional rivals, the Bridgeport Sound Tigers, Hershey Bears, Lehigh Valley Phantoms and Wilkes-Barre/Scranton Penguins, eight times each (four home, four away).
In addition to those 52 divisional games, the Wolf Pack will play 24 contests against North Division competition. Head Coach Ken Gernander's Wolf Pack will line up four times (two home, two away) each vs. the Albany Devils, Rochester Americans, Toronto Marlies, Utica Comets and the IceCaps, and will see the Binghamton Senators and Syracuse Crunch twice (one home, one away) each.
Wolf Pack 2016-17 single-game tickets will go on sale Tuesday, September 13 at 12:00 noon, at the Agera Energy Ticket Office at the XL Center, on-line at www.hartfordwolfpack.com and by phone at (877) 522-8499. Also on September 13, similar to the past three years, fans will be invited to participate in the ice-painting process during the installation of the XL Center ice surface. Fans are encouraged to come to the XL Center between 12 noon and 1:00 PM on September 13, to take paint brush in hand and apply some of the special red and blue "Jet Ice" paint to the newly-frozen rink. Those interested are asked to come to the XL Center atrium, where Wolf Pack staff will be on hand to escort them to ice level.
Season ticket information for the Wolf Pack's 2016-17 AHL season can be found on-line at www.hartfordwolfpack.com. To speak with a representative about all of the Wolf Pack's many attractive ticketing options, call (855) 762-6451.
HARTFORD WOLF PACK 2016-17 SCHEDULE
(All Home Games in Caps, All Times Eastern)
Fri. Oct. 14 ST. JOHN'S 7:15
Sat. Oct. 15 @ Wilkes-Barre/Scr. 7:05
Sat. Oct. 22 @ Lehigh Valley 7:05
Sun. Oct. 23 ST. JOHN'S 5:00
Wed. Oct. 26 HERSHEY 7:00
Fri. Oct. 28 LEHIGH VALLEY 7:15
Sat. Oct. 29 UTICA 7:00
Wed. Nov. 2 LEHIGH VALLEY 11:00 AM
Fri. Nov. 4 BRIDGEPORT 7:15
Sat. Nov. 5 @ Providence 7:05
Fri. Nov. 11 @ Rochester 7:05
Sat. Nov. 12 @ Utica 7:30
Sun. Nov. 13 WILKES-BARRE/SCR. 5:00
Wed. Nov. 16 SPRINGFIELD 7:00
Sat. Nov. 19 @ Binghamton 7:05
Sun. Nov. 20 PROVIDENCE 5:00
Wed. Nov. 23 BRIDGEPORT 7:00
Fri. Nov. 25 ALBANY 7:15
Sat. Nov. 26 @ Lehigh Valley 7:05
Sat. Dec. 3 @ Toronto 5:00
Sun. Dec. 4 @ Toronto 3:00
Wed. Dec. 7 SPRINGFIELD 7:00
Sat. Dec. 10 TORONTO 7:00
Sun. Dec. 11 @ Providence 3:05
Wed. Dec. 14 WILKES-BARRE/SCR. 7:00
Fri. Dec. 16 SYRACUSE 7:15
Sat. Dec. 17 @ Hershey 7:00
Wed. Dec. 21 @ Syracuse 7:00
Mon. Dec. 26 @ Bridgeport 7:00
Tue. Dec. 27 PROVIDENCE 7:00
Fri. Dec. 30 @ Springfield 7:05
Sat. Dec. 31 ALBANY 5:00
Tue. Jan. 3 @ Wilkes-Barre/Scr. 7:05
Fri. Jan. 6 LEHIGH VALLEY 7:15
Sat. Jan. 7 BRIDGEPORT 7:30
Sun. Jan. 8 @ Providence 3:05
Wed. Jan. 11 @ Rochester 7:05
Fri. Jan. 13 @ St. John's 6:00
Sat. Jan. 14 @ St. John's 6:00
Fri. Jan. 20 TORONTO 7:15
Sat. Jan. 21 ROCHESTER 7:00
Sun. Jan. 22 @ Providence 5:05
Wed. Jan. 25 HERSHEY 7:00
Fri. Jan. 27 @ Bridgeport 7:00
Sat. Jan. 28 PROVIDENCE 7:00
Fri. Feb. 3 UTICA 7:15
Sat. Feb. 4 ROCHESTER 7:30
Fri. Feb. 10 @ Springfield 7:05
Sat. Feb. 11 @ Hershey 7:00
Fri. Feb. 17 @ Lehigh Valley 7:05
Sat. Feb. 18 @ Lehigh Valley 7:05
Sun. Feb. 19 SPRINGFIELD 5:00
Fri. Feb. 24 HERSHEY 7:15
Sat. Feb. 25 @ Springfield 7:05
Sun. Feb. 26 BINGHAMTON 5:00
Wed. Mar. 1 SPRINGFIELD 7:00
Sat. Mar. 4 LEHIGH VALLEY 3:00
Sun. Mar. 5 WILKES-BARRE/SCR. 3:00
Fri. Mar. 10 @ Wilkes-Barre/Scr. 7:05
Sat. Mar. 11 @ Springfield 7:05
Sun. Mar. 12 @ Bridgeport 3:00
Fri. Mar. 17 @ Hershey 7:00
Sat. Mar. 18 @ Hershey 7:00
Tue.. Mar. 21 @ Wilkes-Barre/Scr. 7:05
Fri. Mar. 24 PROVIDENCE 7:15
Sat. Mar. 25 BRIDGEPORT 7:00
Sun. Mar. 26 PROVIDENCE 5:00
Fri. Mar. 31 HERSHEY 7:15
Sat. Apr. 1 @ Albany 5:00
Sun. Apr. 2 @ Providence 3:05
Fri. Apr. 7 SPRINGFIELD 7:15
Sat. Apr. 8 WILKES-BARRE/SCR. 7:00
Sun. Apr. 9 @ Bridgeport 3:00
Wed. Apr. 12 @ Albany 7:00
Fri. Apr. 14 @ Utica 7:00
Sat. Apr. 15 @ Springfield 7:05
HOME
Fri. Oct. 14 ST. JOHN'S 7:15
Sun. Oct. 23 ST. JOHN'S 5:00
Wed. Oct. 26 HERSHEY 7:00
Fri. Oct. 28 LEHIGH VALLEY 7:15
Sat. Oct. 29 UTICA 7:00
Wed. Nov. 2 LEHIGH VALLEY 11:00 AM
Fri. Nov. 4 BRIDGEPORT 7:15
Sun. Nov. 13 WILKES-BARRE/SCR. 5:00
Wed. Nov. 16 SPRINGFIELD 7:00
Sun. Nov. 20 PROVIDENCE 5:00
Wed. Nov. 23 BRIDGEPORT 7:00
Fri. Nov. 25 ALBANY 7:15
Wed. Dec. 7 SPRINGFIELD 7:00
Sat. Dec. 10 TORONTO 7:00
Wed. Dec. 14 WILKES-BARRE/SCR. 7:00
Fri. Dec. 16 SYRACUSE 7:15
Tue. Dec. 27 PROVIDENCE 7:00
Sat. Dec. 31 ALBANY 5:00
Fri. Jan. 6 LEHIGH VALLEY 7:15
Sat. Jan. 7 BRIDGEPORT 7:30
Fri. Jan. 20 TORONTO 7:15
Sat. Jan. 21 ROCHESTER 7:00
Wed. Jan. 25 HERSHEY 7:00
Sat. Jan. 28 PROVIDENCE 7:00
Fri. Feb. 3 UTICA 7:15
Sat. Feb. 4 ROCHESTER 7:30
Sun. Feb. 19 SPRINGFIELD 5:00
Fri. Feb. 24 HERSHEY 7:15
Sun. Feb. 26 BINGHAMTON 5:00
Wed. Mar. 1 SPRINGFIELD 7:00
Sat. Mar. 4 LEHIGH VALLEY 3:00
Sun. Mar. 5 WILKES-BARRE/SCR. 3:00
Fri. Mar. 24 PROVIDENCE 7:15
Sat. Mar. 25 BRIDGEPORT 7:00
Sun. Mar. 26 PROVIDENCE 5:00
Fri. Mar. 31 HERSHEY 7:15
Fri. Apr. 7 SPRINGFIELD 7:15
Sat. Apr. 8 WILKES-BARRE/SCR. 7:00
ROAD
Sat. Oct. 15 @ Wilkes-Barre/Scr. 7:05
Sat. Oct. 22 @ Lehigh Valley 7:05
Sat. Nov. 5 @ Providence 7:05
Fri. Nov. 11 @ Rochester 7:05
Sat. Nov. 12 @ Utica 7:30
Sat. Nov. 19 @ Binghamton 7:05
Sat. Nov. 26 @ Lehigh Valley 7:05
Sat. Dec. 3 @ Toronto 5:00
Sun. Dec. 4 @ Toronto 3:00
Sun. Dec. 11 @ Providence 3:05
Sat. Dec. 17 @ Hershey 7:00
Wed. Dec. 21 @ Syracuse 7:00
Mon. Dec. 26 @ Bridgeport 7:00
Fri. Dec. 30 @ Springfield 7:05
Tue. Jan. 3 @ Wilkes-Barre/Scr. 7:05
Sun. Jan. 8 @ Providence 3:05
Wed. Jan. 11 @ Rochester 7:05
Fri. Jan. 13 @ St. John's 6:00
Sat. Jan. 14 @ St. John's 6:00
Sun. Jan. 22 @ Providence 5:05
Fri. Jan. 27 @ Bridgeport 7:00
Fri. Feb. 10 @ Springfield 7:05
Sat. Feb. 11 @ Hershey 7:00
Fri. Feb. 17 @ Lehigh Valley 7:05
Sat. Feb. 18 @ Lehigh Valley 7:05
Sat. Feb. 25 @ Springfield 7:05
Fri. Mar. 10 @ Wilkes-Barre/Scr. 7:05
Sat. Mar. 11 @ Springfield 7:05
Sun. Mar. 12 @ Bridgeport 3:00
Fri. Mar. 17 @ Hershey 7:00
Sat. Mar. 18 @ Hershey 7:00
Tue.. Mar. 21 @ Wilkes-Barre/Scr. 7:05
Sat. Apr. 1 @ Albany 5:00
Sun. Apr. 2 @ Providence 3:05
Sun. Apr. 9 @ Bridgeport 3:00
Wed. Apr. 12 @ Albany 7:00
Fri. Apr. 14 @ Utica 7:00
Sat. Apr. 15 @ Springfield 7:05
Back to All