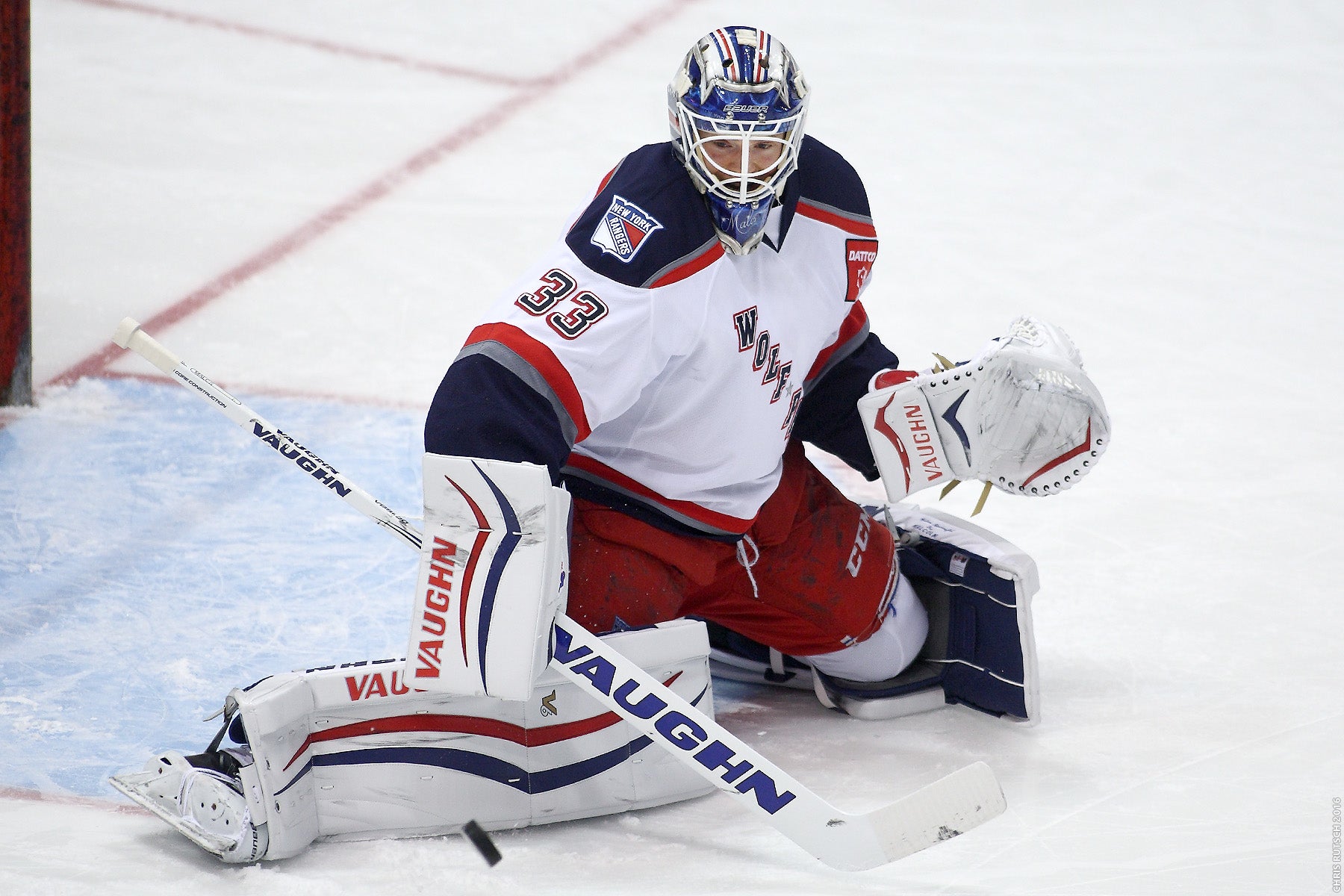 Pack Re-Sign Malcolm
Aug 15, 2016
Wolf Pack general manager Jim Schoenfeld announced today that the team has re-signed goaltender Jeff Malcolm.
Malcolm, a product of Yale University, will be entering his fourth pro season in 2016-17, and he has spent the entirety of his first three years in the Wolf Pack/New York Ranger organization. In 2015-16, the 27-year-old Lethbridge, Alberta native played a career-high 14 AHL games with the Wolf Pack and tied his AHL career best in wins with seven, going 7-5-0 in AHL action. The 6-2, 185-pound Malcolm also established personal AHL bests of a 2.41 goals-against average and a 91.2% save percentage, and registered his first two career AHL shutouts.
Malcolm also appeared in nine ECHL games with the Greenville Swamp Rabbits in 2015-16, compiling a record of 5-2-2 with a 3.40 GAA and an 89.4% save percentage.
Originally signed by the Wolf Pack July 17, 2013, Malcolm has seen action in 31 career AHL games, posting a 15-12-0 record, a 2.78 GAA and a 90.3% save percentage. In 64 total ECHL outings with Greenville, Malcolm is 35-21-6, with a 2.79 GAA, a 91.3% save percentage and one shutout.
Malcolm capped off his four-year Yale career in 2012-13 by backstopping the Elis to the first-ever "Frozen Four" title in school history. Malcolm was 20-6-2 in 30 appearances for the Elis in 2012-13, with a 2.24 goals-against average, a 91.9% save percentage and three shutouts. Those numbers represented the second-highest single-season win total, the third-best save percentage and fourth-lowest GAA in Yale Men's Hockey history. Malcolm also finished second among ECAC goaltenders in wins and tied for third in shutouts.
In his four years at Yale, Malcolm appeared in 67 games, amassing a record of 36-21-4 with a 2.60 GAA, a 90.7% save percentage and six shutouts. Those stats rank him fourth all-time in school annals in wins, GAA and save percentage.
Season ticket information for the Wolf Pack's 2016-17 AHL season can be found on-line at www.hartfordwolfpack.com. To speak with a representative about all of the Wolf Pack's many attractive ticketing options, call (855) 762-6451.
Back to All