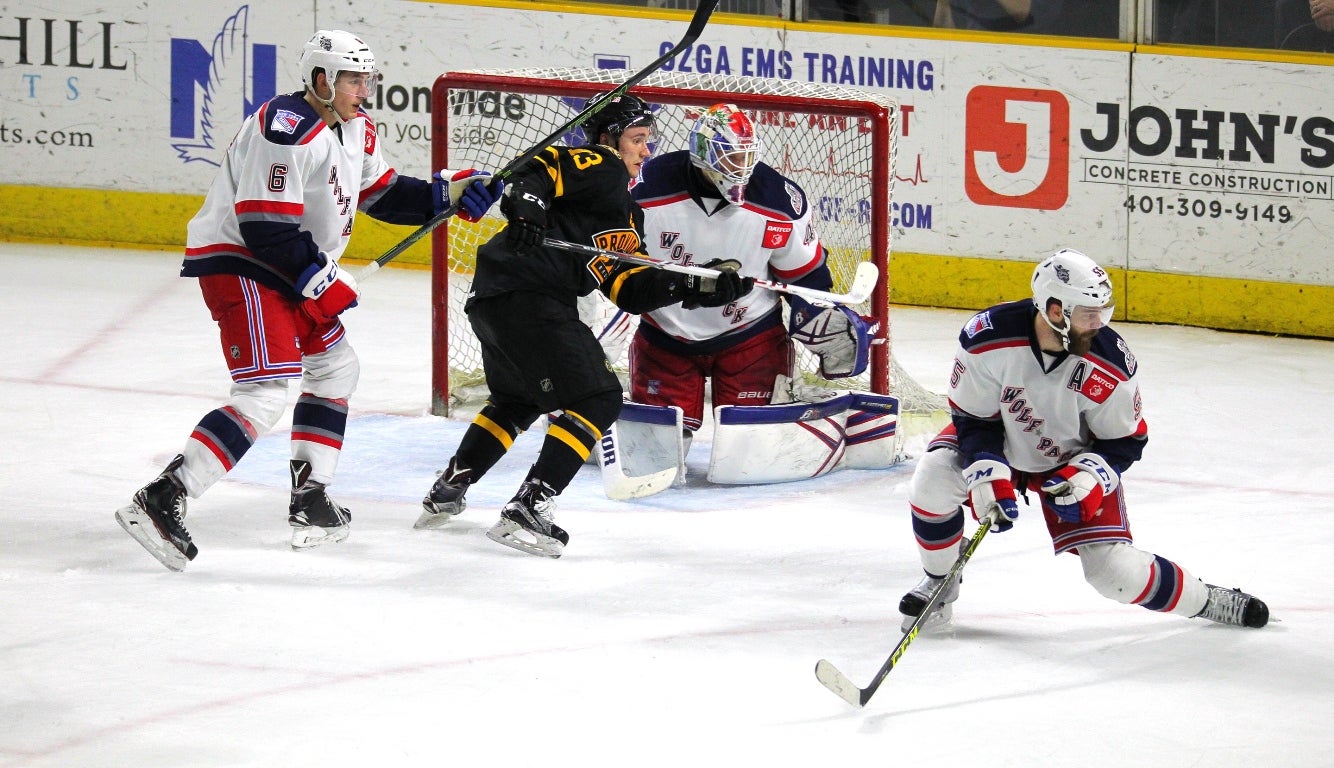 Pack Outlast Bruins, 3-2 in Shootout
Mar 11, 2016
(Photo by Alan Sullivan)
The Providence Bruins tied the game with 33.5 seconds left in the third period Friday night at the Dunkin' Donuts Center Providence, but the Wolf Pack recovered to prevail in a shootout, 3-2.
Frank Vatrano tied the game at two with Bruin goaltender Jeremy Smith on the bench for an extra attacker, and Providence killed a penalty in overtime, but Adam Tambellini and Luke Adam scored in the shootout and Magnus Hellberg stopped four out of five Bruin shooters.
Tambellini also scored twice in the third period, after the Wolf Pack trailed 1-0 going into the third. Chad Nehring assisted on both of the goals. Hellberg made 32 saves. Alexander Khokhlachev had the other Providence goal and Smith made 34 stops.
The win lifted the Wolf Pack to 30-27-2-0 on the year for 62 points and to within six points of the last playoff spot in the Eastern Conference, with Bridgeport losing 5-2 at Syracuse.
"That's a huge win for our group," Tambellini said. "Battling back in the third and facing adversity late in the third period, with them scoring, and then ending it in a shootout was really good for our team, and hopefully we can build off that this weekend."
After a scoreless first period in which the Wolf Pack outshot the Bruins 15-7, Providence opened the scoring 4:11 into the second frame, on Khokhlachev's 16th goal of the season.
The puck was chipped out of the Providence zone, and Khokhlachev carried down the right side and into the Wolf Pack zone. With a teammate heading toward the net, Khokhlachev cut toward the middle and snapped a shot that went under Hellberg's glove-side arm and into the net.
The Wolf Pack had a good opportunity to equalize late in the period, when the Bruins' Ben Sexton put Chris Summers into the boards from behind and received a major penalty. Hartford's Nick Tarnasky received an unsportsmanlike conduct minor at the same time, but the Wolf Pack still had a three-minute power play. They were unable to capitalize, however, and Providence took a 1-0 lead into the third.
Tambellini clicked twice in a span of 2:18 in the third frame, though, to turn the tables.
First, at 8:07, Tambellini took a pass from Raphael Diaz and moved back to the blue line, firing a long shot that redirected past Smith.
Then, at 10:25, a bullet from the slot by Tambellini went off of a sliding Smith's pads and in, after Nehring fed Tambellini the puck from the right side below the goal line.
Hellberg very nearly made the lead stand up for a regulation win, but the Bruins put on furious late pressure, and the rookie Vatrano was finally able to get the equalizer at 19:26, ripping a shot from the right-wing side through a crowd and into the goal. That score was Vatrano's 30th of the season, in only 29 AHL games.
The shootout went five rounds before Adam netted the winner on the Wolf Pack's last attempt, faking Smith down to the ice and putting a forehand shot just inside the goal post to the netminder's left. Hellberg then denied Austin Czarnik, improving the Wolf Pack's perfect shootout record to 6-0.
"That's something we work on," said Tambellini of the Wolf Pack's shootout success. "We know, coming down the stretch, those points might be huge for our team. We work on that stuff and it's paying off."
The Wolf Pack are back on home ice on Saturday, taking on the Lehigh Valley Phantoms. That is "Military Appreciation Day" at the XL Center, with a special faceoff time of 3:00 PM. The Wolf Pack will wear special military-themed jerseys in that game, and the jerseys will be auctioned off to benefit military-related charities. Also, the first 2,000 fans get a Mackenzie Skapski bobblehead, presented by Xfinity.
Tickets for all remaining 2015-16 Wolf Pack home games are on sale at the Agera Energy Ticket Office at the XL Center, on-line at www.hartfordwolfpack.com and by phone at (877) 522-8499.
To speak with a Wolf Pack representative about season or group tickets, or any of the Wolf Pack's many ticketing options, call (855) 762-6451, or click here to request more info.
Hartford Wolf Pack 3 (SO) at Providence Bruins 2
Friday, March 11, 2016 - Dunkin' Donuts Center

Hartford 0 0 2 0 - 3
Providence 0 1 1 0 - 2

1st Period- No Scoring. Penalties-Andersson Hfd (interference), 5:56; DeFazio Pro (hooking), 14:50.

2nd Period-1, Providence, Khokhlachev 16 (Talbot, Kemppainen), 4:11. Penalties-Tarnasky Hfd (unsportsmanlike conduct), 14:14; Sexton Pro (major - boarding, game misconduct - boarding), 14:14.

3rd Period-2, Hartford, Tambellini 14 (Diaz, Nehring), 8:07. 3, Hartford, Tambellini 15 (Nehring), 10:25. 4, Providence, Vatrano 30 (Czarnik), 19:26. Penalties-C. Brown Hfd (tripping), 5:21; Bodie Hfd (delay of game), 14:48.

OT Period- No Scoring. Penalties-served by Ferlin Pro (bench minor - too many men), 0:56; Skjei Hfd (roughing), 5:00; Miller Pro (roughing), 5:00.

Shootout - Hartford 2 (Gibbons NG, Jensen NG, Tambellini G, Brown NG, Adam G), Providence 1 (Hargrove NG, Khokhlachev NG, Vatrano G, DeFazio NG, Czarnik NG).
Shots on Goal-Hartford 15-8-9-4-1-37. Providence 7-10-15-2-0-34.
Power Play Opportunities-Hartford 0 / 3; Providence 0 / 3.
Goalies-Hartford, Hellberg 23-16-0 (34 shots-32 saves). Providence, Smith 10-16-2 (36 shots-34 saves).
A-9,821
Referees-Dave Lewis (46), Furman South (55).
Linesmen-Chris Aughe (74), Ed Boyle (81).
Back to All