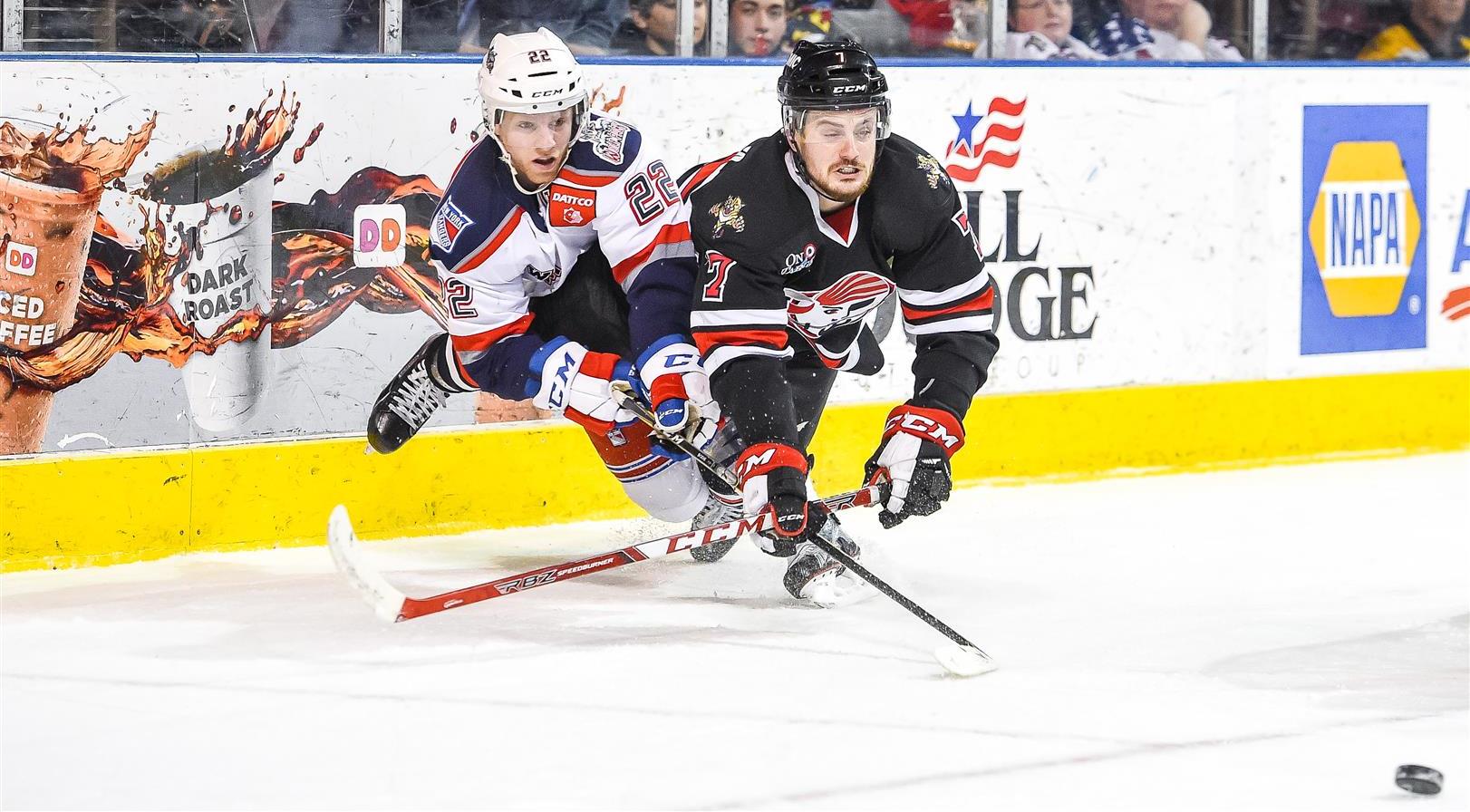 Pack Lose a Heartbreaker in Portland
Apr 10, 2016
(Photo by Michael McSweeney)
The Portland Pirates dealt a major blow to the Wolf Pack's playoff hopes Sunday, with a 3-2 win over the Wolf Pack at Cross Insurance Arena in Portland, ME.
Logan Shaw's second goal of the game with 3:55 left in the third period broke a 2-2 tie and held up as the game-winner.
The loss dropped the Wolf Pack to 39-31-3-0 and to six points behind the Pirates, who clinched a playoff berth, in the Atlantic Division standings, with only three games remaining in the regular season.
Adam Tambellini and Mat Bodie scored the Wolf Pack goals Sunday, and Magnus Hellberg made 28 saves. Shane Harper had the other Portland goal, and Sam Brittain stopped 17 shots in the Pirate net.
"That was a hard-fought game by our team," Tambellini said. "I think we battled hard throughout the whole night, and a lot of the game we felt like we had the upper hand. Those kind of things happen, and we just couldn't finish at the end."
A crisply-played first period ended with the Wolf Pack up 1-0, after Tambellini scored a late goal at 16:57. Jayson Megna tipped the puck to center ice to start Tambellini and Chad Nehring away on a 2-on-1. After handing the puck to Nehring, Tambellini attacked the net and snapped Nehring's return pass into the net, past the stick side of Brittain.
That lead lasted until the 13:36 mark of the second period, when Harper equalized for the Pirates. Wolf Hellberg stopped Kyle Rau's shot, Portland's first of the period, from the right-wing circle, but as Hellberg dove to his right to try to cover the puck, Harper worked it loose. He then stepped between Hellberg and the net and shoved the puck inside the goal post.
Portland then stunned the Wolf Pack with a shorthanded goal at 16:15, on the Wolf Pack's first power play of the game. Corban Knight was able to play the puck off of the right-wing boards to Shaw in front of the Hartford net, and after Hellberg stopped Shaw's initial try, he was able to jam the rebound in for a 2-1 Portland lead.
That advantage was short-lived, however, as after the Wolf Pack bench was called for an unsportsmanlike conduct penalty after the Pirate shorthanded goal, the Wolf Pack scored in the ensuing 4-on-4 situation. It was Bodie connecting at 16:41, just 26 seconds after Shaw's tally, sneaking to the front of the net and backhanding a Chris Brown pass through Brittain's legs.
The Wolf Pack killed a high-sticking double minor to Tambellini early in the third period, and with the game appearing as though it might be headed to overtime, the Pirates struck off of a rush at 16:05. Connor Brickley unloaded a shot that was blocked, but the carom came right to Shaw at the left side of the slot, and Shaw's quick bid beat Hellberg cleanly for the winner.
The Wolf Pack continue a stretch of four straight road games to finish the season this Wednesday, April 13, with a visit to Toronto to take on the league-leading Marlies. That is a school-day, morning-start game, with faceoff at 11:00 AM, and all of the action can be heard live on-line at www.979espn.com and on iHeartRadio. Video streaming is available at www.ahllive.com.
To speak with a Wolf Pack representative about season or group tickets, or any of the Wolf Pack's many ticketing options, call (855) 762-6451, or click here to request more info.
Hartford Wolf Pack 2 at Portland Pirates 3
Sunday, April 10, 2016 - Cross Insurance Arena

Hartford 1 1 0 - 2
Portland 0 2 1 - 3

1st Period-1, Hartford, Tambellini 16 (Nehring, Megna), 16:57. Penalties-Summers Hfd (fighting), 11:01; Brickley Por (fighting), 11:01.

2nd Period-2, Portland, Harper 12 (Rau, Balisy), 13:36. 3, Portland, Shaw 10 (Knight), 16:15 (SH). 4, Hartford, Bodie 7 (C. Brown, Hrivik), 16:41. Penalties-Graves Hfd (tripping), 3:18; Jensen Hfd (slashing), 7:39; Schremp Por (hooking), 14:56; served by T. Brown Hfd (unsportsmanlike conduct), 16:15.

3rd Period-5, Portland, Shaw 11 (Megan, Brickley), 16:05. Penalties-Tambellini Hfd (double minor - high-sticking), 3:20; Olsen Por (boarding), 19:22.

Shots on Goal-Hartford 10-5-4-19. Portland 11-8-12-31.
Power Play Opportunities-Hartford 0 / 2; Portland 0 / 5.
Goalies-Hartford, Hellberg 29-19-0 (31 shots-28 saves). Portland, Brittain 7-10-0 (19 shots-17 saves).
A-3,314
Referees-Michael Mullen (18).
Linesmen-Chris Leavitt (65), Landon Bathe (80).
Back to All