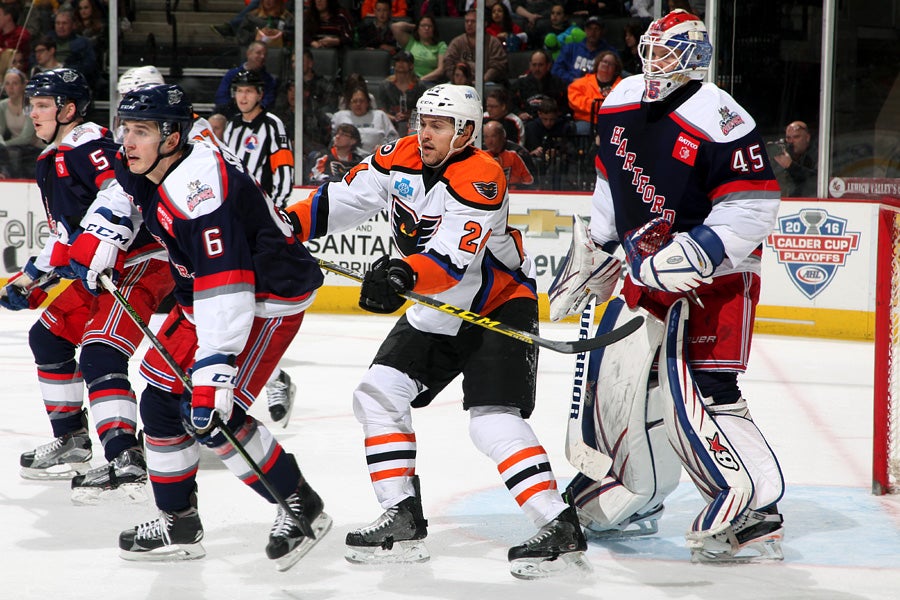 Pack Fall behind, can't Catch Phantoms
Mar 26, 2016
(Photo courtesy of Lehigh Valley Phantoms)
A poor start cost the Wolf Pack Saturday night at the PPL Center in Allentown, PA, in a 2-1 loss to the Lehigh Valley Phantoms.
Lehigh Valley scored on the game's first shift, and led 2-0 after one period, then rode the goaltending of Martin Ouellette, who made 38 saves, the rest of the way.
Only a Marek Hrivik goal with 15.7 seconds left in the third period denied Ouellette his first career AHL shutout.
"Their guys were doing a really good job in their zone, it was hard to create offense," Hrivik said. "They were tight on us, and we didn't have much space to create the offense. We had some chances, but we just didn't get one in, and that's what cost us."
The defeat snapped a run of eight games without a regulation loss (7-0-1-0), and a six-game road winning streak, for the 36-28-3-0 (75 pts.) Wolf Pack and, combined with the Portland Pirates' 6-1 home win over Springfield, dropped Hartford to two points behind Portland in the battle for fifth place in the Atlantic Division, which is currently the last playoff spot.
The Phantoms put on heavy pressure off the first drop of the puck, and Lehigh Valley defenseman Davis Drewiske scored at the 33-second mark, giving the Phantoms a lead that they would never relinquish.
Danick Martel passed the puck from below the goal line to Drewiske at the left faceoff dot, and he put a perfect shot into the top corner over Wolf Pack goaltender Magnus Hellberg's catching glove.
Lehigh Valley doubled the lead at 11:02, on Pavel Padakin's second AHL goal of the season. Samuel Morin carried the puck into the Wolf Pack zone and took a shot that Hellberg (24 saves) stopped with his pads, but the rebound came right to Tyrell Goulbourne in the right circle. He played it back toward the net, and Padakin was able to knock it underneath Hellberg.
The Wolf Pack had a much stronger second period, outshooting the Phantoms 17-4, but were unable to dent Ouellette.
Hartford controlled most of the play in the third session as well, but still couldn't score until Hrivik finally broke through at 19:44, with Hellberg on the bench for an extra attacker.
Jayson Megna fed the puck from the left-wing boards to the opposite circle, and Hrivik one-timed it behind Ouellette from just below the dot, for his 11th goal of the season.
With so little time remaining after that goal, though, the Wolf Pack could not mount any further threat.
The Wolf Pack's next action is at Albany this Tuesday, a 7:00 PM game against the Devils. All of the action of that contest can be heard live on News Radio 1410 WPOP, and on-line at www.newsradio1410.com and iHeartRadio. Video streaming is available at www.ahllive.com.
The Wolf Pack's next home game is this Friday, April 1, as the Hershey Bears visit the XL Center for a 7:15 PM game. That is the Wolf Pack's last Friday-night home game of the regular season, and the last chance for fans to enjoy $1 hot dogs and $2 beers through the start of the second period.
Tickets for all remaining 2015-16 Wolf Pack home games are on sale at the Agera Energy Ticket Office at the XL Center, on-line at www.hartfordwolfpack.com and by phone at (877) 522-8499.
To speak with a Wolf Pack representative about season or group tickets, or any of the Wolf Pack's many ticketing options, call (855) 762-6451, or click here to request more info.
Hartford Wolf Pack 1 at Lehigh Valley Phantoms 2
Saturday, March 26, 2016 - PPL Center

Hartford 0 0 1 - 1
Lehigh Valley 2 0 0 - 2

1st Period-1, Lehigh Valley, Drewiske 5 (Martel, Straka), 0:33. 2, Lehigh Valley, Padakin 2 (Goulbourne, Morin), 11:02. Penalties-C. Brown Hfd (roughing), 4:27.

2nd Period- No Scoring. Penalties-DeSimone Lv (tripping), 3:08; Nehring Hfd (slashing), 10:41; Lamarche Lv (tripping), 12:49; Skjei Hfd (tripping), 19:58.

3rd Period-3, Hartford, Hrivik 11 (Megna, Jensen), 19:44. Penalties-DeSimone Lv (cross-checking), 8:08; T. Brown Hfd (high-sticking), 11:33; Bardreau Lv (roughing), 11:33.

Shots on Goal-Hartford 9-17-13-39. Lehigh Valley 16-4-6-26.
Power Play Opportunities-Hartford 0 / 3; Lehigh Valley 0 / 3.
Goalies-Hartford, Hellberg 27-17-0 (26 shots-24 saves). Lehigh Valley, Ouellette 2-3-0 (39 shots-38 saves).
A-8,677
Referees-David Banfield (77), Tom Chmielewski (43).
Linesmen-Jud Ritter (34), Tim Lyons (33).
Back to All