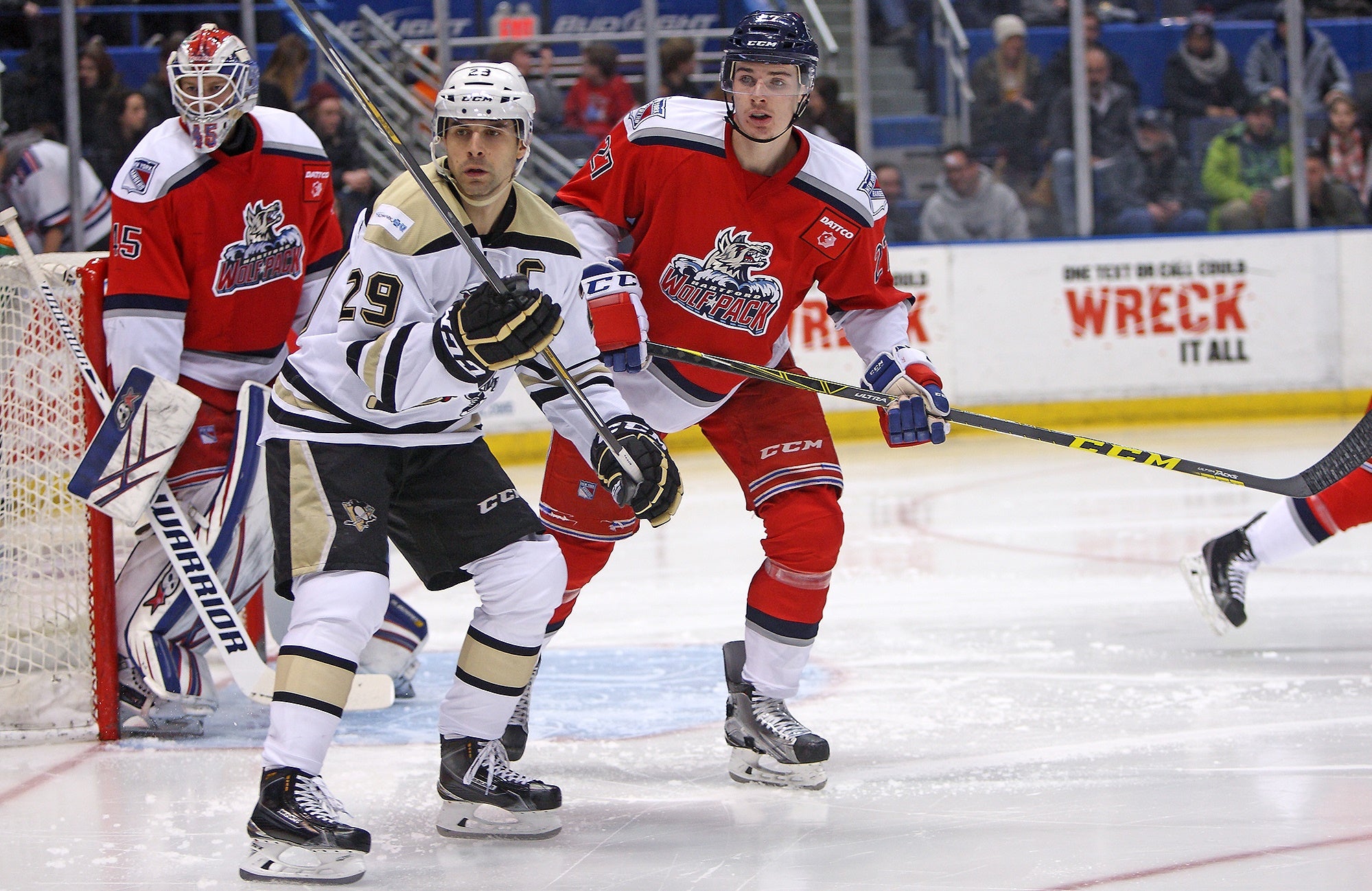 Pack Drop Second Straight, Falling to Penguins
Feb 12, 2016
By Phil Oxnard
The Wolf Pack suffered their second straight loss Friday night at the XL Center, falling to the Wilkes-Barre/Scranton Penguins by a score of 3-1.
Nicklas Jensen's third-period goal was the Wolf Pack's only scoring. Kael Mouillierat had a goal and an assist for the Penguins, and Anton Zlobin scored the game-winning goal. Matt Murray stopped 26 out of 27 shots in the Wilkes-Barre/Scranton net.
Jensen was disappointed with the team's erratic play, saying, "We've got to play a full 60 minutes, or else we're not going to win hockey games. That was the case tonight."
Mouillierat scored the only goal of the first period, as Josh Archibald's feed from the right-wing side went off of Mouillierat's skate and past Wolf Pack goaltender Magnus Hellberg (20 saves) at 11:21.
The Wolf Pack fought tooth and nail for an equalizer in the final 60 seconds of the period, but they came up dry, leaving the score at 1-0 going into the second.
At 8:41 of the second, Wilkes-Barre/Scranton took advantage of a power play when Zlobin deflected a Will O'Neill point shot through Hellberg's legs for a 2-0 Penguin lead.
Following the goal, Hartford instantly had their chance with back to back power plays, but they couldn't capitalize.
"Frustrating, frustrating," was how Wolf Pack head coach Ken Gernander described the team's power plays. "The desperation to recover loose pucks, to know your assignment, things like that make a difference."
After a rocky start to the third period, the Wolf Pack's energy exploded after a much-needed goal from Jensen at 10:26, his ninth of the season and fifth since joining the Wolf Pack. Momentum built after the goal, with much of the remaining action taking place in front of Wilkes-Barre/Scranton's net.
However, nothing came of the offensive blitz, and the Penguins ended up winning 3-1 after an open-net goal by Sahir Gill with 12.4 seconds remaining.
Gernander said of the team's performance, "It's got to be 60 minutes of knock-down, drag-out, desperate hockey from here on in. Where I come from, good enough never is."
The Wolf Pack are back in action Saturday night, visiting the Bridgeport Sound Tigers for a 7:00 PM game. All of the action can be heard live on News Radio 1410 WPOP, and on-line at www.newsradio1410.com and iHeartRadio. Video streaming is available at www.ahllive.com.
The next home game for the Wolf Pack is this Sunday, February 14, with the Rochester Americans visiting the XL Center for a 3:00 game. It being a Sunday, fans can take advantage of the Wolf Pack's "Click It or Ticket Family Value Pack", which includes two tickets, two sodas and two hot dogs, all for just $35.
Tickets for all remaining 2015-16 Wolf Pack home games are on sale at the Agera Energy Ticket Office at the XL Center, on-line at www.hartfordwolfpack.com and by phone at (877) 522-8499.
To speak with a Wolf Pack representative about season or group tickets, or any of the Wolf Pack's many ticketing options, call (855) 762-6451, or click here to request more info.
Wilkes-Barre/Scranton Penguins 3 at Hartford Wolf Pack 1
Friday, February 12, 2016 - XL Center

W-B/Scranton 1 1 1 - 3
Hartford 0 0 1 - 1

1st Period-1, W-B/Scranton, Mouillierat 10 (Archibald), 11:21. Penalties-Mouillierat Wbs (interference), 3:30; McCarthy Hfd (hooking), 6:45; McCarron Wbs (interference), 14:21.

2nd Period-2, W-B/Scranton, Zlobin 2 (O'Neill, Mouillierat), 8:41 (PP). Penalties-Graves Hfd (delay of game), 7:22; served by Loney Wbs (bench minor - delay of game), 8:41; Murray Wbs (unsportsmanlike conduct), 10:41.

3rd Period-3, Hartford, Jensen 9 (Hrivik, Adam), 10:26. 4, W-B/Scranton, Gill 5 (Rowney, McNeill), 19:47 (EN). Penalties-Hughes Hfd (hooking), 4:51.

Shots on Goal-W-B/Scranton 7-8-8-23. Hartford 11-9-7-27.
Power Play Opportunities-W-B/Scranton 1 / 3; Hartford 0 / 4.
Goalies-W-B/Scranton, Murray 19-8-0 (27 shots-26 saves). Hartford, Hellberg 17-13-0 (22 shots-20 saves).
A-4,916
Referees-Terry Koharski (10), Furman South (55).
Linesmen-Frank Murphy (29), Paul Simeon (66).
Back to All