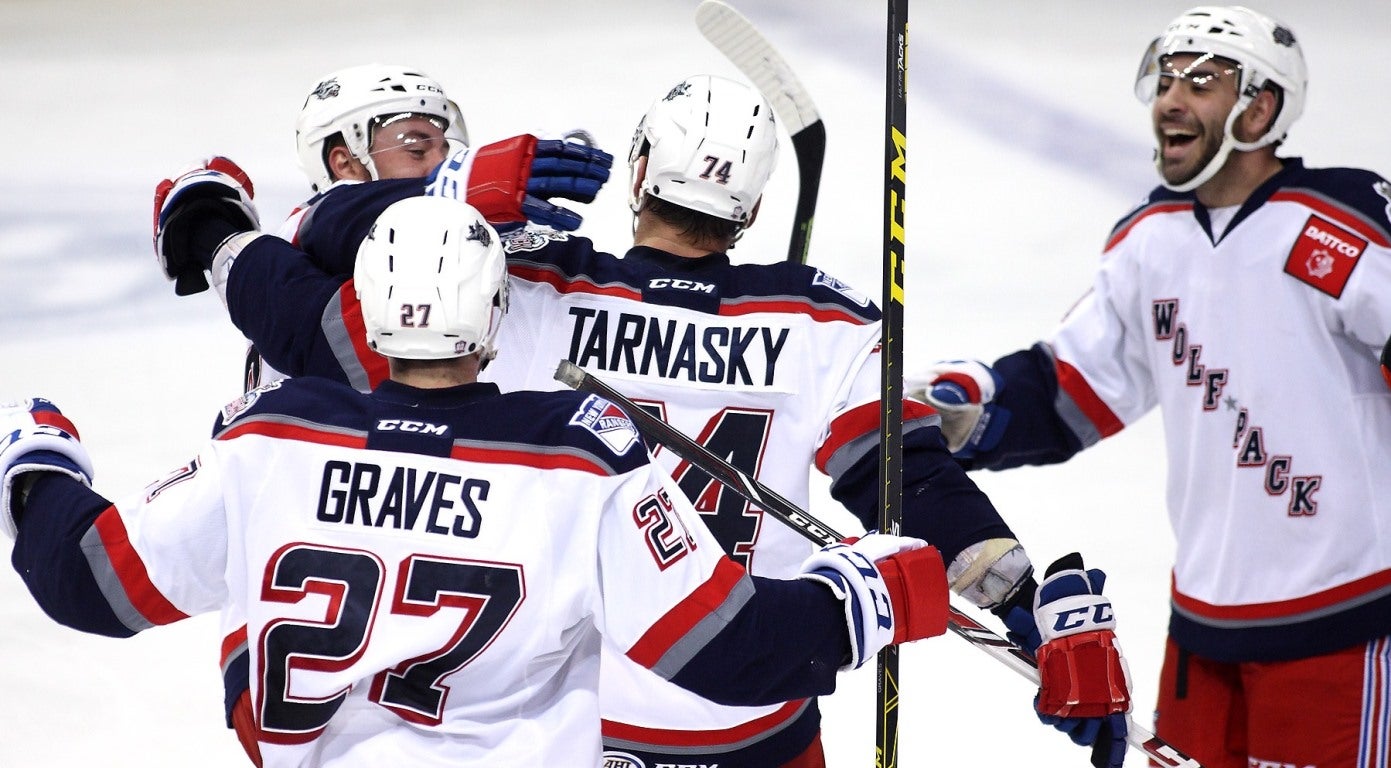 Pack Down Pirates, 5-2
Dec 29, 2015
The Wolf Pack earned their second straight win Tuesday night at the XL Center, beating the Portland Pirates 5-2. The Wolf Pack dominated the first two periods, only allowing Portland to score in the third.
Jeff Malcolm had another strong game in the Hartford net following his 1-0 shutout Sunday at Rochester, saving 32 out of 34 shots.
The first period started out slow for The Wolf Pack, with players miscommunicating, missing passes, and losing pucks. After Adam Tambellini was penalized for tripping at 7:04, though, Hartford's defense stood strong, allowing only one shot from Portland for the duration of the power play.
The team found their footing 10:20 into the first period, when Tyler Brown managed to tap the puck into the net as he slid past, scoring his first of the season.
Brown was excited yet humble about his goal, saying, "It felt good to get it off my back. That's what our line does. We're just out there to bring energy and we're just happy it went in."
Brown's linemate Chris McCarthy praised the team's quick lead, saying, "When you grab momentum like that it helps throughout the game, so it's a big key to our success."
Just 2:11 later, captain Ryan Bourque found a high-flying puck and snuck it behind Portland goaltender Sam Brittain, increasing the Wolf Pack's lead to 2-0.
The second period started much like the first, with the Pirates dictating the flow of action, but Malcolm was able to keep every shot out of the goal, and just like the first period, Hartford eventually brought up their pace. They broke through at 14:06, with Nick Tarnasky putting in his own rebound, after deflecting a long shot by McCarthy.
Talking about the line of Brown, Tarnasky and McCarthy, Malcolm said, "They did their job tonight. They were buzzing around all over the ice. Tarnasky in front of the net, he's a tough guy to move and he's got great hands, we saw that tonight."
Less than two minutes into the third period, Brian Gibbons found Mat Bodie wide open in the middle of the rink, giving him a clear path to the net. Bodie scored off a powerful slap shot, beating Brittain's catching glove and upping the Hartford lead to 4-0.
Portland foiled Malcolm's bid for a second straight shutout at 7:04 of the third, when Chase Balisy put a sharp-angle shot off of Malcolm's left arm and in.
At 12:16, Portland earned their second power play of the game after Josh Nicholls was called for hooking. Portland's John McFarland scored under a minute later, poking home a second rebound from just outside the crease.
Portland went a man up again at 17:39, when Jayson Megna was called for holding, and pulled Brittain from the net in a last-ditch attempt to score. Hartford's Chad Nehring, though, ended the Pirate comeback bid with a long shot into the empty net at 19:20.
Happy with the win, Wolf Pack coach Ken Gernander said, "That's two good games for us back to back. I think we're closing in on how we want to play and developing a little consistency."
The Wolf Pack continue a six-game homestand this Saturday night, January 2, as they host the Albany Devils at 7:00 PM. The first 2,000 fans into the game receive a complimentary Wolf Pack travel mug, courtesy of Henkel, and there will be a winter clothing drive. Any fan who donates a winter hat, jacket or scarf will be presented with a buy-one-get-one-free ticket voucher redeemable for any 2015-16 Wolf Pack home game.
Tickets for all 2015-16 Wolf Pack home games are on sale at the Agera Energy Ticket Office at the XL Center, on-line at www.hartfordwolfpack.com and by phone at (877) 522-8499.
To speak with a Wolf Pack representative about season or group tickets, or any of the Wolf Pack's many ticketing options, call (855) 762-6451, or click here to request more info.
Portland Pirates 2 at Hartford Wolf Pack 5
Tuesday, December 29, 2015 - XL Center

Portland 0 0 2 - 2
Hartford 2 1 2 - 5

1st Period-1, Hartford, Brown 1 (McCarthy), 10:20. 2, Hartford, Bourque 6 (Graves, Hughes), 12:31. Penalties-Tambellini Hfd (tripping), 7:04; Turgeon Por (fighting), 13:10; Tarnasky Hfd (fighting), 13:10.

2nd Period-3, Hartford, Tarnasky 7 (McCarthy, Brown), 14:06. Penalties-No Penalties

3rd Period-4, Hartford, Bodie 2 (Gibbons), 1:39. 5, Portland, Balisy 4 (Acolatse, Rau), 7:04. 6, Portland, McFarland 10 (Wilson, Gaunce), 13:13 (PP). 7, Hartford, Nehring 10 19:20 (SH EN). Penalties-Nicholls Hfd (hooking), 12:16; Regner Por (hooking), 13:34; Skjei Hfd (slashing), 14:54; Megna Hfd (holding), 17:39.

Shots on Goal-Portland 8-10-16-34. Hartford 13-14-12-39.
Power Play Opportunities-Portland 1 / 4; Hartford 0 / 1.
Goalies-Portland, Brittain 4-5-0 (38 shots-34 saves). Hartford, Malcolm 4-1-0 (34 shots-32 saves).
A-4,511
Referees-Ben Moser (3).
Linesmen-Paul Simeon (66), Kevin Redding (16).
Back to All