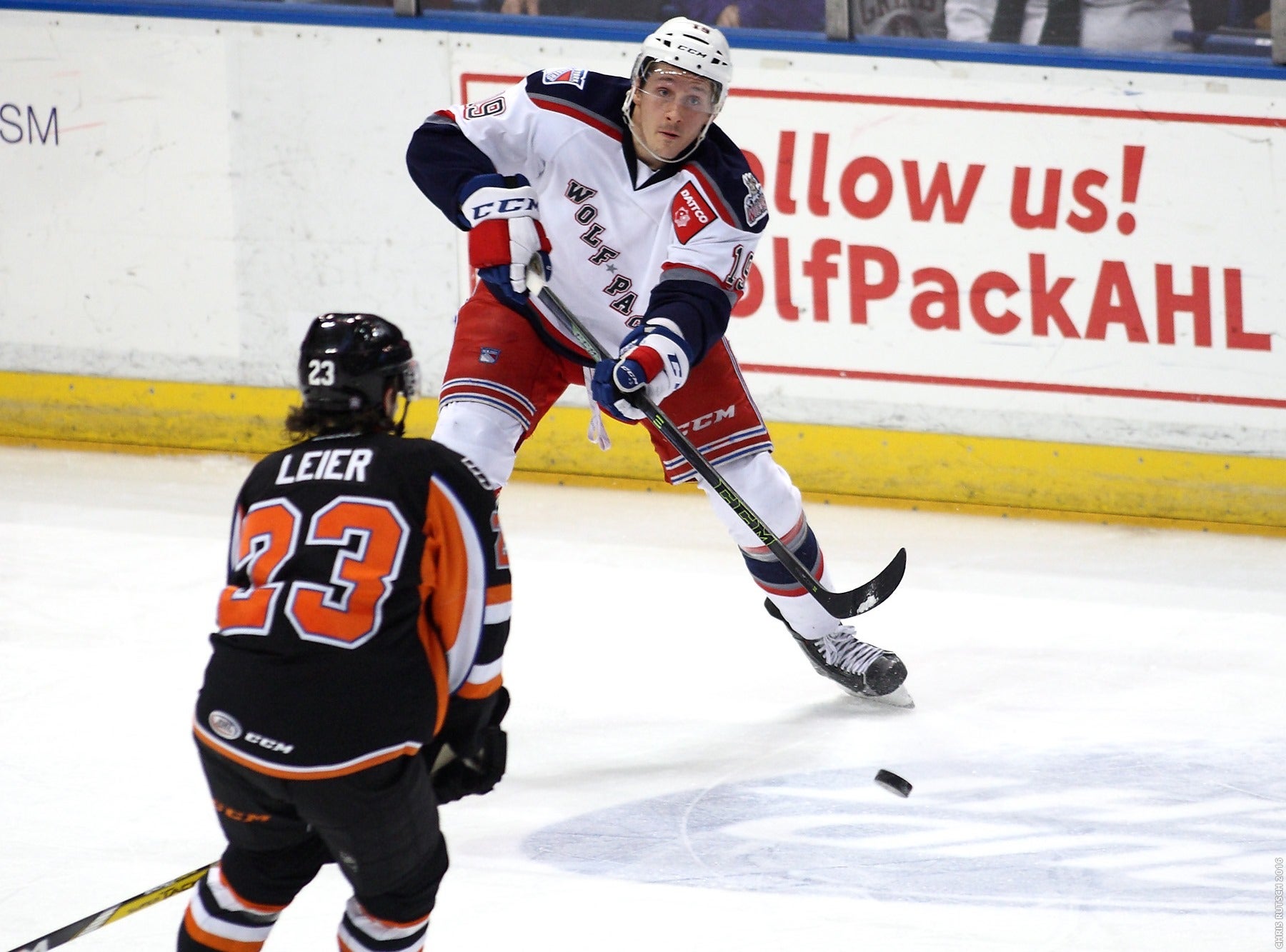 Pack Come back from 2-0 Down to Beat Phantoms
Mar 12, 2016
By Phil Oxnard
The Wolf Pack spotted the Lehigh Valley Phantoms a 2-0 lead Saturday at the XL Center, but then scored the last four goals of the game for a 4-2 victory.
Marek Hrivik's third-period goal was the game-winner, and Mat Bodie also scored shorthanded in the third. Tyler Brown and Jayson Megna had second-period Wolf Pack goals, and Jeff Malcolm made 28 saves.
The Wolf Pack put a team season-high 47 shots on Phantom goaltender, and former Wolf Pack star, Jason LaBarbera. Chris Conner and Colin McDonald scored in the first period for Lehigh Valley
Wolf Pack head coach Ken Gernander was happy to see the high shot count compared to the team's typical showing, saying, "We were stressing shooting the puck all night long. We didn't have that shoot-first mentality, and sometimes if that's not your first thought, the moment's lost."
The scoring opened up at 9:48 of the first period when Lehigh Valley's Tim Brent saw a hole in Hartford's coverage, slipping the puck to Conner behind the Wolf Pack defense. Conner made a move to the backhand to beat Malcolm for a 1-0 Phantom lead.
The Phantoms extended their lead to two at 16:50, when Cole Bardreau set up McDonald, who slammed a shot at Malcolm. Malcolm managed to get a glove on the puck, but he ultimately bobbled it into the net behind him.
In the second period, Brown was the one to finally put Hartford on the board at 10:05, after a perfect pass from Brady Skjei left him with defenders between him and LaBarbera. Later, with 2:05 left in the period, Megna picked up a Bodie rebound on a power play and fired it in from LaBarbera's right, evening the score at 2-2.
Hrivik commented on the team's new life after Megna's goal, saying, "As soon as we got that second goal, we got a little legs under us, and we started going."
The third period started off with yet another Wolf Pack goal. At 6:00, Hrivik deflected a shot from the left point by Chris Summers into the top of the net, putting Hartford into the lead for the first time. Bodie followed up with a shorthanded, unassisted goal of his own at 10:14.
Wolf Pack defenseman Brady Skjei saw the win as being just the first piece of a puzzle, saying, "We've put ourselves in a position where we need to win a lot of games here. Any game where we can get two points, we've got to do it."
The Wolf Pack finish a three-game weekend Sunday afternoon at Portland. Faceoff is 3:00 PM, and all of the action can be heard live on News Radio 1410 WPOP, and on-line at www.newsradio1410.com and iHeartRadio. Video streaming is available at www.ahllive.com.
The Wolf Pack's next home game is this Friday, March 18, also against Portland. That contest faces off at 7:15, and it being a Friday, fans can enjoy $1 hot dogs and $2 beers through the start of the second period.
Tickets for all remaining 2015-16 Wolf Pack home games are on sale at the Agera Energy Ticket Office at the XL Center, on-line at www.hartfordwolfpack.com and by phone at (877) 522-8499.
To speak with a Wolf Pack representative about season or group tickets, or any of the Wolf Pack's many ticketing options, call (855) 762-6451, or click here to request more info.
Lehigh Valley Phantoms 2 at Hartford Wolf Pack 4
Saturday, March 12, 2016 - XL Center

Lehigh Valley 2 0 0 - 2
Hartford 0 2 2 - 4

1st Period-1, Lehigh Valley, Conner 13 (Brent, Leier), 9:48. 2, Lehigh Valley, McDonald 12 (Bardreau), 16:50. Penalties-Smith Lv (fighting), 1:28; Tarnasky Hfd (fighting), 1:28; Summers Hfd (slashing), 6:07; Skjei Hfd (checking to the head), 10:40; Palushaj Lv (interference), 11:31.

2nd Period-3, Hartford, T. Brown 2 (Skjei, Summers), 10:05. 4, Hartford, Megna 12 (Bodie, Nehring), 17:55 (PP). Penalties-Megna Hfd (high-sticking), 4:16; Smith Lv (tripping), 7:03; Oleksuk Hfd (hooking), 10:35; Smith Lv (slashing), 16:44.

3rd Period-5, Hartford, Hrivik 8 (Summers, Diaz), 6:00. 6, Hartford, Bodie 6 (Megna), 10:14 (SH). Penalties-Martel Lv (diving/embellishment), 2:21; Summers Hfd (high-sticking), 2:21; Graves Hfd (tripping), 8:34; Bardreau Lv (tripping), 12:15; Alt Lv (slashing), 15:32.

Shots on Goal-Lehigh Valley 10-8-12-30. Hartford 14-19-14-47.
Power Play Opportunities-Lehigh Valley 0 / 5; Hartford 1 / 5.
Goalies-Lehigh Valley, LaBarbera 7-13-0 (47 shots-43 saves). Hartford, Malcolm 6-5-0 (30 shots-28 saves).
A-4,989
Referees-Ryan Hersey (8), Mark Lemelin (41).
Linesmen-Luke Galvin (2), Brian Pincus (25).
Back to All