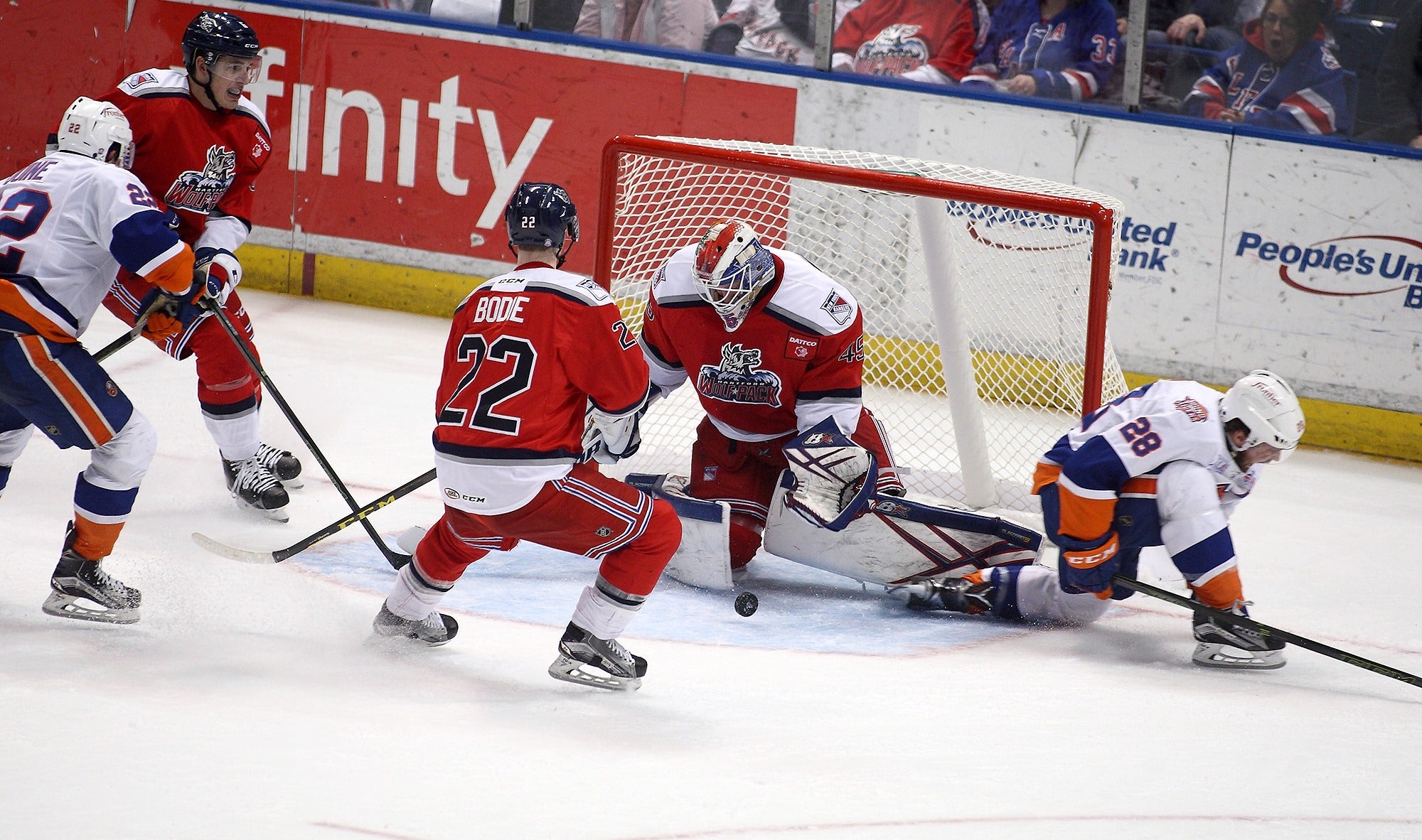 Nehring Lifts Pack to OT Win over Sound Tigers
Mar 25, 2016
By Phil Oxnard
Chad Nehring scored at 1:18 of overtime Friday night at the XL Center, to give the Wolf Pack a 2-1 win over the Bridgeport Sound Tigers.
The Wolf Pack are now 7-0-1-0 in their last eight games and 12-4-1-0 in their last 17, and improved to a season-best nine games above .500, at 36-27-3-0. Hartford kept pace with Portland, which also won, 4-3 at home over Springfield, in the chase for playoff spots in the Atlantic Division.
Marek Hrivik also scored for the Wolf Pack, and Magnus Hellberg made 30 saves. Scott Mayfield had the Bridgeport goal, and Stephon Williams stopped 23 shots in the Sound Tiger net.
Nehring was proud of the team's unity and victory, saying, "We have a lot of good players, a lot of veteran players. When we use everyone we do well. So in the grind when we're playing back to back games, we've got to use everyone, and we come out with a win."
The Wolf Pack took command of the first period, scoring at 17:19. Hrivik took advantage of a power play and slipped the puck into the net from the top of the right circle, with assists from Brady Skjei and Raphael Diaz.
During the second period, the Sound Tigers had a two-man advantage after Luke Adam and Ryan Graves were simultaneously sent to the box with 5:56 remaining. The Wolf Pack penalty-kill was able to keep Bridgeport's offense at bay, however, with the help of multiple big saves from Hellberg.
Wolf Pack coach Ken Gernander was happy with the success of the special teams, saying, "Penalty kill was huge tonight. Five-on-four is one thing, but we were 5-on-3, 4-on-3. They did a great job keeping the score where it was."
Bridgeport didn't score until 17:25 of the second, when Mayfield rocketed the puck past Hellberg's stick side off of a rush. Mayfield's goal, his fifth of the season, was assisted by Matt Finn.
Coming into the third period, Bridgeport had another close call when Alan Quine appeared to have flipped the puck into the top corner of the Hartford net at 7:31. After a video review, however, the referees concluded that the puck never entered the net, and the goal was reversed. Neither team ended up scoring in the third, sending the game to overtime.
On the winning play, Nehring carried the puck down the left side in the Bridgeport end and tried to pass to Skjei. Finn blocked the pass, but the puck went right back to Nehring, and he quickly fired it past Williams to get the Wolf Pack the win. Nehring was assisted only by Hellberg, who started the play from behind his net.
"We always try to tell them that they can use me if they want to," Hellberg joked. "I know I'm not Martin Brodeur, but I know how to pass the puck a little bit."
The Wolf Pack now travel to Allentown, PA for a battle with the Lehigh Valley Phantoms Saturday night. Faceoff is 7:05 PM, and all of the action can be heard live on News Radio 1410 WPOP, and on-line at www.newsradio1410.com and iHeartRadio. Video streaming is available at www.ahllive.com.
The Wolf Pack's next home game is next Friday, April 1, as the Hershey Bears visit the XL Center for a 7:15 PM game. That is the Wolf Pack's last Friday-night home game of the regular season, and the last chance for fans to enjoy $1 hot dogs and $2 beers through the start of the second period.
Tickets for all remaining 2015-16 Wolf Pack home games are on sale at the Agera Energy Ticket Office at the XL Center, on-line at www.hartfordwolfpack.com and by phone at (877) 522-8499.
To speak with a Wolf Pack representative about season or group tickets, or any of the Wolf Pack's many ticketing options, call (855) 762-6451, or click here to request more info.
Bridgeport Sound Tigers 1 at Hartford Wolf Pack 2 (OT)
Friday, March 25, 2016 - XL Center

Bridgeport 0 1 0 0 - 1
Hartford 1 0 0 1 - 2

1st Period-1, Hartford, Hrivik 10 (Skjei, Diaz), 17:19 (PP). Penalties-Paille Hfd (tripping), 4:05; Cullity Bri (slashing), 16:51; B. Holmstrom Bri (fighting), 19:15; Summers Hfd (fighting), 19:15.

2nd Period-2, Bridgeport, Mayfield 5 (Finn), 17:25. Penalties-Mayfield Bri (high-sticking), 1:23; Florek Bri (tripping), 9:27; Adam Hfd (hooking), 14:04; Graves Hfd (cross-checking), 14:04; C. Brown Hfd (elbowing), 17:40; Kearns Bri (interference), 17:57; Skjei Hfd (slashing), 18:24.

3rd Period- No Scoring. Penalties-Johnston Bri (roughing), 2:53; Tarnasky Hfd (roughing), 2:53; Graves Hfd (elbowing), 17:18; Nehring Hfd (hooking), 18:56.

OT Period-3, Hartford, Nehring 20 (Hellberg), 1:18. Penalties-No Penalties

Shots on Goal-Bridgeport 12-12-6-1-31. Hartford 8-9-7-1-25.
Power Play Opportunities-Bridgeport 0 / 7; Hartford 1 / 3.
Goalies-Bridgeport, Williams 13-10-0 (25 shots-23 saves). Hartford, Hellberg 27-16-0 (31 shots-30 saves).
A-5,188
Referees-Tom Chmielewski (43), Tim Mayer (19).
Linesmen-Luke Galvin (2), Paul Simeon (66).
Back to All