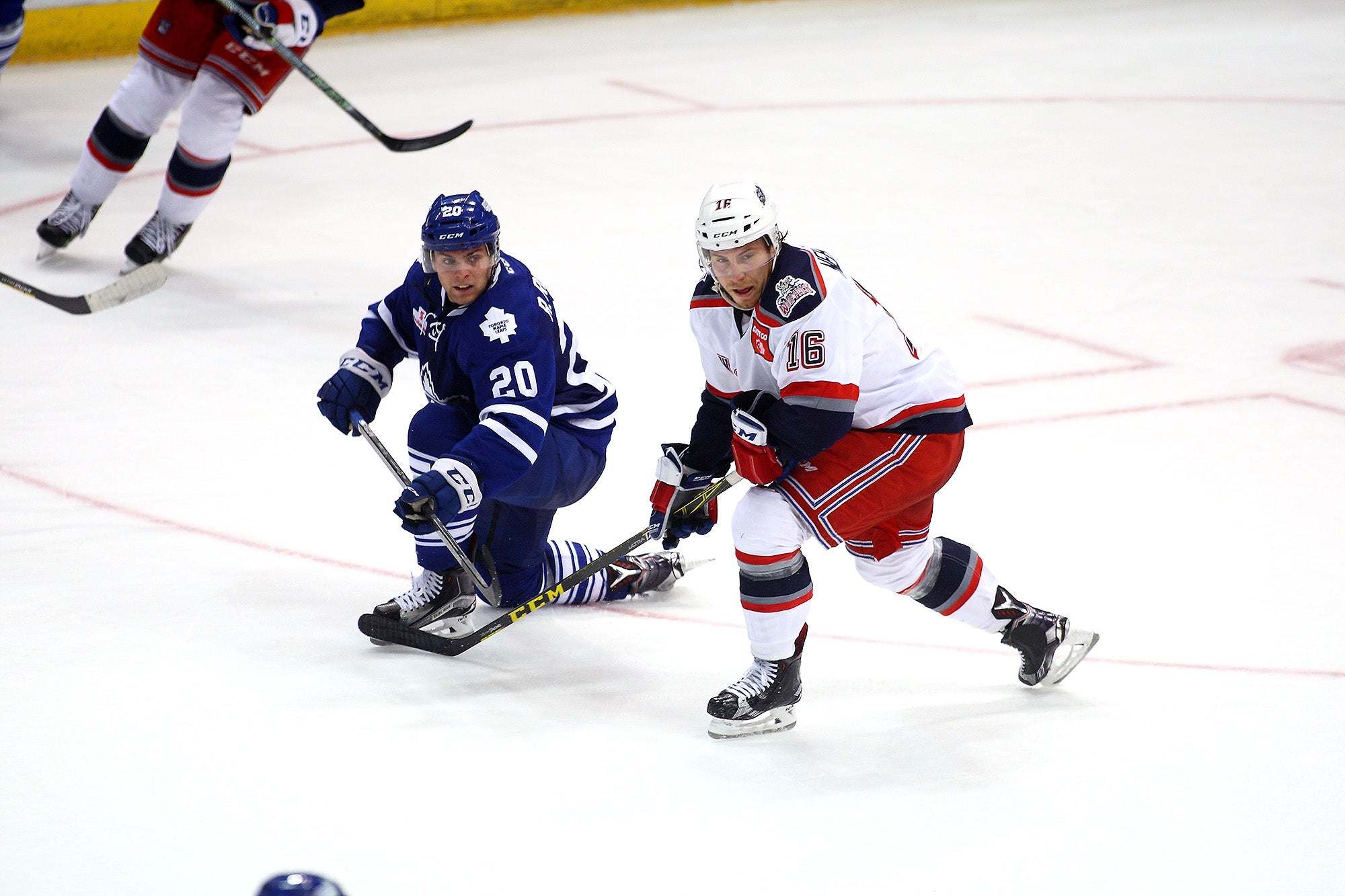 Marlies Blank Wolf Pack in School Day Game
Nov 4, 2015
The Wolf Pack drew a crowd of 5,976 to their annual "Sonar's Edu-Skate" school-day game Wednesday at the XL Center, but the Toronto Marlies spoiled the day with a 5-0 defeat of the Wolf Pack.
Marlies goaltender Garret Sparks dominated the net, saving all 30 shots against him, and former Yale Eli, and Milford, CT native, Mark Arcobello had a goal and an assist for Toronto.
Wolf Pack captain Ryan Bourque said, "Every team goes through this, so we're just gonna come to work tomorrow and try to get better."
The Wolf Pack defense started out strong, not allowing any shots in the first five minutes. Toronto had an opportunity on a power play at 4:23 when Hartford's Tanner Glass was penalized for boarding, but Hartford's defense stayed strong.
At 8:24 of the first, Arcobello found a hole in Hartford's defense and scored off an assist from teammate Brendan Leipsic, netting his third goal of the season and putting the Marlies up 1–0.
After a scuffle at 14:53 between Hartford's Jayson Megna and Toronto's Justin Johnson, they were taken off the ice for boarding and misconduct respectively, giving Toronto their second power play of the game. However, Hartford was again able to keep the Marlies at bay.
The Pack ended the first period with a power play caused by Toronto's T.J. Brennan being called for interference. Hartford failed to capitalize on the advantage, leaving the score 1–0 at the end of the first with the Marlies in the lead.
Hartford had another power play in the second period at 8:06 with Toronto's Andrew Campbell leaving the ice for slashing, with an overlapping tripping penalty by Zach Hyman at 9:57, but nothing came of it.
"There were times where we had possession and we didn't put pucks into areas that gave us the best chance for recovery," coach Ken Gernander said about the Wolf Pack's missed opportunities.
At 11:17 a penalty was called on Hartford's Petr Zamorsky for interference, but Toronto couldn't convert the power play into a goal. The Wolf Pack ended the period still trailing by one, with neither team being able to score for the remainder of the period.
Just seven seconds into the third period, the Marlies' Josh Leivo was called for a slashing penalty. This gave the Wolf Pack an opportunity at a power play, but Toronto's defense didn't let up any goals.
The Marlies broke the scoring drought at 4:03 with a goal from Kasperi Kapanen. Just 25 seconds later, at 4:24, Toronto's Ryan Rupert followed up with another goal, making the score 3–0 in favor of the Marlies.
At 9:04, Toronto's Nikita Soshnikov scored off of a breakaway, increasing the Marlies' lead to four, and Richard Panik completed a four-goal Toronto onslaught in the period with a tally at 17:16.
Tension between the two teams culminated at a brawl at 12:16 between Toronto's Justin Johnson and Hartford's Shawn O'Donnell, resulting in penalties for both.
The Pack closed out the game with an unsuccessful power play at 18:33, after Johnson was called for slashing, and the Marlies were able to get Sparks the shutout.
Bourque was optimistic, saying, "Everyone has lost, I think we're lucky we go through it now and we learn from it and get better as the season goes on."
The Wolf Pack's next game is this Saturday night, November 7, a 7:30 contest against the Albany Devils. Tickets for all 2015-16 Wolf Pack home games are on sale at the Agera Energy Ticket Office at the XL Center, on-line at www.hartfordwolfpack.com and by phone at (877) 522-8499.
To speak with a Wolf Pack representative about season or group tickets, or any of the Wolf Pack's many ticketing options, call (855) 762-6451, or click here to request more info.
Toronto Marlies 5 at Hartford Wolf Pack 0
Wednesday, November 4, 2015 - XL Center

Toronto 1 0 4 - 5
Hartford 0 0 0 - 0

1st Period-1, Toronto, Arcobello 3 (Leipsic), 8:24. Penalties-Glass Hfd (boarding), 4:23; Johnson Tor (misconduct - abuse of officials), 13:53; Megna Hfd (boarding), 13:53; Brennan Tor (interference), 18:09.

2nd Period- No Scoring. Penalties-Campbell Tor (slashing), 8:06; Hyman Tor (tripping), 9:57; Zamorsky Hfd (interference), 11:17.

3rd Period-2, Toronto, Kapanen 3 (Arcobello), 4:03. 3, Toronto, R. Rupert 3 (Valiev), 4:28. 4, Toronto, Soshnikov 4 (Johnson, Brennan), 9:04. 5, Toronto, Panik 1 (Nylander, Leivo), 17:16. Penalties-Leivo Tor (slashing), 0:07; Johnson Tor (fighting), 12:16; O'Donnell Hfd (fighting), 12:16; Johnson Tor (slashing), 18:33.

Shots on Goal-Toronto 8-6-10-24. Hartford 11-11-8-30.
Power Play Opportunities-Toronto 0 / 3; Hartford 0 / 5.
Goalies-Toronto, Sparks 3-2-0 (30 shots-30 saves). Hartford, Hellberg 5-3-0 (24 shots-19 saves).
A-5,976
Referees-Furman South (55), Michael Mullen (18).
Linesmen-Nicholas Briganti (58), Jim Briggs (83).
Back to All