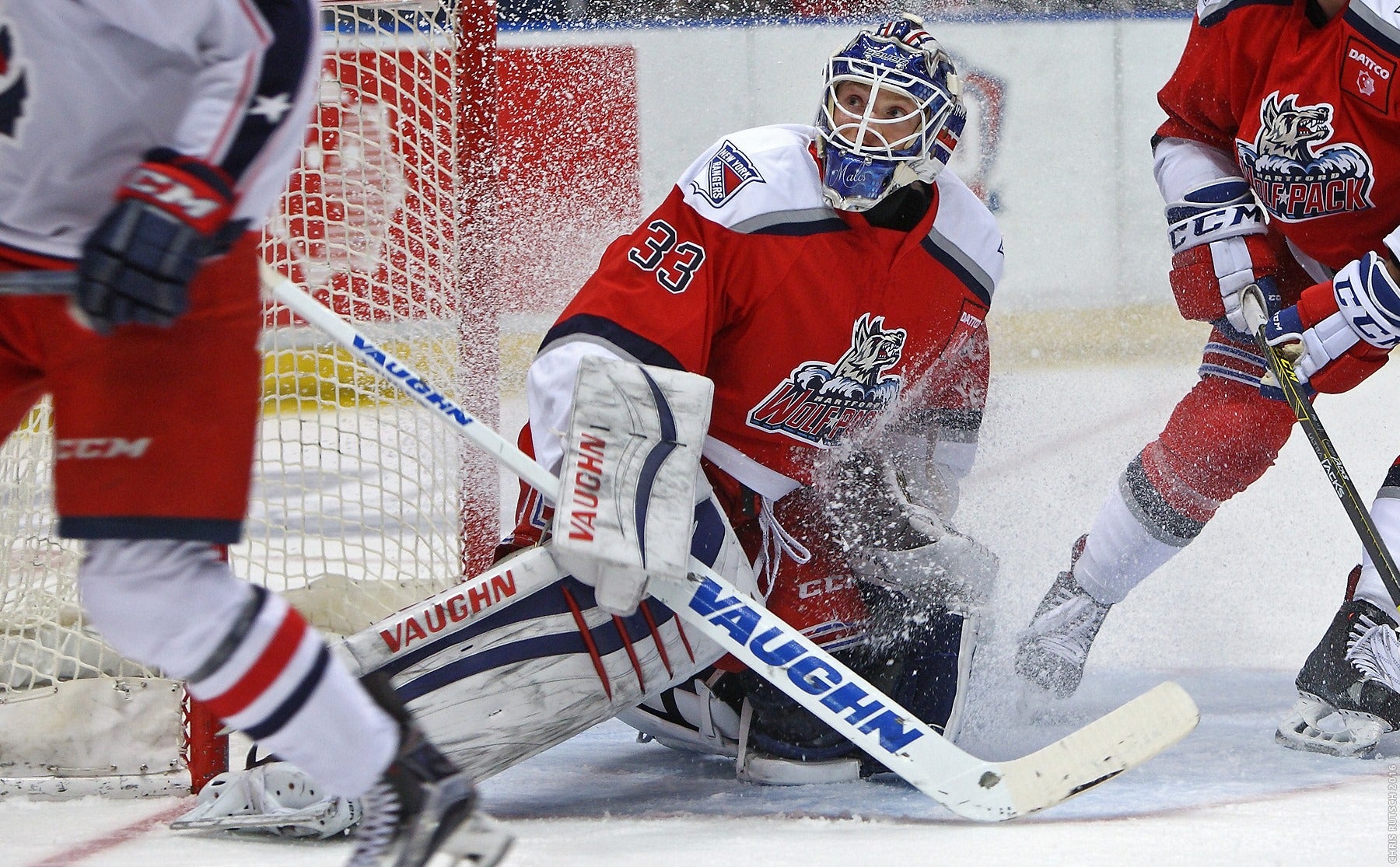 Late Springfield Goal Sinks Wolf Pack
Jan 8, 2016
The Wolf Pack battled back from a 2-0 deficit against the Springfield Falcons Friday night at the XL Center to tie the game at two, but a Craig Cunningham goal with only 55.6 seconds remaining in the third period sent the Wolf Pack to a 3-2 defeat.
Chris McCarthy and Nick Tarnasky scored in the second period for the Wolf Pack, and Jeff Malcolm made 26 saves. Ross Mauermann had both of the other Springfield goals, and Eric Selleck assisted on both.
Wolf Pack coach Ken Gernander said of the close loss, the Wolf Pack's third straight defeat, "Unfortunately, close isn't where we need to be. We need to find another level or bring something more, because we've got to start getting wins."
Despite fast-paced action between the two teams, the first period remained scoreless until the 15:05 mark, when Mauermann broke the silence with a quick rebound shot past Hartford's Malcolm. Selleck had the initial shot, and Dakota Mermis also picked up an assist.
Springfield carried the lead into intermission, despite having been outshot 12-6 in the first.
Just 3:01 into the second period, Mauermann was once again able to find a hole in Hartford's defense, scoring for the second time in the game. The Wolf Pack was quick to respond this time, though, with McCarthy putting Hartford on the board just 2:46 later, deflecting a Mat Bodie shot past Falcon netminder Niklas Treutle (26 saves).
With 12:05 to go in the period, Tarnasky evened up the score with his ninth goal of the season, and his second in as many games. He was assisted by Chad Nehring, who extended his point streak to five consecutive games.
"Tarnasky's goal was awesome," said McCarthy. "Big hit, goes right to the net, scores a goal. I think that goal kind of got us up and going. That was big for us tonight."
That tie lasted for better than a period-and-a-half, but with the game appearing headed for overtime, Cunningham and Dustin Jeffrey broke 2-on-1 into the Wolf Pack zone, and Cunningham was able to make a backhand finish of a pass from Jeffrey.
"That's just the game of hockey," said Malcolm. "It's a game of bounces, it's a game of mistakes, and unfortunately tonight we were on the wrong end of that."
The Wolf Pack are right back at the XL Center on Saturday night, taking on the Bridgeport Sound Tigers at 7:00 PM. The Wolf Pack will "Red Out" the rink for that game, as the first 5,000 fans will receive a red Wolf Pack t-shirt, courtesy of CT-DOT.
Tickets for all 2015-16 Wolf Pack home games are on sale at the Agera Energy Ticket Office at the XL Center, on-line at www.hartfordwolfpack.com and by phone at (877) 522-8499.
To speak with a Wolf Pack representative about season or group tickets, or any of the Wolf Pack's many ticketing options, call (855) 762-6451, or click here to request more info.
Springfield Falcons 3 at Hartford Wolf Pack 2
Friday, January 8, 2016 - XL Center

Springfield 1 1 1 - 3
Hartford 0 2 0 - 2

1st Period-1, Springfield, Mauermann 3 (Selleck, Mermis), 15:05. Penalties-Mermis Spr (holding), 7:19.

2nd Period-2, Springfield, Mauermann 4 (Hache, Selleck), 3:01. 3, Hartford, McCarthy 2 (Bodie, Nicholls), 5:47. 4, Hartford, Tarnasky 9 (Nehring), 7:55. Penalties-No Penalties

3rd Period-5, Springfield, Cunningham 9 (Thomas, Jeffrey), 19:04. Penalties-Nicholls Hfd (tripping), 10:01.

Shots on Goal-Springfield 6-14-9-29. Hartford 12-9-7-28.
Power Play Opportunities-Springfield 0 / 1; Hartford 0 / 1.
Goalies-Springfield, Treutle 7-9-1 (28 shots-26 saves). Hartford, Malcolm 4-3-0 (29 shots-26 saves).
A-5,754
Referees-Pierre Lambert (39).
Linesmen-Brian Pincus (25), Brent Colby (7).
Back to All