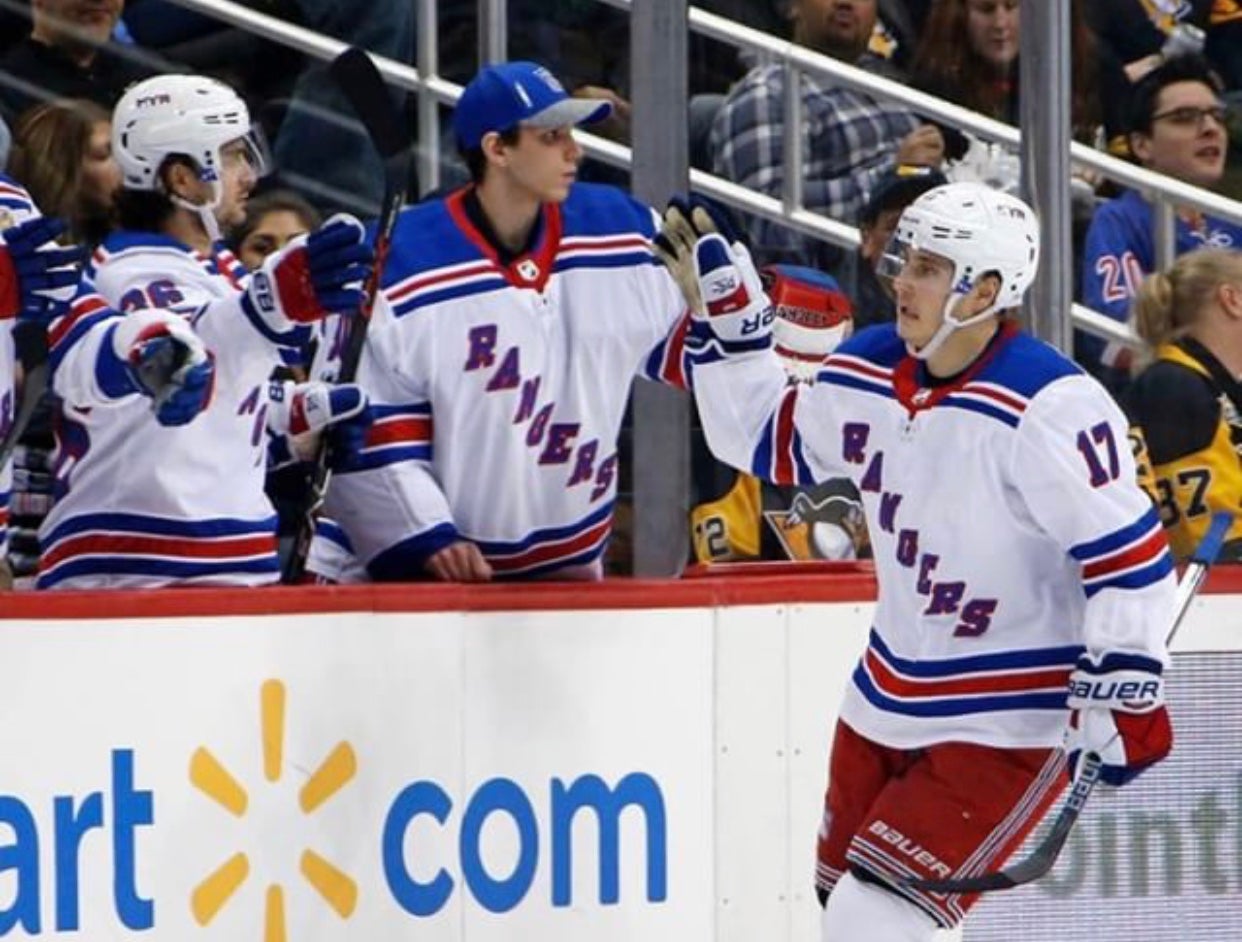 Flashback Friday: A Look into Alexandar Georgiev's Day in the NHL
Dec 22, 2017
by Nicole Caporaso
It was a seemingly normal Monday for Alexandar Georgiev – wake up, head to the XL Center, go to practice. Unknown to Georgiev, he would later be getting a call from Wolf Pack head coach, Keith McCambridge, to inform him of some news.
"He told me that evening that I'm getting called up to the New York Rangers and he's not sure for how long," Georgiev said. "He told me to collect my bags and at 7:30 in the morning the next day I would be leaving from here to Boston."
Georgiev first told his parents about the opportunity, and said they were in disbelief as much as he was.
"They couldn't believe it," Georgiev said. "They were texting me like 'no way. You're kidding.'"
Georgiev woke up the next morning, ready to meet the Rangers in Pittsburgh for their December 5 game against the reigning Stanley Cup champions, the Pittsburgh Penguins, at PPG Paints Arena.
"It was a bit too good to be true," he said. "You dream about getting called up and then when it happens… I just couldn't believe it for the first few minutes. Then after that I was really excited and it was tough to calm myself down and get a good sleep that night before."
The Rangers organized a ride to pick up Georgiev in Hartford to take him to Boston, where he would fly out to Pittsburgh, however, not everything went according to plan.
"I was supposed to take a flight at 10:20 a.m. that morning, but there was a bit of traffic on the road," he said. "I got there late and had to wait for the next flight, which was two and a half hours later."
Finally in the Steel City, Georgiev arrived at the team hotel to freshen up before he was whisked away on the bus to the arena. There, he was able to interact with his teammates for the day.
"Everyone was really supportive and talking to me, and they were all asking how the season was going," Georgiev said. "They all took to me warmly and I felt really comfortable."
In particular, Georgiev said he spoke with Pavel Buchnevich, a fellow Russia native, and Boo Nieves, a former Wolf Pack teammate of Georgiev's.
"Buchnevich and I talked in Russian about how things are going in Hartford and he asked what I thought of the new hotel in Pittsburgh," he said. "Boo keeps up with how things are going here and he was really supportive."
In Rangers gear, Georgiev suited up as backup goalie to Ondrej Pavelec, who made 41 saves in New York's 4-3 victory over Pittsburgh. Though Georgiev didn't play in the game, he was able to get some NHL action in during warmups.
"The warmups here are not as long as they are in Europe, so the starting goalie usually takes almost every shot, but I did get like five shots in and I made four and a half saves," Georgiev said. "The first shot I got, I made a save."
Georgiev said he believes the only person who scored on him was Nieves. "I don't know how that happened," he joked.
The goaltender was reassigned to the Wolf Pack the very next day, as Henrik Lundqvist reentered the Rangers lineup, however, his first NHL call-up is something he will cherish for a very long time.
"It was a special atmosphere to play against the double Stanley Cup champions, and to play against players who are on top of the world, like Crosby and Malkin," Georgiev said. "It was amazing and so, so special."
Back to All