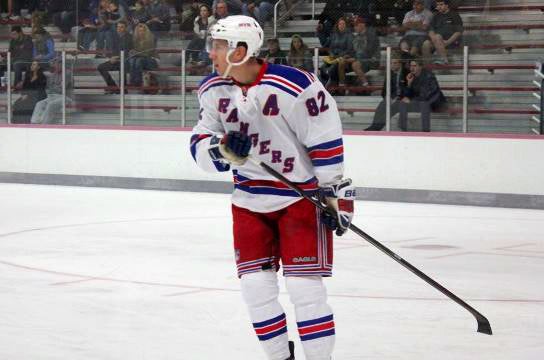 Crawford's Corner: Prospect Team gets First Win in Traverse City
Sep 14, 2015
After a pair of losses in which the Ranger prospect team was outscored by a combined margin of 7-2, the squad found the win column for the first time in this year's Traverse City NHL Prospects Tournament Monday, blanking the Columbus Blue Jackets prospects 4-0.
That marked the first-ever shutout for the Ranger organization in the history of its participation in the tournament, and the most prominent offensive contributions to the win were made by players who are good bets to spend some time on the Wolf Pack roster this season.
Adam Tambellini (pictured, courtesy of BlueshirtsUnited.com), a 2013 Ranger third-round draft pick who has exhausted his Western Hockey League eligibility, scored the only goal that it would turn out the Ranger team would need Monday, and added an assist, and Calle Andersson, a 21-year-old, Swedish-born defenseman and 2012 fourth-rounder, also scored and had a helper. Another European blueliner, Czech import Peter Zamorsky, scored a 5-on-3 power-play goal.
Tambellini, whose father Steve had a 553-game NHL career with the Islanders, Colorado/New Jersey, Calgary and Vancouver, and whose older brother Jeff has logged nearly 240 NHL games in his ten-year pro career and had two 30-goal seasons in the AHL, scored 47 WHL goals in 71 games with Calgary this past season and added 13 goals and 26 points in 16 playoff games. He is a tall (6-3), but slender (185 pounds) centerman, and it sounds as though his biggest challenge will be adapting to the physical grind of playing against men in the pros, after excelling for a season-and-a-half in the WHL following a short stint at the University of North Dakota.
Andersson and Zamorsky both remained in Europe last season after signing NHL deals with the Rangers in June of 2014, and it appears as though both of them are likely to make the move to this side of the pond for 2015-16. Competition will be stiff for spots on a deep Ranger blue line, so there is a good chance that Wolf Pack fans will get a peek at both Andersson and Zamorsky as they chase NHL spots.
Interestingly, both Andersson and Zamorsky left their respective home countries for their 2014-15 seasons, Andersson heading to Switzerland and Zamorsky, a Czech, starting in Finland and finishing in Andersson's home nation of Sweden. Zamorsky had a strong finish with Orebro HK, with 1-4-5 in ten regular-season games and 2-2-4 in six playoff contests, after being named the Czech Extraliga's best defenseman, and winning a league championship with Zlin ZPS, his hometown club, in 2013-14. Andersson, meanwhile, chalked up a total of 20 points (six goals and 14 assists) in 48 Swiss-A League games between Zug and Lugano this past season, following a 2013-14 campaign in which he did not get an opportunity to crack the top level in his home country with Malmo. He is currently the point-scoring leader for the Ranger prospect team in Traverse City, having posted an assist in the Rangers' tournament opener, a 5-2 loss to the Minnesota Wild prospects Friday, to go along with his two points Monday.
Beyond the production of Tambellini, Andersson and Zamorsky, the statistical star of Monday's win, against a Blue Jacket group that had won both of its first two Traverse City outings, was goaltender Jake Smith. He stopped 38 Columbus shots in the game, as the Ranger team was outshot 38-26. Smith is a free agent invitee from the Ontario Hockey League and is old enough to play in the AHL, at 20 years old. He had an excellent finish to his 2014-15 season with North Bay of the OHL, posting the best playoff goals-against average (2.00 in 15 games) and second-best save percentage (92.7) in the league, but faces an uphill battle to earn a spot in the Ranger goaltending hierarchy. There might be an opportunity early to make an impression, with both Mackenzie Skapski and Cedrick Desjardins likely to start the season on the injured list, but once those two are ready to play, the crease will be crowded, with Antti Raanta, Magnus Hellberg and Jeff Malcolm all also in the mix behind unquestioned Ranger number-one man Henrik Lundqvist.
Back to All