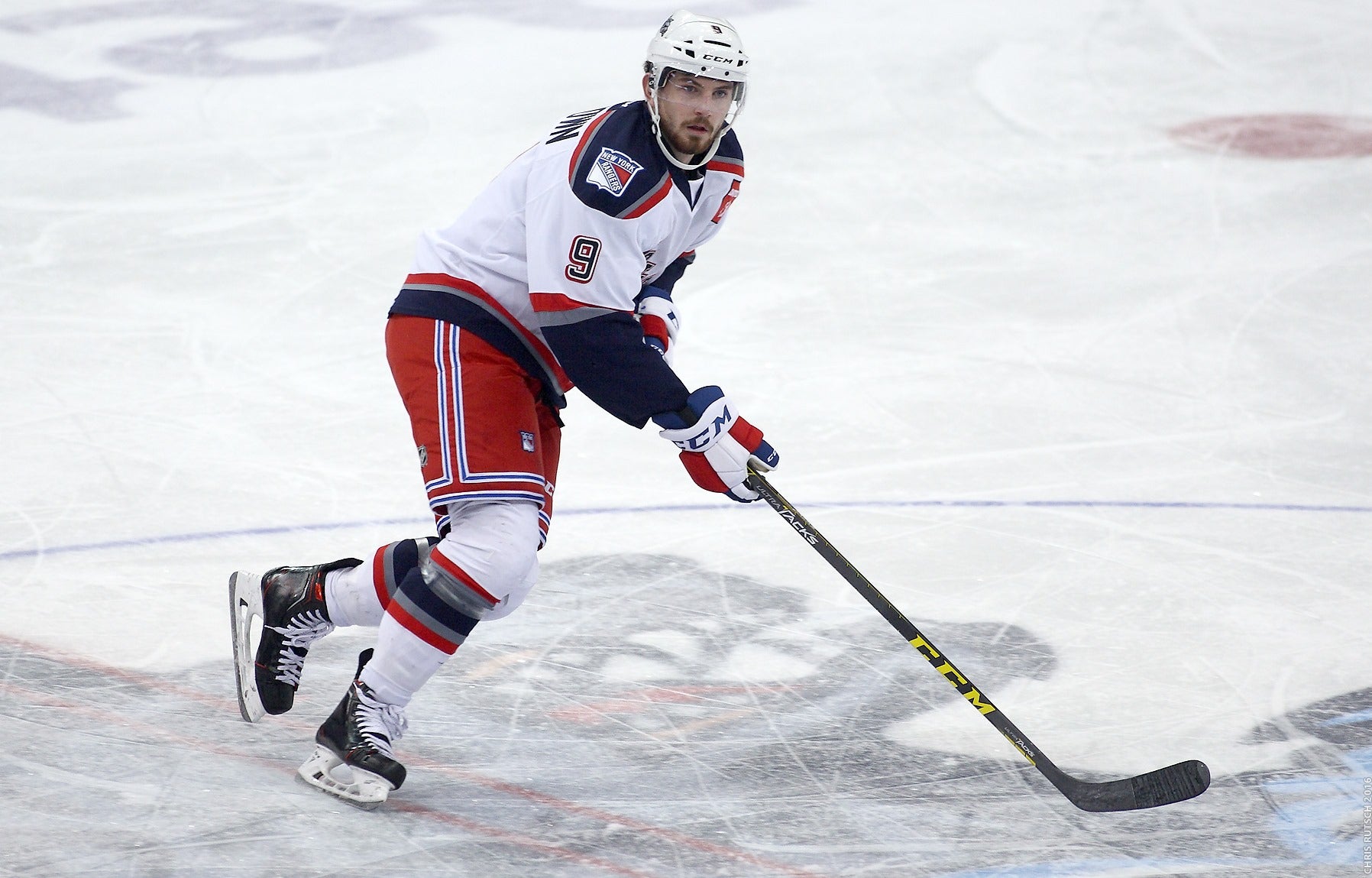 Chris Brown a Symbol of Hockey's Expanding U.S. Roots
Mar 16, 2016
By Bob Crawford
A look at the "birthplace" column of the Wolf Pack's roster would reveal many of the typical places of origin for hockey players.
One would see a number of different Canadian locales, a couple of Minnesotas, a Michigan, a Massachusetts and several European cities.
One hometown suffix stands out, though, and that is the "TX" that follows Chris Brown's birthplace.
Brown, who hails from Flower Mound, Texas, located just northwest of Dallas, is one of the poster boys for how much the U.S. hockey footprint has expanded in recent years. Gone are the days when, as was said of the 1980 "Miracle on Ice" team, hockey in this country was largely synonymous with "a bunch of guys from Minnesota and Boston."
So how does a young player get from "deep in the heart of Texas" to the University of Michigan, as Brown did, and eventually to the highest levels of pro hockey?
"Obviously it's non-traditional," the 25-year-old right-winger said recently. "I grew up playing in Dallas up until I was 14 years old, had a lot of good coaches that came through the Junior Stars organizations. And then I moved away to Detroit to play for Detroit Honeybaked my midget year, which really kind of kicked off my hockey career.
"I never thought I'd make it out of Dallas, hockey was just sort of a fun thing for me. I played other sports like football and baseball too. So I kind of worked my way through a move when I was young, it was tough on my parents, obviously, it was tough on me, to let me go away when I was 14. It's been a different experience, being from a non-traditional state, but it's got me to where I am now."
Once he got to "Hockeytown", as Detroit is often referred to, and enjoyed excellent success in one of the most traditional of hockey states, Brown was on the fast track to becoming an elite performer on the frozen pond.
"Playing in Detroit was kind of like playing football in Texas," Brown remembered. "It's more of a religion there too. It was a good experience, I had a lot of good friends on that team, a lot of guys that are playing in the NHL now, and in the AHL. We had a great team, they were very welcoming as well, to allow a kid from Texas to come up and play in Detroit."
After a fine midget season, in which he was the top goal-scorer on that stacked Detroit Honeybaked team, the then-16-year-old Texan landed a spot with the U.S. National Team Development Program. That is USA Hockey's elite training program for players under 18, which is meant to prepare them for playing on the country's national teams. In existence since 1996, the USNTDP has been a major factor in the blossoming of hockey talent further across the U.S..
Brown's two years in the USNTDP, during which one of his teammates was Ryan Bourque, the man the Rangers organization traded to acquire Brown, were another key stepping stone.
"It gets you all the exposure you could ever ask for, internationally, playing against some of the best guys," Brown said of the national program. "Actually I played against Hriv (Slovakian-born Wolf Pack teammate Marek Hrivik) growing up, too, for a couple of years. The hockey world's very small. And so, whenever you get a chance to represent your country, and get exposed to colleges your second year, and all that kind of stuff, it makes the transition a little easier going into pro hockey and into college hockey."
At the time Brown was part of the USNTDP, it was based in Ann Arbor, MI, and that's where Brown would stay for three subsequent years, skating for Coach Red Berenson's University of Michigan Wolverines, with current fellow Wolf Pack veteran Chris Summers as one of his teammates. During all that time up in the northern reaches of the country, though, Brown always stayed true to his Lone Star State roots
"I was born in Houston, raised in Dallas, so Texan through and through," he said with a smile. "It's something that I really pride myself on. Some guys probably get irritated hearing about it all the time, but I wear cowboy boots, I got all that stuff going on. It's not the hockey hotbed of the country, but there's a lot of good players that are coming through there."
The game of hockey continues to spread its sphere of influence in the U.S., as evidenced by the fact that this year's USNTDP Under-18 Team roster includes a Californian, a Floridian, two players from St. Louis and one each from Idaho and Maryland. High-level junior programs are proliferating virtually everywhere in the nation, and the NHL's nationwide penetration helps spread interest, and spur the construction of rinks where there never before would have been enough interest to support them. Still, Brown feels that the path to elite hockey success for young players in non-traditional hockey areas will remain a difficult one.
"I don't think it's going to be easy, I think there's still going to be that challenge," he said. "I think there's a lot of guys, including myself, that are trying to pave that path for other guys to make it a little easier, but the California kids, the Texas kids, the Floridas, those kids are still going to have a tough time. Some of the other sports, like football and baseball, are still going to rule those states. Personally, I played football to play with all my buddies, so it's kind of one of those things, if you want to do it, you've got to really commit to it. You don't necessarily have to move, that's just a decision that I made. The programs are obviously getting better in those non-traditional markets."
Drafted in the second round by the Phoenix Coyotes in 2009, following his second season in the National Team program, Brown signed with the Coyotes in March of 2012, after the conclusion of his junior year at Michigan. His first year of pro was a rousing success, as he scored 29 goals, tops among 2012-13 AHL rookies, in 68 games with the Portland Pirates and earned five NHL games with Phoenix.
The next year he got six games with the Coyotes and had 14 goals and 35 points in 51 games with the Pirates, before being swapped to the Washington Capitals in a trade-deadline deal. The 2014-15 season saw Brown score 17 goals in 64 AHL games with Hershey and get into five NHL contests with Washington, but this year's campaign has been marked by little but frustration for the 6-2, 209-pounder. He did get one game with the Capitals, but dressed for only 20 of the 34 for which he was on Hershey's roster, and was held to 3-6-9 in his AHL action.
"This year's been difficult," Brown acknowledged. "I started out with an injury and having to battle through that, that's the first time I've ever had to do that, and then a tough situation in Hershey. But at the same time, there's a lot of similarities that I see in this organization that I saw with Portland. So I'm looking to get that opportunity and looking to get that scoring touch back."
The trade that swapped Brown for Bourque was completed February 28, less than 24 hours ahead of the NHL trade deadline, marking the second time in four pro years that Brown changed addresses virtually at the last possible moment.
"The first time was a bit of a shock, the second time I was kind of a little more ready for it," Brown said of his two trade experiences. "Every year the trade deadline comes, you get a little more prepared. It's a little chaotic for about 48 hours, but the guys have done a great job here of welcoming me, and the coaches too. So it's nice to be here.
"I was excited, it's obviously a fresh start. Kind of funny I got traded for [Bourque], since I played with him before. I'm really excited to be here and to be a part of the organization."
Making the move to the Wolf Pack even more enjoyable for Brown was the presence of his old college buddy Summers, with whom Brown also played for parts of two seasons in Portland.
"I played with [Bourque] when I was at USA for two years, so I got to know him, and then I played with [Summers], my freshman year he was a senior, he was the captain," Brown said. "So it was a little funny coming back to see him, but he's one of my best friends. He's actually standing up in my wedding, so it was nice to see him and his family and kind of have that familiar face come into the locker room to show me around."
Beyond the personal connection, Brown has another reason for being upbeat about the move to the Ranger organization. That is the Rangers' positive reputation, in players' minds, for putting a premium on talent development.
"This organization's done a really good job of developing players, there's always been a lot of guys that have been here and then up in New York," Brown said. "So I'm looking forward to obviously continuing that and trying to get up there as well.
"I've had a lot of experience playing against the Wolf Pack, and you see a lot of guys that I've played against are now up with the Rangers. So it's pretty well known that this organization does a really good job and takes a lot of pride in developing their players."
Back to All