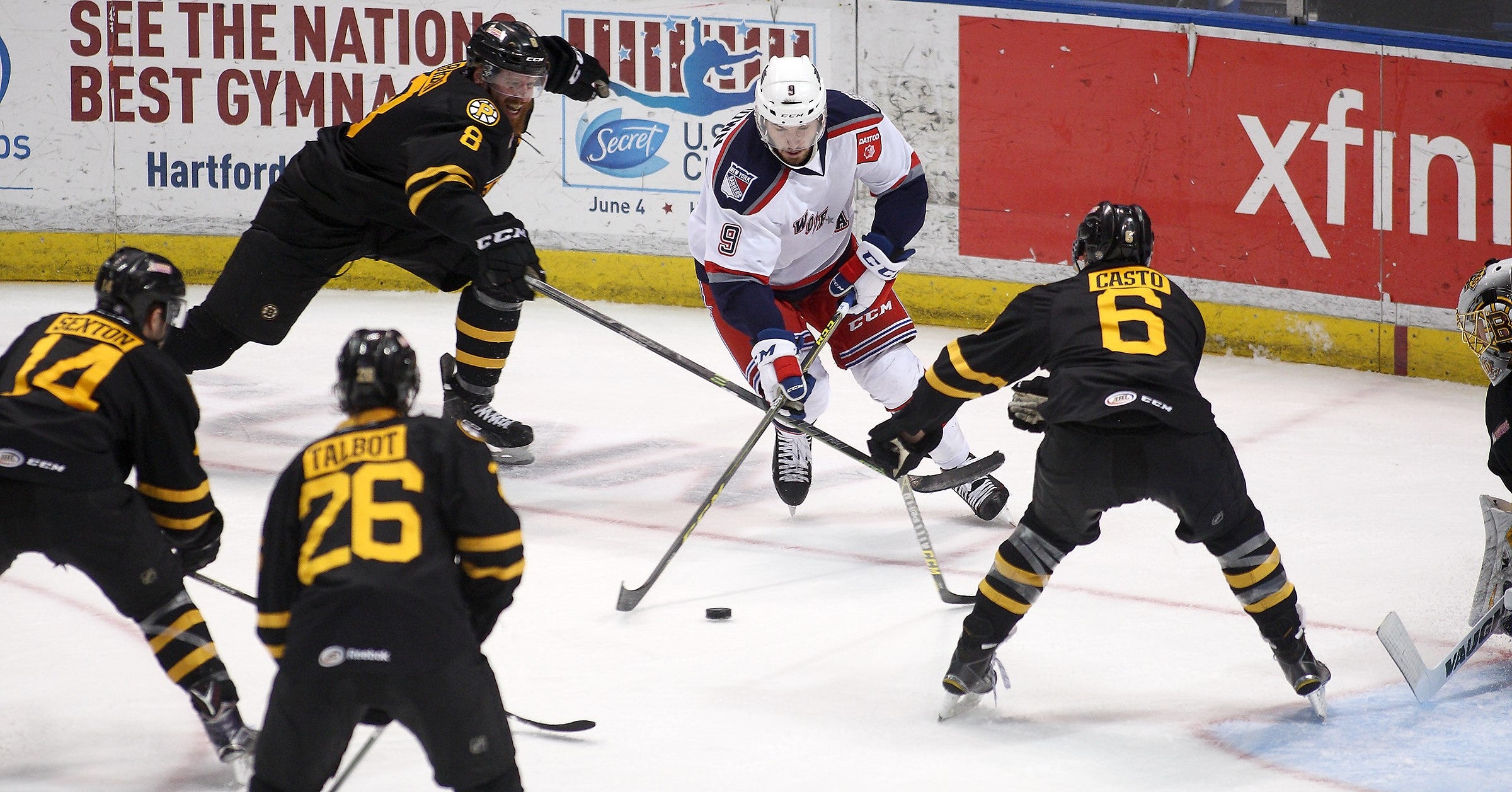 Bruins End Pack Streak, 3-2 in OT
Mar 23, 2016
By Phil Oxnard
A six-game Wolf Pack win streak ended Wednesday night at the XL Center, in a 3-2 overtime loss to the Providence Bruins.
Alexander Khokhlachev's second goal of the game was the game-winner, scored at 2:15 of overtime. Brandon DeFazio had the other Providence goal, and Austin Czarnik assisted on all three Bruin scores. Daniel Paille and Nick Tarnasky scored for the Wolf Pack and Marek Hrivik had two assists. Magnus Hellberg made 29 saves.
The loss also ended a Hartford streak of ten straight wins in games that went beyond regulation.
The Wolf Pack's weakness in their special teams play was a major issue in the game, as the Wolf Pack went 0-for-6 on the power play and Providence was 2-for-3.
Wolf Pack head coach Ken Gernander was frustrated with the lack of power play goals, saying, "We got some up-ice pressure, we didn't have the composure to come as a unit, and we got deviated from our routes. It's hard when you're ad-libbing like that."
Providence drew a quick first blood when Khokhlachev scored a power play goal at 2:21, marking his 20th goal of the season. The Wolf Pack was quick to respond, however, with Paille finding scoring at 3:37, his first Wolf Pack goal, assisted by Hrivik and Nicklas Jensen.
The first period closed out with Tarnasky scoring Hartford's second goal at 16:14, giving them the lead going into the second period.
With 11:39 to go in the second, DeFazio scored the equalizer off a pass from teammate Seth Griffith, another goal scored on a power play. DeFazio's was the only goal of the period, leaving the score tied heading into the third.
Hrivik praised Hellberg's play in net, saying, "He kept us in the game, obviously he's been really solid for us this past six, seven games we've had. We just got to help him out and score some goals."
Despite two power plays for the Wolf Pack and one for the Bruins in the third period, neither team managed to put the score in their favor. With the game still tied at two at the end of the period, the game went into overtime.
Khokhlachev's game-winner came on the Bruins' second shot of the extra session, as Khokhlachev took a pass from Czarnik and fired a shot from the top of the circles past Hellberg's stick side.
Hrivik noted that the team would have to really focus in on creating opportunities in future games, saying, "This is a league where you're not going get the lanes for shots, so you've just got to get around it and try to make something."
The Wolf Pack are back at the XL Center this Friday night, March 25, hosting the Bridgeport Sound Tigers in a 7:15 PM game. It being a Friday, that night features $1 hot dogs and $2 beers through the start of the second period.
Tickets for all remaining 2015-16 Wolf Pack home games are on sale at the Agera Energy Ticket Office at the XL Center, on-line at www.hartfordwolfpack.com and by phone at (877) 522-8499.
To speak with a Wolf Pack representative about season or group tickets, or any of the Wolf Pack's many ticketing options, call (855) 762-6451, or click here to request more info.
Providence Bruins 3 (OT) at Hartford Wolf Pack 2
Wednesday, March 23, 2016 - XL Center

Providence 1 1 0 1 - 3
Hartford 2 0 0 0 - 2

1st Period-1, Providence, Khokhlachev 20 (Miller, Czarnik), 2:21 (PP). 2, Hartford, Paille 2 (Hrivik, Jensen), 3:37. 3, Hartford, Tarnasky 14 (Diaz, Hrivik), 16:14. Penalties-Gibbons Hfd (holding the stick), 1:49; Arnesson Pro (tripping), 10:52.

2nd Period-4, Providence, DeFazio 19 (Griffith, Czarnik), 8:21 (PP). Penalties-Cross Pro (hooking), 2:11; Bodie Hfd (interference), 7:41; Casto Pro (hooking), 8:41; DeFazio Pro (roughing), 18:59.

3rd Period- No Scoring. Penalties-Tambellini Hfd (high-sticking), 5:36; Blidh Pro (tripping), 9:01; Ferlin Pro (tripping), 15:05.

OT Period-5, Providence, Khokhlachev 21 (Czarnik, Smith), 2:15. Penalties-No Penalties

Shots on Goal-Providence 8-10-12-2-32. Hartford 10-8-7-1-26.
Power Play Opportunities-Providence 2 / 3; Hartford 0 / 6.
Goalies-Providence, Smith 13-17-2 (26 shots-24 saves). Hartford, Hellberg 26-16-0 (32 shots-29 saves).
A-2,344
Referees-Jake Brenk (42), Olivier Gouin (66).
Linesmen-Kevin Briganti (39), Brent Colby (7).
Back to All