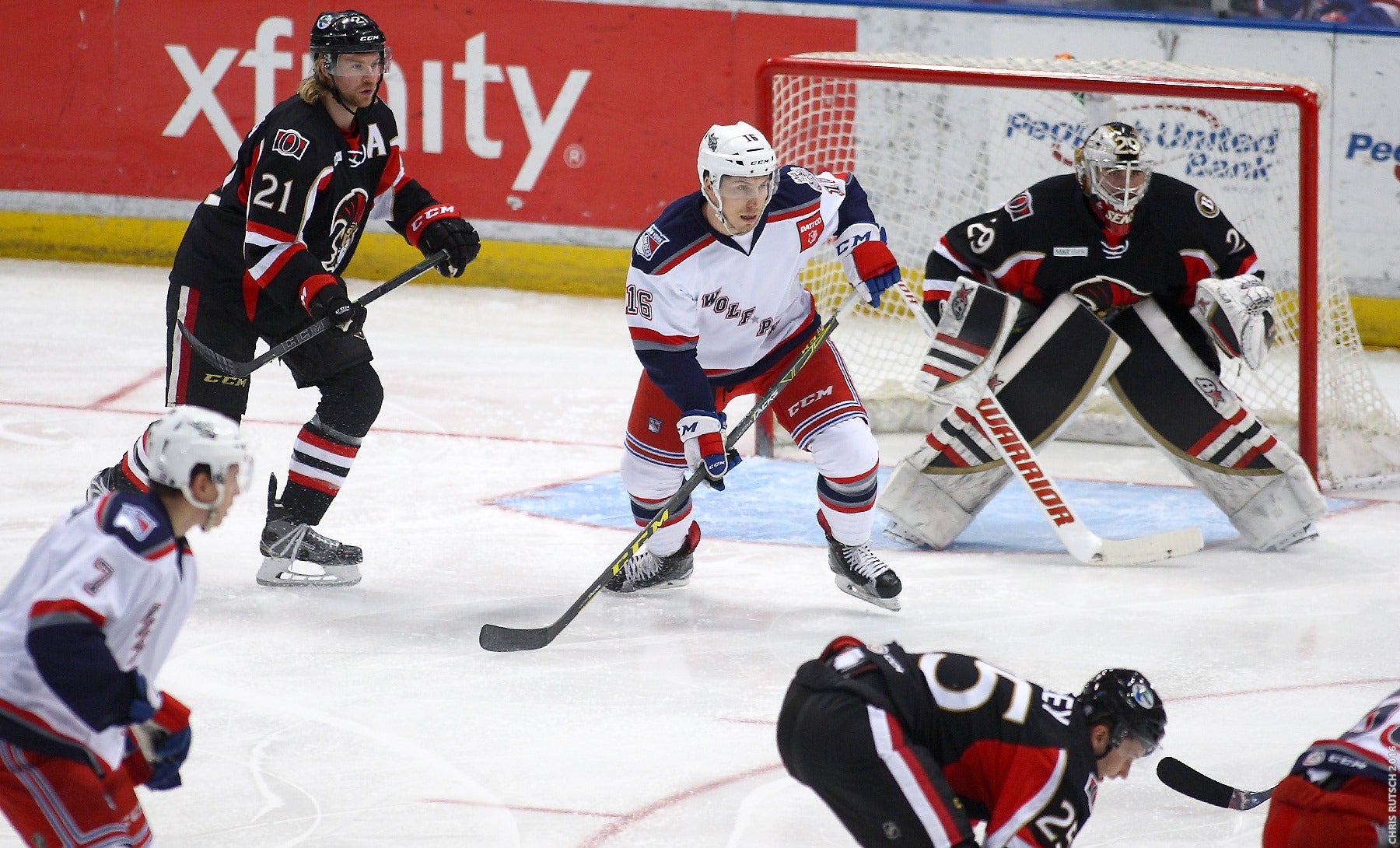 Binghamton Trips up Wolf Pack at Home, 6-2
Feb 21, 2016
By Chuck Packard
The Wolf Pack had a three-game winning streak snapped Sunday, in a 6-2 loss to the Binghamton Senators at the XL Center.
Buddy Robinson and Cole Schneider had a goal and an assist apiece for Binghamton, and Casey Bailey had two assists. Matt O'Connor made 36 saves.
The Wolf Pack got goals from Chris McCarthy and Jayson Megna, and Magnus Hellberg made 24 saves in the loss.
Binghamton came out swinging, scoring just 2:06 into the first period. The goal was scored by Schneider, a former UConn Husky, his 17th of the season. Eric O'Dell fed Schneider at the left side of the goal mouth, and Hellberg had no chance on Schneider's quick shot.
Wolf Pack head coach Ken Gernander said of the early Binghamton lead, "When they have the lead they're pretty good at defending the neutral zone, and not allowing much."
A penalty on Schneider set up a late first-period goal by the Wolf Pack to get them on the board. Megna tapped in a rebound squeaked in behind Schneider, Megna's 10th goal of the year. He was assisted by Raphael Diaz and Luke Adam.
Binghamton re-took the lead at 11:29 of the second with a power play goal scored by Zack Stortini. Tommy Hughes was in the box for a hooking penalty at the time of the goal. Stortini deflected a Conor Allen shot past Hellberg on the stick side, after Allen was set up by Bailey.
McCarthy said of the Wolf Pack's effort, compared to the previous night's 7-2 win at Springfield, "We kind of swayed away from what we were doing that made us successful early on in the game, and last night."
With 3:47 left in the second, Binghamton increased its lead to 3-1, with Robinson scoring off of his own rebound. Only 1:30 later, the Senators made it a four-goal lead with a goal in a delayed-penalty. Ben Harpur scored his first professional marker on a shot from the left point through a screen, assisted by Michael Kostka and Schneider.
The Wolf Pack cut into Binghamton's lead early in the third with a goal from McCarthy, assisted by Mat Bodie. McCarthy's sixth goal of the season, a slap shot, appeared to have been stopped but snuck through O'Connor into the net.
The comeback went no further, however, as Binghamton sealed the game with an empty-net goal with 1:36 left. The goal was scored by Ryan Rupert, assisted by Robinson. Binghamton added another with 36.5 seconds on the clock from Travis Ewanyk, assisted by Chris Carlisle, making the final 6-2.
"We made some mistakes, and we paid for our mistakes," said Gernander on the difference between Sunday and Saturday night.
The Wolf Pack's next action is a home game this Wednesday night, February 24, with the Portland Pirates visiting the XL Center for a 7:00 PM faceoff. That is another Winning Wednesday", meaning that if the Wolf Pack win, fans can show their Winning Wednesday ticket at the Agera Energy Ticket Office at the XL Center and receive a free ticket to the next Wolf Pack home game, which is next Sunday, February 28 vs. the Lehigh Valley Phantoms (some restrictions apply).
Tickets for all remaining 2015-16 Wolf Pack home games are on sale at the Agera Energy Ticket Office at the XL Center, on-line at www.hartfordwolfpack.com and by phone at (877) 522-8499.
To speak with a Wolf Pack representative about season or group tickets, or any of the Wolf Pack's many ticketing options, call (855) 762-6451, or click here to request more info.
Binghamton Senators 6 at Hartford Wolf Pack 2
Sunday, February 21, 2016 - XL Center

Binghamton 1 3 2 - 6
Hartford 1 0 1 - 2

1st Period-1, Binghamton, Schneider 17 (O'Dell, Bailey), 2:06. 2, Hartford, Megna 10 (Diaz, Adam), 14:50 (PP). Penalties-Allen Bng (slashing), 9:15; Bailey Bng (tripping), 12:47; Schneider Bng (interference), 14:34; Hughes Hfd (hooking), 17:49.

2nd Period-3, Binghamton, Stortini 7 (Allen, Bailey), 11:29 (PP). 4, Binghamton, Robinson 12 16:13. 5, Binghamton, Harpur 1 (Kostka, Schneider), 17:43. Penalties-Rupert Bng (hooking), 5:33; Tambellini Hfd (high-sticking), 10:19; Carlisle Bng (hooking), 19:47.

3rd Period-6, Hartford, McCarthy 6 (Bodie, Tarnasky), 3:10. 7, Binghamton, Rupert 7 (Robinson), 18:24 (EN). 8, Binghamton, Ewanyk 3 (Carlisle, Stortini), 19:23. Penalties-No Penalties

Shots on Goal-Binghamton 8-9-13-30. Hartford 18-8-12-38.
Power Play Opportunities-Binghamton 1 / 2; Hartford 1 / 5.
Goalies-Binghamton, O'Connor 4-13-0 (38 shots-36 saves). Hartford, Hellberg 20-14-0 (29 shots-24 saves).
A-4,379
Referees-Andrew Thackaberry (4), Tim Mayer (19).
Linesmen-Kevin Briganti (39), Brian Pincus (25).
Back to All