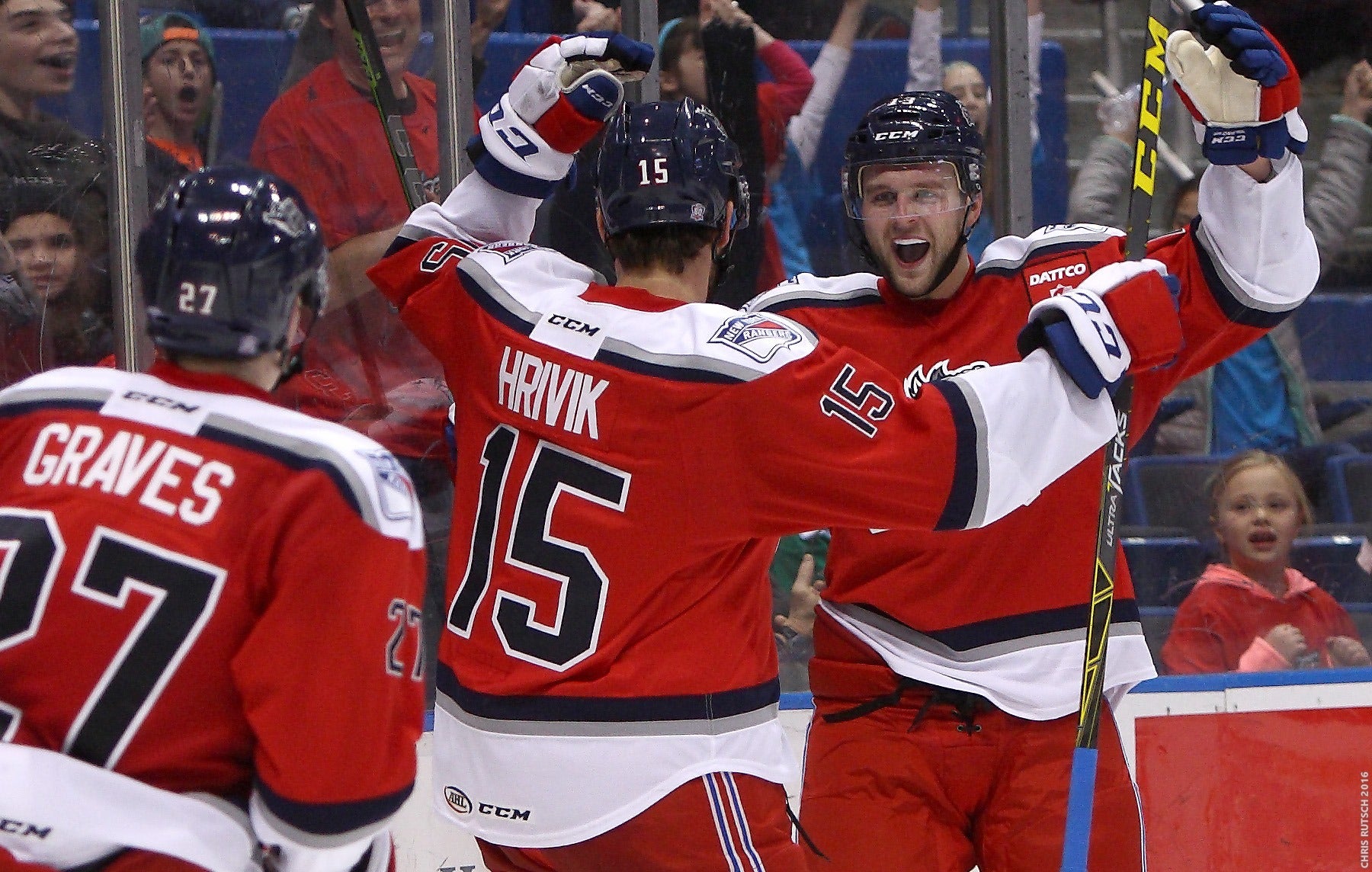 Adam's two Goals Help Pack Edge Bridgeport
Jan 9, 2016
Luke Adam scored twice, and Adam Tambellini added a goal and an assist Saturday night at the XL Center, as the Wolf Pack snapped a three-game losing streak with a 5-4 win over the Bridgeport Sound Tigers.
The Sound Tigers jumped on top at the 5:22 mark of the first period, when Sound Tiger scoring leader Joe Whitney fired in a high shot for his 15th goal of the season.
Adam tied it up at 11:21, rocketing the puck past Bridgeport starting goaltender Christopher Gibson off a pass from Jack Combs.
"It's definitely nice to score any time you can score, and help the team win games," Adam said. "That's what I want to do, and hopefully I can continue to do that now moving forward."
The game stayed tied up at 1 – 1 for the better part of the second period. At 15:55, Hartford's Chad Nehring and Bridgeport's Patrick Cullity were both sent to the box, bringing up a 4-on-4 situation. Hartford scored twice during the 4-on-4, with the first coming at 16:32, a goal by Nicklas Jensen off a pass from Marek Hrivik.
"It was a fantastic pass from him [Hrivik]," said Jensen, who was playing his first game in a Wolf Pack uniform after being acquired by the parent New York Ranger Friday from Vancouver. "I was trying to just find a lane for him to toss it over or for him to shoot, but he made a great play and I all I had to do was put it in the net."
Just 1:09 later, at 17:41, Adam made it a 3-1 Wolf Pack lead with his second of the game, scoring on a one-timer off a pass from Mat Bodie. The Hartford goal was quickly answered by Bridgeport's Bracken Kearns at 18:49, and the Wolf Pack led 3-2 after two.
The Sound Tigers changed goaltenders to start the third period, replacing Gibson with Parker Milner, and the Wolf Pack greeted him with two goals 25 seconds apart early on in the third.
Tambellini picked off a Bracken Kearns pass and beat Milner from close range at 1:12, and then Ryan Bourque took a pass from Tambellini and ripped a shot past Milner's catching glove at 1:37.
That goal put the Wolf Pack up by three goals, but it would turn out to be the game-winner, as Bridgeport came back to score two late goals and force the Wolf Pack to hang on.
James Wright deflected Kyle Burroughs' feed in behind Wolf Pack goaltender Magnus Hellberg (29 saves) at 16:26, and then Ryan Pulock scored from the right point on a power play at 17:46, with Milner pulled for an extra attacker.
The Sound Tigers put furious pressure on the Wolf Pack in the dying seconds, but Hellberg and his teammates would survive to get the win.
"It's a fight or flight type of thing, and I think we held our ground," Wolf Pack coach Ken Gernander
said. "We played a strong game, and tomorrow will be a pretty good cap to the weekend."
The Wolf Pack finish a three-game home weekend at the XL Center on Sunday, hosting the Albany Devils in a 3:00 PM game. It being a Sunday, fans can take advantage of the Wolf Pack's "Click It or Ticket Family Value Pack", which includes two tickets, two sodas and two hot dogs, all for just $35.
Tickets for all 2015-16 Wolf Pack home games are on sale at the Agera Energy Ticket Office at the XL Center, on-line at www.hartfordwolfpack.com and by phone at (877) 522-8499.
To speak with a Wolf Pack representative about season or group tickets, or any of the Wolf Pack's many ticketing options, call (855) 762-6451, or click here to request more info.
Bridgeport Sound Tigers 4 at Hartford Wolf Pack 5
Saturday, January 9, 2016 - XL Center

Bridgeport 1 1 2 - 4
Hartford 1 2 2 - 5

1st Period-1, Bridgeport, Whitney 14 (Wright, Burroughs), 5:22. 2, Hartford, Adam 5 (Combs, Krushelnyski), 11:21. Penalties-Leduc Bri (boarding), 12:44; Gomes Bri (slashing), 17:57.

2nd Period-3, Hartford, Jensen 5 (Hrivik), 16:32. 4, Hartford, Adam 6 (Bodie, Brown), 17:41. 5, Bridgeport, Kearns 12 (Halmo), 18:49. Penalties-Graves Hfd (holding), 7:23; Hughes Hfd (tripping), 11:52; Cullity Bri (interference), 15:55; Nehring Hfd (diving/embellishment), 15:55.

3rd Period-6, Hartford, Tambellini 9 1:12. 7, Hartford, Bourque 8 (Tambellini, Bodie), 1:37. 8, Bridgeport, Wright 6 (Burroughs, Beck), 16:26. 9, Bridgeport, Pulock 6 (Wright, Verhaeghe), 17:46 (PP). Penalties-Jones Bri (fighting), 3:54; McCarthy Hfd (fighting), 3:54; Bodie Hfd (slashing), 4:13; Wright Bri (high-sticking), 4:27; Kearns Bri (roughing), 7:37; Burroughs Bri (holding), 11:48; Kearns Bri (fighting), 13:53; Tarnasky Hfd (fighting), 13:53; Leduc Bri (roughing, misconduct - unsportsmanlike conduct), 14:05; Hughes Hfd (interference), 16:45.

Shots on Goal-Bridgeport 11-12-10-33. Hartford 9-8-12-29.
Power Play Opportunities-Bridgeport 1 / 4; Hartford 0 / 6.
Goalies-Bridgeport, Gibson 11-6-1 (17 shots-14 saves); Milner 1-1-0 (12 shots-10 saves). Hartford, Hellberg 9-10-0 (33 shots-29 saves).
A-5,411
Referees-Terry Koharski (10), Peter MacDougall (57).
Linesmen-Paul Simeon (66), Derek Wahl (46).
Back to All