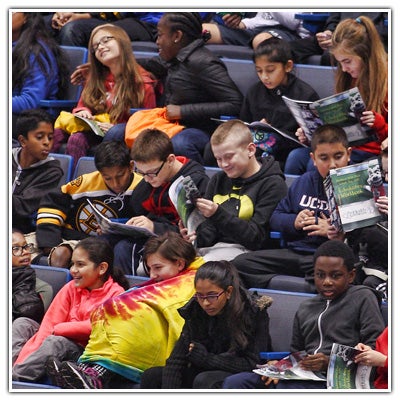 The Hartford Wolf Pack would like to announce the 2019-20 Read to the Rink Program!
Read to the Rink is an incentive-driven program designed to promote the importance of literacy and stimulate the interest in reading amongst elementary and middle school students in Connecticut. Students who successfully complete the program will be rewarded with Hartford Wolf Pack hockey tickets!
Each student that completes the program will get a complimentary ticket to a select home Wolf Pack game in the Spring.
In order to get your free ticket to a Hartford Wolf Pack game each student in grades K-8th will be expected to read five (5) books. Once the student has completed their assignment, they are eligible for their free ticket voucher. Each school will be provided a promo code to use when ordering your tickets.
The Read to the Rink program can be completed in conjunction with any existing reading program or reading requirements at home or in the classroom. Parents/Guardians and faculty will have an opportunity to purchase tickets at a discounted rate. Each participating school will get a visit from "Sonar" the team mascot and a Wolf Pack player (upon availability) to promote the program.
To sign up for the Read to the Rink Program, contact Frank Berrian at 860-541-4728.