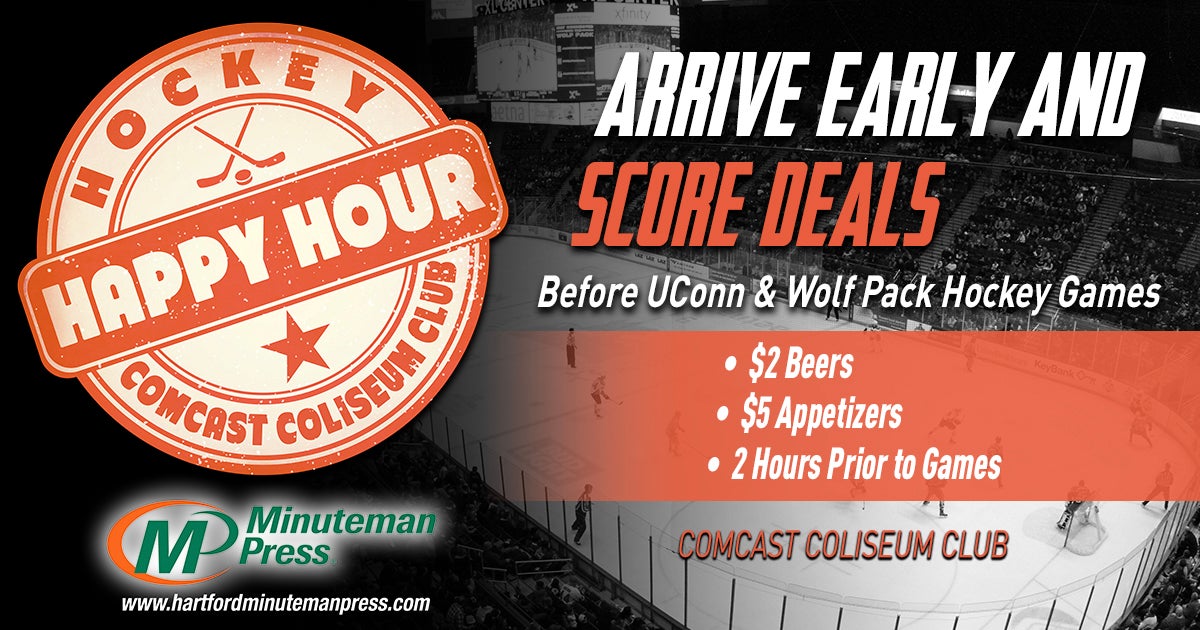 Hockey Happy Hour, presented by Minuteman Press is back this season at all Hartford Wolf Pack Home Hockey games! Ticketed fans are welcomed to the Comcast Coliseum Club Restaurant at the XL Center to enjoy $2 draft beers and $5 appetizers prior to puck drop.
Hockey Happy Hour will begin 2 hours prior to all hockey games and will end at the start of each game. The Coliseum Club Restaurant Entrance is located on the 2nd floor from the atrium (up the escalator) and can be easily accessed using the Church Street Entrance.
The Happy Hour $5 appetizers include: Fried Mozzarella, Ultimate Nachos, Quesadillas, Buffalo Wings, Three-Cheese Garlic Bread and Chicken Tenders & Fries. To go along with the appetizers $2 draft beers will also be available.
New This Season: The Hockey Happy Hour "Chill Zone" will be a designated section of the Coliseum Club Restaurant that is geared towards quick service and a "chill" atmosphere. Admission to this section will be $5 per person and will include an appetizer buffet and private cash bar where you can purchase $2 beer drafts. Wristbands for this area can be purchased at the hostess stand at the club entrance on game day for all Friday and Saturday games.
Please note: Reservations will no longer be accepted for the Hockey Happy Hour. Tables will be available on a first come, first served basis in an effort to accommodate all fans who want to be a part of the experience.
The Comcast Coliseum Club is the XL Center's largest premium seating area with a private entrance and full service bar. For more information about Club Memberships please contact [email protected]