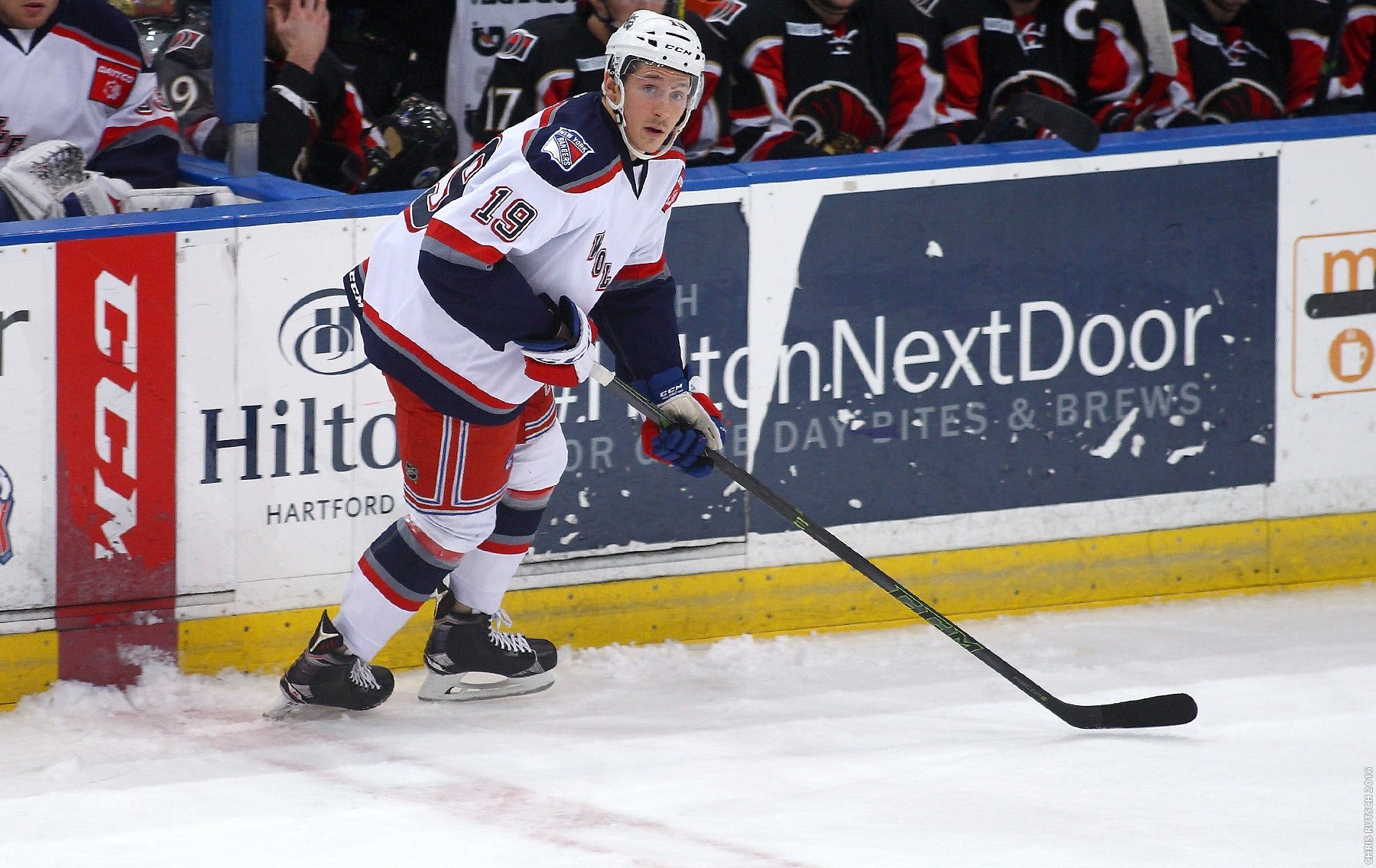 Wolf Pack's Newfoundland Journey a Trip Home for Luke Adam
Apr 15, 2016
By Bob Crawford
It took until the very end of the Wolf Pack's regular season for Wolf Pack forward, and St. John's, Newfoundland native, Luke Adam to get a trip back to his hometown, but that only made the return sweeter for the sixth-year pro.
"It's awesome, I couldn't be happier to be at home," Adam said Thursday, as the Wolf Pack prepared for playing their final two regular-season games at Mile One Centre in St. John's Friday and Saturday. "You get to see a lot of friends, a lot of family, a lot of people around the rink that it wasn't too long ago that I was coming down watching the games here. It's great to be back."
Not only did the 25-year-old Adam grow up in St. John's, he also spent a big chunk of his formative years knocking around the Mile One Centre, tagging along with his father Russ. The elder Adam, himself a former pro player, was an assistant coach with the St. John's Maple Leafs, the first AHL franchise to call Newfoundland home, for their last four seasons of existence.
"My dad was coaching here when I was ages 10-15," Adam said. "So I was the rug rat running around the dressing room, and it's definitely cool to be back and to be able to take advantage of playing here in front of the hometown."
A decade has gone by since Adam shared those times with his dad around the Leafs' locker room, and pondering all that has happened since then gives him a chuckle.
"It's crazy, the amount of things that have happened throughout my career, especially in this building," Adam said. "Being the kid running around the dressing room and then that team ended up leaving, and I ended up playing Major Junior hockey here for two seasons in this rink. And then that team (the St. John's Fog Devils of the Quebec Major Junior Hockey League) ended up leaving, and now I'm back as a visiting player. So it's been a full circle, that's for sure, but it's definitely neat."
And even as young as he was when his dad was on the Maple Leaf staff, Adam feels that what his behind-the-scenes access allowed him to absorb has played a major role in his subsequent success as a player.
"Just being able to watch hockey as much as I did, and even having him at home, seeing his coaching preparation and teaching and that kind of stuff, it definitely helped a lot," Adam said. "Him and my mom have both been such big influences in my career, and it's definitely helped to be around the game as much as I was."
As he referenced, Adam got an up-close perspective on two different teams closing up shop at the Mile One Centre, but he sees the AHL as now being on solid footing, in its second go-round in his home city.
"I think they get great support," Adam said of the St. John's IceCaps, who are in their fifth season of AHL play and whose average attendance this season is roughly 500 short of the Mile One Centre's 6,287 capacity. "I know people love watching hockey, people are passionate about hockey around here, that's for sure, and it shows in how well they support the team here. It might be a bit of a distance (for visiting teams) to travel and whatnot, but at the end of the day, it's definitely a place in the league that loves the team and loves hockey."
After four years as a Winnipeg Jets affiliate, the IceCaps acquired a new NHL partner, the Montreal Canadiens, this offseason, a change that Adam sees as another positive for the future of pro hockey on "The Rock", as his home province is affectionately known.
"All my buddies are either Montreal or Toronto fans, and most everyone around here is the same way," he said. "So I knew when the Habs decided to move their farm team here that it was going to be well supported. It's definitely a team that people are loyal and passionate about, which is nice and definitely helps."
The Wolf Pack's junket to St. John's is actually the second leg of a longer trip, which saw them start out in Portland Sunday and then head to Toronto on Monday. Before jetting to St. John's, the Wolf Pack pulled off a season-saving, 3-2 victory over the league-leading Toronto Marlies in a school-day, morning-start game on Wednesday, with Adam's 12th goal of the year midway through the second period ending up as the game-winner. He scored that marker while centering the Wolf Pack's fourth line between Nick Tarnasky and Tyler Brown, after several games playing either left-wing or center on the second line, alongside Nicklas Jensen and, when he wasn't on recall to the parent New York Rangers, Marek Hrivik.
"It's nice to be able to have four lines on any team and to be able to roll them over, like we've had some success doing," Adam said. "It's definitely a nice feeling to be able to chip in offensively and get that goal in a do-or-die-type game. Hopefully we can continue to do that."
Adam has been all over the Wolf Pack's depth chart this season, and has honed his versatility while finding himself in a number of different roles for Head Coach Ken Gernander and his staff.
"It's definitely been a different year for me," Adam admitted. "I've been put in situations that maybe I've never been in before, I think I've played all three positions, on all four lines. It's been different, but whatever Ken sees me helping the team best. He's obviously making decisions trying to win games and put us in the best position to win."
And wherever he is situated in the Wolf Pack's forward group, and with whomever he is playing, Adam has tried not to change his approach.
"Obviously some little tendencies are going to change in your game, but for the most part I try to bring the same sort of energy, same sort of game," he elaborated. "Maybe a little bit more of a grind game with Nick and [Brown], but those guys are good players and they're going to make plays, and they've shown that all year. You just try and keep the game as simple as possible, and the same level, playing on all four lines. That's what we've had success doing, and that's what we're going to continue to do."
Back to All