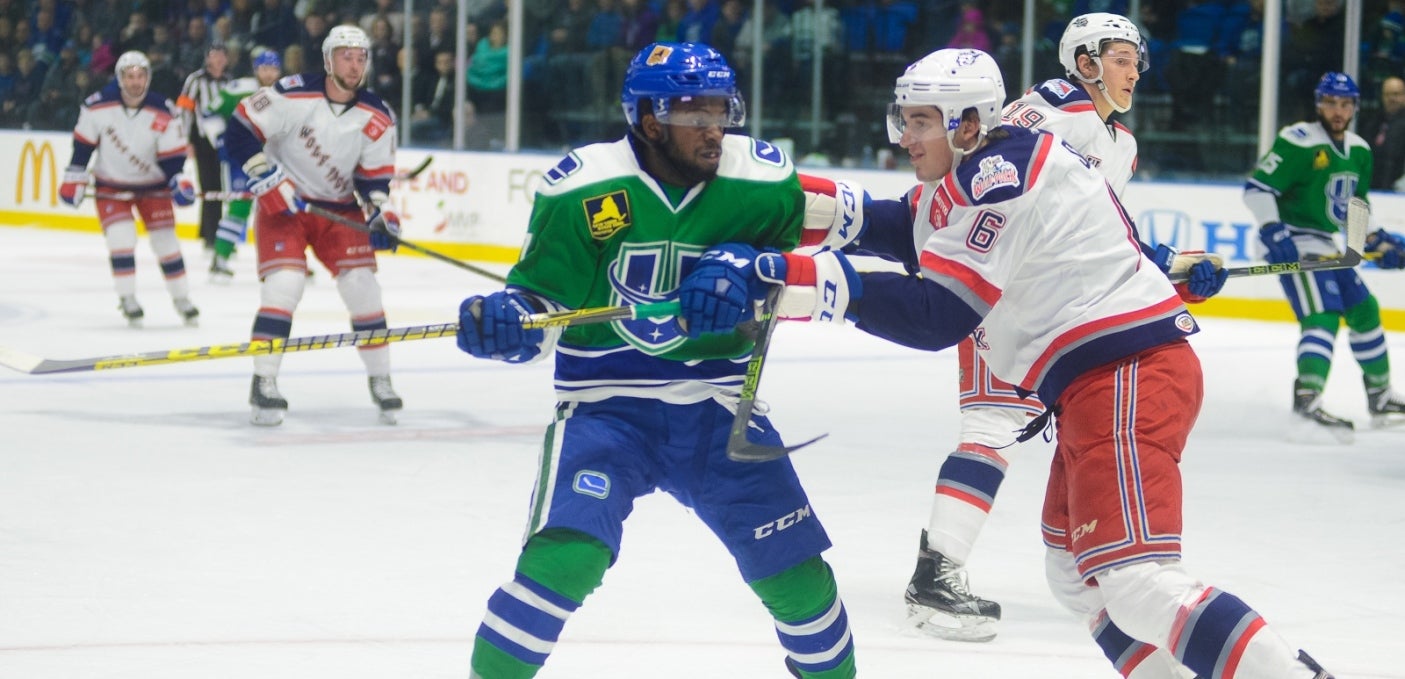 Pack Bounce Back with Shootout Win in Utica
Dec 19, 2015
(Photo courtesy of Utica Comets)
Jeff Malcolm made 25 saves, and Adam Tambellini scored in regulation and had a shootout goal, Saturday night at the Utica Memorial Auditorium, as the Wolf Pack defeated the Utica Comets 2-1, in both teams' last game before Christmas.
Marek Hrivik had the shootout winner for the Wolf Pack, who rebounded from a 7-1 loss in Rochester the night before. Brendan Gaunce scored the only Comet goal, and Richard Bachman made 31 saves.
"We knew we had to step it up after last night, so we tried to go out there and put up our best effort," Hrivik said. "We played well, our goalie hung us in there. We got some shots, and we got some power plays, too, we should have cashed in, but we got it in the shootout."
The Wolf Pack played a solid first period on the road, but gave up a goal on Utica's first shot of the game.
That was at 4:31, when David Shields played the puck off of the left-wing boards into the goalmouth, and Gaunce, parked right in front of Malcolm, fought off defenseman Sean Escobedo and poked the puck into the net.
The Wolf Pack responded with 4:31 left in the period, as Tambellini finished a 2-on-1 with Chad Nehring. Nehring took a lead pass from Brady Skjei and broke down the right side in the Comet end, before feeding across to Tambellini, who fired the puck past Utica netminder Richard Bachman.
Team defense took over after that, as neither team was able to generate any more goals. The Wolf Pack carried a power play over from the end of regulation into overtime, and then took a too-many-men-on-the-ice penalty in the overtime, but neither team could convert on their man-advantage opportunities.
In the shootout, Malcolm stopped both of Utica's first two shooters, Hunter Shinkaruk and Alexandre Grenier, and Tambellini scored on the Wolf Pack's second attempt. Nicklas Jensen then kept the Comets alive on their third chance and Bachman stopped Adam.
After Malcolm denied Gaunce as Utica's fourth shooter, Hrivik came out with a chance for the winner and made good, putting a low shot underneath Bachman's pads.
The Wolf Pack are now 3-0 in shootouts on the year, and Hrivik has the winning goal in two of them.
"The shootout kind of hasn't been my strong thing in past years," he said, "but this year's been working out so far, so just got to stick with it, I guess."
The Wolf Pack are now off until next Saturday, December 26, when they travel to Binghamton to take on the Senators in a 7:00 PM game. All of the action of that battle can be heard live on News Radio 1410 WPOP, and on-line at www.newsradio1410.com and iHeartRadio. Video streaming is available at www.ahllive.com.
The Wolf Pack's next home game is Tuesday, December 29, when the Wolf Pack host the Portland Pirates in a 7:00 game. That is Scout Night at the XL Center. Scout groups that reserve in advance receive discounted tickets and special Scout Night patches.
Tickets for all 2015-16 Wolf Pack home games are on sale at the Agera Energy Ticket Office at the XL Center, on-line at www.hartfordwolfpack.com and by phone at (877) 522-8499.
To speak with a Wolf Pack representative about season or group tickets, or any of the Wolf Pack's many ticketing options, call (855) 762-6451, or click here to request more info.
Hartford Wolf Pack 2 (SO) at Utica Comets 1
Saturday, December 19, 2015 - Utica Memorial Auditorium

Hartford 1 0 0 0 - 2
Utica 1 0 0 0 - 1

1st Period-1, Utica, Gaunce 9 (Shields, Jones), 4:31. 2, Hartford, Tambellini 7 (Nehring, Skjei), 15:29. Penalties-Petrecki Hfd (fighting), 9:08; Kurtz Uti (fighting), 9:08; Megna Hfd (tripping), 15:55.

2nd Period- No Scoring. Penalties-Hamilton Uti (hooking), 10:40; Gibbons Hfd (interference), 14:18; Skjei Hfd (high-sticking), 19:50.

3rd Period- No Scoring. Penalties-Gibbons Hfd (delay of game), 3:44; Ehrhardt Uti (holding), 9:58; Gibbons Hfd (hooking), 11:20; Gaunce Uti (checking to the head), 18:28.

OT Period- No Scoring. Penalties-served by Gibbons Hfd (bench minor - too many men), 2:08.

Shootout - Hartford 2 (Gibbons NG, Tambellini G, Adam NG, Hrivik G), Utica 1 (Shinkaruk NG, Grenier NG, Jensen G, Gaunce NG).
Shots on Goal-Hartford 8-8-13-3-1-33. Utica 6-7-11-2-0-26.
Power Play Opportunities-Hartford 0 / 3; Utica 0 / 6.
Goalies-Hartford, Malcolm 2-1-0 (26 shots-25 saves). Utica, Bachman 4-4-1 (32 shots-31 saves).
A-3,860
Referees-Alex Garon (64), David Banfield (77).
Linesmen-Tory Carissimo (54), Matt Brady (86).
Back to All