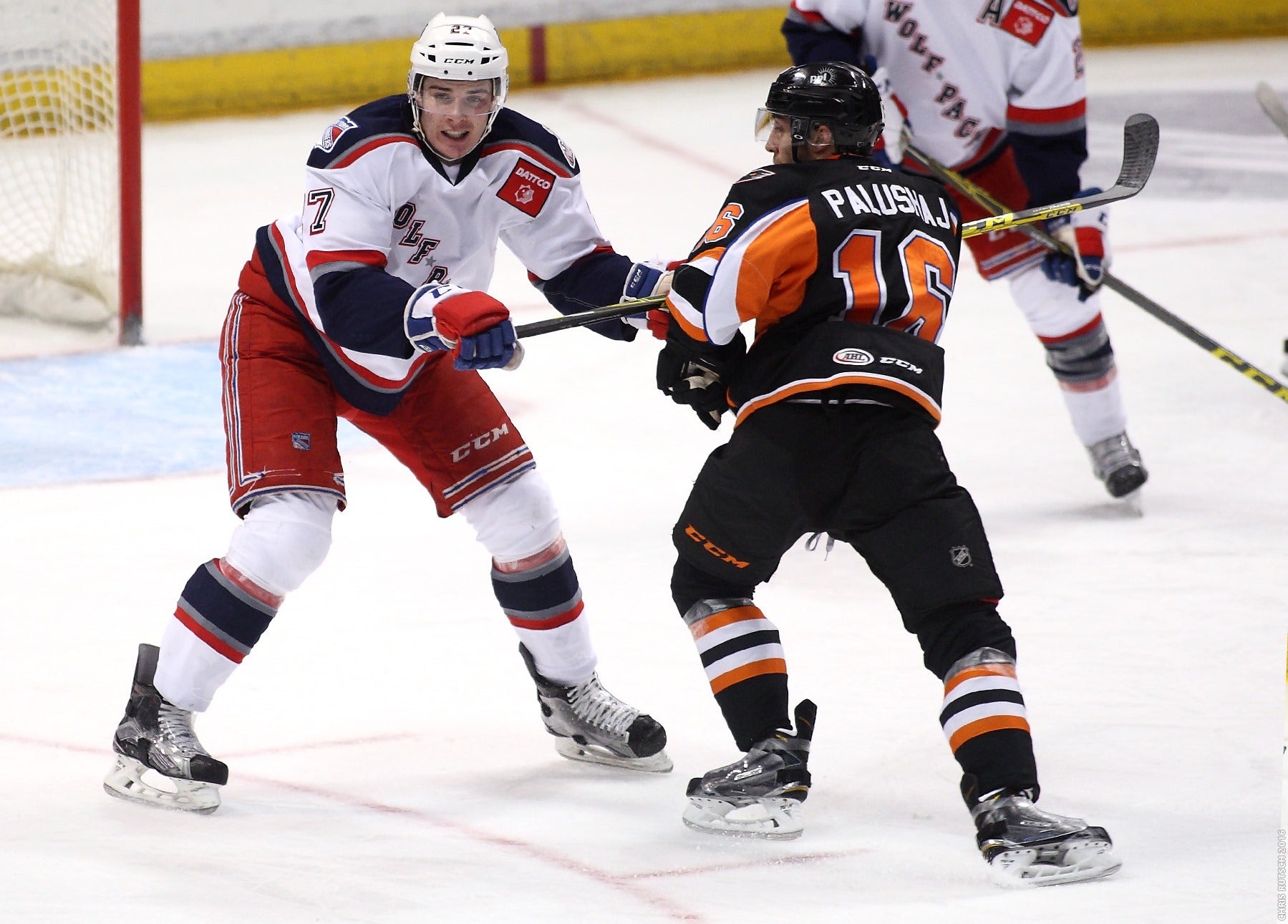 Phantoms' Comeback Edges Pack
Feb 28, 2016
By Phil Oxnard
The Wolf Pack lost a 1-0 third-period lead Sunday at the XL Center, in a 2-1 defeat to the Lehigh Valley Phantoms.
The loss ended a streak of 13 straight wins for the Wolf Pack in head-to-head competition with the Phantoms, a run that equaled a Wolf Pack franchise record. It was also the first setback of the season for the Wolf Pack in a game that they led after two periods. Hartford had been 17-0-0-0 in that situation on the year.
Taylor Leier and Kevin Goumas scored for the Phantoms in the third, after a Jayson Megna goal had given the Wolf Pack the lead late in the second. Magnus Hellberg stopped 21 shots in the Wolf Pack net, and Anthony Stolarz got the win for Lehigh Valley with 24 saves.
"We were forcing plays, maybe that's why some (pucks) looked like they were bouncing off sticks," Wolf Pack head coach Ken Gernander said. "We're more of an attrition type team, and we got away from that."
It took until there were only 41.5 seconds left in the second period for either goaltender to yield a goal, and it was Megna burying a cross-slot feed from Brian Gibbons for his 11th goal of the season to give the Wolf Pack the game's first lead.
Lehigh Valley found their answer early in the third when Leier drilled the puck into the back of the Hartford net just 2:02 in.
At 8:52, Hellberg went behind his net to play the puck, and the Phantoms' Aaron Palushaj worked it away from him and sent it to the front of the goal. With Hellberg trapped below the goal line, a wide-open Goumas put the puck into the vacated net.
Megna said of the game-winning goal, "You can't put any blame on Magnus, obviously. He's been keeping us in games more than he's been giving up goals."
The Wolf Pack maintained solid possession for the final few minutes of the period, but despite multiple close calls they couldn't finish, and the game ended with The Phantoms victorious 2 to 1.
Optimistic for the team's shot at the playoffs, Megna said, "I think we're going to be good. I honestly think we have the guys in the locker room, we have the right mentality about it. We just need to find a way to get some points here."
The Wolf Pack's next action is at Bridgeport this Wednesday night, March 2, with faceoff at 7:00 PM. . All of the action can be heard live on News Radio 1410 WPOP, and on-line at www.newsradio1410.com and iHeartRadio. Video streaming is available at www.ahllive.com.
The next home game for the Wolf Pack is next Sunday, March 6, also against the Sound Tigers. That game features a special faceoff time of 1:00, and it's "Anti-Bullying Day". All fans who have taken the Wolf Pack's anti-bullying pledge will receive a free anti-bullying t-shirt at the game.
Tickets for all remaining 2015-16 Wolf Pack home games are on sale at the Agera Energy Ticket Office at the XL Center, on-line at www.hartfordwolfpack.com and by phone at (877) 522-8499.
To speak with a Wolf Pack representative about season or group tickets, or any of the Wolf Pack's many ticketing options, call (855) 762-6451, or click here to request more info.
Lehigh Valley Phantoms 2 at Hartford Wolf Pack 1
Sunday, February 28, 2016 - XL Center

Lehigh Valley 0 0 2 - 2
Hartford 0 1 0 - 1

1st Period- No Scoring. Penalties-Marti Lv (tripping), 1:18; Pettersson Lv (holding), 4:15; Brown Hfd (diving/embellishment), 4:15; Palushaj Lv (interference), 15:22; Bourque Hfd (interference), 18:18.

2nd Period-1, Hartford, Megna 11 (Gibbons, Nehring), 19:18. Penalties-Graves Hfd (tripping), 11:16; Jensen Hfd (hooking), 16:02; served by Palushaj Lv (bench minor - too many men), 17:14.

3rd Period-2, Lehigh Valley, Leier 18 (DeSimone, Conner), 2:02. 3, Lehigh Valley, Goumas 5 (Palushaj, Rosehill), 8:52. Penalties-Palushaj Lv (hooking), 14:09; O'Donnell Hfd (diving/embellishment), 14:09.

Shots on Goal-Lehigh Valley 6-10-7-23. Hartford 8-9-8-25.
Power Play Opportunities-Lehigh Valley 0 / 3; Hartford 0 / 3.
Goalies-Lehigh Valley, Stolarz 18-12-3 (25 shots-24 saves). Hartford, Hellberg 21-16-0 (23 shots-21 saves).
A-3,782
Referees-Pierre Lambert (39).
Linesmen-Brent Colby (7), Glen Cooke (6).
Back to All