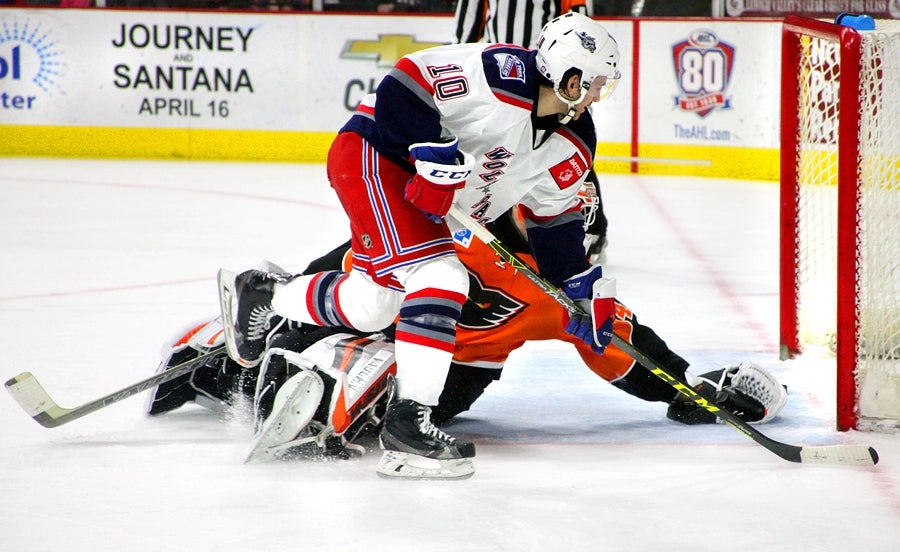 Pack Win 13th Straight vs. Phantoms, 3-2 in Shootout
Feb 26, 2016
(Photo courtesy of JustSports Photography)
The Wolf Pack killed a double-minor penalty in overtime, and Nicklas Jensen and Brian Gibbons scored shootout goals, as the Wolf Pack defeated the Lehigh Valley Phantoms 3-2 Friday night at the PPL Center.
The win was the Wolf Pack's 13th straight in head-to-head competition with the Phantoms, a streak that dates back to January of 2014 and ties a team record for most consecutive wins against a single opponent. The Wolf Pack franchise also won 13 straight against the Albany River Rats from April 2005 through March of 2009.
Nick Tarnasky scored a second-period goal for the Wolf Pack and Travis Oleksuk scored a power-play goal in the third, but also took a four-minute penalty for high-sticking Aaron Palushaj at the 1:05 mark of OT. Magnus Hellberg made 35 saves in the Wolf Pack net, and went 2-for-2 in the shootout.
Danick Martel and Colin McDonald scored for the Phantoms and Anthony Stolarz stopped 36 shots.
With a regulation win, the Phantoms could have moved into a tie with the sixth-place Wolf Pack in the Atlantic Division, but the Wolf Pack's victory moves them to three points ahead of Lehigh Valley, at 28-25-2-0 for 58 points.
"Obviously I took a pretty bad penalty there in overtime," Oleksuk said, "and they really stepped up and killed the four minutes, and that was huge. That was definitely what gave us a chance to win the game."
Most of the first period was scoreless, but the Phantoms would break the 0-0 deadlock with a goal by Martel with 1:15 left in the frame.
Davis Drewiske put the puck on the Wolf Pack net from just below the right faceoff dot and Hellberg made the save with his right pad, but he kicked the puck right to Martel at the left side of the slot, and Hellberg had no chance on Martel's quick rebound shot.
The goal increased Martel's team-leading total on the year to 19.
The Wolf Pack's fourth line would get the game tied up 5:23 into the second period, though, on Tarnasky's 13th goal of the season. Chris McCarthy and Shawn O'Donnell broke 2-on-1 into the Lehigh Valley end, and after O'Donnell's pass attempt was broken up, McCarthy found the puck along the goal line on the right-wing side. McCarthy fed the puck to the front for Tarnasky, and he flicked it past Stolarz.
The Wolf Pack took their first lead of the game 1:28 into the third period, on the first power play of the game. A Phil DeSimone slashing penalty carried over from the second period, and the Wolf Pack capitalized on Oleksuk's deflection of a Mat Bodie shot from high in the slot, after Jensen had played the puck off of the right-wing boards.
"[Jensen] made a nice play coming down, turned up, hit [Bodie], and he basically put it right on my stick," Oleksuk said. "I ended up tipping it, it ended up going in. It's nice to contribute like that."
The Phantoms answered that, however, on their first power play of the game, created by an extra penalty called against Ryan Bourque off of an altercation with Taylor Leier at 9:06.
McDonald, the Wethersfield native and Phantom captain, tied the game at 10:11, taking a pass from Chris Conner at the right side of the slot and beating Hellberg.
The tie held up through the rest of regulation, and after killing Oleksuk's overtime penalty, the Wolf Pack improved their shootout record to 4-0.
Hellberg stopped Leier on Lehigh Valley's first shot, and Jensen beat Stolarz with a one-handed shot past the goaltender's left side. Then, after Petr Straka shot the puck over the net on the Phantoms' second bid, Gibbons won the game with a move to the backhand.
"We're getting down to crunch time here, got 20-something games left," Oleksuk said. "All these points are extremely important, to keep this team behind us and catch up to the teams in front of us. These are important points, and we're just excited we got two of them here."
The Wolf Pack's next game is on home ice this Sunday, February 28, a 5:00 PM rematch with the Phantoms. Fans are encouraged to bring their skates to that game, as there will be a free postgame skate on the XL Center ice. Sunday games also feature the Wolf Pack's "Click It or Ticket Family Value Pack", which includes two tickets, two sodas and two hot dogs, all for just $35.
Tickets for all remaining 2015-16 Wolf Pack home games are on sale at the Agera Energy Ticket Office at the XL Center, on-line at www.hartfordwolfpack.com and by phone at (877) 522-8499.
To speak with a Wolf Pack representative about season or group tickets, or any of the Wolf Pack's many ticketing options, call (855) 762-6451, or click here to request more info.
Hartford Wolf Pack 3 (SO) at Lehigh Valley Phantoms 2
Friday, February 26, 2016 - PPL Center

Hartford 0 1 1 0 - 3
Lehigh Valley 1 0 1 0 - 2

1st Period-1, Lehigh Valley, Martel 19 (Drewiske, Palushaj), 18:45. Penalties-No Penalties

2nd Period-2, Hartford, Tarnasky 13 (McCarthy, O'Donnell), 5:23. Penalties-DeSimone Lv (slashing), 19:39.

3rd Period-3, Hartford, Oleksuk 7 (Bodie, Jensen), 1:28 (PP). 4, Lehigh Valley, McDonald 11 (Conner, Straka), 10:11 (PP). Penalties-Bourque Hfd (roughing, fighting), 9:06; Leier Lv (fighting), 9:06.

OT Period- No Scoring. Penalties-Oleksuk Hfd (double minor - high-sticking), 1:05.

Shootout - Hartford 2 (Jensen G, Gibbons G), Lehigh Valley 0 (Leier NG, Straka NG).
Shots on Goal-Hartford 9-16-11-2-1-39. Lehigh Valley 9-12-12-4-0-37.
Power Play Opportunities-Hartford 1 / 1; Lehigh Valley 1 / 3.
Goalies-Hartford, Hellberg 21-15-0 (37 shots-35 saves). Lehigh Valley, Stolarz 17-11-3 (38 shots-36 saves).
A-8,429
Referees-Peter MacDougall (57).
Linesmen-Matt McNulty (26), Jud Ritter (34).
Back to All