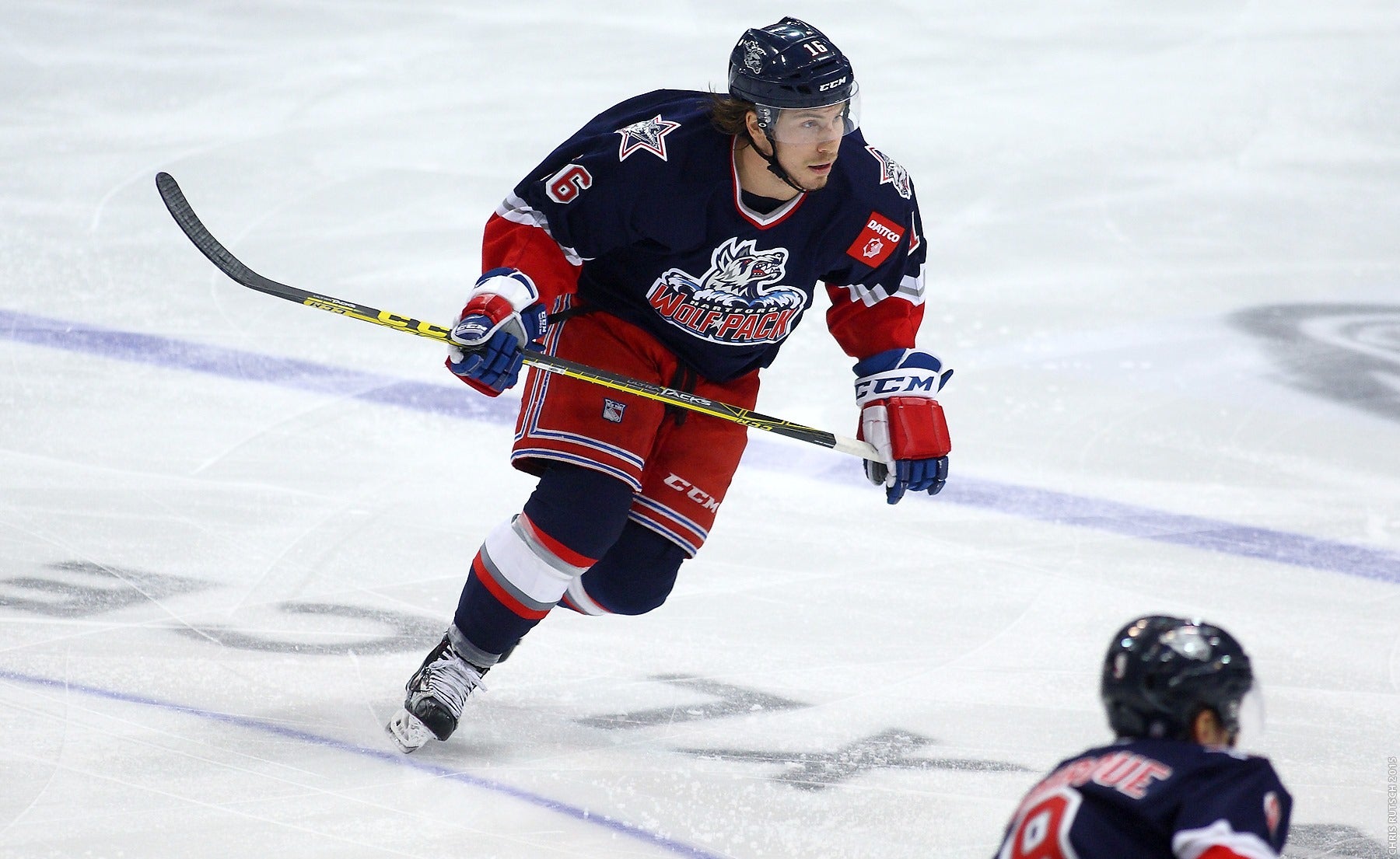 Pack Triumph in OT again
Jan 20, 2016
Chad Nehring scored with 32.6 seconds left in overtime Wednesday night at the Times Union Center in Albany, NY, to give the Wolf Pack their sixth straight win, a 3-2 victory over the Albany Devils.
On the winning play, Ryan Bourque shot the puck from the right side of the slot. His try was blocked, but the puck caromed right to Nehring on the left side, and he backhanded it into the net past Devil goaltender Scott Wedgewood.
"I think it was kind of a broken-down play," said Bourque, who also scored in the game. "I was lucky to turn up the wall and just tried to get a shot on net, and using my billiard skills to re-direct one off the shin pad, and [Nehring] made a great play to finish it off."
The Wolf Pack had let a 2-0 lead slip away earlier in the game, and were up against a Devil team that had won 11 straight home games.
"I think we just stuck with it," Bourque said. "It was a tight-checking game, that's what \ you're going to get when you come into this building and play against these guys. I think their record at home shows the tight checking and the kind of stingy team that they are. They're really hard to play against. We were able to force the overtime, and we've been able to have a little bit of success in overtime lately, so we felt pretty good going into that."
The victory was the second consecutive overtime win for the Wolf Pack, who downed the Providence Bruins 3-2 in extra time Monday in Providence.
After a scoreless first period, the two teams would split four goals in the second, and the Wolf Pack got the first two.
Nicklas Jensen gave Hartford the game's first lead only 31 seconds into the second, with his second goal in six games since joining the Wolf Pack. Tommy Hughes kept the puck in at the right point and Jensen ripped a shot from the faceoff dot that hit Devil defenseman Reece Scarlett's stick and got by Wedgewood (14 saves).
Bourque then would make it a 2-0 Wolf Pack advantage at 5:49, on a deflection of a Mat Bodie shot. Bodie fired from the middle of the blue line, and Bourque got a perfect tip on the puck from Wedgewood's left.
The Devils' Ben Thomson, though, would singlehandedly erase that lead with two goals in the final 4:06 of the period.
Thomson, who had only two goals in 34 games coming into the night, got Albany on the board at 15:54 with a backhanded swipe at a rebound that got by Wolf Pack netminder Magnus Hellberg (32 saves) on the stick side.
Thomson struck again to tie the score with 1:04 left in the second, blasting a shot from the left-wing circle and into the net on the short side.
The third period was scoreless, setting the stage for overtime and the Wolf Pack's third extra-time win in their last five games. The Wolf Pack are now over .500 for the first time since November 7, at 20-19-2-0 for 42 points.
The Wolf Pack finish a stretch of five straight road games this Saturday, January 23, with a 7:30 PM visit to Bridgeport to take on the Sound Tigers. All of the action can be heard live on News Radio 1410 WPOP, and on-line at www.newsradio1410.com and iHeartRadio. Video streaming is available at www.ahllive.com.
The next home game for the Wolf Pack is this Sunday, January 24, with the Portland Pirates visiting the XL Center for a 3:00 game. It being a Sunday, fans can take advantage of the Wolf Pack's "Click It or Ticket Family Value Pack", which includes two tickets, two sodas and two hot dogs, all for just $35.
Tickets for all 2015-16 Wolf Pack home games are on sale at the Agera Energy Ticket Office at the XL Center, on-line at www.hartfordwolfpack.com and by phone at (877) 522-8499.
To speak with a Wolf Pack representative about season or group tickets, or any of the Wolf Pack's many ticketing options, call (855) 762-6451, or click here to request more info.
Hartford Wolf Pack 3 (OT) at Albany Devils 2
Wednesday, January 20, 2016 - Times Union Center

Hartford 0 2 0 1 - 3
Albany 0 2 0 0 - 2

1st Period- No Scoring. Penalties-Mozik Alb (tripping), 16:42.

2nd Period-1, Hartford, Jensen 6 (Hughes, Hrivik), 0:31. 2, Hartford, Bourque 9 (Bodie, Combs), 5:49. 3, Albany, Thomson 3 (O'Brien, Kelly), 15:54. 4, Albany, Thomson 4 (McKelvie), 18:55. Penalties-Summers Hfd (tripping), 1:25; Wedgewood Alb (delay of game), 13:13.

3rd Period- No Scoring. Penalties-Adam Hfd (cross-checking), 1:43; Oleksuk Hfd (high-sticking), 17:28.

OT Period-5, Hartford, Nehring 13 (Bourque, Skjei), 4:27. Penalties-No Penalties

Shots on Goal-Hartford 5-3-4-5-17. Albany 12-9-12-1-34.
Power Play Opportunities-Hartford 0 / 2; Albany 0 / 3.
Goalies-Hartford, Hellberg 14-10-0 (34 shots-32 saves). Albany, Wedgewood 6-1-0 (17 shots-14 saves).
A-1,951
Referees-Michael Mullen (18), Andrew Thackaberry (4).
Linesmen-Francois Dussureault (60), Kory Nagy (14).
Back to All