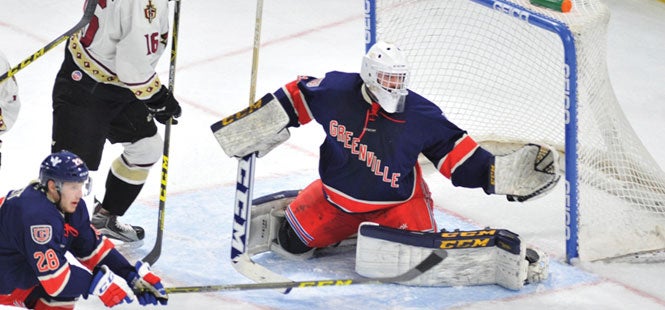 Pack Sign Goaltender Alain Valiquette to PTO
Apr 14, 2016
(Photo courtesy of echl.com)
Wolf Pack general manager Jim Schoenfeld announced today that the Wolf Pack has signed goaltender Alain Valiquette to a Professional Tryout (PTO) agreement.
Valiquette, a 6-3, 220-pound native of Sudbury, Ontario, started this season at Laurentian University (OUAA), compiling a 7-14-0 record in 22 games, with a goals-against average of 3.02 and a 91.1% save percentage.
Following the completion of his University career, the 25-year-old Valiquette joined the Elmira Jackals of the ECHL. He got into two games with Elmira, totaling 96 minutes of action, and went 1-0-0 with five goals-against on 57 shots. Valiquette was acquired by the Wolf Pack's ECHL affiliate, the Greenville Swamp Rabbits, from the Jackals March 4, and he saw nine games of action in the Greenville net. Valiquette was 4-5-0 in those nine contests, with a 3.80 GAA and an 89.6% save percentage.
In four years of OUAA action with Laurentian and the University of Western Ontario, Valiquette amassed a career record of 25-37-0, with a 3.29 GAA, 90.5% save percentage and one shutout. Prior to his University tenure, Valiquette played 142 Ontario Hockey League games over five seasons with the Sudbury Wolves. He was 50-67-6 in his OHL career, with a 3.94 GAA, an 89.3% save percentage and four shutouts.
The Wolf Pack are in St. John's, Newfoundland for their last two games of the regular season Friday and Saturday nights. Friday's game faces off at 6:00 PM Eastern time, and all of the action can be heard live on-line at www.979espn.com and on iHeartRadio. Video streaming is available at www.ahllive.com.
To speak with a Wolf Pack representative about season or group tickets, or any of the Wolf Pack's many ticketing options, call (855) 762-6451.
Back to All