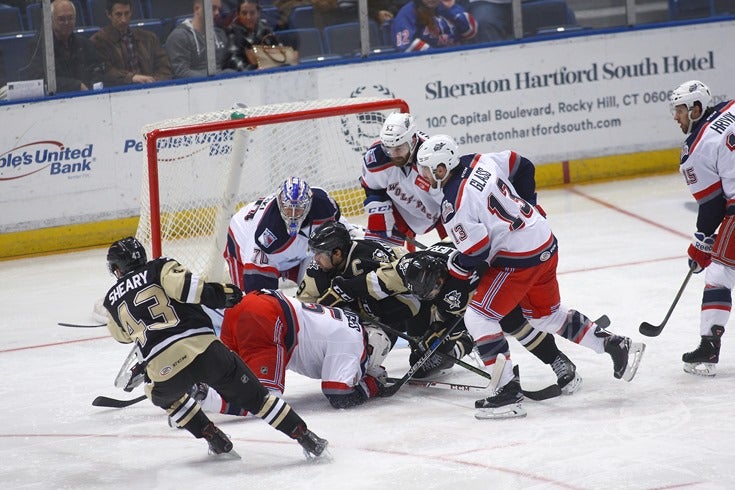 Pack Drop a Wild One to Wilkes-Barre/Scranton
Nov 15, 2015
The Wolf Pack broke out to a 5-1 first period lead over the AHL-leading Wilkes-Barre/Scranton Penguins Sunday at the XL Center, only to give up five goals in the second period in what would turn out to be a 7-6 overtime loss.
Scott Wilson's second goal of the game won it for Wilkes-Barre/Scranton 34 seconds into overtime, after former Penguin Jayson Megna had scored with 1:09 remaining in regulation to tie the contest at six. The Wolf Pack are now 0-6-1-0 in their last seven games, but snapped a franchise-record streak of six straight regulation defeats.
Ryan Bourque had two goals for the Wolf Pack, and Chad Nehring added a goal and two assists. Kevin Porter also scored twice for the Penguins, who also got four assists from Conor Sheary.
"There was some good things that happened tonight," Wolf Pack coach Ken Gernander said, "but it gets a little bit lost right now. But I guess that's where we start next week."
The Pack started out strong in the first with a quick goal by Marek Hrivik at 1:44, off a turnover forced by teammate Brady Skjei, followed by another goal by Hartford's Nick Tarnasky at 2:44, off an assist from Tyler Brown.
Following the two quick goals, a heated brawl broke out between Tarnasky and the Penguins' Tyler Biggs at 2:45, resulting in seven minutes in penalties for both.
The Wolf Pack scored its third goal of the first period at 9:51, a tap-in for Bourque with assists by Chad Nehring and Travis Oleksuk.
Wilkes-Barre/Scranton found their answer at 10:45, with a goal from captain Tom Kostopolous, assisted by Dominik Uher and Oskar Sundqvist, bringing the score to 3-1.
At 15:02, Bourque scored his second goal of the night, and his fourth of the season, with a one-timer on a high flying puck, increasing the Pack's lead to three.
In the second period, Wilkes-Barre/Scranton brought out replacement goalie Tristan Jarry, pulling a Matt Murray after five goals-against on 14 shots. The Penguins started the new period fresh, with Kael Mouillierat scoring a goal at 1:58.
At 10:53, Hartford's Petr Zamorsky was called for interference, giving the Penguins a power play. They quickly converted it into a goal, with Derrick Pouliot firing one in from the blue line, through a Kostopoulos screen.
At 12:26, The Wolf Pack had a power play opportunity following a high-sticking penalty on Wilkes-Barre/Scranton's Steve Olesky. Tt was The Penguins who capitalized, however, getting a shorthanded goal at 13:34 off a breakaway by Kevin Porter.
After Wolf Pack starting goaltender Mackenzie Skapski stopped a Carter Rowney penalty shot at 14:21,
Wilson tied the game at five at the 15:03 mark, on a wraparound to Skapski's left.
Gernander said about the difference between the first and second periods, "That's what we stressed before the game, managing the puck and not turning it over, making them play a 200-foot game. We were pretty effective that way in the first period, and in the second period we had some turn-overs."
With just under two minutes to go in the second, Porter scored his second of the period unassisted, after breaking up a Skapski pass attempt, giving the Penguins their first lead of the game.
The third period started with Magnus Hellberg taking Skapski's place in the Hartford net. Hellberg held the Penguins off the scoresheet in the third, and with the teams skating four-on-four, Megna took a pass from fellow former Penguin Brian Gibbons and beat Jarry at 18:51 to send the game to overtime.
A Chris Summers hooking penalty carried over into the extra frame, though, and just as Summers was stepping out of the penalty box, Wilson camped out in front of Hellberg and rapped in the rebound of a Sheary shot, giving Wilkes-Barre/Scranton its 11th straight win.
Gernander said of the Wolf Pack's quest to get out of its current funk, "It's an ongoing process… We're constantly trying to change things, put pieces in place. But it's an ongoing thing each season."
The Wolf Pack are now off until this Friday night, November 20, when they travel to Utica to take on the Comets. Faceoff is 7:00 PM, and and all of the action can be heard live on News Radio 1410 WPOP, and on-line at www.newsradio1410.com and iHeartRadio. Video streaming is available at www.ahllive.com.
The next home game for the Wolf Pack is this Saturday night, November 20, a 7:00 contest vs. the Lehigh Valley Phantoms. The first 2,000 fans into the XL Center will receive a free, full-color Wolf Pack calendar, presented by Gaylord Specialty Healthcare. There will also be a Thanksgiving food drive at that game, and at the Pack's home game the next day, Sunday, November 22 vs. Utica. Any fan who donates five or more non-perishable food items will receive a buy-one-get-one-free voucher redeemable for any 2015-16 Wolf Pack home game.
Tickets for all 2015-16 Wolf Pack home games are on sale at the Agera Energy Ticket Office at the XL Center, on-line at www.hartfordwolfpack.com and by phone at (877) 522-8499.
To speak with a Wolf Pack representative about season or group tickets, or any of the Wolf Pack's many ticketing options, call (855) 762-6451, or click here to request more info.
Wilkes-Barre/Scranton Penguins 7 (OT) at Hartford Wolf Pack 6
Sunday, November 15, 2015 - XL Center

W-B/Scranton 1 5 0 1 - 7
Hartford 5 0 1 0 - 6

1st Period-1, Hartford, Hrivik 2 (Skjei), 1:39. 2, Hartford, Tarnasky 4 (Brown, Summers), 2:44. 3, Hartford, Bourque 3 (Oleksuk, Nehring), 9:51. 4, W-B/Scranton, Kostopoulos 4 (Uher, Sundqvist), 10:45. 5, Hartford, Bourque 4 (Summers, Nehring), 15:02. 6, Hartford, Nehring 4 (Brown, Graves), 19:32. Penalties-Biggs Wbs (unsportsmanlike conduct, fighting), 2:44; Tarnasky Hfd (unsportsmanlike conduct, fighting), 2:44; Adam Hfd (slashing), 5:00; Oleksy Wbs (hooking), 17:00; Graves Hfd (interference), 19:49.

2nd Period-7, W-B/Scranton, Mouillierat 4 (Kostopoulos, Sheary), 1:58. 8, W-B/Scranton, Pouliot 3 (Sheary, Wilson), 11:10 (PP). 9, W-B/Scranton, Porter 1 (Kuhnhackl), 13:34 (SH). 10, W-B/Scranton, Wilson 8 (Sheary, O'Neill), 15:03. 11, W-B/Scranton, Porter 2 18:04. Penalties-Pouliot Wbs (boarding), 6:08; Adam Hfd (roughing), 6:08; Zamorsky Hfd (interference), 10:53; Oleksy Wbs (high-sticking), 12:26.

3rd Period-12, Hartford, Megna 3 (Gibbons, Adam), 18:51. Penalties-Nehring Hfd (slashing), 9:22; Erixon Wbs (cross-checking), 16:52; Summers Hfd (hooking), 18:34.

OT Period-13, W-B/Scranton, Wilson 9 (Sheary, Dea), 0:34. Penalties-No Penalties

Shots on Goal-W-B/Scranton 7-21-6-3-37. Hartford 14-6-10-0-30.
Power Play Opportunities-W-B/Scranton 1 / 5; Hartford 0 / 3.
Goalies-W-B/Scranton, Murray 8-1-0 (14 shots-9 saves); Jarry 4-0-0 (16 shots-15 saves). Hartford, Skapski 0-1-0 (28 shots-22 saves); Hellberg 5-6-0 (9 shots-8 saves).
A-2,969
Referees-Michael Mullen (18), Olivier Gouin (66).
Linesmen-Mike Baker (11), Paul Simeon (66).
Back to All