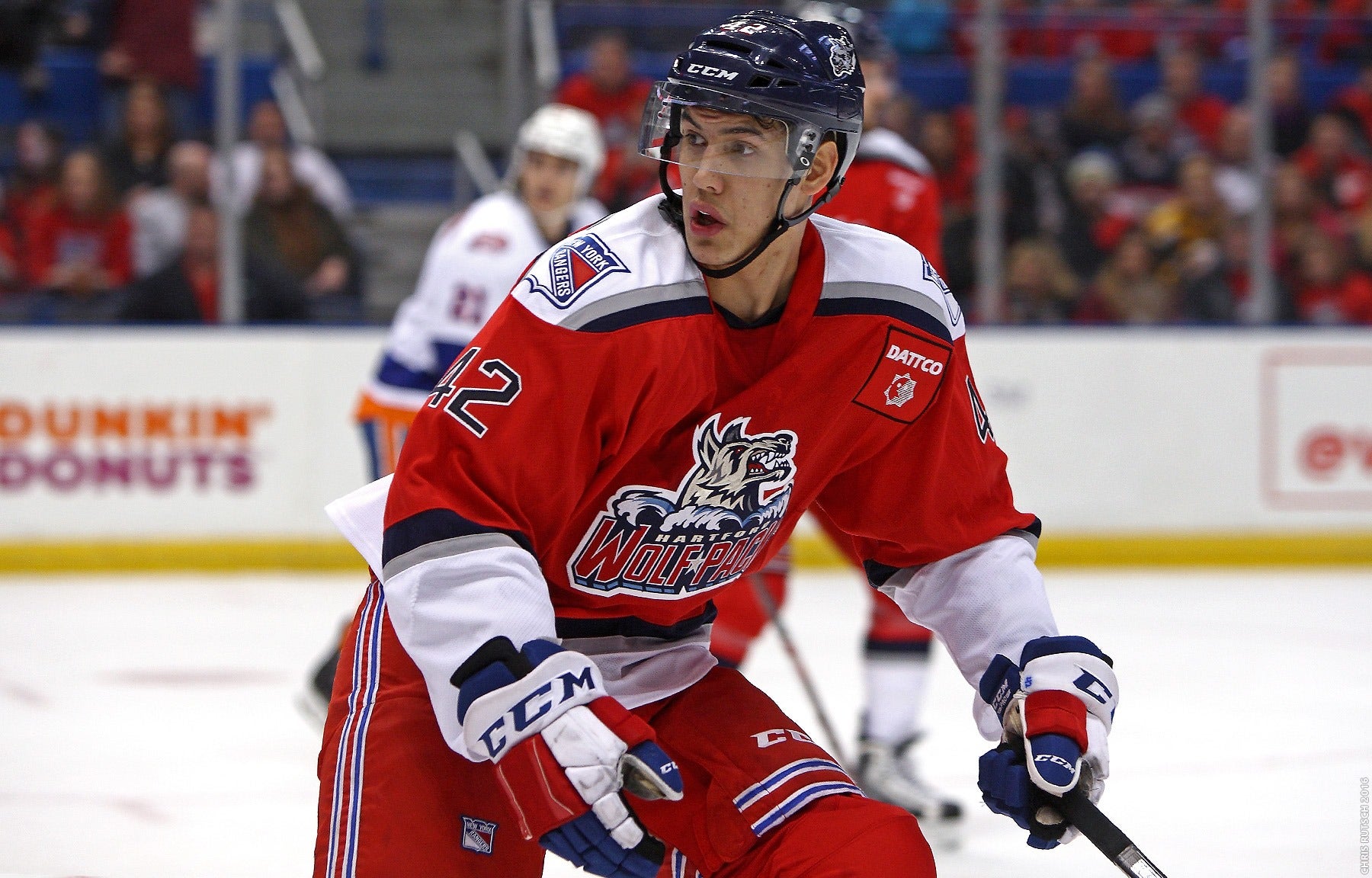 Nicholls Strives for Full-time AHL Duty
Jan 14, 2016
By Bob Crawford
When winger Josh Nicholls was reassigned to the Hartford Wolf Pack from its ECHL affiliate, the Greenville Swamp Rabbits, December 27, it was his fifth separate AHL recall in his two-plus pro seasons, since his free-agent signing with the New York Rangers organization March 5, 2013.
Never previously, though, had he managed to stick with the Wolf Pack for more than five games, or chip in more than one AHL assist.
This time around, Nicholls has already suited up for seven Wolf Pack games, and has three points in the last three, including his first career AHL goal, and first multiple-point game, this past Sunday against Albany.
When asked what has made the difference in his latest Wolf Pack incarnation, the 23-year-old Nicholls replied, "I think definitely third year around, you're more comfortable with the situation and know what's coming. Just finding chemistry with linemates is huge in getting those short stints, and with Mac (Chris McCarthy) and Tarns (Nick Tarnasky), we've found something that's been pretty good here the last little bit. I'm taking it day by day and just trying to give my most to this team."
Nicholls has been a big point producer at every other level he has played. He was the Swamp Rabbits' second-leading scorer at the time of his getting the call from the Wolf Pack, and had 111 goals and 240 points in 198 games in his last three Junior seasons with the Saskatoon Blades of the Western Hockey League. Despite his recent offensive uptick in the AHL, though, Nicholls' success is hardly all about production, according to Wolf Pack coach Ken Gernander.
"I think he's doing some of the little things away from the puck a little bit better, getting his nose in there and competing a bit more," Gernander said of Nicholls. "Certainly we can continue to grow in that area, but he has shown progress. And the fact that he can chip in a goal and he's a good skater, can use that speed, are certainly two elements that help him as far as being able to participate here."
Nicholls agrees with Gernander's assessment, and is grateful that he, and the entire Ranger hockey staff, have given Nicholls ample tutelage about improving in his attention to those "little things", which, of course, are really big things when one is looking to move up the ladder in pro hockey.
"I think that's the biggest blessing that's come out of the situation here with the Rangers organization, it's kind of completed my game out," Nicholls said. "Every year I've come back and they've said, 'keep working on this, and this,' and over two years of telling me to work on different parts of my game, you start to round it out and complete your game. I'm pretty happy with where my game's come over the three years here, and I'm just looking to make the most of this opportunity and keep doing those little things."
Nicholls has absorbed the message, too, about competing harder, and he acknowledges that intangible becomes ever more important the higher a player rises in the game.
"With my game, over my whole career, that's been the biggest thing, the biggest knock, has been the compete (level)," Nicholls said. "It doesn't look like it's there all the time, but I think coming from the ECHL to here, you've got to be competing every shift if you want to have any success, or you'll get exposed. So I think it's been huge to come here and round out my game a bit and see that success for a bit."
A significant contributing factor to that success has been playing the last three games with McCarthy as his centerman and the 12th-year pro Tarnasky on the left side, Nicholls being the most recent forward to find success on the Wolf Pack's fourth line, a unit that has been a consistent strength for the team throughout the season.
It turns out, too, that threesome has some history to it.
"I think, honestly, a big part of that chemistry was last year 'black-acing' during playoffs," Nicholls said with a chuckle. "We played three-on-three (after practice), and we were always out there doing little skill stuff and just playing with each other. So I think when that line was put together, it was kind of an instant laugh, at the three-on-three games last spring. I think that's the start that made it an easy transition for all of us, and once one goal gets in the first game, you're feeling confidence with each other, and I think that's all it's been.
"We know our role and know we've got to create energy in the time that we have on the ice, and do positive things out there. It puts an onus on every shift to be as good as we can, and we've had some success and we're looking forward to keeping that."
Knowing his role is important to a guy like Nicholls, who goes from being a featured offensive player in Greenville's lineup to the Wolf Pack's fourth line, much like the challenges faced when a top-six forward in the AHL is called up to the NHL, and finds his job description much different.
That can also be a plus, however, Nicholls asserts.
"Obviously you go from playing 20 minutes (per game) as a forward to around 10 to 12," he said. "But at the same time, I think you've got tons of energy when you're playing here and you put a little less pressure on yourself, and you kind of simplify the game."
There is indeed beauty in simplicity when you are looking to prove that you can be a good two-way player, and Nicholls has no illusions about what will be most important to extending his stay on the Wolf Pack roster.
"Just being good in my own zone, you don't want to hurt the team at all, and just creating that energy and chipping in when I can," is how the Richmond, B.C. native characterized it. "I've been known to score goals and create offense, so I'm going to try and showcase that as much as I can while I'm here, and at the same time, keeping a strong defensive game and just rounding out my game."
Of course, a well-rounded game includes offensive contributions, and that end of the ice presents bigger challenges at higher levels as well.
"You don't get as many (offensive) chances, especially in this league, as you do in [the ECHL], so it's just making the most of those chances when you do get them," Nicholls said. "My first couple games I had some good chances and missed them, but after seeing that first one go in last game, I think I kind of opened the door to all those goals kind of going in and getting that feeling. It's been a good learning experience for me, and hopefully that success can come."
An important part of that learning experience has taken Nicholls back to that time-honored maxim of "taking one day at a time".
"I think in the past I kind of looked at the bigger picture too much and was focused on other things that I couldn't control," he analyzed. "And I think this year I just came in knowing the situation I was in, and especially getting called up now and seeing some spots open just because of injury, I just felt, might as well take it game by game, and take those opportunities and make the most of them."
Back to All