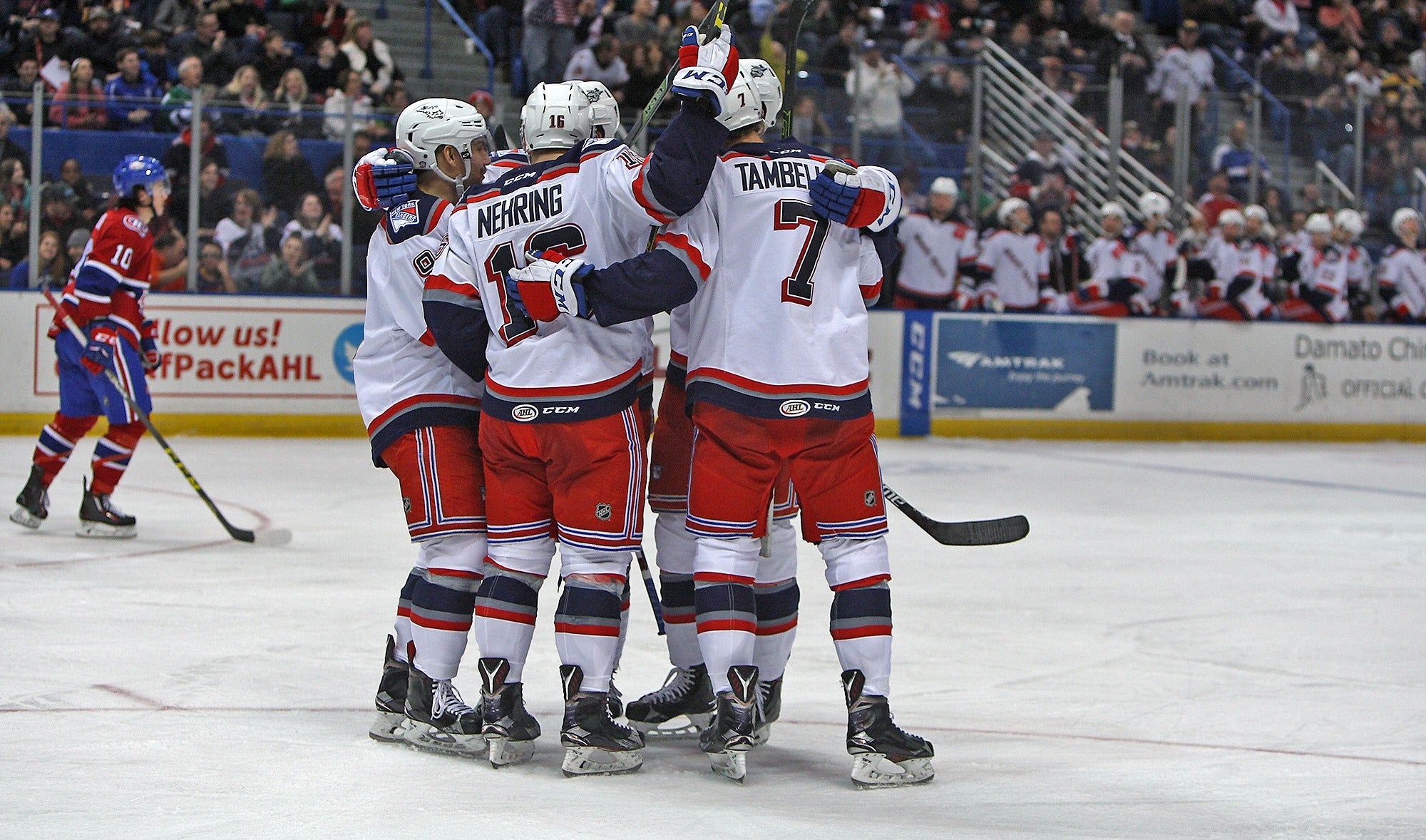 Nehring's two Goals Help Pack Rebound
Jan 30, 2016
By Chuck Packard
Chad Nehring scored twice, and Ryan Bourque had a pair of assists Saturday night at the XL Center, to lead the Wolf Pack to a 4-1 win over the St. John's IceCaps, in both teams' last game before the AHL All-Star break.
The Wolf Pack go into the break winners of nine of their last ten games.
Ryan Graves and Nick Tarnasky also scored for Hartford in Saturday's win, in front of a season-high crowd of 9,544. Jeff Malcolm made 21 saves. Charles Hudon scored the lone St. John's goal, and Zach Fucale stopped 22 shots.
Wolf Pack forward Adam Tambellini said, "We've been on a really good run as of late, nine of the last ten. To keep that confidence high over the break, come back and keep the same momentum going is important."
Graves got the game started with a goal from the left point just 5:40 in, putting the Wolf Pack up 1-0, his fifth goal of the season. He was assisted by Brian Gibbons and Travis Oleksuk.
Both teams' penalty kill units got a chance to stretch their legs in the first, but neither team was able to capitalize on the man advantage. The Wolf Pack's Tommy Hughes was called for interference at 13:28, and the Ice Caps' Joel Hanley was called for delay of game at 16:07.
The second period was penalty ridden, initiated by a Hughes holding call at the 19-second mark, and soon after the IceCaps' Josiah Didier was called for boarding. Off-setting majors for fighting were dished out to Didier and Tarnasky at 10:13.
The eventual game winner was scored by Nehring, his 14th of the season, at 12:48, assisted by Raphael Diaz and Bourque.
"When you win, you see what causes success and it's just a matter of being able to play with that pride of what you did last night or the night before, and knowing what works," said Nick Tarnasky on the Wolf Pack's recent streak.
After the goal, the penalties continued. Hartford's Chris Summers was called for elbowing at 14:28, and the Ice Caps' Michael McCarron was called for back to back penalties, first for crosschecking and then for unsportsmanlike conduct.
With a 55.2 seconds left in the period Nehring scored his second goal of the night, this one while the Wolf Pack was on a power play. He was assisted by Tambellini and Bourque.
Sixty-two seconds into the third the Ice Caps stuck back, with Hudon scoring on the breakaway, after being fed a lead pass by Gabriel Dumont.
The Wolf Pack regained their three-goal lead with a goal from Tarnasky, assisted by Chris McCarthy and Mat Bodie, at 13:00. The goal was Tarnasky's 10th of the season came on a 3-on-1 break, just after Tarnasky got out of the penalty box.
The victory was a strong bounce-back for the Wolf Pack from a 4-1 defeat the night before to the Bridgeport Sound Tigers. That home loss snapped an eight-game Hartford winning streak, the second-longest in team history.
"You're going to have games that are downers like that," said Bourque. "It's just important that you bounce back. That's the foundation to every good team, and we were really happy with our performance tonight."
The Wolf Pack's first action after the All-Star break is this Friday, February 5, as they travel to Portland, ME to take on the Portland Pirates in a 7:00 PM game. All of the action can be heard live on News Radio 1410 WPOP, and on-line at www.newsradio1410.com and iHeartRadio. Video streaming is available at www.ahllive.com.
The next home game for the Wolf Pack is Friday, February 12, with the Wilkes-Barre/Scranton Penguins visiting the XL Center for a 7:15 PM game. At all Friday-night Wolf Pack home games, fans can enjoy $1 hot dogs and $2 beers, through the start of the second period.
Tickets for all remaining 2015-16 Wolf Pack home games are on sale at the Agera Energy Ticket Office at the XL Center, on-line at www.hartfordwolfpack.com and by phone at (877) 522-8499.
To speak with a Wolf Pack representative about season or group tickets, or any of the Wolf Pack's many ticketing options, call (855) 762-6451, or click here to request more info.
St. John's IceCaps 1 at Hartford Wolf Pack 4
Saturday, January 30, 2016 - XL Center

St. John's 0 0 1 - 1
Hartford 1 2 1 - 4

1st Period-1, Hartford, Graves 5 (Gibbons, Oleksuk), 5:40. Penalties-Hughes Hfd (interference), 13:28; Hanley Stj (delay of game), 16:07.

2nd Period-2, Hartford, Nehring 14 (Diaz, Bourque), 12:48. 3, Hartford, Nehring 15 (Tambellini, Bourque), 19:04 (PP). Penalties-Hughes Hfd (holding), 0:19; Didier Stj (boarding), 3:38; Didier Stj (fighting), 10:13; Tarnasky Hfd (fighting), 10:13; Summers Hfd (elbowing), 14:28; McCarron Stj (cross-checking), 15:35; McCarron Stj (unsportsmanlike conduct), 18:04.

3rd Period-4, St. John's, Hudon 14 (Dumont), 1:02. 5, Hartford, Tarnasky 10 (McCarthy, Bodie), 13:00. Penalties-Tarnasky Hfd (boarding), 10:38.

Shots on Goal-St. John's 8-7-7-22. Hartford 8-12-6-26.
Power Play Opportunities-St. John's 0 / 4; Hartford 1 / 4.
Goalies-St. John's, Fucale 10-10-1 (26 shots-22 saves). Hartford, Malcolm 5-3-0 (22 shots-21 saves).
A-9,544
Referees-Geno Binda (22).
Linesmen-Nicholas Briganti (58), Paul Simeon (66).
Back to All