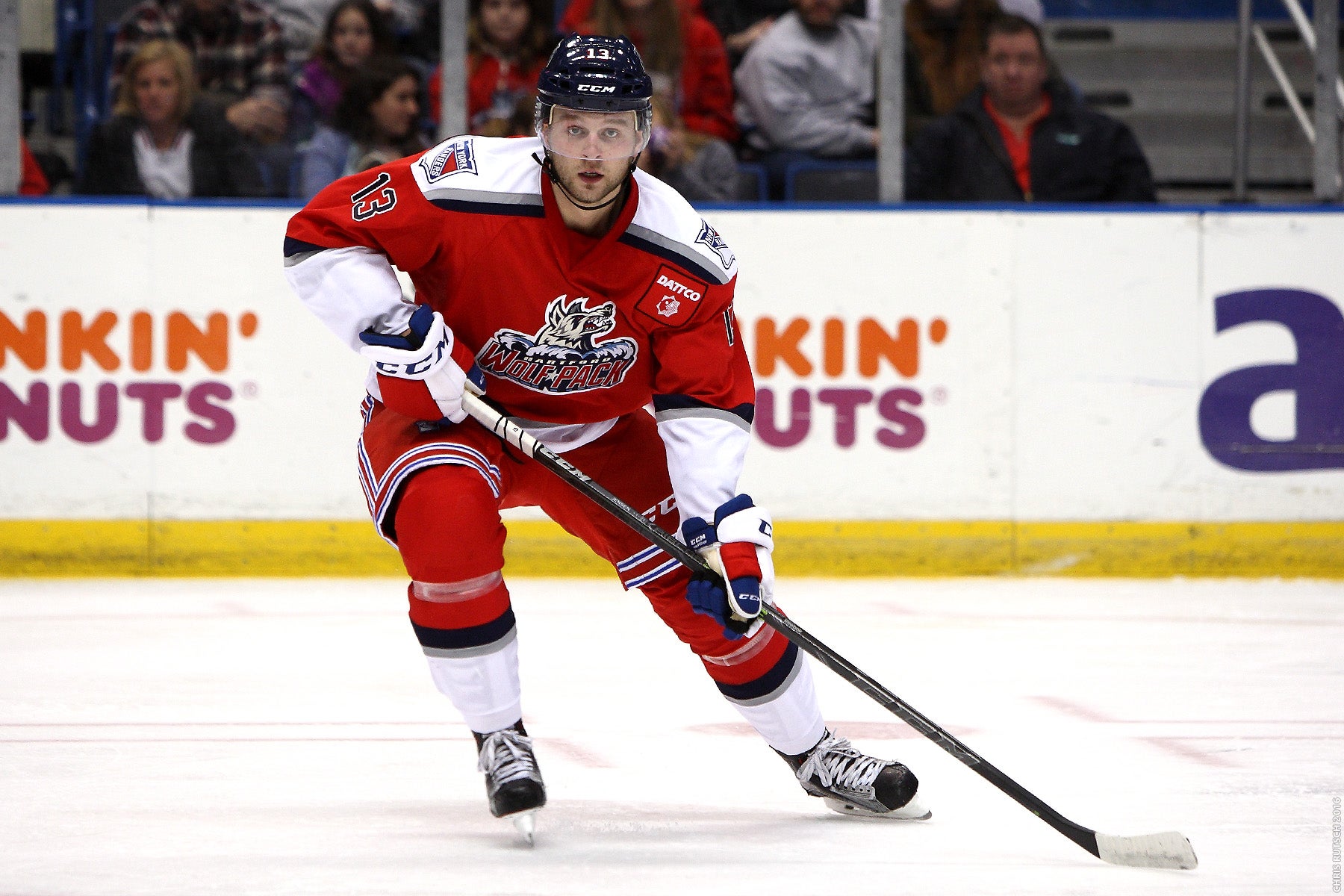 Jensen has Helped Pack Get on Track
Jan 26, 2016
By Bob Crawford
When winger Nicklas Jensen joined the Wolf Pack lineup January 9, after his trade acquisition the day before by the parent New York Rangers from the Vancouver Canucks organization, the Wolf Pack was five games below .500 and in last place in the Atlantic Division, and had lost three straight games.
Jensen's debut that night, a 5-4 victory over the Bridgeport Sound Tigers at the XL Center, started a seven-game Wolf Pack winning streak, the club's longest in nearly two years, a run that has lifted the Pack into fifth place in the Atlantic and to within three points of a playoff spot.
"I won't say it's singlehandedly, it's a team effort for sure," said Jensen with a smile Tuesday, when asked about the tonic his presence has been to the Wolf Pack's record. "The guys in there (the Wolf Pack locker room) have been great, and the staff and everybody around the team has been great to me, and it's been a very easy transfer. We've been on a roll here, so hopefully we can keep it up."
As to what he feels he has added to the Wolf Pack team in the seven consecutive wins, Jensen said, "I've just tried to play my game as I know I can, try to produce offensively and be good all around the ice and in my own zone too, be good defensively and try to give our team a couple of goals. And so far it's been working, but the whole team has been playing great since I've been here. So it's been fun so far, and it looks like we have a good future here."
Wolf Pack head coach Ken Gernander had this to say about Jensen's contributions, "I think he's brought a lot of depth, and he's pretty proficient in just about all areas of the game. So he's a pretty good complement. Right now he's been playing with (Marek) Hrivik since he got here, and they've been a pretty good tandem, and (Jack) Combs has played well alongside them. It's been a strong line for us.
"I think they're pretty sound in all areas, I think they have a pretty good understanding of the game. So they can read off of one another, or kind of anticipate and work together very well."
The left-handed-shooting Jensen, a 22-year-old native of Herning, Denmark, feels that his role on the right flank of the Slovakian-born Hrivik clicked right from the start.
"He's a great player, a hard worker, and has got some good skill, so he's an easy guy to come in and play with," Jensen said of his centerman. "And Combs, the last couple of games we've had the chance to play together, he's new (to the Wolf Pack) too. It's just been one of those things where it clicks right away and you kind of find each other. Sometimes it takes some time, and sometimes it happens right away. We had [Tyler Brown] for our first game, before he got hurt for one game, and it clicked too, and we had (Matt) Lindblad and that worked too. So far it's been working, whoever we've gotten there on the wing, and Combs right now is on our wing and it's been great. We enjoy playing with each other."
"I think our line has good chemistry," Hrivik agreed. "We hold on to pucks, usually, down low, make plays, and it's been paying off so far.
"It's good when you play with the smart guys, that hold on to the pucks and try to make plays. Obviously, he's European too and we were trying to make plays out there. It's a good thing, and he's got that scoring touch, I try and set him up a little bit. So that's kind of working for both of us."
The 6-3, 202-pound Jensen has the size to be a force on the forecheck, and Hrivik has been impressed by how well his big linemate gets around the rink.
"That's what this league is about, you have to have speed in order to be successful," Hrivik said. "We can both use it and get to those pucks first and make plays. That's the key, have speed and make plays while you are using that speed."
Jensen and Hrivik are both European natives who came over to North America to play Canadian Junior hockey, Jensen with the Oshawa of the Ontario Hockey League and Hrivik with the Moncton Wildcats of the Quebec League. According to Jensen, that helped his assimilation into the Wolf Pack group somewhat.
"Normally it's more Scandinavian, like Sweden, Denmark and Norway, we kind of speak the same language," he said. "But I do think when you go in the dressing room and it's all new faces, coming in as a European too, you look for the other Europeans. You kind of have the same background, coming from far away from home and everything. But I don't think that has anything to do with it. I think it's just he's (Hrivik) a great hockey player and easy to play with."
Jensen was a first-round pick by the Canucks, chosen 29th overall in 2011, and had gotten into 24 NHL games in his first four pro years. He had plenty of good times in the Vancouver organization and was not expecting to get traded, but was not completely blindsided by the deal either.
"Obviously it's (being traded) nothing you walk around and expect that it could happen all the time," Jensen said. "I knew there was rumors about it, but it was definitely not something I saw coming right there. Especially, we're (the Canucks' Utica AHL affiliate) on the road, it happened so quick. I knew it could happen, everybody kind of knows that, but it came a little bit as a surprise when it happened. But right now I'm happy to be part of the Rangers organization, this is a great opportunity for me and I'm so excited to be here."
Most of Jensen's time as Canuck property had been spent with Utica, and he and the Comets had a tremendous season last year, finishing with a Western Conference-best 103 points and advancing all the way to the Calder Cup Finals, where they eventually fell in five games to the Manchester Monarchs. Having enjoyed that kind of success with Utica made it difficult for Jensen to leave.
"I've been there for two-and-a-half years, have some of my best buddies there and great, great friends," Jensen said. "Every single team we've had there has been great, and the staff, the coaching, and the whole organization treated me really well. So obviously when I heard it my heart dropped right away, just thinking about the friendships and everything you had to leave. The hockey was obviously going to be the same coming here, it's still the same sport, but you lose seeing a lot of good friends every day and that was probably the hardest part. But the group here is great, and already now I've been here for two weeks, and it's a great group of guys and friendships build quick here, and I'm very happy about being here too."
Jensen is part of a growing crop of Danish hockey products who are raising their country's profile higher and higher on the international hockey scene. Denmark has traditionally taken a back seat to the likes of Sweden and Finland when it comes to producing Scandinavian hockey talent, but Jensen sees his home country as being a definite up-and-comer.
"I think it's getting better," he said. "We have a lot of good imports in the league too, so the Danish pro league is still pretty competitive. And a lot of young guys, you saw even the World Juniors this year, all the young guys did so well in that tournament, went the quarterfinals, almost beat Russia, which is amazing for us, we almost couldn't believe that that happened. So for sure, the last five, ten years the hockey's really developed, and I think it comes from just support of the sport now.
"It's gotten more popular and more kids grow up playing hockey, compared to everybody used to play soccer all the time. It's still like that, but more and more people want to try hockey out, and I think it's also because you see Frans Nielsen, Mikkel Boedker, Lars Eller, all those guys, we have Frederik Andersen in the NHL right now, and Nikolaj Ehlers. There's more and more that you see on TV back home, small kids want to play it now too, and the coaching and everything's gotten better. It's developing, for sure, in the right direction and hopefully it'll keep that way. It's a small country and we don't have the amount of money to put into hockey like they have over here, but for sure it's going in the right direction."
As a small nation, and thus an underdog in the European hockey world, Jensen's home country takes intense pride in its hockey achievements, such as that good run by the Danish squad in this year's World Junior Championships.
"Going into a tournament like that, we know for sure we don't have the biggest chances of winning it or going far," Jensen said. "So even just avoiding the relegation, too, is a big thing for us. But this year was pretty amazing, going to the quarterfinals. My dad was assistant coach of the team, and even my younger brother played on the team, and I was trying to watch every game I could over here. We stayed after practice, pretty much our whole team, when I played in Utica, and watched the Russia-Denmark game. And everybody was cheering for Denmark, so it was a pretty cool experience."
Jensen's achievement of being selected in the first round of the NHL draft was another boon for Danish hockey progress, and an unforgettable delight for Jensen and those close to him.
"Just getting drafted, I think, was special, and obviously going in the first round was unique," he mused. "I had my family there, my mom, my dad and my brother and my one uncle, and it was a special moment. It was something I'll never forget. It's something you dream about when you're a little kid, and when it happens it's pretty special and it's definitely something I'll always remember."
For anyone who watches Jensen play the game over a period of time, it's definitely clear what attracted NHL scouts to him. In addition to his size and speed, he thrives on the bumping and grinding in the hard areas of the rink, and he plays the kind of straight-line, "north-south" game that is the North American prototype
"That's something I always wanted to have in my game," Jensen said. "We go from Europe and play different hockey, and come over here you've got to adapt. I've played Juniors over here, it's not my first year, I've played a lot of years over here now, and you come over here for a reason. You want to keep some of the things you learn in Europe to bring into this game, but in the end it's still North American hockey over here, and you've got to adapt. So I try to play big, physical and use my size in front of the net and get those greasy little goals, but also try to use my skill."
That skill seems particularly suited to playing the off-wing, where Jensen can come down the ice with his stick blade toward the middle and fire hard shots off his front foot. That is reminiscent of one of the calling cards of a certain other guy who played in the Ranger organization, another big, fast, left-shooting forward who enjoyed a certain measure of success, although Jensen rejects the notion that he could be mentioned in the same breath with the guy who used to light up Madison Square Garden in a #11 jersey.
"I won't compare myself to Mark Messier," Jensen humbly stated. "He's a Hall of Famer, he's a legend, he was unbelievable to watch play. So I don't even want my name compared to his. But it's true, you grow up and you look at YouTube, you look at games and you always look at the biggest names. Those are the things when you grow up as a little kid, when you go on the ice before everybody, or by yourself, you try to do those things that the big guys do. And sometimes you bring stuff like that with you, and that's what you learn from too.
"I do like playing my off-wing, and I've played it my last five years almost, so I guess that's where I'm most comfortable now. Offensively I like using it, you can protect it (the puck) a little bit easier, but then again, if the coach wants me on the left side, I'll happily play on the left side. I've done that a lot of times before, and the last couple of years I've been on the left side a couple of times too. It's not too big of a difference."
Wherever Jensen has played throughout his pro career, he has given his team quality minutes, but has never been a big point producer. According to his new coach, however, it would be a mistake to assume that Jensen will never be a dynamic offensive threat.
"Sometimes, maybe not necessarily in his case, but you see kids coming out of Junior or coming out of college with big offensive numbers, and it's kind of the last part of their game to come around," Gernander analyzed. "I think you have to do a little bit more, as you move up in level, to create offense. You can't always necessarily prey on mistakes by your opponent. So maybe he's going to be a late bloomer in that regard, but you see him when he does get opportunity, he's pretty poised with the puck and has a bit of a nose for the net and knows how to finish plays. So I think it's something that's well within him to kind of maximize."
If his first couple of weeks in a Wolf Pack uniform are any indication, Jensen is well on his way to maximizing his pro skill package, and the Pack's recent success with him in the lineup may only be the tip of the iceberg as far as what he can contribute, at the AHL level and beyond.
Back to All