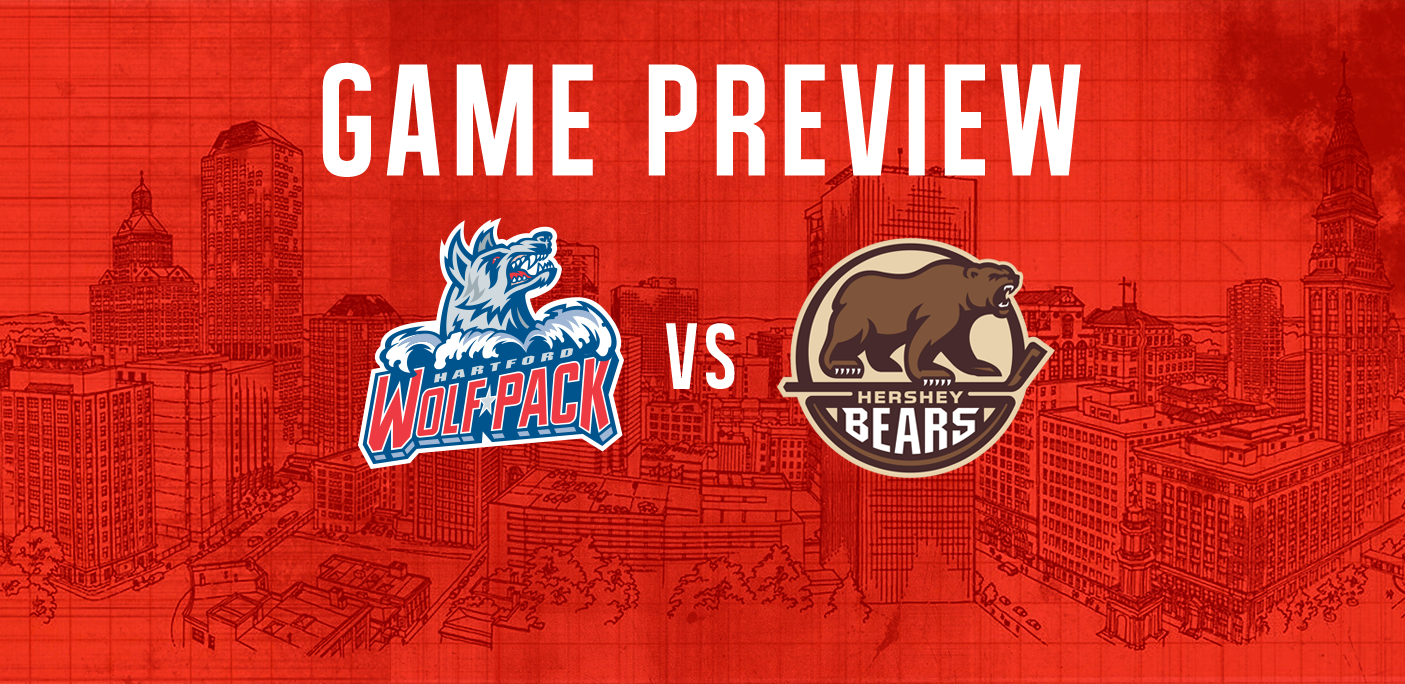 Game Preview
Feb 23, 2018
Game Day Info:
Hartford Wolf Pack vs. Hershey Bears
Puck Drop: Friday, February 23 at 7:15 p.m.
Game Preview:
The Wolf Pack won their last meeting with the Bears, 5-2, February 10 in Hershey, after losses in the first two matchups, including a 4-1 setback in Hershey's only previous trip to the XL Center November 25.
After a 5-2 win Monday afternoon at league-leading Toronto, Hershey has won four straight, following a 1-9-2-1 drought in its previous 13 games. At 22-25-3-4 for 51 points and a .472 points percentage, the seventh-place Bears are six points behind the sixth-place Wolf Pack in the Atlantic Division.
Last Time Out:
The Wolf Pack are coming off a 4-0 loss to the Bridgeport Sound Tigers last Sunday, however, the club picked up a 3-2 shootout win the night before over the Atlantic Division-leading, Lehigh Valley Phantoms.
Thus far, the Pack are 25-23-4-3 on the season with a .518 win percentage, which places them sixth in the ultra-competitive Atlantic Division with 57 points from 55 games played. The Pack sit behind the fifth place Bridgeport Sound Tigers, who have collected 56 points from 52 games played for a 0.538 win percentage. Following the Phantoms, the Wilkes/Barre Scranton Penguins, Providence Bruins and Charlotte Checkers currently hold the remaining playoff positions.
Players to Watch:
#55 Ryan Sproul
Ryan Sproul is first for active Wolf Pack defensemen when it comes to points, with 22 points in 41 games stemmed from 10 goals and 12 assists. The Ontario native is no stranger to producing, as he was tied for the Grand Rapids Griffins' lead in playoff assists in the 2015-16 season, with seven. He also led Grand Rapids defensemen in playoff points, with nine. Sproul was selected by the Detroit Red Wings in the second round of the 2011 NHL Draft. Sproul is fresh off a stint with the New York Rangers, and in 32 NHL games with the Rangers and Red Wings, he has produced one goal and eight assists for nine points.
#15 Travis Boyd
Travis Boyd has 14 goals and 26 assists for 40 points this season. Boyd trails only Chris Bourque in overall points for the Pennsylvania team. The center tallied 63 points last season, and 53 points the season prior for the Bears. The Minnesota native was selected in the 6th round of the 2011 NHL Draft by the Washington Capitals and has played in two games for the parent organization this year.
Coming Up Next:
The Pack will be back home at the XL Center to continue Hockey Heritage Weekend tomorrow. The first 5,000 fans to the game against the Providence Bruins get a Gordie Howe bobblehead, presented by Xfinity. For tickets and information, visit the Hartford Wolf Pack ticketing site or call 866-762-6451.
Back to All