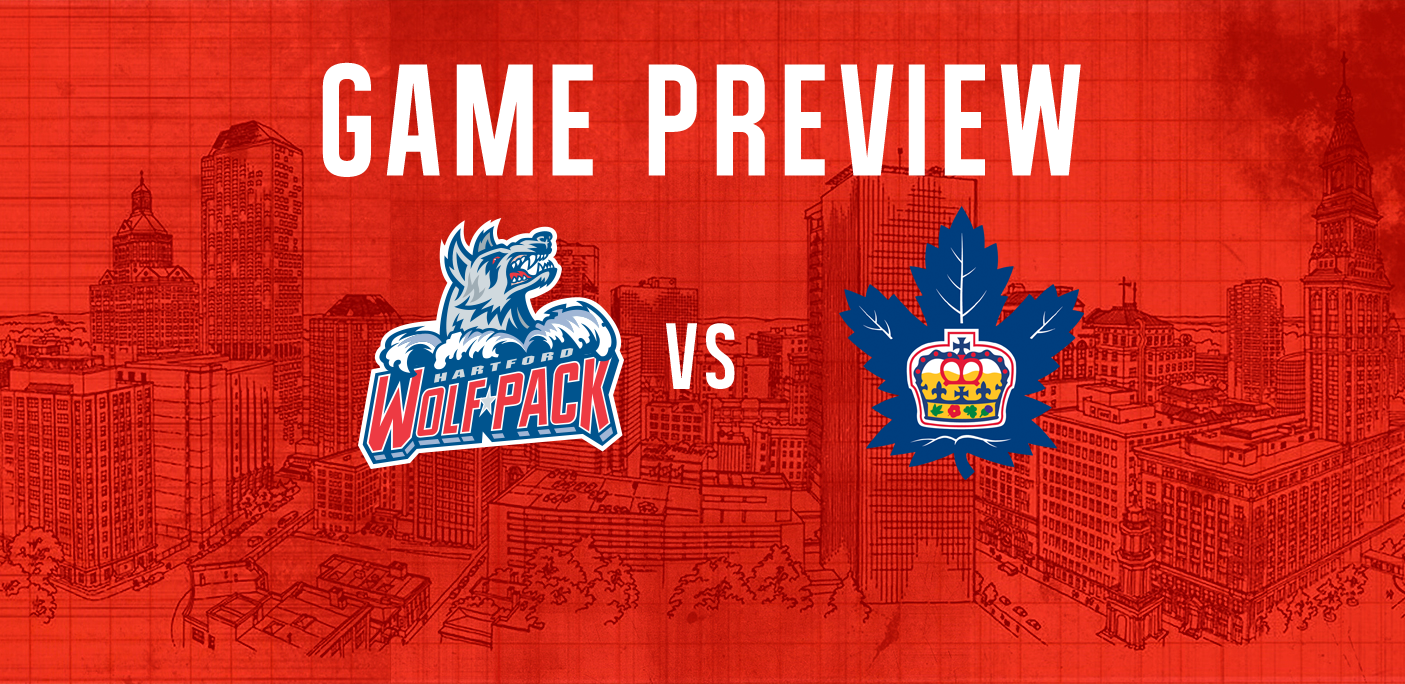 Game Preview
Oct 13, 2017
Game day info:
Hartford Wolf Pack vs. Toronto Marlies
Puck Drop: Friday, Oct. 13 at 7:15 p.m.
Game Preview:
The Wolf Pack are playing the final game of their three-game home stand with a matchup against the Toronto Marlies. The game marks the first meeting of the season between the two teams. Toronto had the advantage last year, as the Marlies took three out of four games of the series before closing out the year with a series loss to the Syracuse Crunch in the second round of the Calder Cup playoffs.
Toronto has had a fast start to the 2017-18 season with two wins over the Utica Comets to pick up all four possible points in the standings. The results currently place the Marlies in third place in the North Division, while the Wolf Pack sit in fourth place in the Atlantic Division. Throughout Toronto's first two games, the team has out-scored opponents by a margin of 7-4.
Last Time Out:
This past Sunday, the Wolf Pack snagged their first two points of the season with an exciting 2-1 shootout win over the Lehigh Valley Phantoms. Adam Tambellini served as the star of the night with a power play goal, as well as the winning Wolf Pack goal in the shootout. Chris Nell was superb in net, supplementing Tambellini's production with 28 saves and going 3-for-3 in the shootout.
Thus far, the Wolf Pack are even on the season, with two points from the win over the Phantoms, as well as a hard-fought 5-4 loss to the Charlotte Checkers in the Pack's home opener.
Players to Watch:
#9 Joe Whitney
Newly deemed captain of the Wolf Pack, Joe Whitney has had a solid start to the 2016-17 season with one goal and one assist in his first two games with the team. Whitney is an AHL veteran, with nearly 400 career games under his belt. In 55 games with the San Antonio Rampage last season, Whitney posted 11 goals and 17 assists for 28 points, and he had 3-5-8 in 19 games with the Tucson Roadrunners.
#16 Kerby Rychel
Kerby Rychel currently leads Toronto with two goals. The 23-year-old left wing has racked up 37 NHL appearances, with 12 points and a +/- ofplus-eight. Rychel is no stranger to tough AHL competition, as he won the Calder Cup with the Lake Erie Monsters in 2015-16. Additionally, Rychel had a team leading 52 points last season, with 19 goals and 33 assists.
Coming Up Next:
The Wolf Pack will hit the road for a Saturday night faceoff against the Springfield Thunderbirds for a 7:05 puck drop. The team will then head back to Hartford for a Friday, Oct. 20 game against the Belleville Senators at 7:15 p.m. For tickets and information, visit the Hartford Wolf Pack ticketing site or call 866-762-6451.
Back to All